GIFs' popularity in today's world is undeniable. We are living around a social media buzz where every other platform is playing a specific role in our lives. And when it comes to Instagram, it becomes more than just a social media platform. It has become a road to success for many. Thus, for all the Instagrammers out there, it is necessary to present their accounts appealingly. Here Instagram GIFs walk on as they are not only communicative enough, but they are funny, attractive, and engaging too.
We will guide you through the different ways of how to post a GIF on Instagram. Read along to know more.
Create GIF from Video/Images for Instagram Free Online - Try It Now
[没有发现file]
Part 1. Upload GIF to Instagram with Simple Steps
Adding a GIF to Instagram is indeed essential, but it needs to be appropriate and interactive too. And the internet has come up with several applications dealing with GIFs. GIPHY, being one of the most prominent ones amongst them, is user-friendly and comes along with a lot of resources for the apt choice portraying your mood. There are other similar apps as well, such as GifShare, ImgPlay, Giphy Cam, and so on. But in this part, we will guide you about using GIPHY to upload a GIF to Instagram.
The first guide will be for the iPhone, and the next one will be for your PC.
Method 1: How to Post a GIF to Instagram on the iPhone?
Step 1. Launch GIPHY App
Download GIPHY from the App Store. Click on Let's Go! on the first window and get started.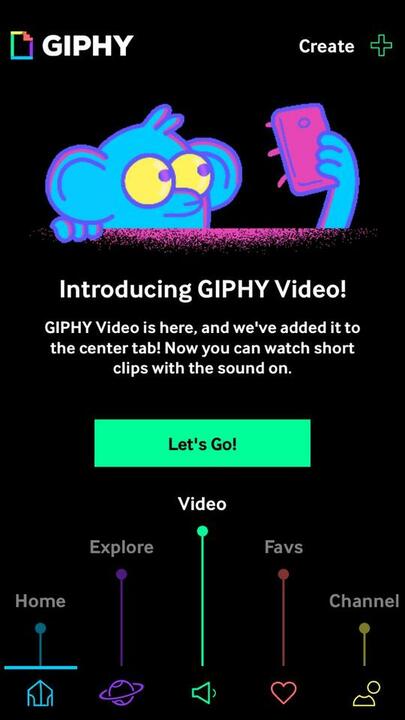 Step 2. Get the Desired GIF
On the main interface, you will find trending GIFs and suggestions from where you can choose. Or, you can also Search GIPHY from the search bar to let it go along with your perspective.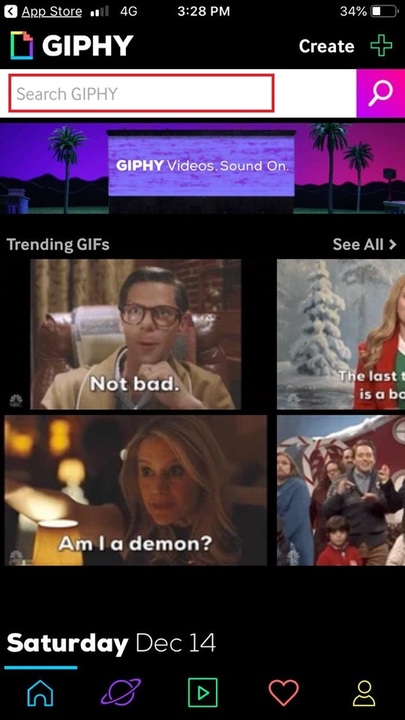 Step 3. Find the Share button
On the GIF interface, you will find a share icon (as marked), click on that to get redirected to the social media options.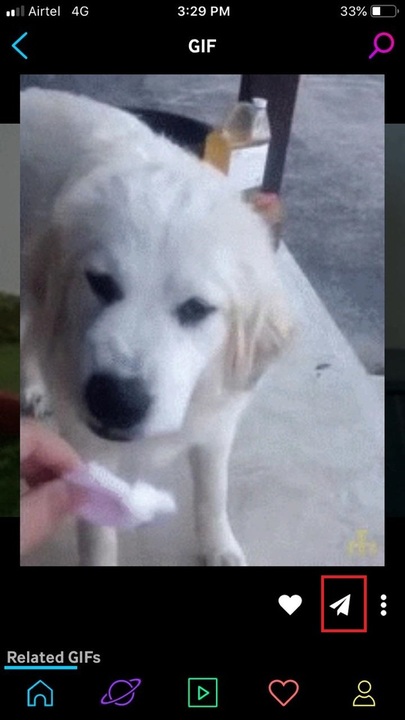 Step 4. Share It on Your Feed
Now, click on the Instagram icon. GIPHY will ask you for permission to Access Your Photos and then to open Instagram - allow it to go ahead with the uploading procedure.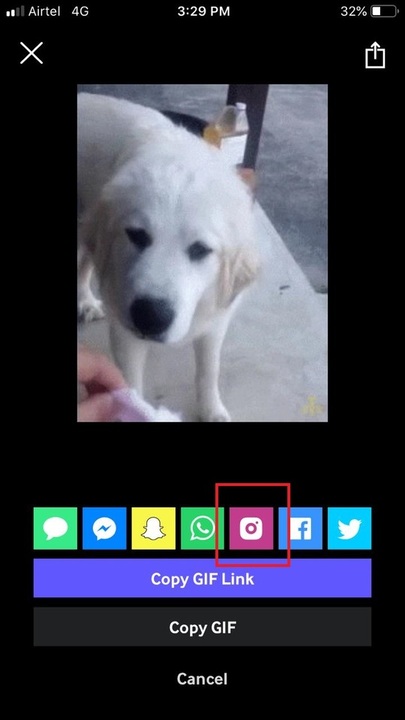 Step 5. Upload GIF to Instagram
Click on Feed that will redirect you to the next editing window. Edit it as you want, write a caption, and Share it to add the GIF to Instagram.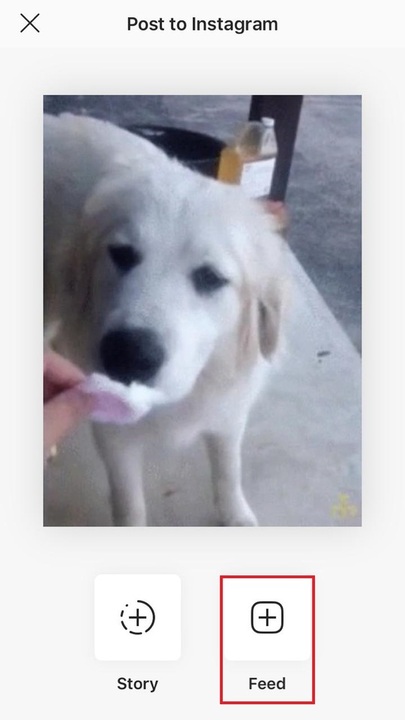 Method 2: Post a GIF on Instagram on PC
It seems impossible, isn't it? Well, not when you have the right tool. But, it would be best if you did it while uploading a GIF on Instagram through your PC. It is to convert the file into an MP4 format. It enables the social platform to read the media as a video and thus posting it. Apps like Flume, BLURBIZ, etc., need to be downloaded through which you can post the GIF-converted MP4 to Instagram directly.
But here, you have a choice of ignoring this lengthy procedure. How? Again it's GIPHY. Follow the below step-by-step guide to know how to post a GIF on Instagram on your PC by using GIPHY.
Step 1. Open GIPHY Website First
Open GIPHY on your browser and log in to the platform. Follow Step 2, as in Method 1, to get the most appropriate GIF to post on Instagram.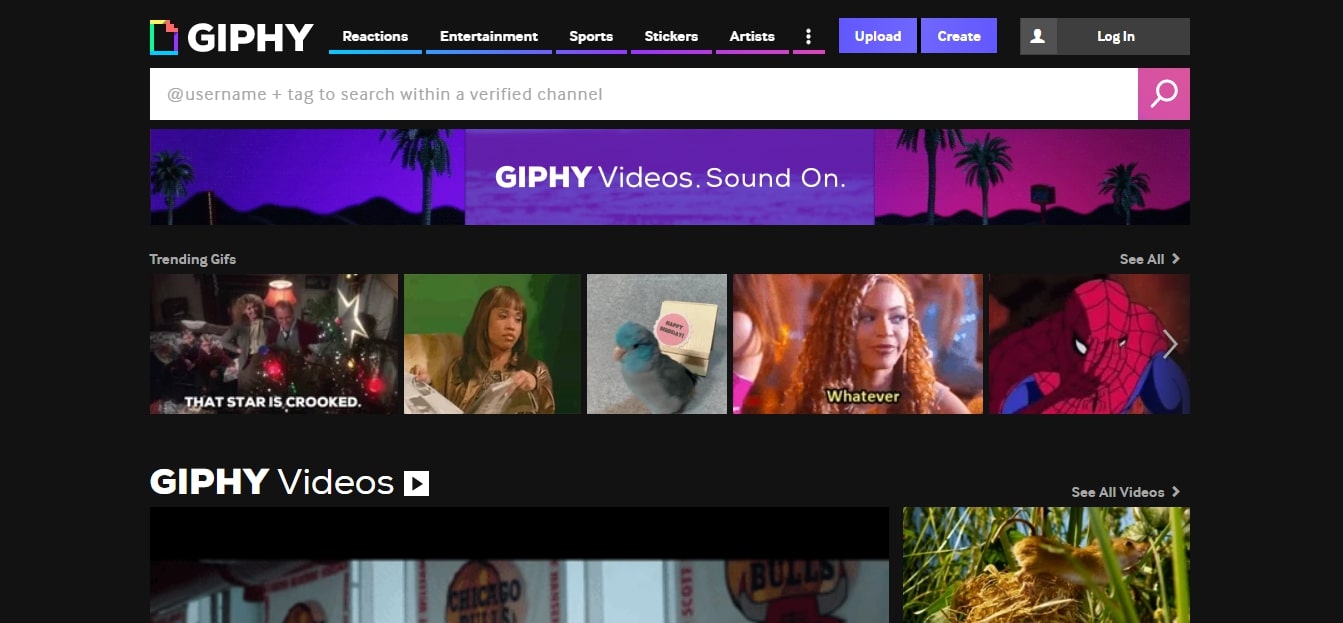 Step 2. Find Instagram Sharing Icon
Now, click on the Instagram icon under the Share It header. An Instagram Share notification window asking for your mail address will pop up where GIPHY will send the MP4 file of selected GIF.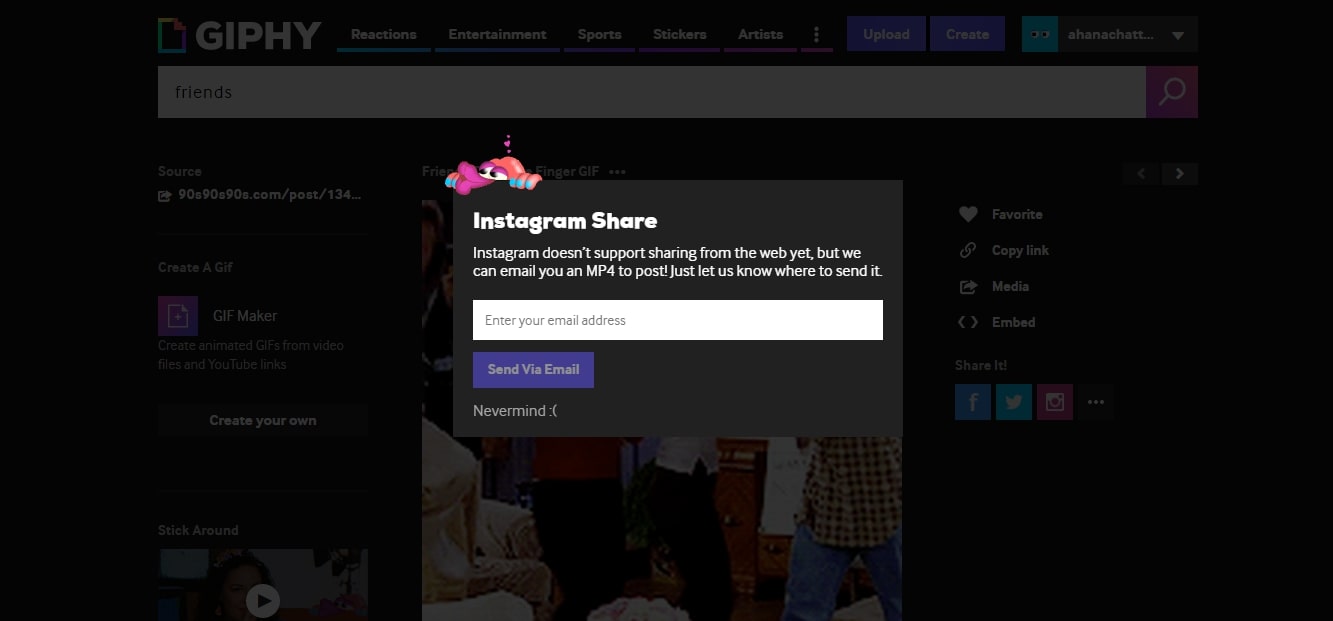 Step 3. Get the File
Now, from your mail id, download the MP4 file and save it on your iPhone camera roll.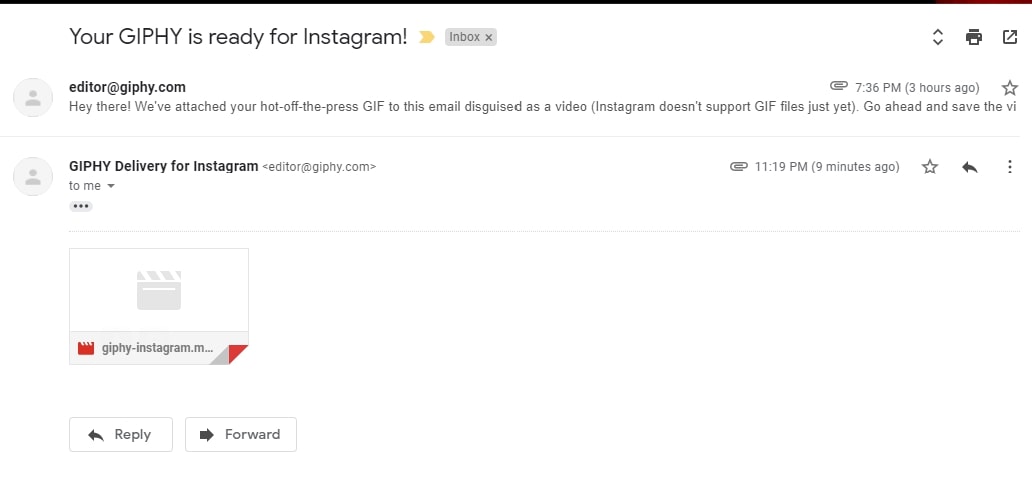 Step 4. Share the GIF on Instagram
Then, open your Instagram account and click on the + icon below to get to your media library, then select the GIF, click on NEXT to edit it as per your need, and finally, SHARE it on your feed.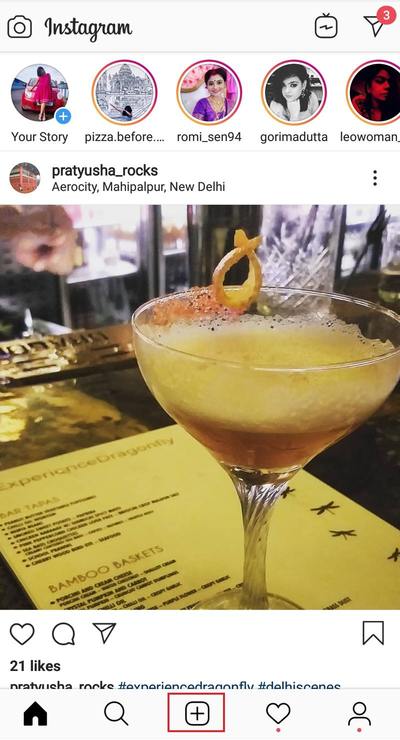 Part 2. How to Add GIF to Instagram Story?
Stories can portray your day and thoughts at a glance. Their part is very crucial as you get only 24 hours to communicate your story to your follower base. The more relatable story you can post, the more will be the engagement. By adding a GIF to your Instagram story, you will not only engage more followers, but you will also make the interaction more exciting.
Now, if you think about how to post a GIF on the Instagram story - well, there is more than one way.
Method 1:
To begin with, let's talk about GIPHY again. To add a GIF to the Instagram story, all you need to do is just follow the steps of Method 1 described in Part 1 of this post. The only difference will be with the last level, where you chose Feed; for posting the GIF on your Instagram story, this time, you will have to select Story. Undoubtedly, GIPHY is the easiest way to post a GIF on your Instagram story.
Method 2:
Step 1. Go to Your Story from the top-left corner of your Instagram account.
Step 2. Slide left for BOOMERANG, SUPERZOOM, and HANDS-FREE effect, which will create your GIF. And then send it to your story to make it visible for 24 hours to your followers.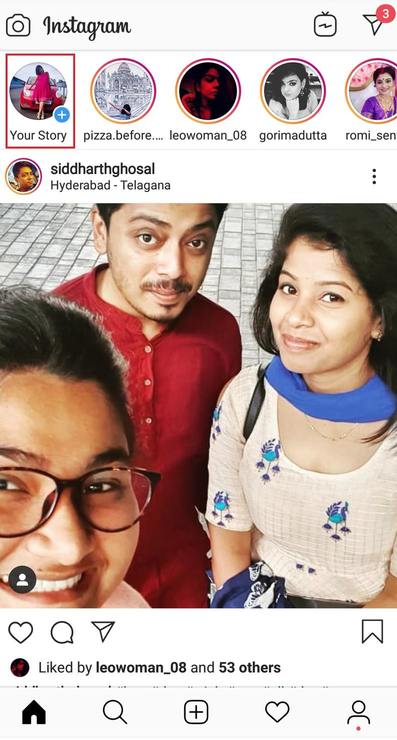 Method 3:
For an Android device, Instagram allows you to post GIF stickers.
Step 1. It will be the same as the first step of the previous method.
Step 2. Upload or capture an image, or put a text on Your Story and then slide up the bar where you will find the GIF stickers. You can also search from Instagram's GIF library to get the appropriate choice.
You can also resize or rotate them according to your requirements and send it to your stories.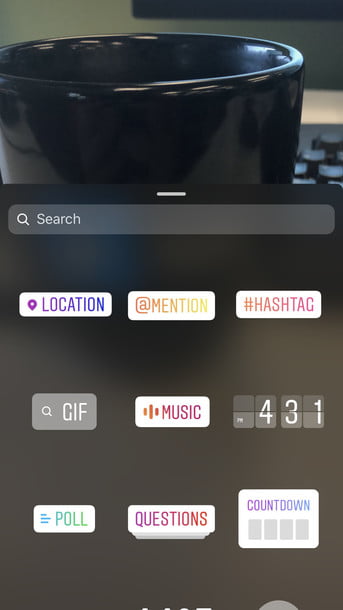 Method 4:
If you are using an iPhone, then below are the steps you can follow.
Step 1. Install GIF Keyboard or the likes from the App Store. Then, from Settings, give access to all the apps to your GIF Keyboard.
Step 2. Now, upload or capture media from Your Story section. From the top-right corner, select the text icon.
Step 3. From the bottom-left side, click on ABC to enter the third-party keyboard, here the GIF Keyboard and get the GIF you want to post.
Step 4. Now, copy the selected GIF and paste it into your story area. Once done, you can share it immediately.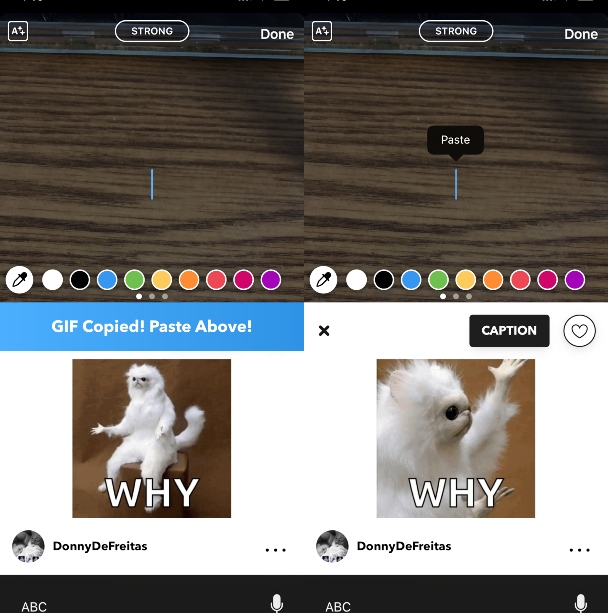 Part 3. Another Way to Share GIF on Instagram You Can't-Miss
Well, here comes the exciting part. You have shared GIFs through GIPHY, Boomerang, GIF Keyboard, and from many other sources. But what about your favorites!! Do you know that Instagram does not allow you to post media of GIF format, it can only detect videos (MP4) and images!! That's where all the fuss takes place. With GIPHY, you won't have to bother much because it automatically converts the GIF into MP4 without even disturbing you. But what if you have found a GIF from some other source! How do you post such GIFs on Instagram?
Here, let us introduce you to two of the most amazing tools that help you convert GIFs into MP4 format.
No installation required - this indeed gives a sense of relief. Convertio, being an amazing GIF converter, can convert any file into MP4 format. Its user interface is not only easy but attractive too. With minimal pricing, you can upgrade your plan anytime and can work on any file, despite thinking about their size. Along with allowing you to upload GIFs from your local computer, you can also upload media from the cloud with this online tool.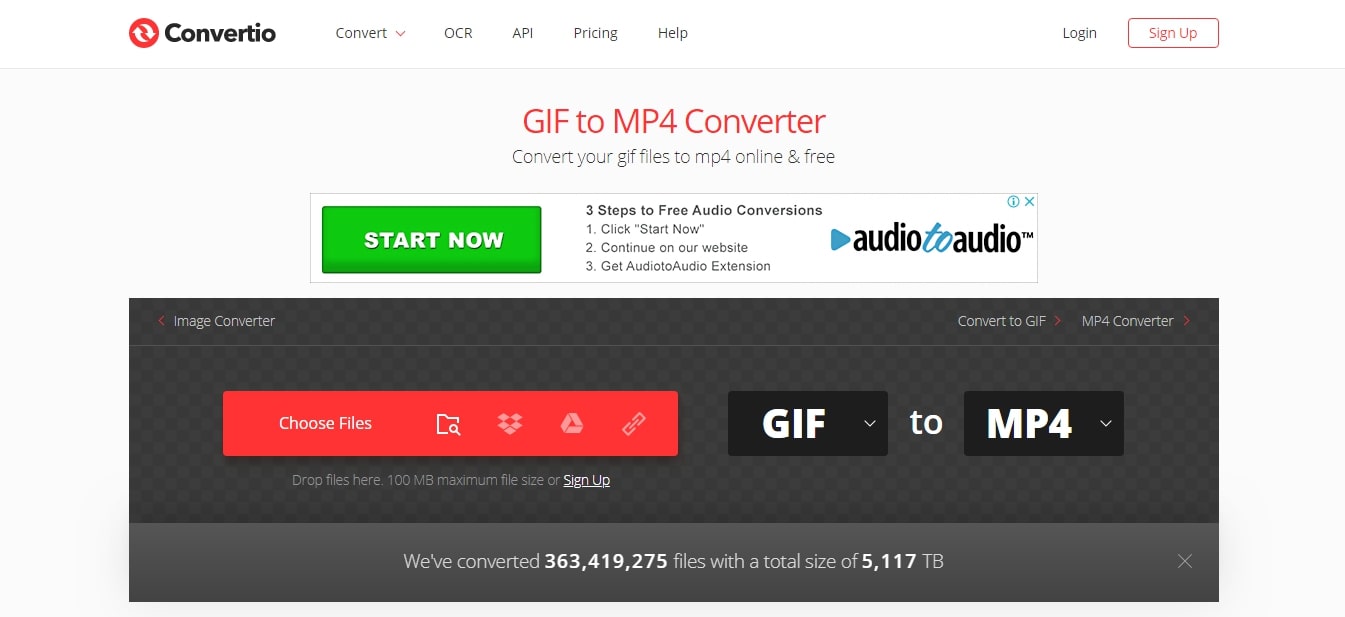 Neither installation nor log in required - EZGIF is more relaxed even than the previous one. Though you might not find its interface very attractive, it's entirely free to use. This tool ensures you with fast conversion in a single click. Choose a file from your local computer or simply paste the target URL, EZGIF will do the rest for you.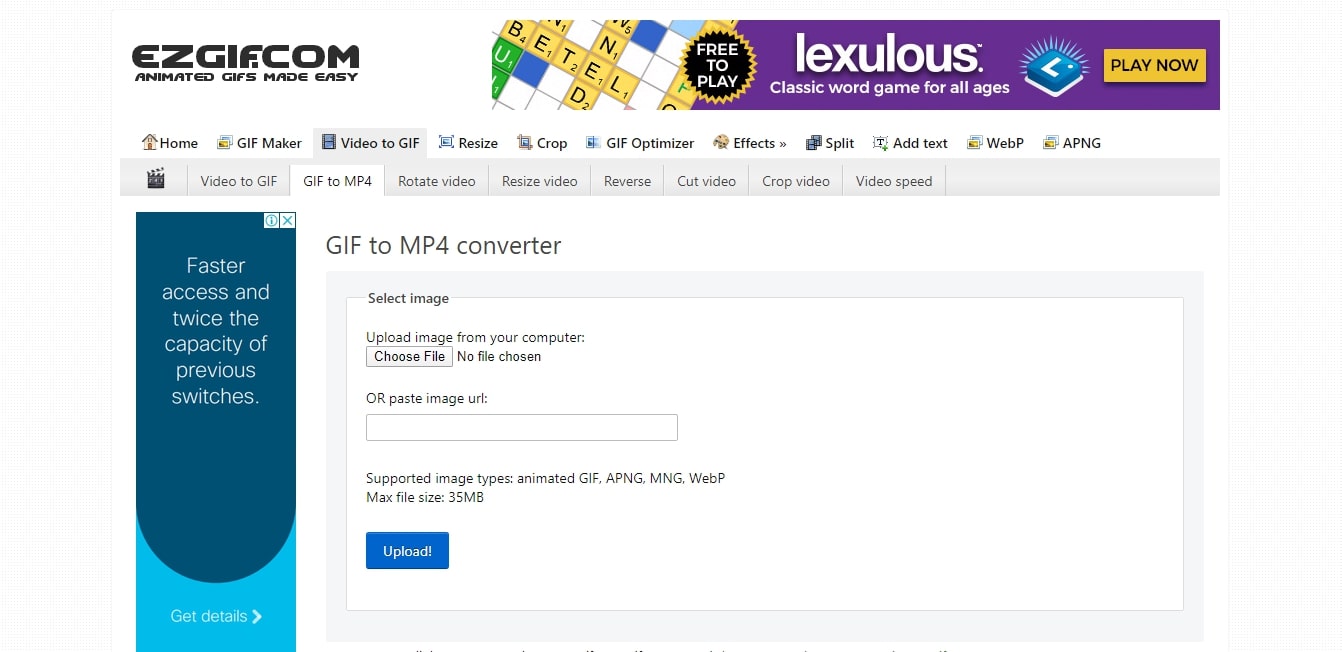 Part 4. Why I Can't Add GIF Image on Instagram
To add GIF to Instagram, you should use proper methods. One wrong step will end up as a consequence of you not being able to post GIFs on Instagram. So, why does this happen?
1. You are not using the right Instagram version - Instagram is a newborn in terms of allowing you to upload GIFs. So, for you to use this platform successfully to post GIFs, you need to be sure that you are not using an outdated version. Go to App Store or Play Store, depends on which OS you are using, and check if any updates are available. If the application is not updated, then this might be the cause that you are unable to add GIF to Instagram.
2. Your media is in GIF format - As discussed above, you cannot upload GIFs directly to your Instagram. You need first to convert it to MP4 format to post the GIF. Be it through apps like GIPHY or online tools like Convertio, EZGIF.COM, etc., until and unless your GIF gets converted to MP4, you cannot upload them on Instagram. So, check and make sure that your media is in the format supported by Instagram.
Summary
GIPHY's partnership with Instagram has commenced GIF posting on the platform. It is an active partnership for all the Instagrammers. GIFs are so indulging that nobody can ignore that. Thus, it turned into a necessity to post a GIF on your Instagram story or Feed around the globe. For those who want to make their social presence prominent, Instagram is an evident tool. Thus, this social site has made you the path to growing more with your follower base and interactivity skills.
Here we will introduce a multi-functional software, which is called Wondershare UniConverter. It is mature editing software that allow you to trim, crop, add watermark, add subtitle, and others. If you're interesting in it, free download now.
Wondershare UniConverter
· New intuitive interface design is suitable for most beginner users.
· It supports users to convert videos to 1000 formats at 30X faster speed without quality loss.
· It allows you to transfer videos from computer to iPhone or Android mobiles without using iTunes.
· All-purpose video toolbox is your best helper, such as image converter, GIF maker, VR converter, and others.
· You could download UniConverter in Windows or Mac system for free.