Many professionals working on the files highly prefer to maintain it in GIF format. The foremost advantage of GIF format is its file size. This type of file format occupies less memory space. This has led to the frequent conversion of files from pdf to gif. Apart from memory space, it displays a clear message with the optimal color pattern. It brings about a professional look at the images available in the file content. When you convert PDF to GIF format, then you can enjoy the following feature as follows:
Easy file compression
The best transparency is assured
Storage of multiple files in a single folder
Availability of interlacing technique
Part 1.Top 5 PDF to GIF Online Converters
URL: https://convertio.co/pdf-gif/
It is a quality converter that performs extraordinarily in the online zone. The conversion takes place precisely without any loss of data. The converted result will be highly satisfactory. The Convertio maintains the uploaded file count where the count updates automatically on the delivery of the converted files.
What We Like:
Convert multimedia files like audio or video to any desired format other than data files.
You can download the files from the URL for conversion. It is enough if you paste the URL in the 'Choose Files' filed to trigger the conversion process.
AWhat We Don't Like:
The free version supports only a limited file size for conversion.
Concurrent conversion is impossible with the free version of this online tool.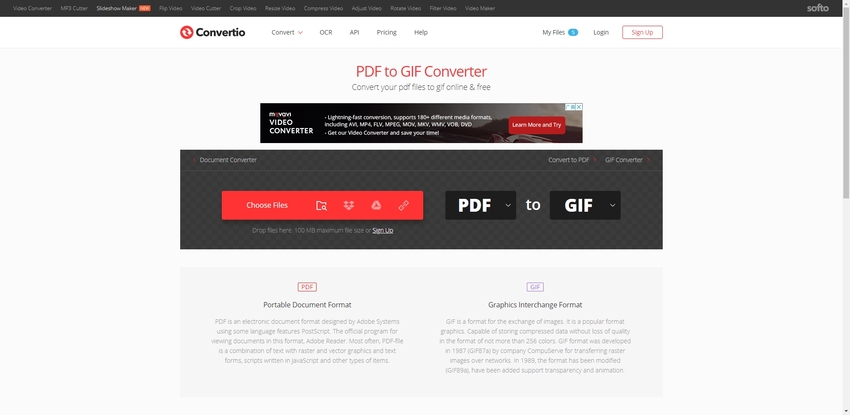 URL: https://www.zamzar.com/convert/pdf-to-gif/
It is a simple online converter with comprehensive features. This converter supports more than 100 file formats. The Zamzar offer their service in a cloud-based technique to meet the expectations of the users. In this method, the user can upload up to 10,000 files to convert the file type to any desired format.
What We Like:
It is exclusively designed for developers and professionals.
Quick response from the support team.
AWhat We Don't Like:
You must save the converted file within 24 hours to avoid automatic deletion.
The conversion time depends on website traffic.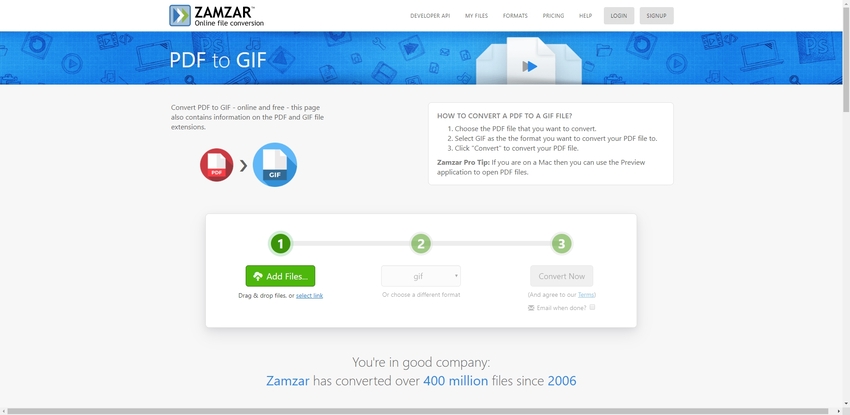 URL: https://ezgif.com/pdf-to-gif
It is an exclusive online platform, which deals with the conversion related to the GIF file format. The maximum upload of the file size is restricted up to 100MB. You can upload the files for conversion only from your local drive. This tool will merge multiple files into a single file at the end of the conversion process.
What We Like:
Edit the converted files using the built-in toolbox.
It is a completely free tool, and there is no pricing to access its features.
AWhat We Don't Like:
It is an essential converter, and it is applicable only for novice users.
It does not support large size files for conversion.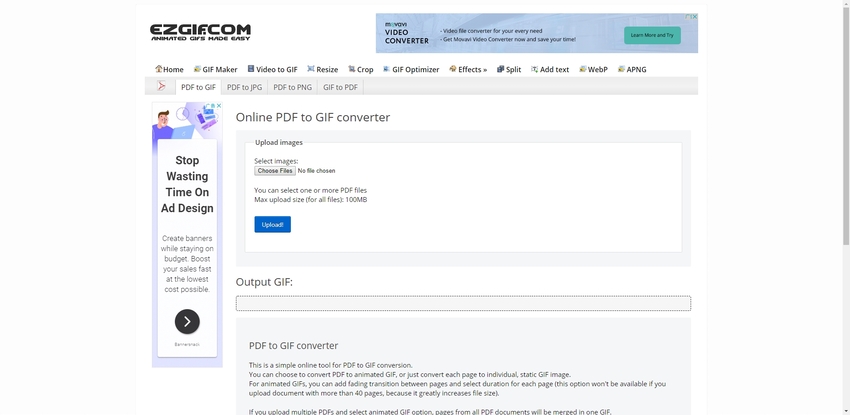 URL: https://easypdf.com/pdf-to-gif
This online tool comes with the tag line 'secure, anonymous, no limits'. It is an online conversion tool specially designed for PDF files. You can convert PDF to any file format like word, excel, powerpoint, Auto Cad, GIF, PNG, etc. There is an in-built toolbox to edit PDF files. The toolkit comprises of options like merge, compress, and split the PDF files optimally.
What We Like:
No registration is required to carry out the conversion process.
Access Google Drive, Dropbox, and Cloud to upload files for conversion.
AWhat We Don't Like:
The source file must be PDF for the conversion process.
Slow conversion for large-sized files.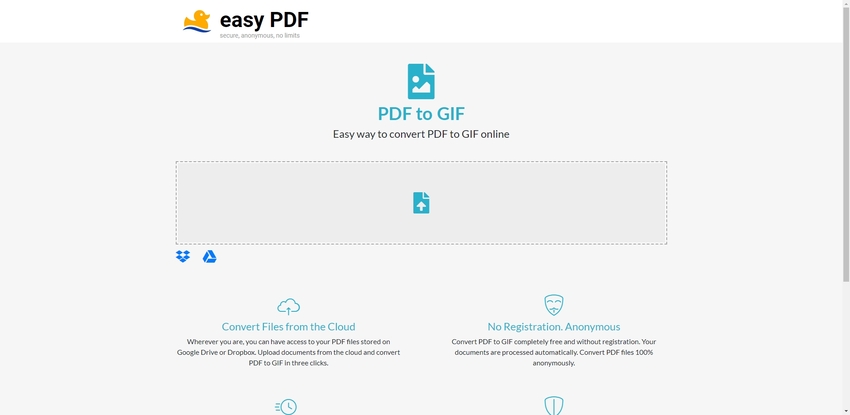 URL: https://www.hipdf.com/pdf-to-gif
This online converter hails from the giant software developer Wondershare. In this platform, you can upload the pdf files and convert them into gif format in an online mode. Here the conversion takes place quickly without any interruptions. It is a feature-rich online converter with striking features — a reliable platform to satisfy your conversion needs.
What We Like:
Flawless conversion from PDF to any desired format according to your requirements.
You can upload the files for conversion from various sources like dropbox, local folders, one drive, Google drive, etc.
AWhat We Don't Like:
For a successful conversion, you need an uninterrupted network connection throughout the process.
You have to pay if you want to access the full feature of this tool.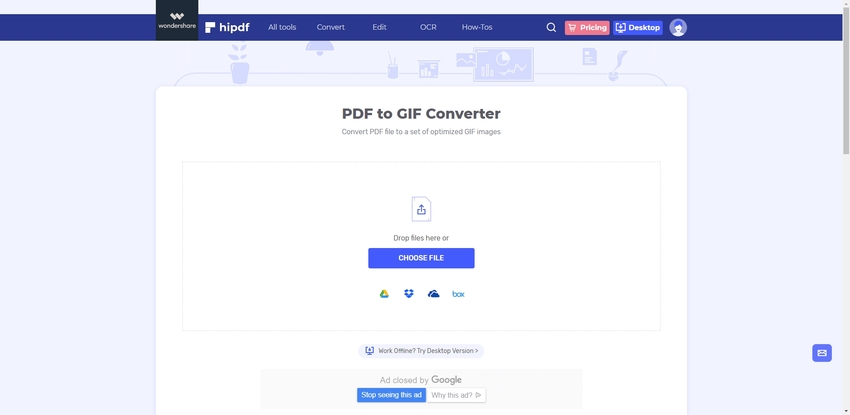 Part 2. How to Convert PDF to GIF Windows
Why do you choose PDFelement for Windows and Mac to Convert PDF to GIF?
The PDFelement brings complete control of your PDF files. You can perform various activities on it flawlessly.
Precise and quick conversion of PDF files to any file format without any data loss.
Create a solid and informative PDF form for your requirements using this useful tool.
Convert PDF to GIF using PDFelement in Windows
Step 1. Install and Launch the PDFelement
Go to its official website for PDFelement download and install the tool by following its wizard. Then, launch it.
Step 2. Upload PDF File
Tap Convert PDF option at the home page and navigate through the folders to identify the desired PDF file for conversion. Click Open to upload the PDF file.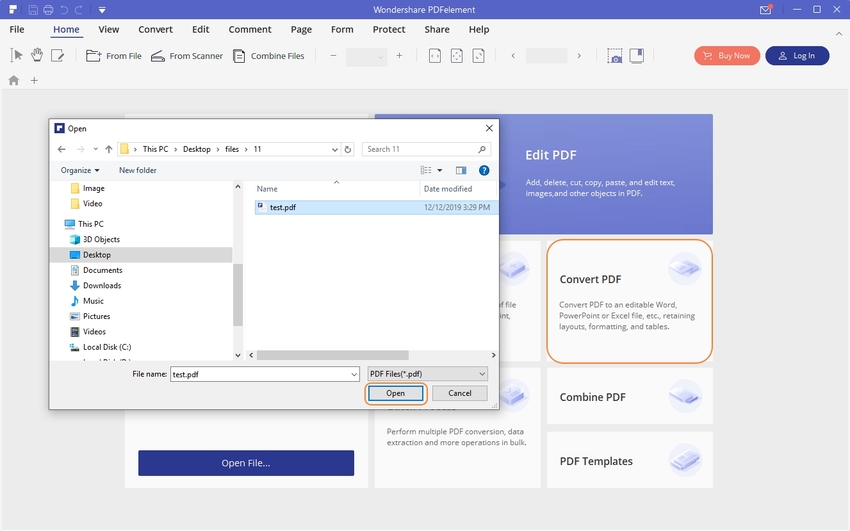 Step 3. Choose GIF Format as Output
In the next popup window, select GIF format in the dropdown list nearby the label Save as type and hit the Save button.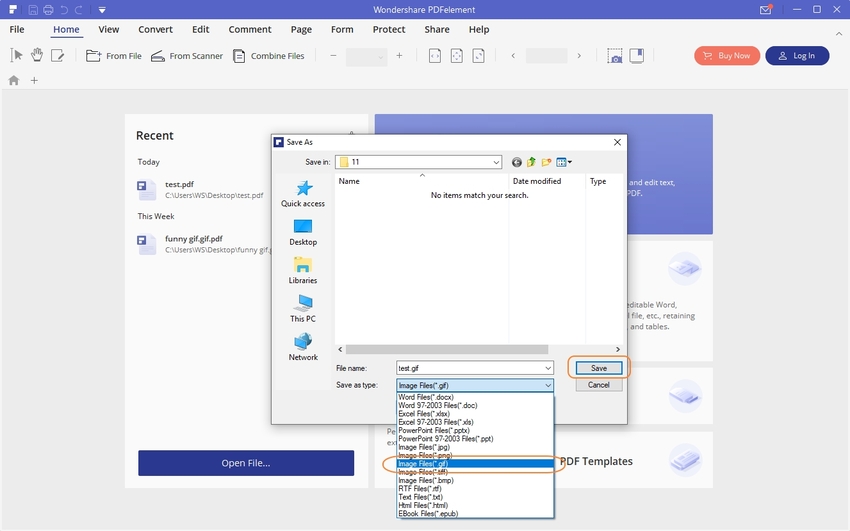 Step 4. Successful Conversion-PDF to GIF
The conversion from PDF to GIF commences, and it will end within a few minutes. Click the Finish button to close the conversion window. The PDFelement converts the source file into GIF precisely.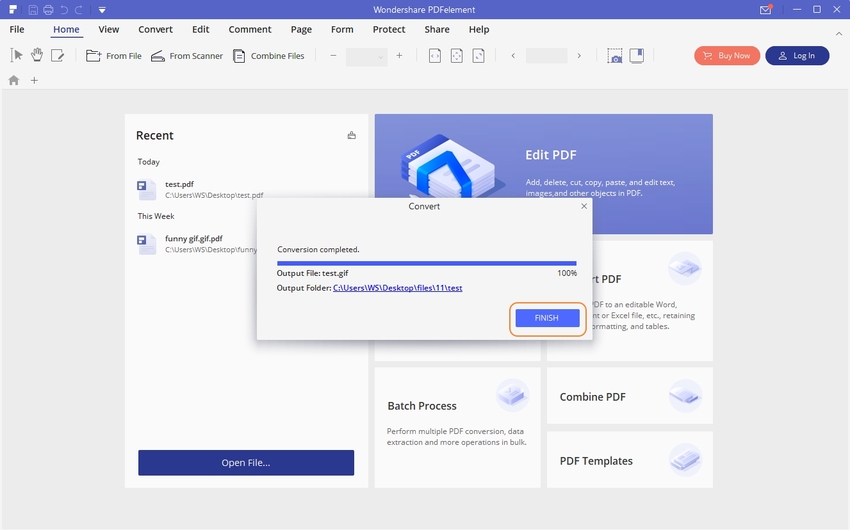 Part 3. How to Convert PDF to GIF in Mac
In the Mac system, there is a Preview option available to edit the file as per your needs. With the help of Preview control, you can modify various features on the files. You can highlight texts, crop, add a signature, annotate and share, etc. This option allows you to convert the file formats effortlessly.
Steps to Convert PDF to GIF using Preview App in Mac
Step 1. Load the PDF File
Double-tap the PDF file to load the file in a Preview platform.
Step 2. Export to GIF
Go to File > Export > GIF and save the converted GIF file by tapping Save button.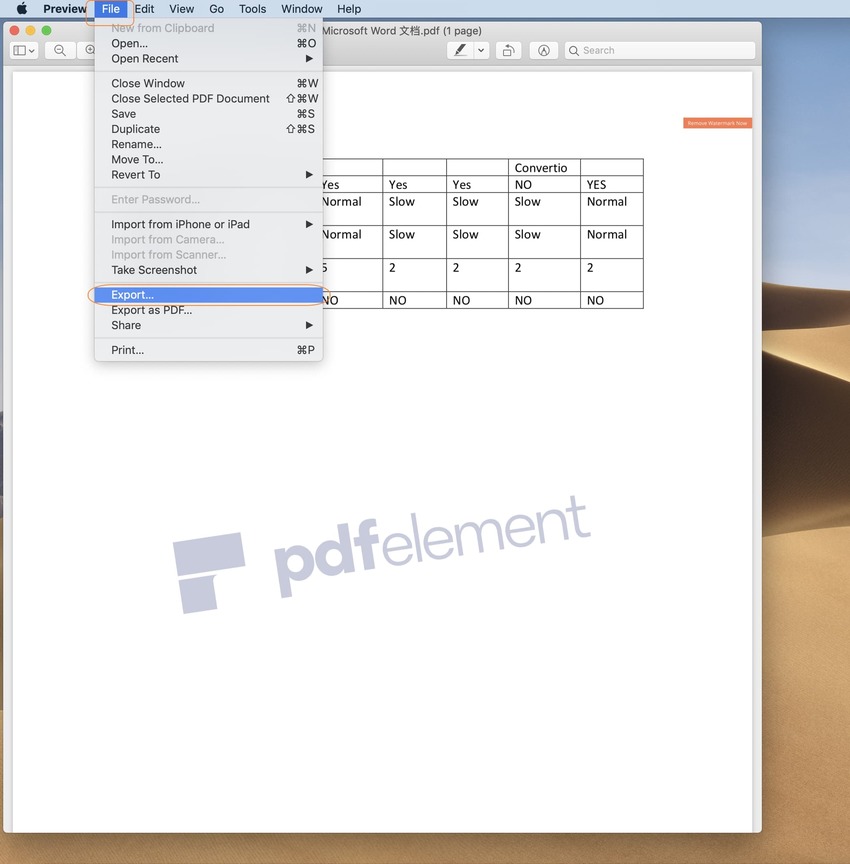 Summary
It is high time to conclude the discussion on the effective methods to convert PDF to GIF file effortlessly. The Wondershare PDFelement exclusively designed for PDF and the conversion option is one of the best features in it. Choose the right converter to handle PDF files correctly without any issues. The quick and lossless conversion serves as two critical factors while selecting the tool.
Changing images or video to GIF is a popular way to create your own GIF. Wondershare UniConverter allows people to create and edit their GIFs easily. You could download it for free and test its features.
Wondershare UniConverter
· UniConverter allows you to transfer video files from computer to iPhone or Android mobiles without using iTunes.
· Windows and Mac system versions are supported.
· Compress, edit, convert, burn, transfer videos, add video metadata, and more features are in UniConverter.
· It has a 30X faster speed without quality loss.