How to make your PowerPoint presentations interesting? Add humor, convert a message, or to get the attention of the users, a GIF file can be added. These animation files are more comfortable to add in comparison to videos and occupy much lesser space. If you are looking for a solution on how to insert GIF in PowerPoint, you are reading on the right page. Below listed are the methods to add GIF to PowerPoint.
Part 1. How to Put GIF in PowerPoint on Windows
On your Windows system, you can insert an animated GIF into PowerPoint, just like any other image. The process of adding animation is quick and straightforward. You can either add the GIF files downloaded and saved to your local system or can also use the online image search option of the PowerPoint to find the desired file.
Steps on How to Put GIF in PowerPoint on Windows
Step 1. Open the PowerPoint presentation slide where you wish to insert the animation files.
Step 2. Choose the Insert tab and then click on the Pictures button. From the pop-up Insert Picture dialog box, browse and search the GIF file that you want to add and click on the Insert button. The added animation can be dragged and moved to place it at the desired location.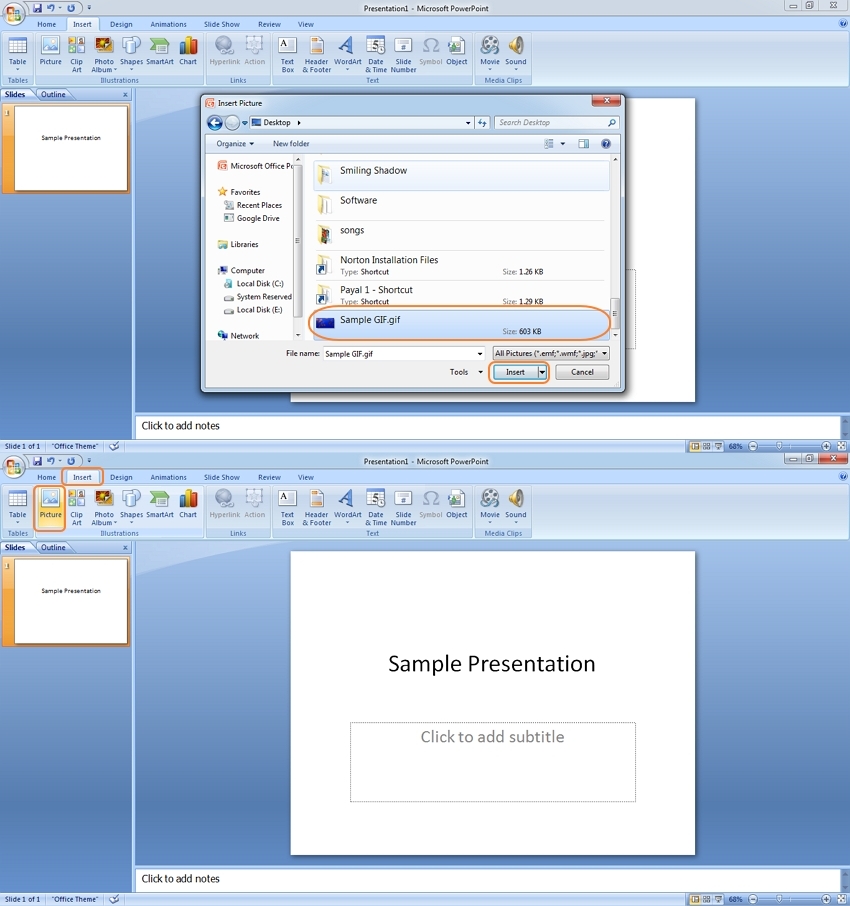 Step 3. During the regular view of the slide, the added animation will be static. To make it work, go to the Slideshow tab and click on the From Current Slide button.
The animation is added and will now work in your PowerPoint presentation.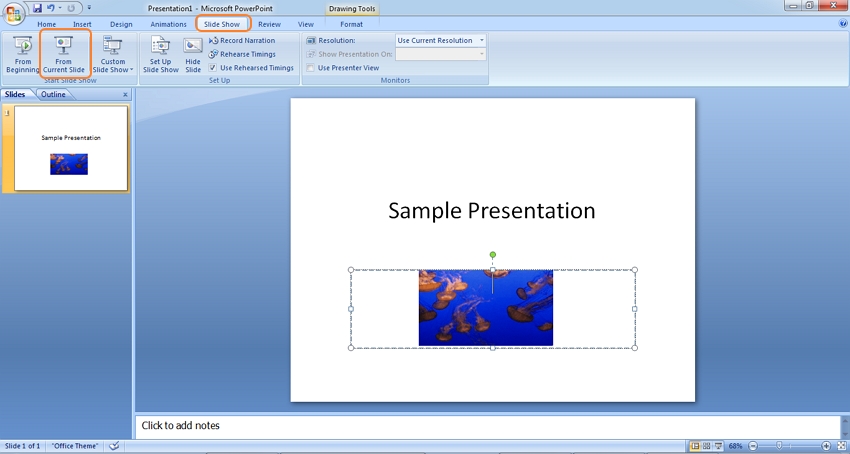 Part 2. How to Add a GIF to PowerPoint Using Online Image Feature
PowerPoint also has an online image feature using which you can search for the online animations and add them to the desired slide. There is a decent collection of online GIF animations that can be searched for. The process of adding a GIF to PowerPoint is simple.
Steps on How to Add GIF to PowerPoint using Online Image Feature
Step 1. Run the PowerPoint and move to the slide in the presentation where you want to place the GIF animation.
Step 2. Choose the Insert tab and then select the Clip Art option in Windows 2010 or Online Pictures option in 2013 and newer versions of PowerPoint.
Step 3. In the search box, type GIF or animated and then press the Enter button. For more refined search, you can add a keyword like animated clouds, corporate GIF, or any other. Enable the check-box at Creative Commons Only to search for the files that can be legally used.
Step 4. After selecting the desired GIF animation, click on the Insert button to include it in your slide.
Part 3. Insert Animated GIF into Photoshop on Mac
On your Mac, an animated GIF file saved locally to your system can be added to a PowerPoint presentation in a quick, straightforward manner. The animated file can be used to highlight a specific part, add some humor, convey a message, and others.
Steps on How to Add a GIF in PowerPoint on Mac
Step 1. On your Mac, open the PowerPoint presentation and go to the slide where you want you're animated to be added.
Step 2. On the main interface, select the Pictures option and then select Picture from File option.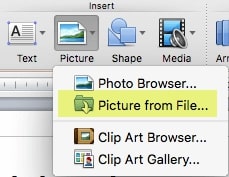 Step 3. From the browser window, select the GIF file saved on your system and then click on the Insert button. The animation will be added, and its location can be moved as needed.
Step 4. Next, to enable and activate the animation, choose the Slide Show tab and then select Play from Current Slide option.
The above listed are various methods on how to get a GIF to work on PowerPoint on your Windows and Mac system.
Are you looking for a universal software to create a funny GIF? Don't worry! Wondershare UniConverter is waiting for you.
Wondershare UniConverter
· Most users think that UniConverter is the easiest to use the software.
· UniConverter has download, compress, edit, burn, transfer videos, add video metadata, and other features are waiting for you.
· It allows you to transfer videos from computer to iPhone or Android mobiles without using iTunes.
· In the Toolbox function, it has convert images, create GIF, burn CD, rip CD, cast to TV, and fix media metadata feature.
· Wondershare UniConverter allows you to burn video and other media files to DVD as well.