The first question that comes to mind is, Why would you want to convert an animated GIF to a video for Instagram?
The answer is simple. Almost all social networking websites have their policies and restrictions on the content their users can upload. For instance, many sites do not accept animated GIFs, whereas some do, but the file or image size is limited to certain megabytes or pixels, respectively.
Coming back to Instagram, the site doesn't let you publish an animated GIF to its platform at all, and therefore, the correct option you are left with is to convert a GIF to MP4 (or any other similar format) and then upload the file as a video. That said, below are the 8 most trusted methods to convert GIF to Instagram video easily and quickly.
Part 1. Top 3 Online Tools to Convert GIF to Video on Instagram
As mentioned above, you cannot upload a GIF to Instagram, and the file needs to be converted to a supported video format using any online or offline conversion tool before the website approves of publishing it on its platform.
Although the online converters are quick and can be used for free, most of them do not have the feature to share the converted videos to Instagram directly. Nevertheless, such tools are efficient and do not require you to download and install any app on your computer.
Listed below are 3 best online ways to turn GIF to Instagram video for free.
This online tool is not only restricted to GIF to MP4 conversion, but it also lets you do many other useful tasks such as reversing a video, video to GIF conversion, cut, resize, or crop a video, etc. In addition to this, you can even use EZGIF to create your GIF that can be published on some accessible GIF repositories such as GIPHY, tenor, etc.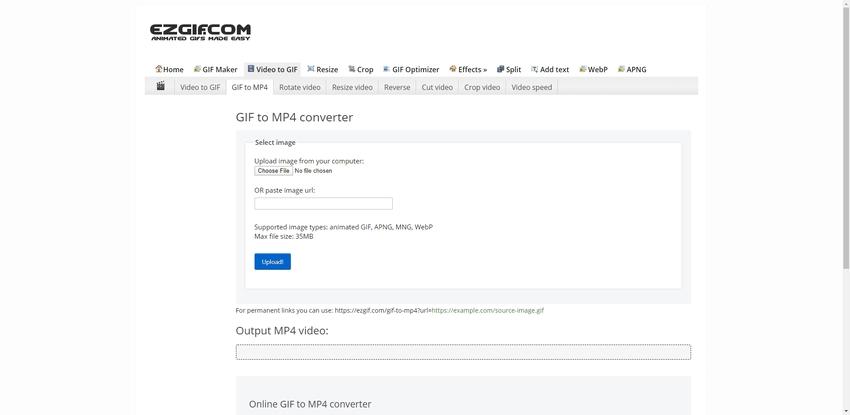 https://video.online-convert.com/convert/gif-to-mp4
ONLINE-CONVERT lets you upload a source GIF from your PC, Dropbox, Google Drive, or from their URL. Post uploading, you can choose a preset for the video to specify the resolution and size, and optionally you can make further adjustments like rotating, flipping, limiting the output file size, audio channels (stereo, mono, or none), etc.
With the maximum limit of 50 MB of a file to upload, this website is solely dedicated to GIF to MP4 conversion and doesn't have any option to convert any other file to any other format. After you have uploaded a source GIF, you can choose the resolution and picture quality of the output file. You can preview the expected results in the Preview area box before starting with the conversion process.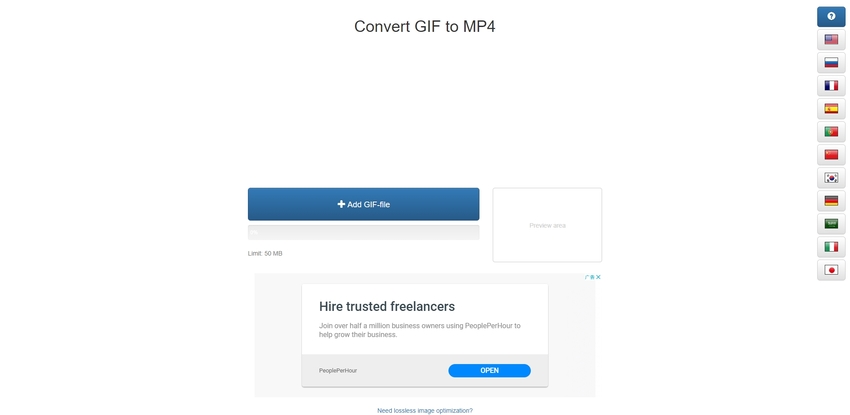 Part 2. Top 4 Apps for GIF to Instagram Video [Android/iOS]
Using apps to convert GIF to video for Instagram is a better approach as compared to going for online solutions. Some of the most apparent reasons for this include:
Smartphones are always with you, and unlike the online tools, you don't have to spare time to power on your PC, sign-in to your account, and go to the website manually before you can finally convert the files.
Most of the converter apps have a built-in button to share/publish the converted videos directly to Instagram.
All the options in the converter apps are right at your fingertips, and your actions are not dependent on any dedicated input device such as a mouse, keyboard, etc.
Considering all the above points, having an iOS or Android app installed on your smartphone would surely come in handy if you are an Instagram user, and regularly publish videos on to the platform.
With that said, the top 4 iOS and Android apps that can convert GIF to Instagram video include.
GifShare: Post GIFs for Instagram as Videos
https://www.appannie.com/en/apps/ios/app/gifshare-post-gifs-to-instagram/
Available for: iOS devices (iPhone and iPad)
A lightweight program that can search GIFs online according to the keywords, download them to your iPhone or iPad, lets you make the required adjustments like managing the speed of the animation, background modifications, etc. Convert the final drafts to video format, and post them on Instagram instantaneously from within the app itself. You can also buy its Pro version to unlock various advanced features that remain inaccessible in the free copy of GifShare.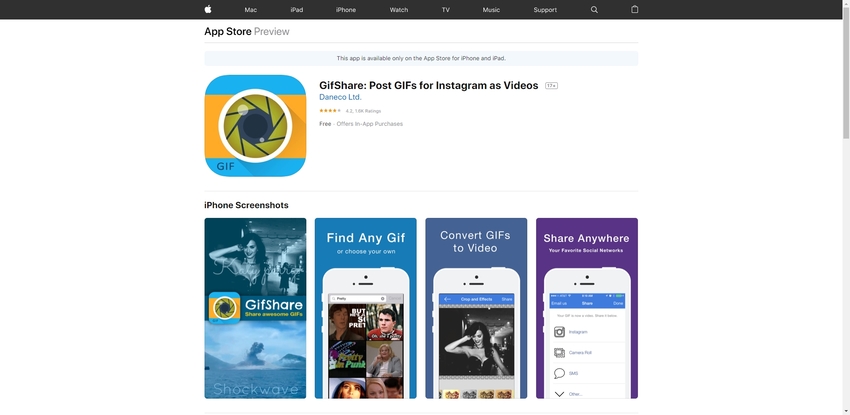 GifVid – GIF to Video Converter
https://apps.apple.com/us/app/gifvid-gif-to-video-convert/id939735129
Available for: iOS devices (iPhone and iPad)
Although a paid program, GifVid integrates itself with the iOS and therefore, can be accessed to convert the GIFs from within the device's photo library itself. Because of iOS integration, the app is also available in Open in. This means that GifVid automatically launches when you select its name in the Open in the menu of a third-party app. Once a GIF is opened in GifVid, it can be easily converted to a video format and can be shared directly on Instagram.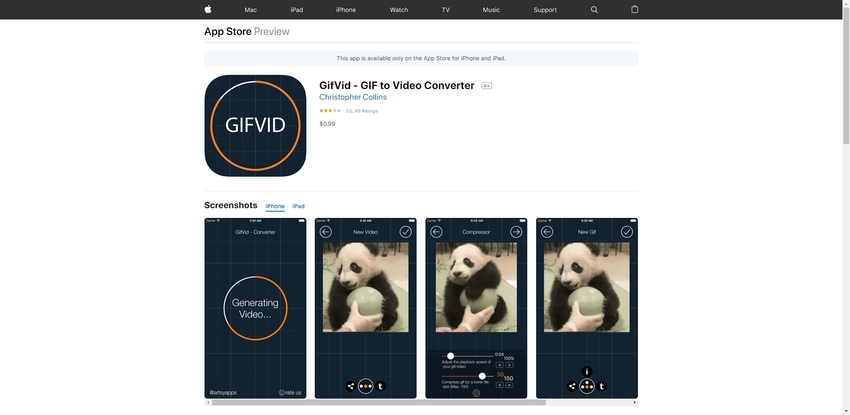 https://play.google.com/store/apps/details?id=com.parizene.giftovideo&hl=en
Available for: Android smart devices
The app lets you search and locate GIF files from your phone's Gallery or sites like GIPHY, tenor, etc., enables you to download them on your smartphone, convert them to video, and then share those videos on Instagram or other social networking platforms. You can also choose your preferred aspect ratio (1:1 or 9:16) for Instagram or Instagram Stories as needed.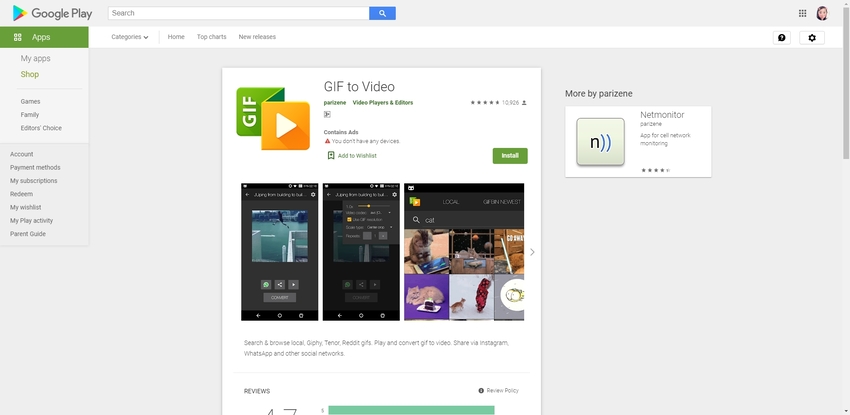 https://apkpure.com/gifaroo/com.Gifaroo.Gifaroo
Available for: Android smart devices
Gifaroo lets you search the GIFs online, make the required adjustments, and share them on Instagram with ease. When you share, the GIFs are automatically converted to videos before they are published online. In addition to this, you can also change their background, add text to them, adjust the font and color of the text before posting the GIFs on Instagram.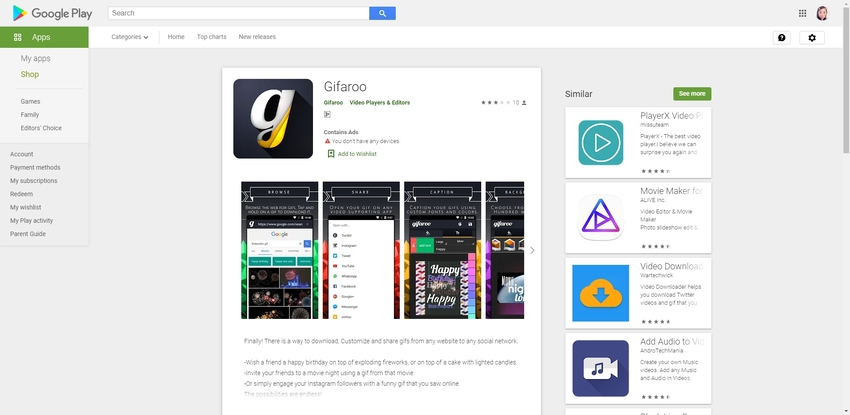 Part 3. How to Convert GIF to Instagram Video in Wondershare Filmora
Wondershare Filmora is a professional-grade industry-standard video editing program for Windows and Mac computers. Despite being powerful and feature-enriched, the software still maintains the essence of simplicity and the user-friendly interface that all the applications by Wondershare never fail to follow. With the ability to add transition effects, text narrations (or captions), and choose an output format from the existing presets to remain compliant with some of the popular streaming video websites like YouTube, Vimeo, etc. Wondershare Filmora is an all-in-one suite for all your video editing needs.
Additional Features:
Built-in screen recorder
Built-in webcam recorder
Built-in CD/DVD Burner and ISO file creator
Convert GIF to Instagram video using Wondershare Filmora
Step 1. Click the Media Library Window and Import a GIF
After you have downloaded, installed, and launched Wondershare Filmora, click anywhere inside the Media Library window (a big window at the top-left of the interface). Locate and select a GIF file from your PC, click Open to import the GIF file to Filmora.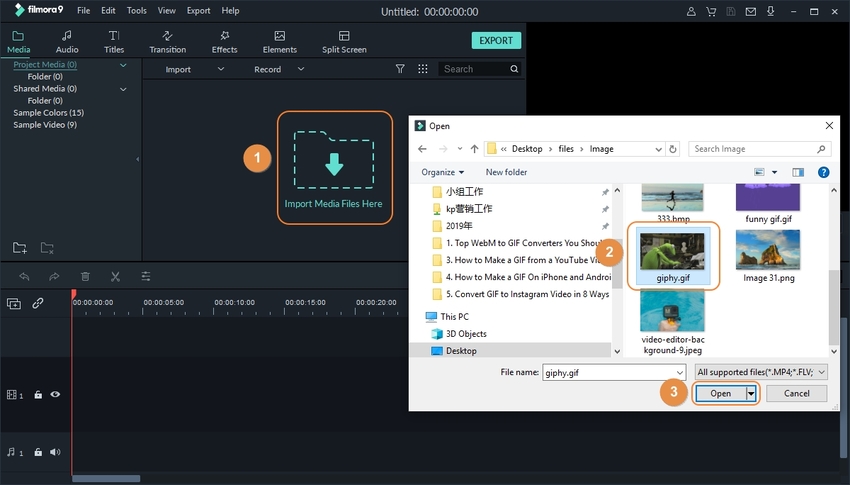 Step 2. Click + to Add GIF to Timeline and Optionally Adjust Aspect Ratio
Hover mouse to the GIF you added to the Media Library window, and click the + icon that appears at the center of the thumbnail, and click MATCH TO MEDIA or DON'T MATCH (as needed) to add the file to the Timeline present at the lower section of the interface.
Step 3. Go to Project Settings and Select Aspect Ratio
Optionally go to File > Project Settings, select 1:1 (Instagram) from the Aspect Ratio drop-down list, and click OK.
Step 4. Click EXPORT, Select MP4, and Click EXPORT
Click EXPORT from the top-right corner of the Media Library window, ensure that you are on the Local tab, select MP4 from the Format list in the left pane, make other adjustments to the output preferences from the right pane, and click EXPORT from the bottom-right corner to convert GIF to Instagram video.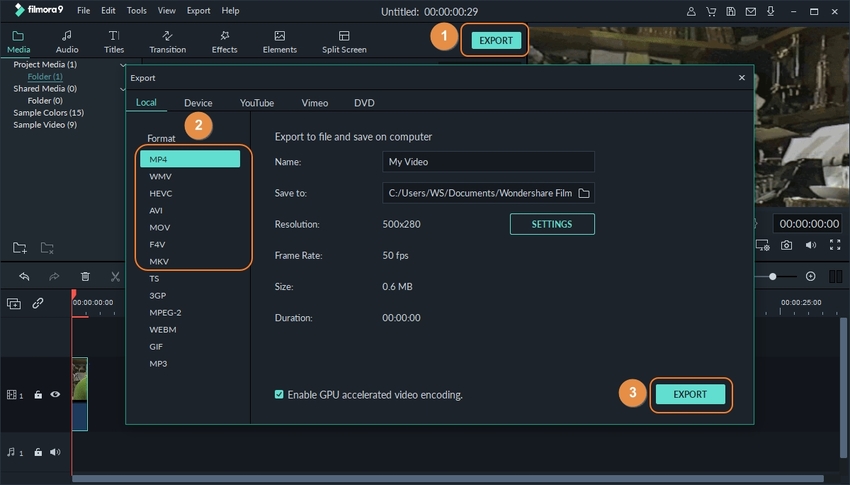 Summary
Even though the online GIF to video converters are free, most of them don't provide the privilege of publishing the converted files directly to Instagram. On the other hand, Android or iOS apps are comparatively way better as they give more controls over the GIF files and conversion preferences. Also, these apps have built-in sharing options to publish the videos to Instagram or any other social networking sites.
However, using a dedicated computer program such as Wondershare Filmora is still the most encouraged and preferred way as it not only lets you convert GIF to Instagram video. It also enables you to easily add various effects, texts, and transitions before producing an Instagram compliant video file.
By the way, its friend, Wondershare UniConverter is one of the hot products to create a GIF with video and images for Instagram. It is not only one feature, but also contains many stunning features that intrigue you to explore.
Wondershare UniConverter
· Make GIF from Instagram video or images via a couple of simple steps
· 90X faster speed process without quality loss
· It can compress, edit, burn, transfer videos, add video metadata, and more features
· It allows you to transfer videos from computer to iPhone or Android mobiles without using iTunes
· The full-fledged Toolbox function enables you to convert images, create GIF, burn CD, rip CD, and fix Meta tags
· Transfer media files to Apple devices, Android devices, USB flash drives, or external hard drivers easily