GIFs have come a long way. Invented in the year 1987, they have evolved from being used to add interactivity in websites, and now, they are everyone's favorite photo format. People rely on animated GIFs to enhance communication. GIFs can precisely communicate an emotion, inside joke, or improve a point, especially on chat messages.
But the trouble lies in identifying an ideal GIF website to find appropriate GIF pictures to use in your conversations. However, it does not have to be a tiresome process. You have to look in the right place. That is why this guide has sampled out the best GIF sites that you can opt for. Later, you will get to know what GIF means.
Online UniConverter - Create Funny GIFs from Video/Images Free Online
[没有发现file]
Part 1. Top 5 Free GIF Websites You Should Know
https://giphy.com/explore/free-download
GIPHY is the best site relied upon to create and save GIF images, and it's apparent why. The GIF image upload site serves over a million users daily, availing over a billion GIFs daily. The developers of this site aimed to develop a Google of GIFs, and they have succeeded at that.
It is easy to create, share, discover, and search for an animated GIF using GIPHY. But it does not end at that. GIPHY is also integrated with the top messaging apps. Hence, users can share favorite GIFs with family, friends, and colleagues.
Pros:
New content uploaded every day.
Excellent interface looks funny.
Con:
It has varied search tags hence users can meet rare gems and with unlikely words.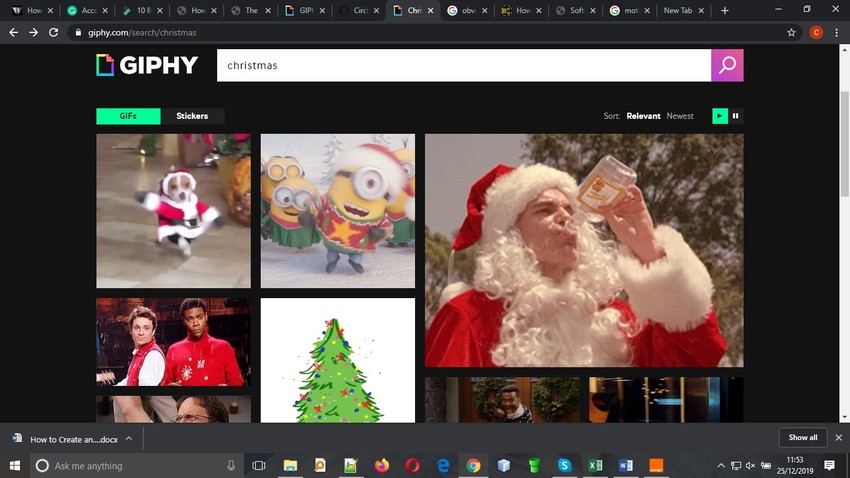 https://tenor.com/search/free-gifs
Invented in the year 2014, Tenor is Giphy's biggest competitor offering almost similar services and features. Their difference lies on display. While GIPHY tends to be more colorful, Tenor is designed to appear more refreshing and with a modern look.
The tenor is integrated across a wide variety of platforms such as Google Keyboard, DropBox, Microsoft, Facebook, Whatsapp, and LinkedIn. More so, the site provides a visual and real-time analysis of data to enable brand marketers to comprehend how GIFs are consumed.
Pros:
It is easy to use.
Edit GIFs.
Con:
It's a bit slow on some devices.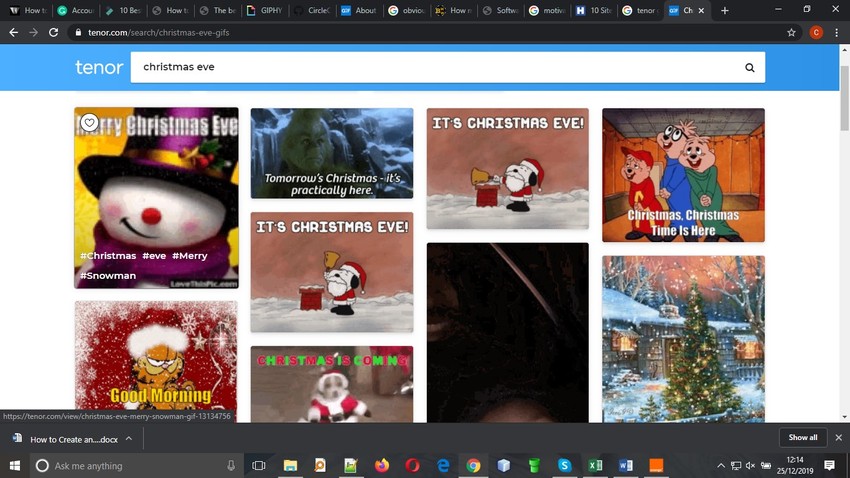 Gifer is another top site that will help solve your endeavors on how to get GIFs. The site has been designed to provide multiple GIF options on its left window. And with the feature, users can be able to locate specific GIFs that they desire categorically. The options availed include holidays, reactions, science, stickers, animals, and art and sign, among many others. More so, GIFER enables users to locate GIF online based on emoticons. Whether you are looking for an angry, happy, sad, relaxed, or pain GIF, this site has got you covered.
Pros:
No registrations needed.
Well labeled interface.
Con:
Limited app compatibility.
It takes long to load big files.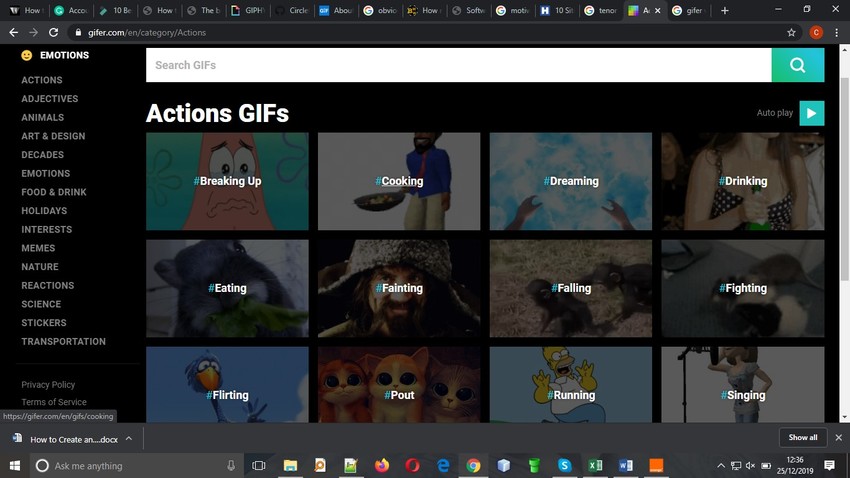 https://www.animatedimages.org/
The website is the center of thousands of free animated GIFs available in 2000+ categories. This makes it even simpler for the users to locate any GIF that they desire. Samples of its types include love, flowers, happy birthday, cats, good morning, and angles. And once you have identified a specific GIF that you would want to download, use the download button or link them using the availed HTML codes.
Pros:
The site is fast while using it.
Con:
Limited format support.
It can be confusing to new users.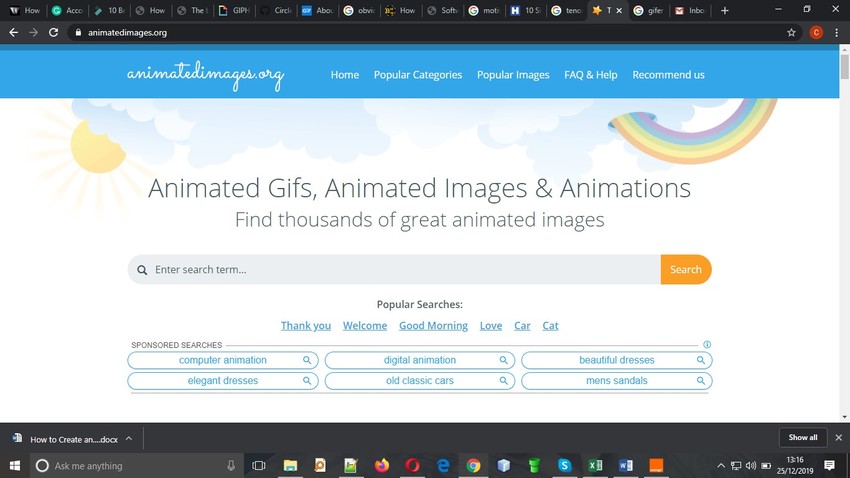 GIF GIFS is an animation sharing service that lets users upload GIF online free, and later share them. You can use GIFs obtained in this site without any limitations, whether it shall be in an email, on a website, printing, or PowerPoint. The developers of the website kept its design simple but yet very powerful and efficient. Hence, users will be able to upload GIFs from the program effectively and without any hitches.
Pros:
Available for free.
No ads.
Con:
GIF editing capabilities is restricted.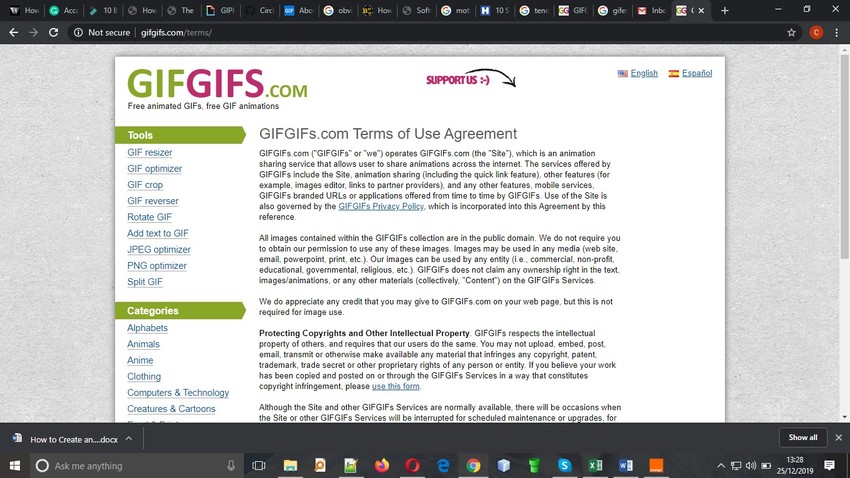 Part 2. The Definition of Animated GIF
An animated GIF is a graphics interchange format that holds several frames or images in a single file. They usually move, for example, a waving hand on a website, or letters that keeps getting more significant. The frames or images in a GIF file are typically specified in a particular order. They can be instructed to loop endlessly, or for a given number of sequences from where the animated GIF will eventually stop.
GIF Information Table
| Name | GIF |
| --- | --- |
| Filename Extension | .gif |
| Developed by | CampuServe |
| Number of Colors | 2, 4, 8, 16, 32, 64, 128, and 256. |
| Color Spaces | 2 GB |
| Compression Algorithm | LZM |
| Ideal Use | Internet |
| Release Date | 1987 |
Part 3. Bonus Part: The Best GIF Creator You Must Have
Just like knowing how to add GIFs, knowing the processes involved when performing other computer and media related tasks can be tedious. Screen recording computer activities, downloading videos from online sites, and creating an animated GIF will involve different steps, and in most cases, various tools. But what if you get yourself an all-rounded tool to perform all those? A powerful and efficient program that you can count on in your tasks?
That is where Wondershare UniConverter comes into the picture. It has been available for a long time now and has earned an excellent reputation as an easy to use program, fast, and feature. It is for that reason that both novices and professionals recommend the program.
Wondershare UniConverter
· The primary function of UniConverter is conversion. Users get to convert various file types like images, videos, and audios.
· Lets users perform minor editing to videos that your video files are displayed in the best desirable manner.
· You can screen record activities being performed on the computer screen. This feature is helpful especially when creating tutorials.
· Wondershare UniConverter is equipped to burn contents in various optical media storage devices.
How to Create an Amazing GIF in UniConverter?
Step 1. Add the Video or Photos that will Create GIF
Launch the program. Go to Toolbox and then select GIF Maker in the availed options.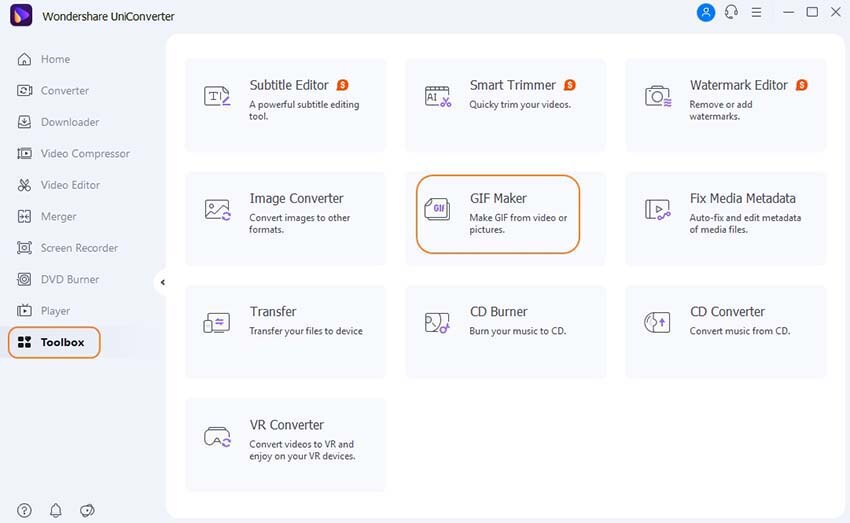 Option 1: If it's a video, click on Video to GIF and then on + Add Files. Then set the video duration on the right side of the interface.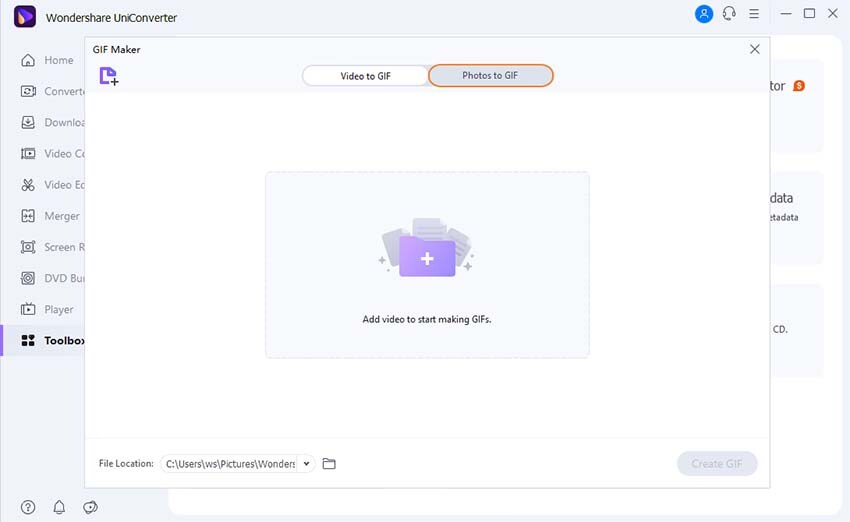 Option 2: If it's a photo, click on Photo to GIF in the popup windows and then select on + Add Files to add the photo from the browser.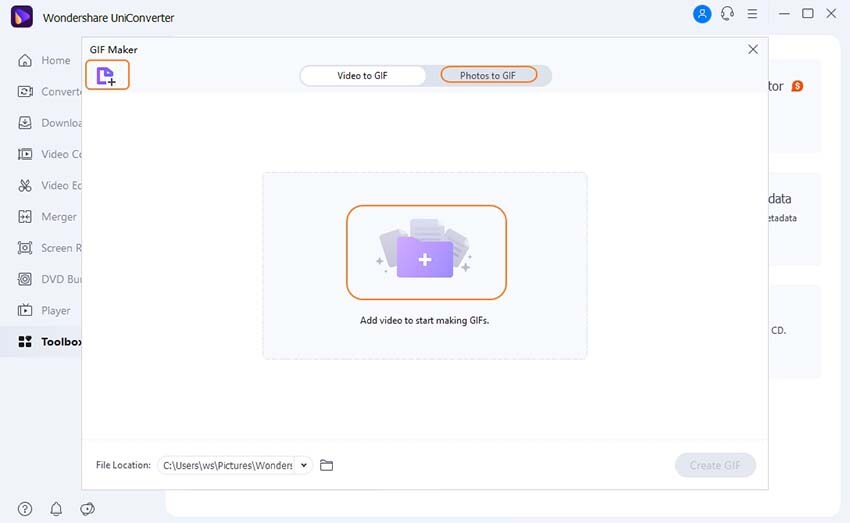 Step 2. Click on Create GIF and Save the GIF File
Confirm the Frame Rate, Duration, and Output Size, and then you could click the Create GIF button to start the processing.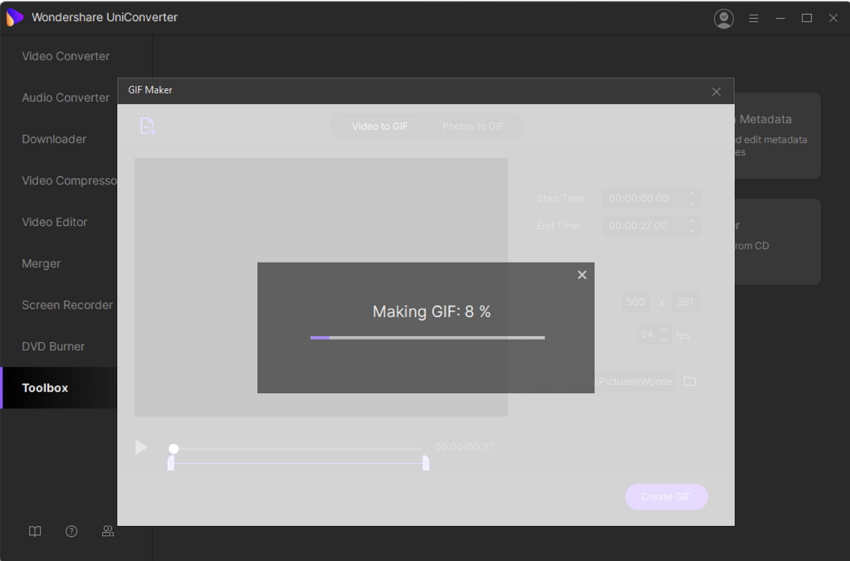 Summary
Online websites provide a faster solution when it comes to creating GIFs. No installation is needed, and in most cases, sign up is not a necessity. However, they aren't suitable for creating a professional picture and animated GIFs. They are limited in terms of file size that they handle and hence cannot be relied upon entirely for extensive scale work. Top-notch programs like Wondershare UniConverter seal that gap and avail even more additional features on top of GIF maker.