When you add face to GIF, the entire animation looks funnier, and in some cases, more realistic. However, creating a face GIF could be tricky sometimes, especially when you are unaware of some available tools that can help you get the task done.
To make things easy for you, listed below are the top 5 face GIF maker apps that you can download and use to create your own GIFs with your face to make your conversation with your known ones more entertaining and engaging:
Part 1. Top 5 Face GIF Apps for iPhone and Android
Following are the top 5 apps that let you put faces to GIFs and share the modified file with your family, friends, and colleagues while conversing with them on any of your favorite social networking platforms:
GifJif is one of the top GIF apps you can find online as it lets you easily customize your GIF. This implies that with GifJif, you can add your face to a GIF or add any other face to GIF, depending on your preference. So, if you are looking to add face to GIF online, GifJif is the app for you today.
The tool allows you to access up to 15,000 GIFs from the world over. After selecting the GIFs, you can cut and add your face to the GIF, thereby creating your own viral creative content. Interestingly enough, you can directly share the GIF you customize to any social media of your choice ranging from Instagram to Facebook, or simply share it as text to your loved ones.
Platform(s): iOS
Star Ratings and Reviews: 4.9 Star from 8.7K reviews
Pros:
It has more than 5000 GIFs to work on, and the database is updated on an almost daily basis to improve your face GIF creation experience regularly.
Con:
At the time of this writing, GifJif is a paid program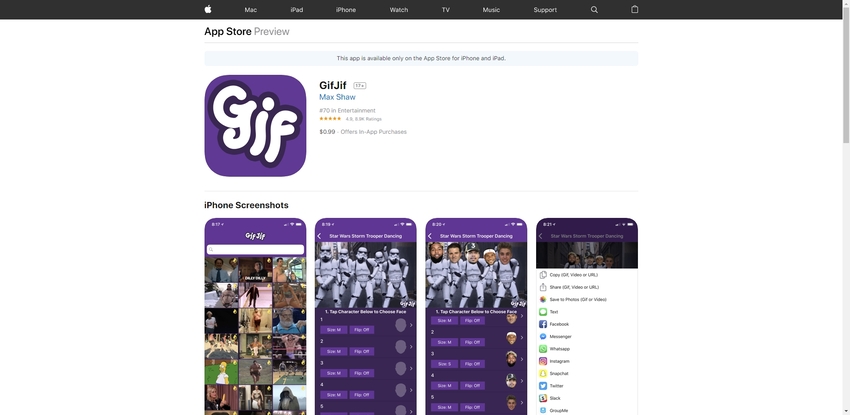 Faces – video, gif for texting
When you think about a fun way to turn your face into a GIF or to add your face to a GIF, the Faces – video, gif for texting is the tool for you. This face GIF maker comes with fun packages that let you take photos or video selfies with friends and family or whoever, then create fun GIFs with these faces. You can lip-sync your favorite songs or sounds, add funny facial expressions to GIFs, text with funny GIFs, etc, with the Faces app.
This free face GIF maker is ideal for adding faces to GIFs that can either be directly shared on social media or saved for later use during texting or video chats.
Platform(s): iOS, Android
Star Ratings and Reviews: 4.3 Star from 3.2K reviews on Apple Store and 2.5 Star from 796 reviews on Google Play Store
Pros:
Lets you take selfies and create videos out of them or add face to GIF.
Allows lip-syncing with the lyrics of your favorite music tracks.
Con:
There is no X button to click when it reminds you could pay for it.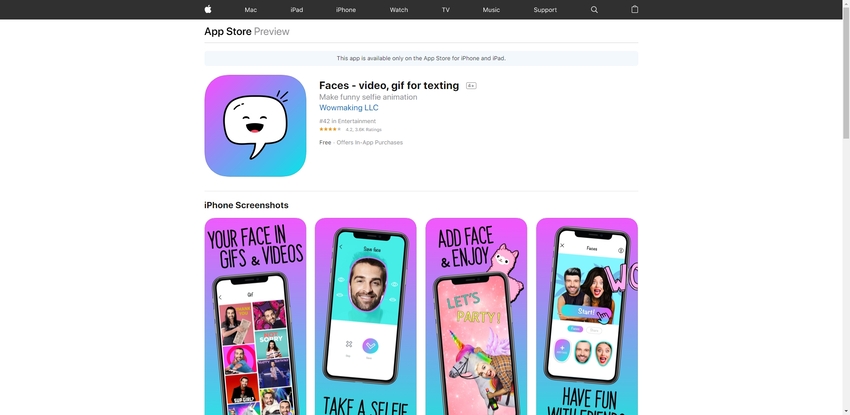 The Morphin face GIF maker is a free tool that was recently upgraded in 2020 so you know it has all the features befitting a new generation app. With Morphin CGI GIF Studio, you can enjoy the benefit of creating your own version of popular GIFs by adding your face to the GIFs. Put the spotlight on you by replacing the initial face of a GIF with yours or anyone else's that you choose. Hey, guess what? You can even change the outfits on the GIF and not just your face. It is easily achievable with this highly recommended tool.
You can also add fun captions after adding your face to the GIF, then share it on Whatsapp, Messenger, Instagram, Snapchat, or any other social media platforms you wish.
Platform(s): iOS, Android
Star Ratings and Reviews: 4.1 Star from 120 reviews on Apple Store, and 4.1 Star from 2890 reviews on Google Play Store
Pros:
Lets you capture a selfie-and replace the person's face GIF file has with yours.
Lets you share your creations directly on Instagram and Snapchat.
Con:
The selection of GIFs is minimal, and it keeps giving me network error.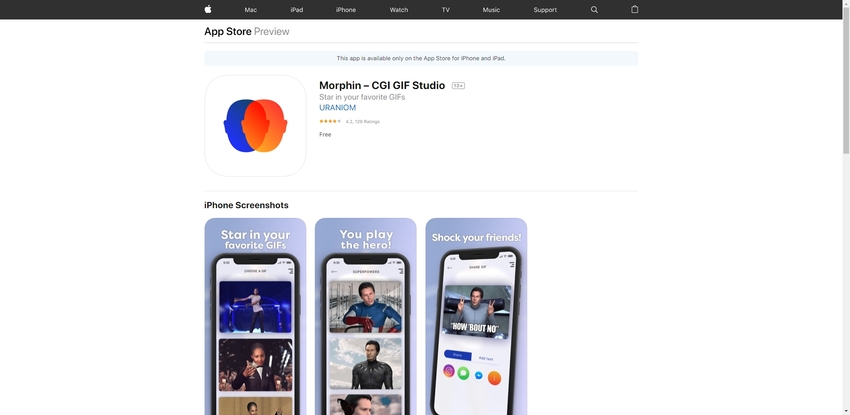 Funny Face GIF Maker – Add Face To GIF
Are you an Android device user looking for the best face GIF app? Then, Funny Face GIF Maker is the recommended tool for you. A free face GIF app that is specially designed for making GIFs on Android, Funny Face GIF Maker lets you enjoy the experience of customizing GIFs as your own.
Create high-quality GIFs that you can customize with the many available special effect options provided by the app. You can easily and quickly add your face, text, and stickers to get the final result you want. Indeed, it is fun to use and you won't regret trying it.
Platform(s): Android
Star Ratings and Reviews: No Reviews Yet (At the time of this writing)
Pros:
Lets you add face to GIF and create your custom emoticons
Con:
Although the app is for Android smartphones, it isn't available on the Google Play Store and must be downloaded from the link given above. To install, you may need to configure your Android device to allow the installation of the apps that you obtained from an unknown/untrusted source.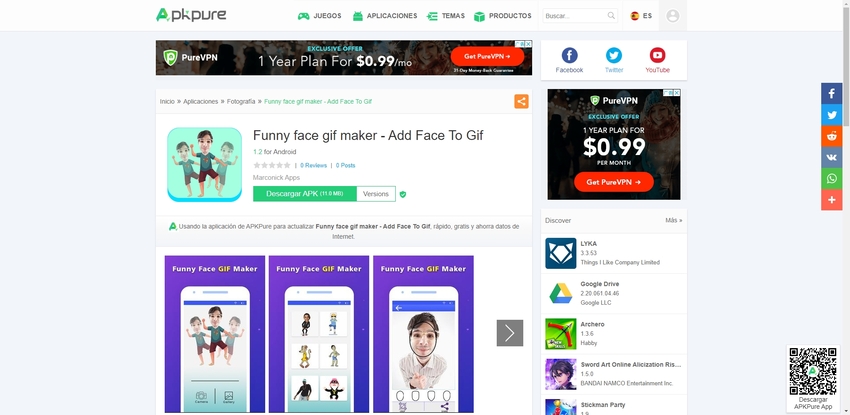 JibJab is yet another face GIF app that helps you create the best GIFs for fun. With the option to add your face to GIFs such as funny videos, Ecards, popular holiday-themed memes, you can make special occasions more special for yourself and your loved ones. These occasions include Christmas, Mother's Day, New Year's, Birthdays, Anniversaries, Weddings, and so on.
There are numerous GIFs and videos to choose from; these are updated on a regular basis to keep up with the trends. Hence, using JibJab can never be boring as you explore and add your face on GIFs that catch your eye.
Platform(s): iOS, Android
Star Ratings and Reviews: 4.7 Star from 2K reviews on Apple Store, and 4.2 Star from 60K+ reviews on Google Play Store
Pros:
Lets you add your face to the available animated GIFs or Ecards
Allows you to share your face GIF to social networking sites like Facebook, Twitter, etc.
Con:
Sometimes the links of videos and gifs don't work, so it's impossible to share your creations.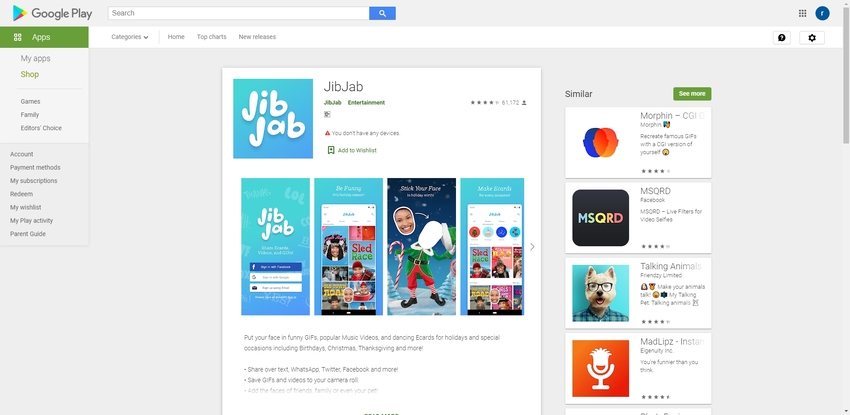 Part 2. How to Add Face to GIF Online?
It's pretty easy to add face to GIF online with Media.io, an all-in-one tool that works on iPhone, Android, Mac, or Windows. With this program, you'll begin by recording a webcam of yourself before converting it to GIF. As expected, you can use the inbuilt webcam or connect an external webcam and select it. Also, Media.io Webcam Recorder lets you capture voice narrations on your webcam recording using the internal or external webcam. After capturing a short webcam video, upload it on the GIF Maker tool and customize it accordingly. Let's see how to do that!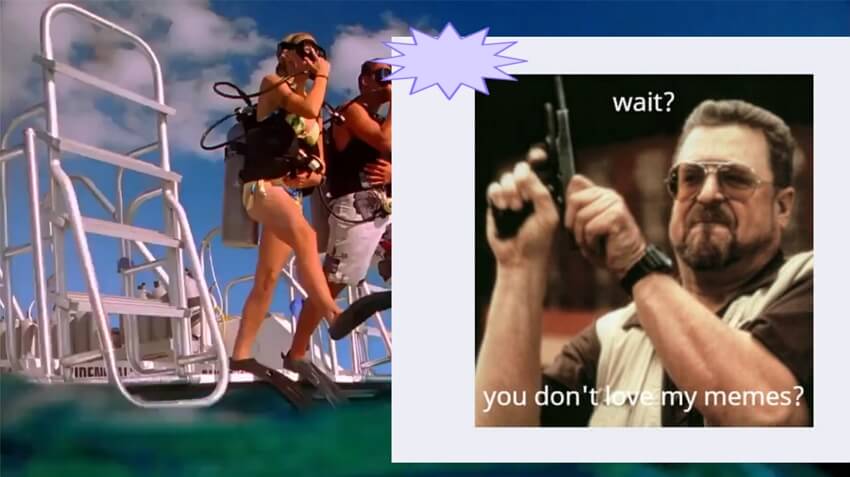 Section 1: Record Your Face via Webcam Recorder Online:
Step 1. Launch Media.io Webcam Recorder and then tap the Record Webcam Now button to launch the Screen Recorder tool.
Step 2. Next, choose Camera Recording as the recording mode before selecting the webcam camera. If you want to capture voice narration, choose a microphone as well.
Step 3. Press Start Recording to capture your webcam video. Finally, press Stop to finish capturing the webcam video, which will be downloaded automatically to your device.
Section 2: Create a GIF with Human Face:
Step 1. Open the Media.io GIF Maker tool and click the Video to GIF tab. Then, tap Choose Files to load the recorded video.
Step 2. Next, enter the GIF file playback duration. You can also drag the trimming handles to cut the video easily. Another thing, you can customize the frame rate, output GIF resolution, and add watermarks.
Step 3. Lastly, press Create GIF to generate your GIF file with a human face. That was simple, right?
Summary
Adding your face to GIF is a unique way to brag about your creativity while keeping your family, friends, and colleagues entertained at the same time. Thankfully there are some efficient iOS and Android apps that help you in this. That said, the 5 proven face GIF maker apps listed above enable you to insert your face into GIF, and many of them even let you share the GIFs that you create on your favorite social networking website. More interestingly, you can choose to record your face online and add it to a GIF!
If you want to create a funny GIF using video or images with more bonus editing functions, the desktop version of Wondershare GIF Maker has this feature. Might as well take it a try.
Wondershare UniConverter
• UniConverter can be used in Windows and Mac.
• It directly convert motion pictures and live videos to GIFs. This happens 90 times faster than other converters.
• It allows you to transfer videos from computer to iPhone or Android mobiles without using iTunes.
• It allows you to download or record videos from as many as 10,000 platforms designed for sharing videos like YouTube, Vevo, Dailymotion, and so on.
• It has a vast toolbox for making GIFs and doing other interesting tasks like subtitle editor, DVD burner and video compression.