There are one million and one reasons why you will need to cut and create ringtone in iTunes. For instance, you might want to chop off some unwanted or noisy parts of your favorite song at the start or the end. Also, you will need to trim your music precisely to create the perfect iPhone ringtone or alarm tone. These and many other reasons are why I want us to learn how to make iTunes song ringtone easily. Let's find out!
Part 1. How to Make iTunes Song Ringtone on iPhone
Of course, there are many iPhone ringtone makers on Apple Store and the internet at large. However, very few can offer what iTunes has. It's free, simple to use, and provides plenty of functions. On top of creating ringtones with precision, iTunes also allows users to download songs, TV shows, curate playlists, and many more. So, without much ado, let's learn how to shorten song in iTunes and use it as your iPhone ringtone.
Step 1. Download and install iTunes on your Mac or PC and then run it.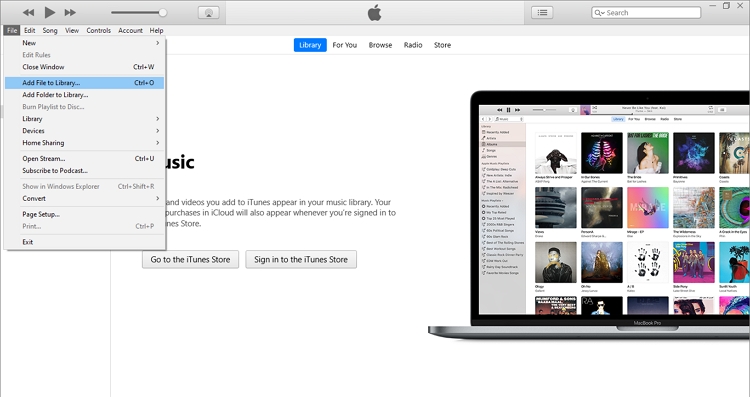 Step 2. Next, click the File button and then tap the Add File to Library option to import your audio.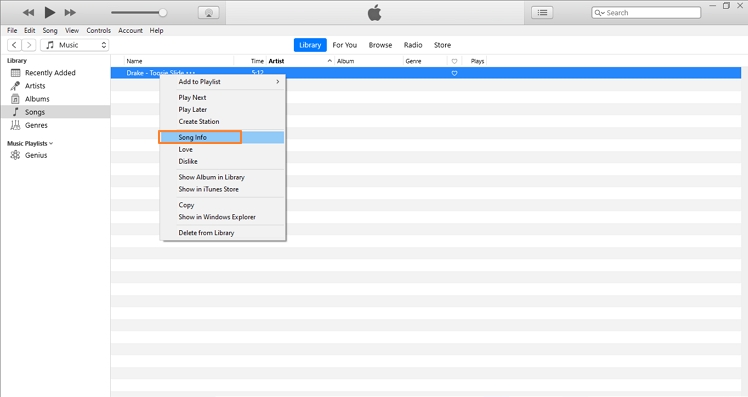 Step 3. After importing a song successfully, right-click it, and then choose the Song Info option.
Step 4. On the pop-up box, click the Options tab and then manually enter a start and end time for your ringtone. I recommend a 30-second duration for the best results.
Step 5. Next, it's time to convert your new song to AAC format. To do that, tap the File button and then choose the Convert option. From there, tap the Create AAC Version option. You'll see your new AAC file under the original song.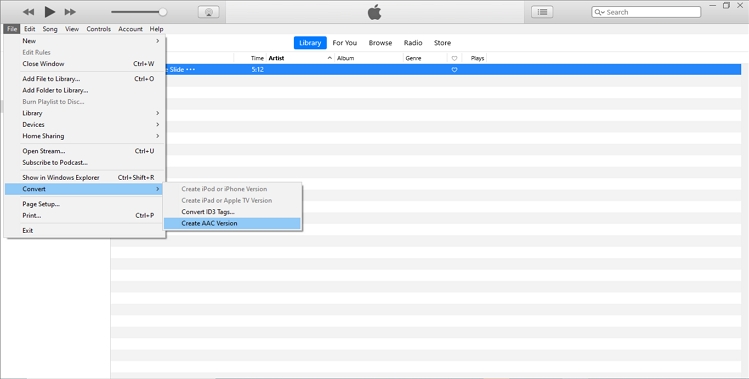 Step 6. The iPhone supports both MP3 and M4R formats. However, M4R is the best iPhone ringtone format because it features a smaller size but with similar audio quality. So to convert AAC to M4R, right-click the AAC song and then tap the Show in Windows Explorer option.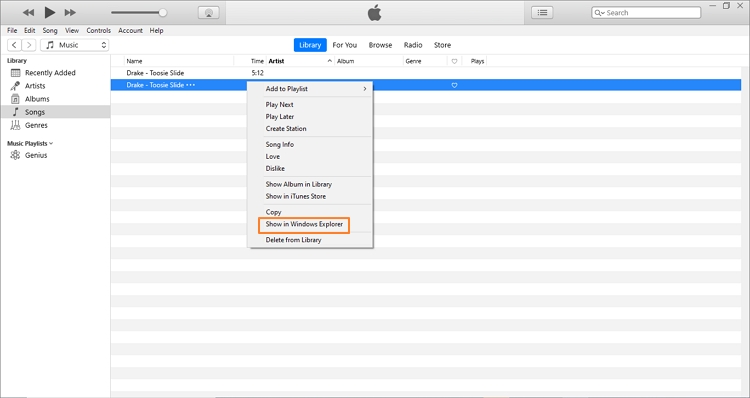 Step 7. On Windows Explorer, right-click your file and then tap the Rename option. Now change the file extension from .m4a to .m4r.
Step 8. Finally, connect your iPhone to your computer and transfer the M4R song. You can now set it as your iPhone ringtone. That is how to create an iPhone ringtone in iTunes with lossless quality.
Part 2. Best Online Alternative to Create Ringtone in iTunes Effortlessly
Although iTunes is a great app to make ringtones, not everybody owns a computer to install it. Therefore, using a universal app like the Online UniConverter (Originally Media.io) is the smarter option. Unlike iTunes, this song trimmer works on any device, including iOS and Android. All that's needed is a browser and internet connection. Also, using the Online UniConverter to create iPhone ringtones is a pretty simple process, as we'll be discussing below.
Online UniConverter – Best iTunes Alternative
Create custom ringtones for iPhone from MP3, FLAC, M4A, M4R, AU, AAC, and all audio formats.
Supports the creating of iPhone ringtones directly from YouTube URLs.
Convert songs to any iPhone ringtone format with lossless quality.
Edit video and image files by creating GIFs, converting, cropping, compressing, and so on.
Professional 24/7 customer support.
Available on Chrome, Safari, Edge, Firefox, Opera, and other web browsers.
Here are the steps to create iPhone ringtone in iTunes online alternative:
Step 1. Launch Online Audio Cutter
After launching this online app, choose the Audio Cutter feature under the Online Tools menu.
Step 2. Import a song
Now drop your audio or click the plus sign to import your file. You can also copy a YouTube link and paste it in the space provided. Online Audio Cutter will start importing your audio file.
Step 3. Customize audio
On your imported song, drag the trim playheads at the beginning and endpoints of your sound to set duration. As I've said before, a 30-second period should be enough. After setting duration, apply your fade effects and choose M4R format under the Save To list.
Step 4. Create iPhone ringtone
Finally, tap the CUT button to start making your iPhone ringtone. You can download it to Dropbox or directly to your iPhone. It's that simple and straightforward!
[没有发现file]
Part 3. Supported iPhone Ringtone Format
Typically, the iPhone ringtone format is a bit different from other smartphone's ringtone formats. Here is the secret, iPhone ringtone format comes in MPEG-4 encoding, just that the "R" represents ringtone in the M4R extension. That is, however, not to say that M4R is the standard audio format for iPhone. This device supports audio formats such as AAC, M4A, WAV, AIFF, MP3, and many others. In most cases, iPhone ringtones can go up to 30 seconds. So, the best practice is to try and may your custom ringtone even shorter.
Meanwhile, there are many ways to transfer ringtones from desktop to your iPhone. For example, you can sync your ringtones through iTunes and download it on your iPhone. Another straightforward way is to use a third-party file transfer app such as the Wondershare UniConverter. So, whichever way you decide to import ringtones to your iPhone, you can be sure of quick results.
Summary
Was this article helpful? I'm sure it is. As you can see, with iTunes, you can do so much more than organizing curated playlists. If you master the steps to create iPhone ringtone in iTunes, you can make your precious phone stand out from the rest. However, I find the Online UniConverter to be the most efficient ringtone-making method because it's simpler, quicker, and available on any device.