Mic sound test is a recommended thing to do before you record a podcast, practice singing online, share a voice tutorial, and so on. If you are looking for sites to test microphones online, you will find many available testers. However, because of the likelihood that not all these tools are workable, you may be confused as to the reliability of the software, the nature, or even the reliability of the mic itself. That is why we have tested 5 reliable ways you can test your microphone.
This blog shows you these online mic test programs and how to use them to conduct a mic test online.
Part 1. What is a Mic Test?
A mic test is a process of checking the functionality of your device or computer's microphone before going on a live audio call, Zoom meeting, podcast, etc. An online mic test is usually carried out to check if your mic is working correctly and fix whatever issue the mic may have if it is not. To use a mic tester online, you need to grant the site access to your microphone, choose the audio input source, and do a test by speaking into the mic to detect sound waves.
The goals of mic tests are to check if a new mic is functioning well, check if headphones are working correctly (through headphone mic test), and ensure your built-in mic is working fine and your computer is not distorting your voice.
Part 2. 5 Best Mic Testers to Check Microphone Online in 1 Click
The following top 5 tools are highly recommended for carrying out mic tests online:
This is a web-based tool that allows you to test a mic online through audio recording. It is easy for beginners to use on both Windows and macOS. It shows sound waves when you do a mic test, allows you to record and playback the sound for quality check, and with this tool, you are assured of a secure mic testing and recording process.
How to test my microphone in seconds?
Step 1. Connect to the Media.io mic checker and choose your microphone and allow the tool's permission to access your microphone.
Step 2. Test or check if an audio waveform appears after clicking Record and speaking into the microphone.
Step 3. Check the audio quality by playing it back using the Preview button. If the quality is not good, you can edit and tune it before you download or proceed to use the microphone on other apps.
Extra features of Media.io online mic checker:
It is a functional mic tester that gives quick results.
It allows for both webcam and mic tests.
Provides versatile editing features to give your audio a better appeal and sound effect.
Supports different recording modes that suit the needs of various categories of users
Mic Test is a recommended web-based resource that helps you carry out a micro-test to determine if your device mic is functioning well or not. It also does a mic quality test for third-party microphones and gives the result under a menu called Microphone Information. Here, it shows you the mic's name, sample rate, number of audio channels, and if it supports noise suppression and echo cancellation or not.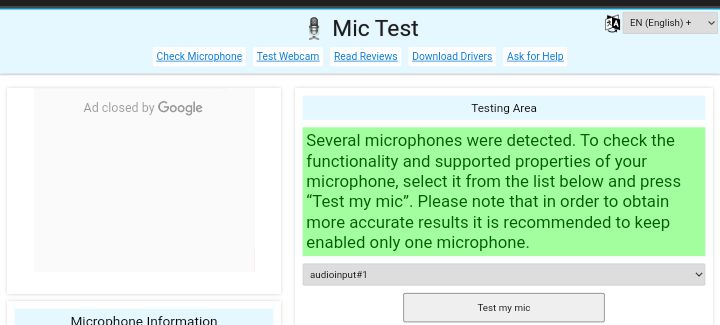 How does it work to test your microphone online?
Once you access the site, wait for Mic Test to detect all the multimedia channels on your device.
Select "Test my mic" and speak into the microphone.
Wait for your test results.
The Online Microphone Test playback tool is very effective in helping you test your microphone before going for an online test that requires your sound to be put on, a Zoom meeting that requires you to speak, etc. It works effectively on both mobile devices and Windows PC.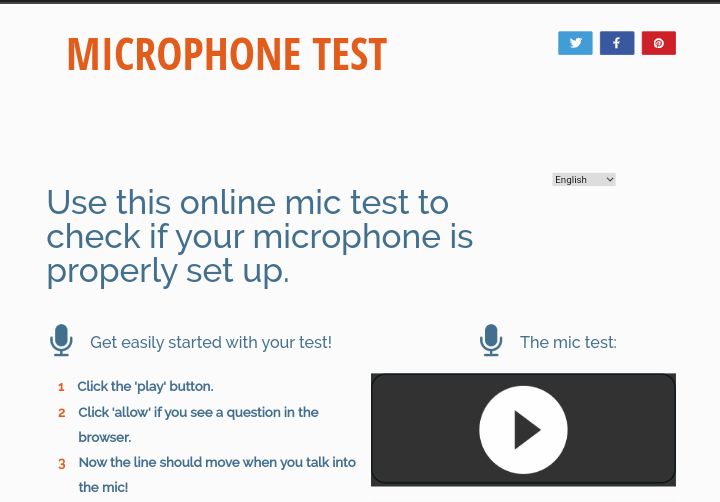 Do a mic sound test using this guideline:
Select play.
Choose to allow the browser to access your device's microphone.
Speak into it, and you'll see the lines move to indicate that your sound is working fine.
Another recommended way to test your microphone is with the Check Mic Online utility, a webcam, and mic test tool. It does not require third-party app download or installation as everything is possible online. It has a toggle button that you can use to enable auto-start of mic sound test once you visit the site.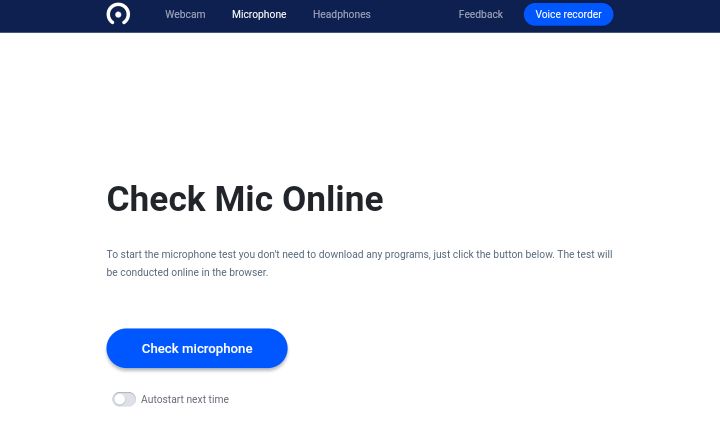 Do a mic sound test using this guideline:
Tap the "Check microphone" button to begin.
Do the mic test to hear yourself. Don't worry. A simple move of the sound wave is an indication that your mic is working fine.
You can do a mic test playback by recording and playing it to check for sound quality.
The last fast way to test a microphone online is with VideoForm, another tool that has both webcam and mic test functionalities. In addition, VideoForm assures you of safety in your online mic testing as it does not store any audio or video recordings on its servers. It also supports external microphones attached to your device.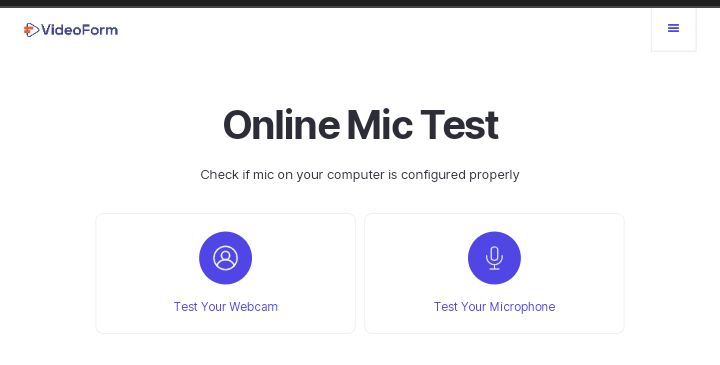 Do a mic sound test using this guideline:
Choose the Test Your Microphone button in the center.
Speak into your mic in a clear voice.
Listen to ascertain if the mic is working fine or not.
Part 3. FAQs about Testing Microphones Online
1. How do I test the microphone on Windows 10?
Visit Media.io Online Microphone Tester, allow the site to access your microphone, then speak into the mic and listen to the recorded sound for any adjustments that you may need to make.
2. How do I test the microphone on Mac?
The best way to test a microphone on Mac is to use a universal tool like an online mic tester. First, ensure you enable access to your microphone under your "System Preferences", You can use Media.io Online Voice Recorder to record your voice and playback for quality check.
3. How to listen to the playback of the microphone test?
You can either listen as you do the mic test online or record your voice, especially when the tool only shows you sound waves to indicate that your mic is working. However, if you want to listen to the quality of your voice on Media.io, click the "Preview" button after mic testing and recording. You can now listen to your sound before downloading.
4. Why does my microphone not work?
There are several reasons why your microphone does not work, the most common ones being that you chose the wrong audio input device, you haven't granted the mic tester or your browser access to our microphone, or you are not loud enough. You can resolve these issues once you give access to your browser on your device settings, and you speak louder and more precisely than before.
Final Words
You can easily do a mic sound test on any of the sites discussed in this article. The tools are accessible on any good browser, the steps to use them are simple, and the results are excellent. With Media.io Mic Tester Online, for instance, you can also record your sound for playback and editing. Lest I forget, Media.io also offers other unique audio tools like audio format converter, audio compressor, editor, etc.