If you're camping here looking to learn how to make a meme for Facebook, then that's the right decision. Facebook is a crowded social media platform with more than 2.9 billion active users. On this platform, millions use memes to entertain their following and comment on posts. So, if you're one of those regular meme users on Facebook, this guidepost will teach you how to create a crazy Facebook post meme with five online solutions. Remember that you don't have to install or pay anything with these online meme makers.
Part 1. How to make a meme on Facebook via Media.io Meme Generator
Media.io Meme Generator is the most straightforward Facebook meme generator you can find online. With it, you can quickly generate Facebook memes using GIF, PNG, or JPG files. After loading a photo, this Facebook meme maker lets you choose from 13+ stylish meme template designs before customizing them with fun captions. Then, you can edit the text size, color, font style, outline color, and so on. It's also vital to note that Media.io Meme Generator allows you to directly set the aspect ratio as Facebook, Instagram, Pinterest, Snapchat, etc. And above all, it comes with other tools like GIF maker, slideshow maker, video editor, vocal remover, among others.
Key features:
Generate memes from all standard image formats like GIF, JPG, and PNG.
More than 13 unique Facebook meme template designs.
Customize the meme text color, font, size, etc.
Export memes to Facebook, Pinterest, Twitter, Tumblr, etc.
Edit and convert videos, images, and audio losslessly.
Below is how to make a meme on Facebook online with Media.io Meme Generator:
Step 1. Upload the picture file.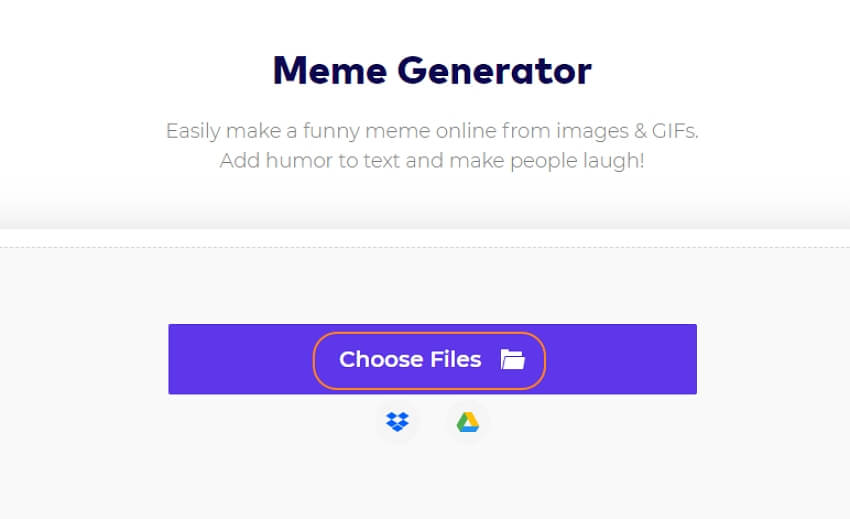 Launch Media.io Meme Generator on your iPhone, Android, or computer browser and then tap Choose Files to load a photo. Or, drag and drop the picture file on the meme generator.
Step 2. Choose a meme template and add captions.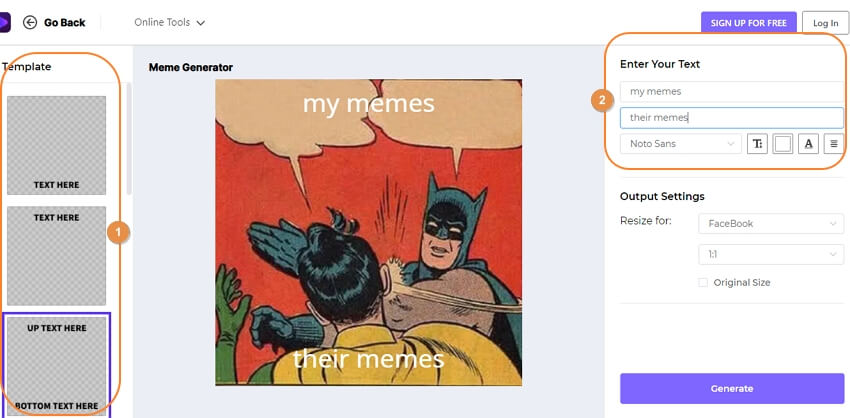 Next, select a meme design on the Templates list on the left pane. Then, navigate to the right pane and input the top and bottom texts on the fields provided. After doing this successfully, customize the text settings like color, size, and font style to make them stand out.
Step 3. Set Facebook aspect ratio and generate meme.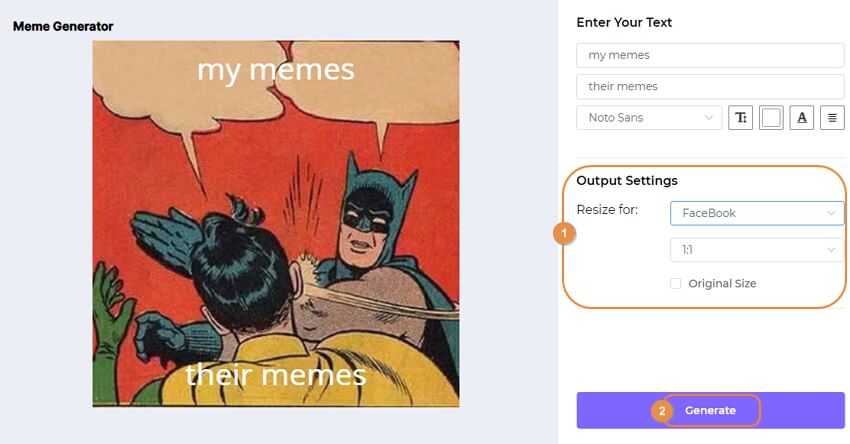 Last but not least, go to Output Settings and choose Facebook as the aspect ratio. Finally, click Generate to create your Facebook meme effortlessly. That was fast and easy!
Part 2. How to Create a Meme on Facebook via Clideo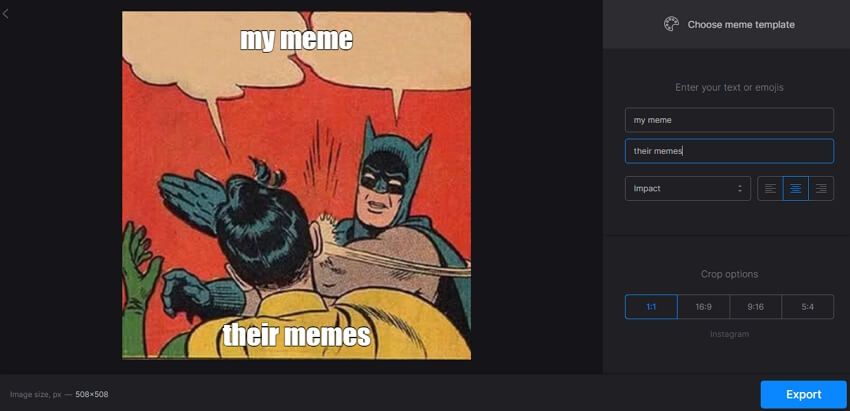 Clideo is another top-class Facebook fact checker meme generator for online use. Like with Media.io Meme Generator, you don't need to pay anything or register anywhere to create memes on Clideo. That aside, Clideo supports the creation of Facebook memes using all typical image formats, video formats, and GIF files. After adding an image on Clideo Meme Maker, you can apply texts before customizing the impact, size, color, and so on. You can also directly export memes to Facebook, Instagram, YouTube, and Instagram Story. However, the rendering speed is a bit slow, and there is a Clideo watermark on the output.
Follow these steps to generate a Facebook meme with Clideo:
Step 1. Launch Clideo Meme Maker on your web browser and then tap Choose Files to load a video, image, or GIF. Remember that the loading speed depends on the file size.
Step 2. Next, enter the top and bottom texts or emojis. Now proceed to set the text impact and positioning. You can also choose a meme template from the available options.
Step 3. Lastly, set 5:4 (Facebook) as the crop option and then tap Export. That's it!
Part 3. How to generate a meme on Facebook via Animoto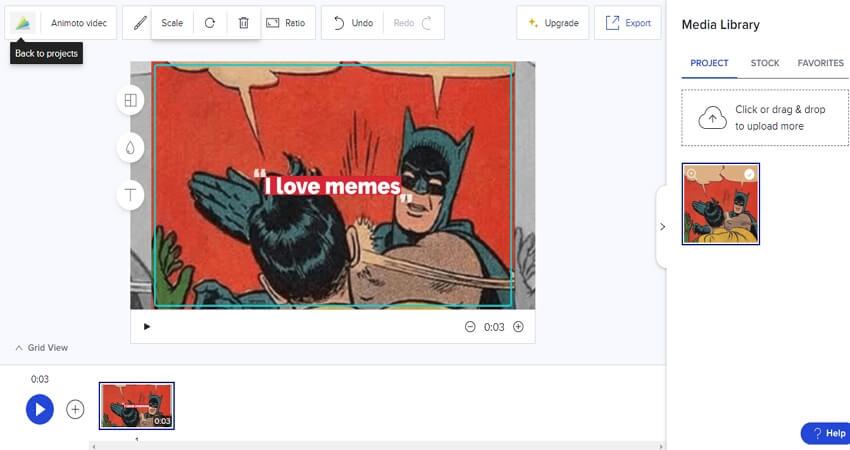 Still not impressed? Let's try Animoto, then! Here, you even don't need to have a video or image template because Animoto has them in abundance. This website comes with a stock library full of getty images and licensed videos that you can download and customize as you wish. The available templates include Christmas greetings, Happy New Year stories, wedding highlights, and so on. So, just choose a template and get started.
Follow me:
Step 1. Open Animoto and create an account. Then, choose a video or photo template. Or, just click Start from Scratch to make your Facebook memes with local videos and images.
Step 2. Now choose the meme background theme, set the portrait mode, and upload your photo or video.
Step 3. Next, drag your uploaded media on the workspace and then move the Scale slider to crop it. Then, click the T button to add a top text, then click it again to add a bottom text.
Step 4. Once you've finished creating the meme captions, click the Download icon to save it locally. Or, you can directly upload to Facebook, YouTube, Instagram, and Twitter.
Part 4. How to Make Memes on Facebook via Adobe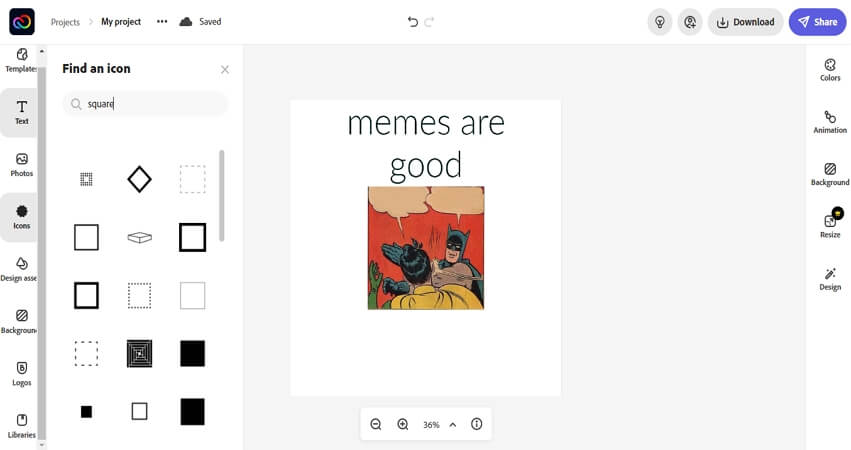 Adobe Creative Cloud Express is a neatly designed meme maker for Facebook that quickly gets the job done. Here, you'll get hundreds of free meme templates to customize, making your work a lot easier. Also, you can retouch your memes with color schemes, texts, animations, images, themes, and alignments. Plus, there are plenty of export options to choose from.
Apply these steps to create a Facebook meme on Adobe Express:
Step 1. Visit Adobe Creative Cloud Express on your website and then click Design your own meme now. Or, simply choose a meme template to edit.
Step 2. After Adobe Express has finished loading your selected meme, click the meme text and change it into something new. Alternatively, click Text and tap Add your text to apply another caption to the meme.
Step 3. If satisfied, tap the Download icon to save the meme as JPG, PNG, or PDF. You can also click Share to publish on Facebook, Twitter, email, etc.
Part 5. How to Create a Meme on Facebook via Imgflip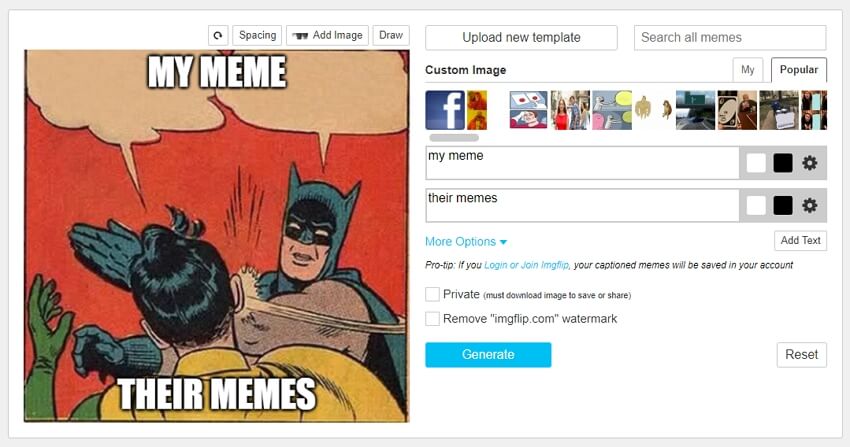 Lastly, create your Facebook meme on Imgflip. It's a beautiful website that doesn't need any prior knowledge to use. Here, you can create memes from local images or simply choose a ready-made meme and customize the text accordingly. Speaking of customizing the text, Imgflip allows you to customize the text color, font style, size, and so on. Also, you can crop, flip, and rotate your added picture or meme template.
Here's how to create a Facebook post meme with Imgflip:
Step 1. Launch Imgflip on your browser and then choose a meme template to add. Alternatively, click Upload new template to add a local picture or GIF file.
Step 2. Now enter the meme captions you want to use before setting the color and outline color. In addition, you can change the font type, positioning, size, and so on.
Step 3. Finally, click Generate and copy the image address. You can also directly share on Facebook. Enjoy!
Part 6. [Bonus Tips] How to Easily Get Facebook Memes without DIY
The truth is that someone somewhere creates better Facebook memes than yours. Let's not argue! But fortunately, stealing and re-sharing are allowed in the open world of creativity. So, how can you extract that killer meme on Facebook and save it on your device? It's so simple! Here are the steps:
Step 1. Launch the Facebook app and then find the meme you want to download.
Step 2. Now click the Ellipsis icon or three dots on the meme picture.
Step 3. Click Save to phone to locally save the Facebook meme. Now that was easy, I know!
Conclusion
I'm happy you can create quality Facebook memes using these apps. The trick is to find a captivating photo and enter fun captions with a program like Media.io Meme Generator. Remember to keep the meme captions short and funny, and if possible, use emojis and stickers to make them more engaging. In no time, Facebookers will be lining up to download your memes or re-share them on other apps.