Social media influencers have a huge role in social media marketing nowadays. Influencers can help you a lot to get more sales towards your products and more traffic on your product and websites. To impress your influencers for what they have done for your brand, you need to be very creative. A thank you note to influencers is the best way to impress your influencers, and it gives them the power to work harder for your products. Here, in this article, we will have a look at some of the best tips and tricks to write the creative thank you notes and some samples of thank you note to influencers.
Part 1: Tips & Tricks about How to Write a Good Thank You Note to Influencers
1. Make sure you are writing as a gift no bribe
While sending any contribution to the influencers or writing anything about influencers, make sure you don't show it's a bribe. You can provide them a free sample of your product just as a gift. You need to write in simple words which show them respect.
2. Become Friend not Businessman
This is a very important thing. Whenever people hire any influencer, they treat them as a part of the business. You need to make sure to maintain a good friendship with influencers instead of just showing your business agendas.
3. Respect their Privacy Influencers
By asking this question to influencers, you get to know their working ideologies, and this will provide you a better opportunity to judge whether they will turn out to be fruitful for you or not. Most of the time, different business heads have different approaches to achieve their goals. You must hire an individual who has a working criterion similar to yours so that in the future, no conflict is registered, which has a bad influence on the brand promotional activities. In the long run, this also provides you an opportunity to learn about the type of followers' influencers have.
4. Thank them for Helping Others Not Your Product or Brand
Influencers are there in the industry to help users in buying the right product or services. Whenever you send thank you note to influencers, you need to take care that you are thanking them for helping the other users in buying their right product or services. Do not include your brand or product.
5. Treat them as a Person
Keep in mind that influencers are also human, so don't treat them like a simple name in your mobile contact list. Never send bulk emails to them. In many cases, you need to carry many mails in a single day, so it is better to ship them together by using a mail merging software, so they don't get irritated waith the frequent mails.
Part 2: Good Thank You Note to Influencer Samples
1. Hand Written Thank You Notes:
In this digital world, everyone likes to send and receive things via mail or other social media channels. Sending the data digitally is fast and reliable, but when you submit a handwritten note to anyone, then it works. In this modern world, if you send a handwritten thank you note to influencers, then they think you are different from others. You gave extra time in writing a note from the side, posting via courier, and delivering to them. The below is the sample of handwritten thank you note to influencers.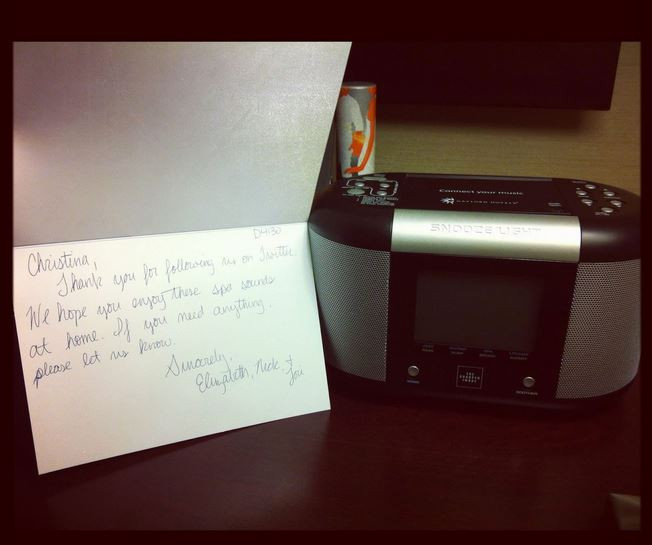 2. Thank you Note to influencer after getting an appointment on the phone
Whenever you set an appointment with the Influencer over the phone, this is very important to send a thank-you note to Influencer to show your interest in working with them. You can write simple wordings in the thank you note and don't indicate your business proposal in the note. Show your future meeting plan. A best sample is available below for thank you note to influencers after appointment which is shared on NASP website by Wendy Connick.

3. Thank you note when your product is not liked by influencers
When you send product details to the Influencer, and they don't like the product, then sometimes people get rude on Influencer, which is very bad. If influencers don't show their interest in your product, then instead of showing anger, you can write a thank you note to Influencer and make some more chances to make them interested in your product. Wendy Connick shares the best sample for this situation on the NASP website, which is available below.

4. After selling your product successfully
After selling any product to the customer or influencers when you close the sale, you can write a letter to Influencer with the product benefits and after-sales services. You can tell them if they have any issue with your product, then you are ready to solve the problems quickly. Here is the best sample from the NASP website posted by Wendy Connick.

5. When the Influencer decided not to buy your product after meeting
If any influencer chooses not to buy your product or service, then this is important not to show your anger on them. You can write a thank you note to Influencer, which indicates that your customer can buy your product in the future. A good sample of this type of Email is attached in the screenshot below.