Klout is a slang word for how much 'influence' a person has on social media. However, it was also a tool that you can use in order to estimate how good an influencer was based on their 'score.' But what is a Klout score and how can it be used in a business standpoint? That's what we're going to be covering today! Including a couple of other tools that you can use as its alternatives.
Part 1. What's Klout Score and Can You Still Use it?
A Klout Score is an aggregated score based on the level of influence an influencer has. It was contrived by the Klout software, which could be downloaded directly either as a Chrome Extension or Mobile application. With it, you can see how an influencer is fairing based on a score that ranged from 1-100. The regular populace and business markets alike used it in order to see how much active engagement an influencer has based on their 'score.'
Unfortunately, Klout is no longer available.
It was shut down sometime in 2018, which meant that it and all of its features were virtually erased from the internet. Still, a lot of other modern tools now use the old 'Klout Score' in their own formulas and algorithms. Offering the same value, but with more punch -- more information on that written below!
Part 2. A Better Alternative to Klout
What we're going to be introducing to you is what is considered the best alternative for Klout. See, unlike the old Klout, which only gave you a vague score, InflueNex offers a variety of different tools that you can use in order to find how good or bad the influencer is doing. We'll be showing you how to use it below, but if you wanted to explore its features (especially its analytic dashboard -- which offers a very detailed account on the influencer's statistics and analytics), you can check out the URL we have linked in the first step of our tutorial.
How to Use InflueNex to Judge Influencer Quality
Step 1. Go to InflueNex and Search for Influencers
In order to see an influencer's score with InflueNex, you need to go to the URL we've linked to below. There, you can input keywords into the search bar and use the available advanced filters in order to find the influencer you want to see the analytics for!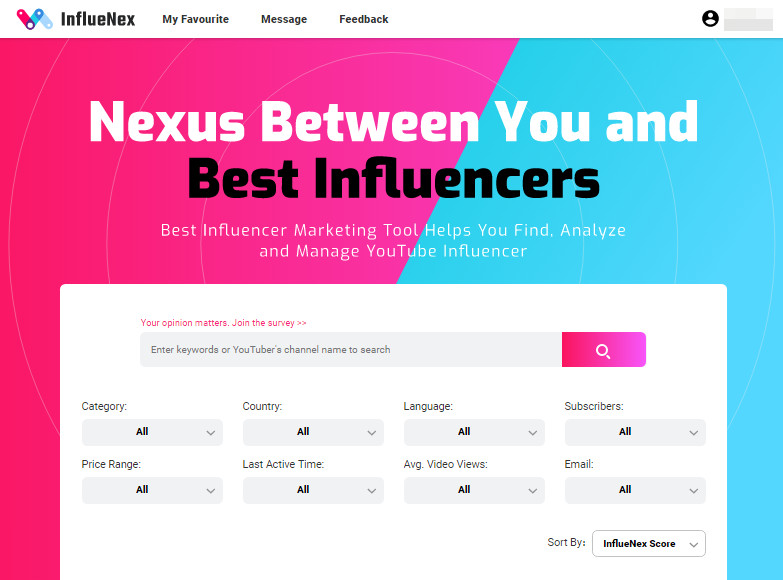 Step 2. Sort by InflueNex Score
As mentioned, InflueNex offers a way of seeing very easily how an influencer is doing through their InflueNex Score. This is the letterform ranking that you will see on the right side of the results (shown in the image below.) You can also organize your results based on these scores by using InflueNex's 'Sort By' feature.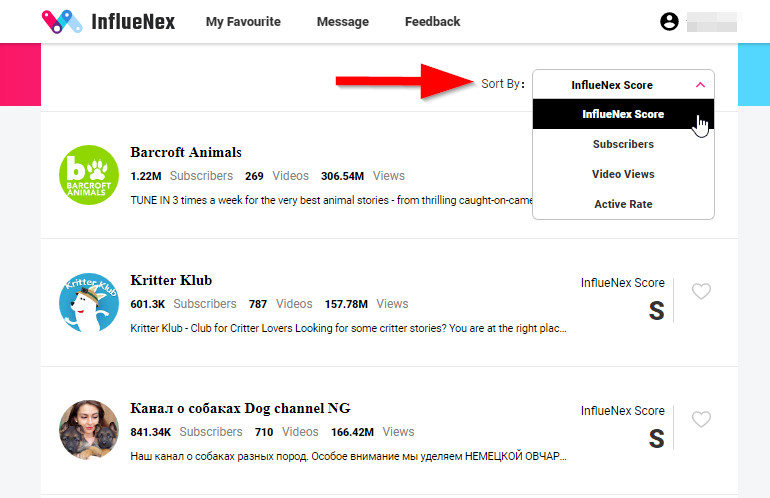 Step 3. See YouTuber's Dashboard
When you click on a YouTuber's dashboard, you should be able to see this InflueNex score for your reference at the very top of the page. This is also the place where you can see detailed insights on how a YouTuber is doing. You can take a look at their:
Active Engagement Percentage
Total View Count
Subscriber Count
Views Analytics
Subscribers Analytics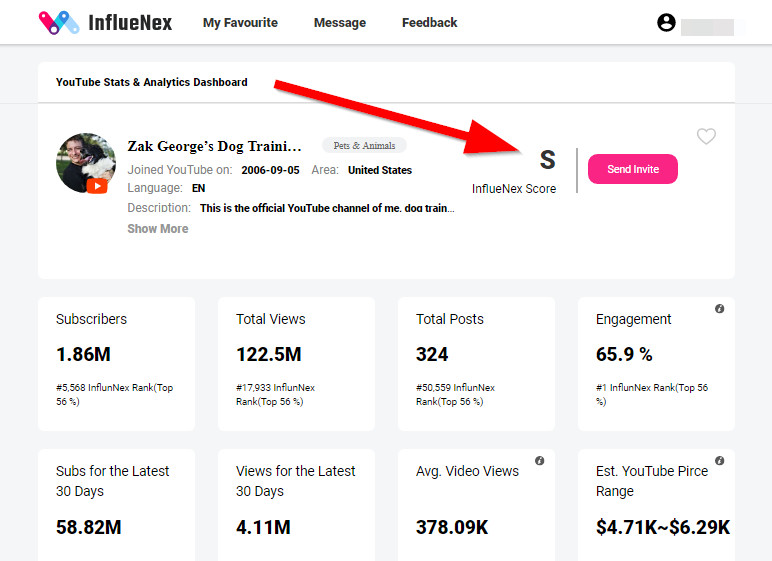 Part 3. Other Helpful Tools for You to Choose Influencers
For the last portion of this article, we're going to be introducing you to a couple of other helpful tools that you can use in order to choose influencers based on their analytics or 'score.' We tried our best to pick out tools that were as unique to each other as possible. In hopes of providing a variety of different methods that you can test and try out for yourself based on your budget and your needs. So, feel free to take a quick look and find out whether you'd like to try out any of these tools!
1. Kred
URL: https://home.kred/
Kred is very similar to Klout. It identifies influencers in a variety of different platforms and allows you to measure how these influencers are doing based on their analytics. Kred also offers a leaderboard (something that you don't see in many other tools) that you can use in order to see which influencers are at the top for certain categories or niches. They also offered an app, called Kredstory, that you can use in order to see the aggregated overall "Kred Score" of a person based on their analyzed levels of influence.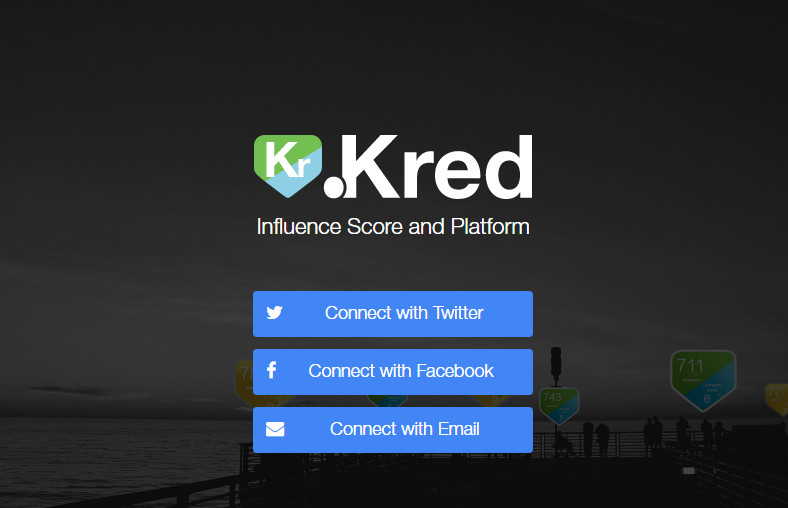 2. Discover.ly
URL: http://discover.ly/
For our next recommended tool, we have Discover.ly. It's similar to Klout in that it is offered as a Chrome Extension that you can download at any time. Unfortunately, it doesn't offer very detailed analytics. However, it will allow you to connect with influencers more easily based on your own connections. It appears as a widget on your sidebar that you should be able to see whenever you're on social media platforms like Facebook, LinkedIn, Google+, etc.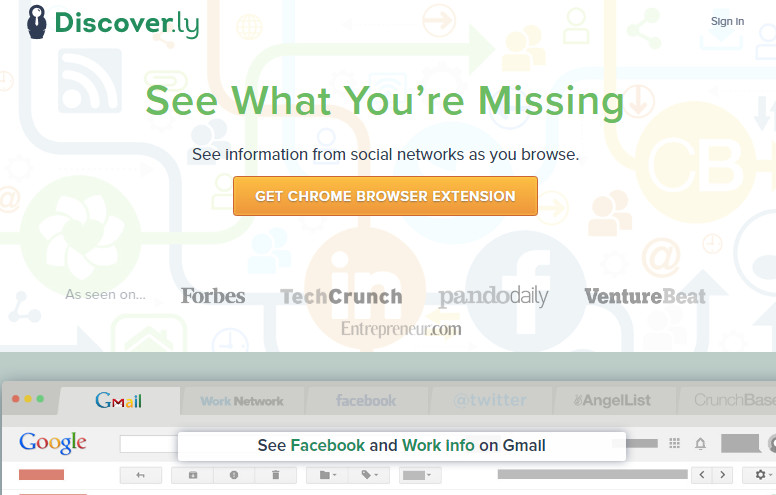 3. Upfluence
Upfluence is our third pick, and that's primarily because of its available features. See, despite the fact that it is a very premium tool, its analytics are a bit limited (specifically to Instagram.) It also doesn't offer anything as clear as a 'Klout score.' So, you'll have to look for that manually by yourself. However, that doesn't change the fact that it is still one of the most premium tools available in the market (matched with its very premium price - at around $795 per month.) It's a great alternative for a bigger business that wants to connect with a smaller but more rated database of influencers (a database that Upfluence keeps regularly updated.)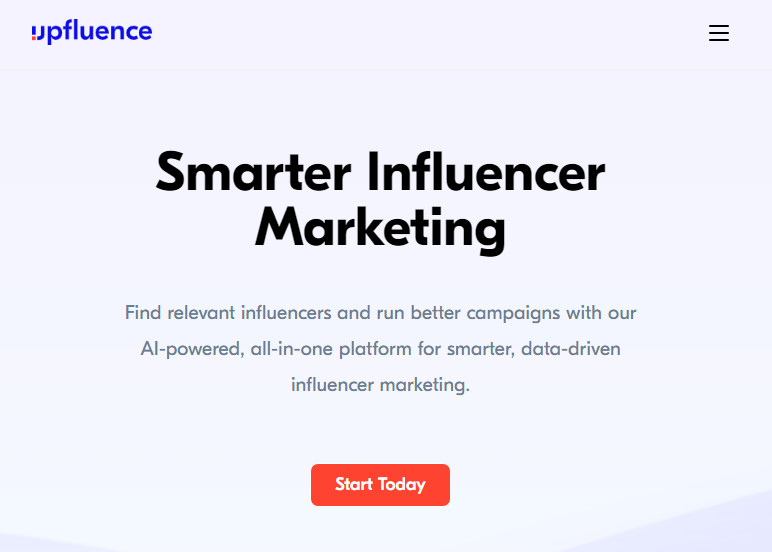 4. Awario
URL: https://awario.com/
Awario is something that comes a little closer to home as far as scoring influencers go. It's not as premium as Upfluence, but it ranks influencers based on an aggregated combination of their overall reach as an influencer -- which includes their follower count, daily views, etc. Of course, the ranking will differ base on the social platform the influencer belongs in. At this moment in time, Awario covers Facebook, Instagram, YouTube, Twitter, and Blogs.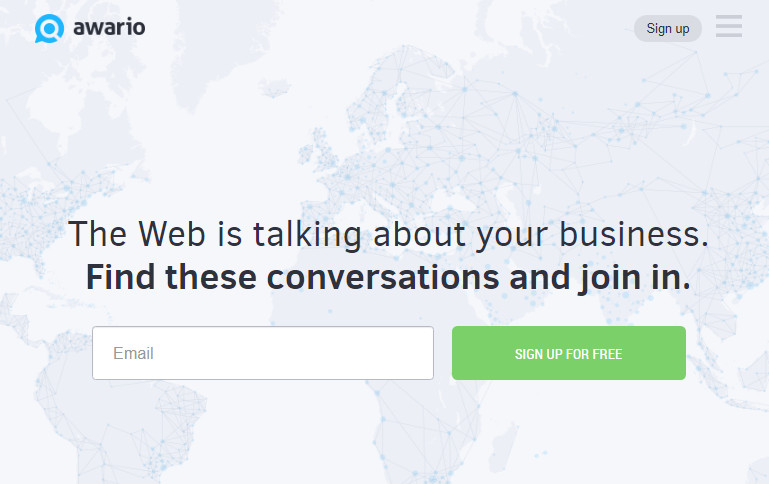 5. BuzzStream
URL: https://www.buzzstream.com/
For our fifth pick, we have BuzzStream. This is a little closer to InflueNex, as it is primarily meant to be used by business marketers that are looking for influencers to connect with. In which case, BuzzStream is available to provide a list of them based on your needs (with the use of keyword search and advanced filters.) Among these advanced filters, you are able to sort influencers based on their authority -- which is a great way of seeing how they rank when compared to the other influencers in their circle.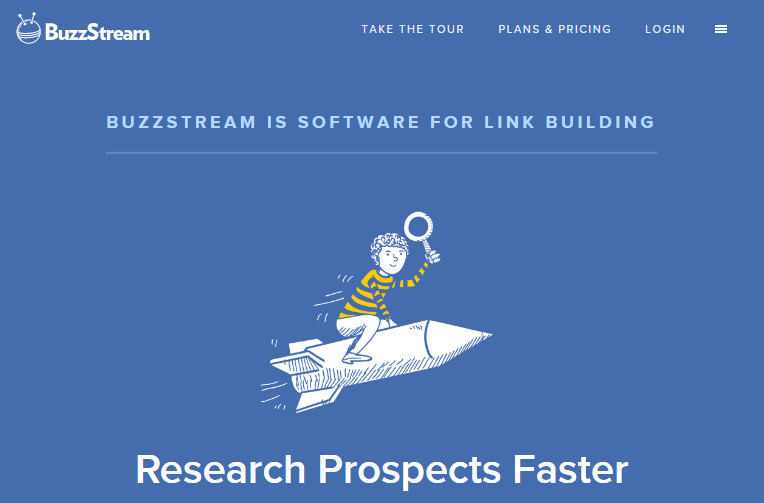 6. Dovetale
Again, we have a tool that is primarily a search tool with Dovetale. However, that doesn't mean that's all that it offers. Dovetale also provides a great 'Monitor' feature that will allow you to track influencers based on who or what they're engaging with. This is primarily meant to scope out how they are connecting with your competition, but it can also be a great way of determining how credible an influencer's 'rank' is. As a tool, it supports the following platforms: YouTube, Twitter, Facebook, and Instagram.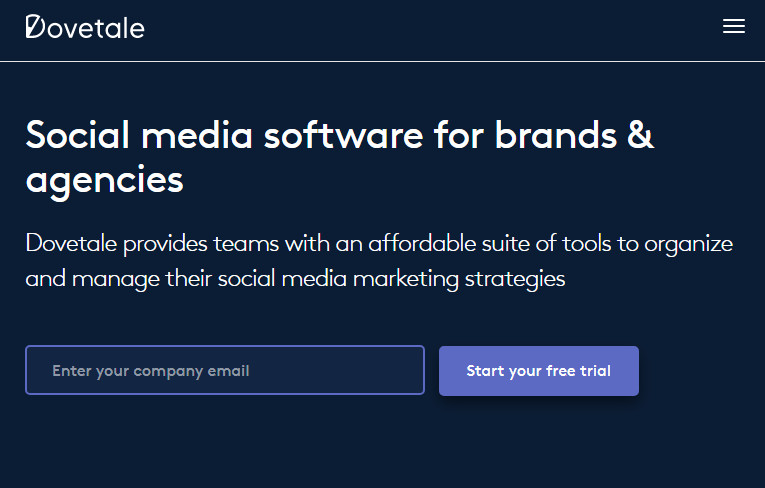 7. HypeAuditor
URL: https://hypeauditor.com/top-instagram/?source=imh
Another great ranking tool for influencers is HypeAuditor. This is primarily based on Instagram influencers. However, that doesn't change the fact that it is amazing at providing that sought-after 'Score.' With it, you can create a list made out of over 1000 different influencers and have them ranked base on the quality of their performance, overall demographics, and the number of active engagements! All very important features that are important in the overall standing of influencers in the industry.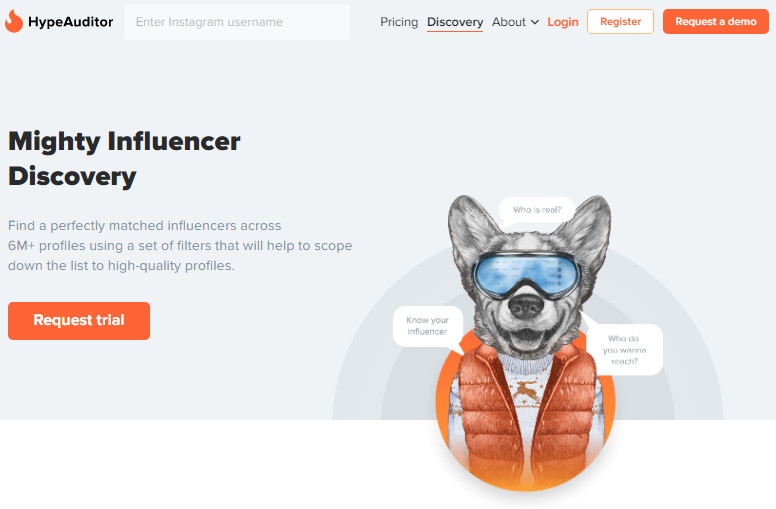 8. Heepsy
Heepsy is our next tool, and it's a search engine with over 7 million influencers in its database! Much like most search engines, this will allow you to enter in select keywords or tags as well as choose filters based on location and niche-category! It starts off as FREE, however, if you want access to its ranking tools, then you're going to need to pay for one of their plans (which starts pretty cheaply -- at around 9$ per month.)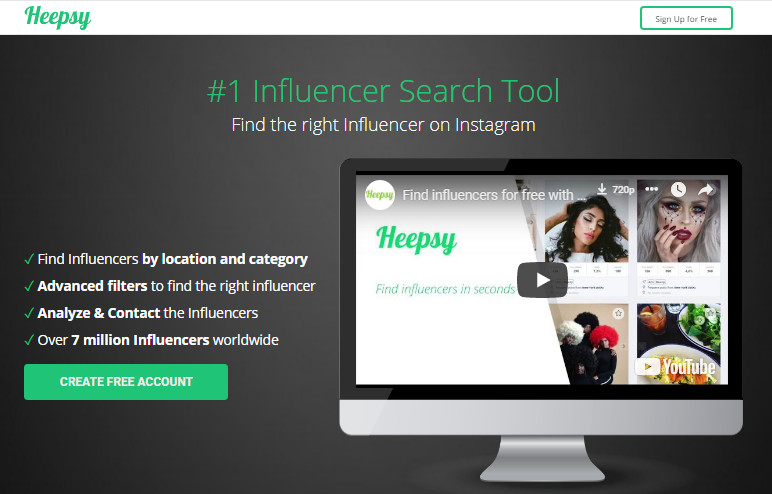 9. Traackr
The last tool on our list is Traackr. This is a tool that you can use in order to identify influencers over a variety of different social platforms and communicate with them for potential collaborations. Of course, its primary purpose is to 'track' marketing campaigns. However, it does also offer features that will allow you to create lists of influencers in your category and analyze those influencers based on their general reach and performance.