A common question among meme lovers and makers is, "How do I create a meme on my iPhone?" If you are a beginner in meme creation, you may be wondering which meme app is the best for you as an iOS user and how to create memes with these apps. You can know this through the positive reviews and recommendations you find online from those who have tried and tested different meme apps for iPhones.
That is why we have done our research and found out the best meme apps for iPhones and have brought them to you as a recommendation. In this blog, you will learn about these apps to create memes for iPhones and their key features, guiding your decision-making.
Part 1. Top 6 Best Free Apps for Making Memes on iPhone
Let's begin with The Meme Maker & GIF Generator app for iPhones. This app has been designed for making memes by letting you add text on photos from your device or meme templates in the app library collection.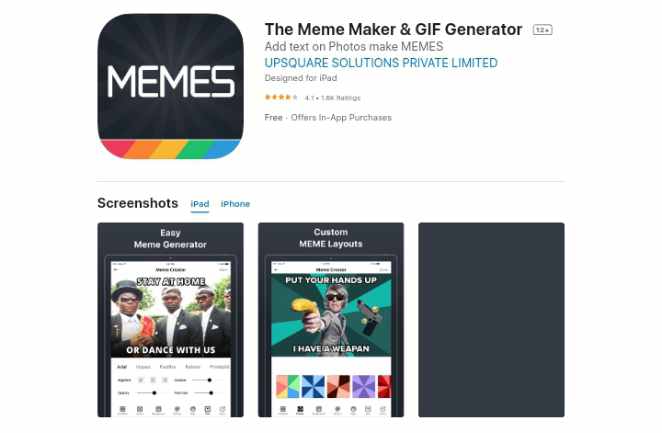 You do not need graphic tools or a computer to create beautiful memes that will trend.
There are fun stickers available for you to make memes on your iPhone.
There are features to help you generate different weird expression memes that will crack up your audience.
Create memes on iPhone with the popular Mematic iPhone meme maker. It is one of the best apps you can get for adding text to gifs and images to make amazing memes for free. It has been designed for iOS devices of version 12.0 or later. It is professional yet easy to use.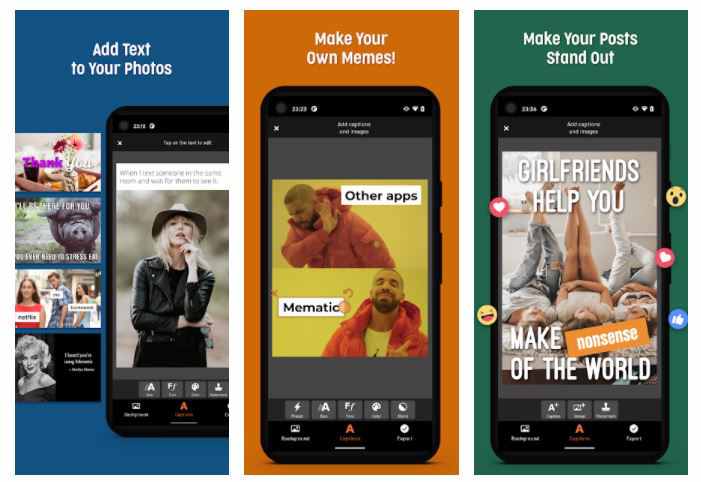 You have access to a large meme collection in the Mematic gifs/memes library. You can also import images or gifs from your device to add captions and make them funny memes.
There are different available styles of creating and editing memes on Mematic: classic or modern. It allows you to arrange the texts, stickers, and images in the best suitable way.
It allows for collage-making using the different layout options featured on the app.
You can share memes directly from Mematic to WhatsApp, Signal, Telegram, etc.
Imgur is another recommended app on our list of the best meme maker apps for iPhone and iPad. With this app, you can create memes and gifs, as well as watch the gifs and memes other users upload on the platform.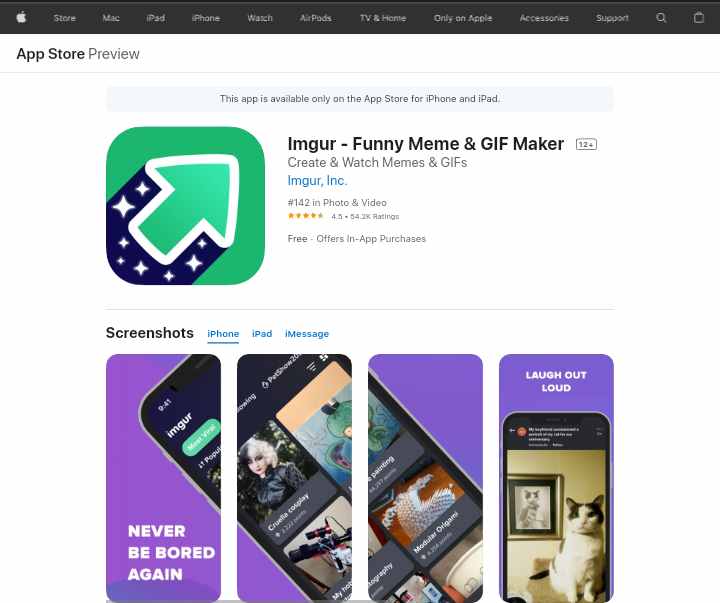 Imgur contains spicy memes, funny memes like pets in sweaters, all entertaining images you can download and share.
It allows you to post the memes you edit on the app so that other users that like them can follow you.
The memes are constantly updated in sections like art, cosplay, movies, puns, board games, etc.
The interface is fancy and attractive to first-time users.
Memes.com is a meme app you can access on the App Store for your iPads and iPhones. Make a magical meme on this app within a few minutes on your iOS. It is very fast, and with the app, you now have new ways of making memes that will trend.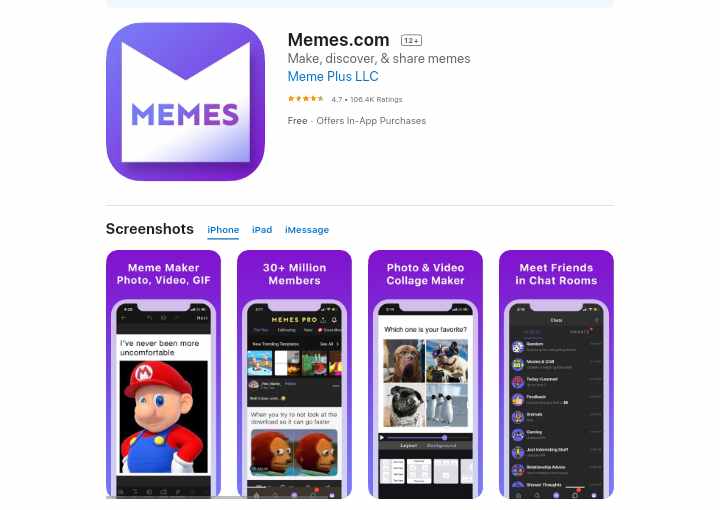 Add captions on gifs, images, or videos and share them with your family, friends, and general public. You can add your own brand watermark on these meme images before sharing them everywhere.
Once you have an idea, all you need to do is to edit the photo you want to use as a meme, and there you have it! You do not need photoshop or any other apps again.
The huge memes library will get you started if you cannot find a personal photo to edit as a meme.
You will find exclusive font styles and stickers to make your memes stand out.
This meme maker is used for generating captions and adding them to meme images on iPad and iPhone. Meme Creator is the ideal iPhone meme maker to create funny memes and share them with your friends.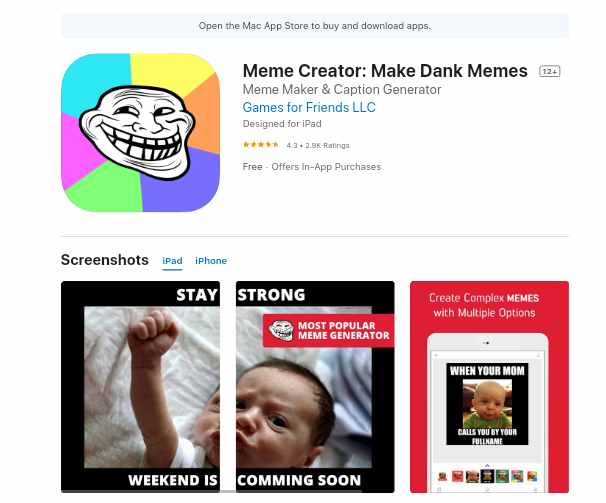 It is a free tool that offers in-app purchases for upgrading app features.
The app provides the latest meme formats, which you can discover and edit by adding your own text style to them. This saves you the time of making memes from scratch if you are in a hurry or a beginner at meme-making.
It is easy to navigate and get both classic and latest memes on Meme Creator.
Canva meme editor app can be used for both iOS and Android devices. Canva is easy to use in editing and designing posters, images, gifs, into memes even if you don't have expert skills in graphic design.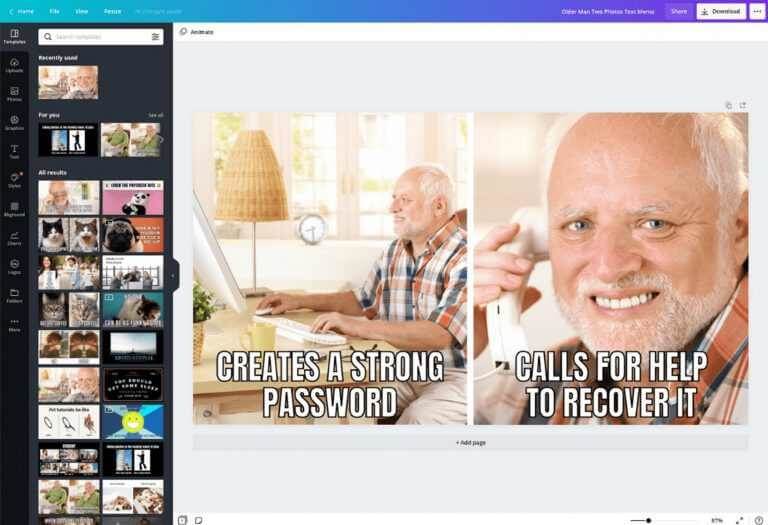 It allows you to add logos and stickers to the memes you design to give them your own brand.
It has an attractive interface that is ideal for new users.
Canva contains a huge library of over 60,000 free meme templates for any kind of design you want to do.
Part 2. How Do I Get JPG/GIF Memes on My iPhone?
In addition to using the free iPhone meme makers discussed above to create memes, there are other ways to get beautiful memes. Do this by getting the memes directly from your iPhone, while the other method is by using an online meme generator for iPhones such as Media.io. With this Online Meme Generator, you do not have to download or install any app to create memes on your iPhone.
Below are guidelines on the two methods:
1. How to get default meme on iPhone:
On iOS devices, there is a built-in option to enable all iPhone users to get gifs and JPG memes easily. Note that for you to access this feature, you have to have a device using iOS 10 or later. On the phone keyboard, there is a GIF keyboard built-in to Messages. This is called iMessage.
Here are steps on how to access the images feature and get cool GIF/JPG default memes on iPhone:
Launch the Messages app and start typing a new or existing message.
Select "A" (Apps); you will find this icon at the left end of the text field.
An alternative is to select the four bubbles icon at the bottom left of the page. This option can only be used if you don't get imessages after doing the step above.



Open the iMessage meme app and get amazing default memes to share with family and friends in your texts. Search for the GIF meme you like, add text to it, and send it to people with whom you are texting.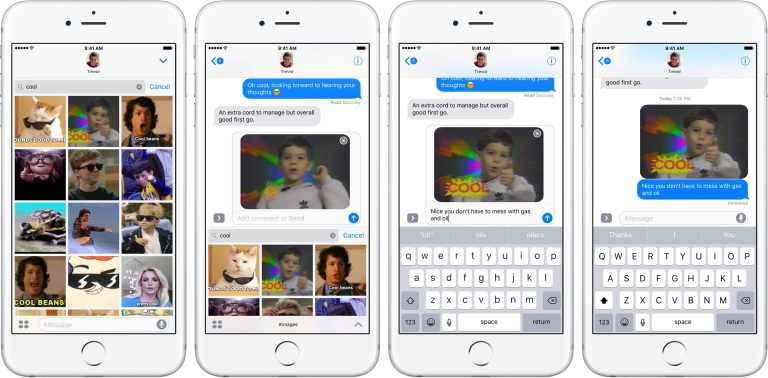 How to create memes on iPhone with an online tool?
An easy way to create memes on iPhone is by launching your default browser (for example, Safari for iPhone) and going to the Media.io Meme Generator. Once you are there, you can follow these steps to quickly make memes:
Select from the list of nine meme templates provided by Media.io or simply choose a photo/gif from your phone gallery.
Add captions on the image and adjust the text color, size, alignment, and font style to suit your preferences. Select the Generate.
The meme you edited will be downloaded to your device storage within a few seconds. Now you can share the meme on all your socials.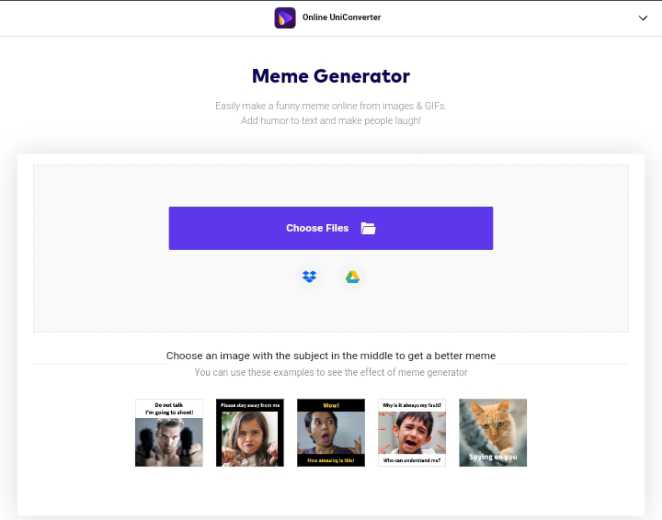 Conclusion
There are many meme maker apps for iPhones you will find online. Unfortunately, some of these apps do not deliver on their promise to give you the best experience when it comes to making memes on your phone. That is why this blog has provided you with the 6 best meme makers for iPhone. Now you can easily create beautiful, funny memes by yourself on your iPhone.