What's the ideal video editor for your day-to-day editing tasks? There are many video editors to use out there. However, the best video editor should tick some vital boxes. First, it should be relatively easy to use and house all essential editing tools. Also, we recommend using a video editor without a watermark. If you can't find an ideal online video editor with no watermark, don't worry because we'll discuss some simple tricks to erase watermarks and logos from your video. So, read on to know the best video editors for mobile, desktops, or online.
Part 1. Top 4 Ways to Remove Watermark from Video
Before we list the best video editors without watermarks, let's start by discussing how to remove watermarks from your video. A watermark is a copyright feature to show the identity of the video creator. The user or video editor can add a watermark if you're using a free version. So, whichever the case, below are some helpful solutions:
Media.io Watermark Remover is one of the best online solutions to remove watermarks from any video with no effort. It can remove logos, texts, stamps, and other unwanted object overlays on your video. The UI is beginner-friendly, as you only need to lasso the watermarked area are erase the watermarks. You can remove watermarks from any video format, including MP4, 3GP, MOV, AVI, MKV, VOB, and more.
A step-by-step process to erase watermarks from video
01of 03 Upload your video with watermark.
Open Media.io Watermark Remover on your browser and then click Choose Files to load the watermarked video. You can also click the Google Drive, Dropbox, or YouTube icon to upload a video from the respective platforms.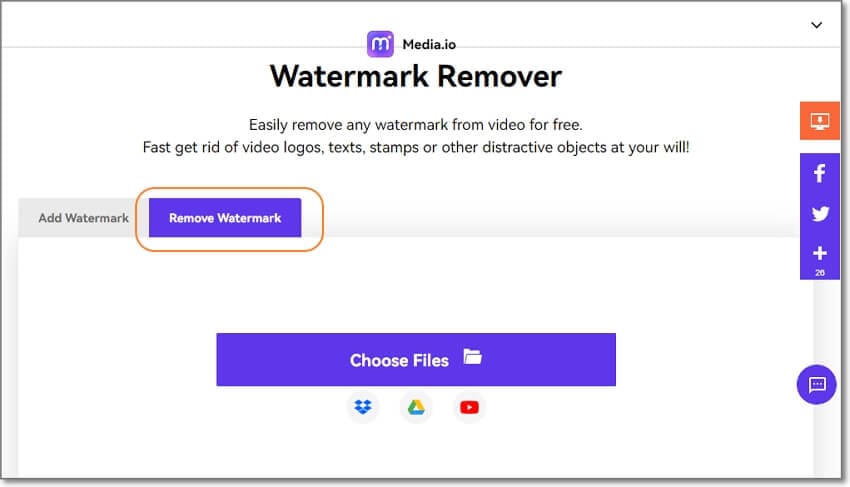 02of 03 Select watermark to remove.
Click the Add Area button on the right rail to select the watermarked area on your video. Remember, you can choose multiple watermarks concurrently.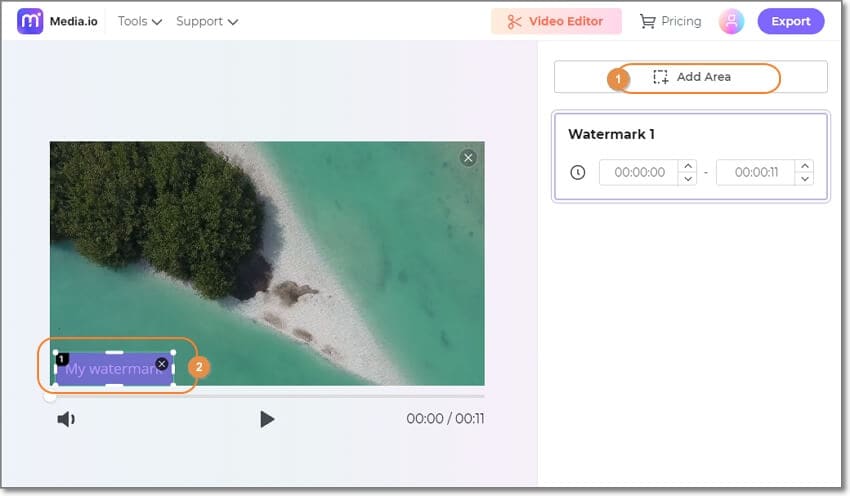 03of 03 Export video without watermark.
Now play the video to preview the final output. If satisfied, click the Exportbutton to process and download the video. It's nothing complex!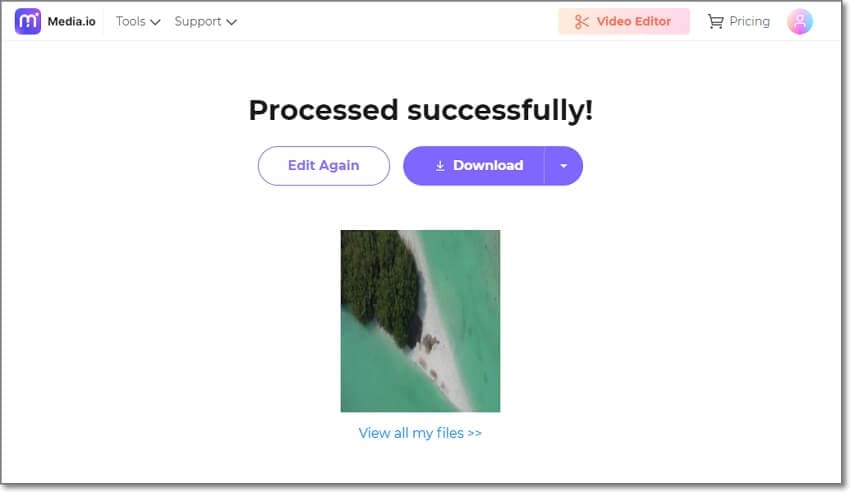 Another simple way to remove watermarks and other obtrusive objects from a video is to crop the video. Media.io Video Cropper allows you to crop and resize the video into any dimension while removing the watermarks, logos, and stamps on the edges of the video frame. Note, however, that this method can remove some elements from your video.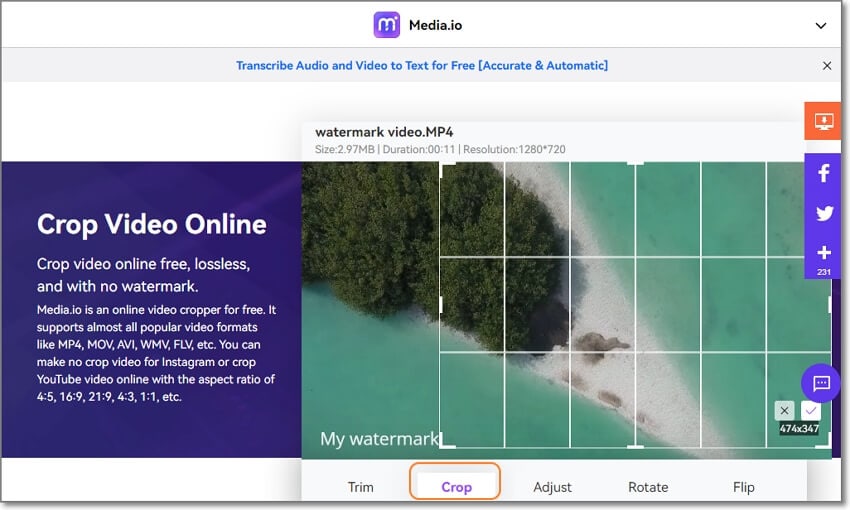 Surprised? No, you shouldn't! If the watermark on your video is faint or too small to notice quickly, you can replace it with your own branding. With Media.io Watermark Adder, you can add colorful and stylish text watermarks to your video. You can also add image logos and other elements like emojis. What's more, you can adjust the watermark transparency.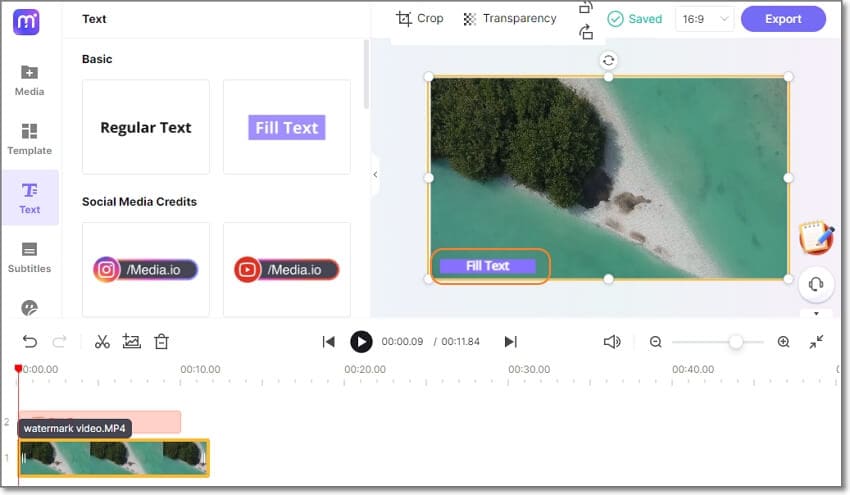 Sometimes you don't need to download and install a dedicated video recorder. Instead, use Media.io Screen Recorder to capture any activity on your computer screen without any watermarks. Here's the thing; play the watermarked video and use Media.io to record it. As you do that, crop out the watermarked area. Alternatively, you can cover the watermark with a webcam overlay.
See, it's effortless to remove watermarks from your video with Media.io. You can even use the Video Editor tool to create Full HD videos without watermarks. But Media.io is not the only video editing software no watermark. In the next section, we'll discuss some top online solutions to edit videos for free without any unwanted watermark. Keep reading!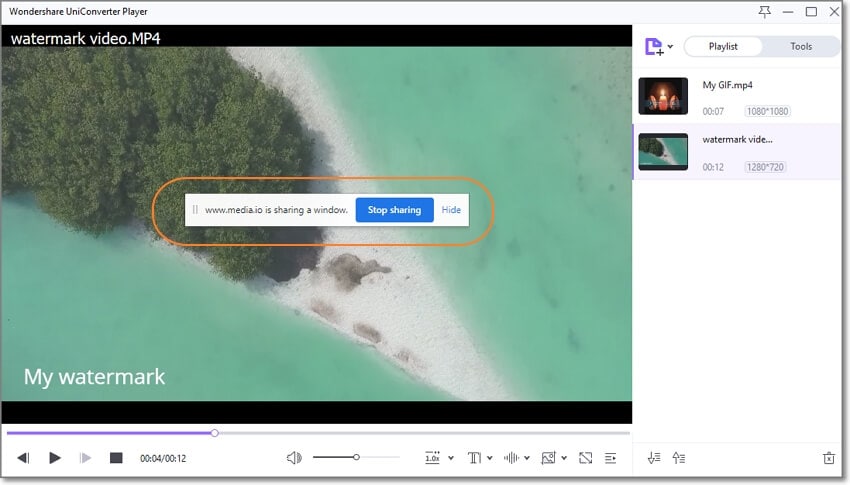 Part 2. 7 Best Free Online Video Editor without Watermark
Looking for a simple, feature-rich, and watermark-free online video editor? Opt for Media.io Editor. This online tool features a self-explanatory user interface with all the tools that you need to create a social media video. You can trim, splice, crop, and merge, overlay video clips with catchy music or motion effects. Also, Media.io Video Editor features an auto-subtitle editor and transcribe background audio to text. It recognizes 90+ languages and allows users to download the text in .txt or .srt format. In addition, you can record the computer screen, webcam, audio, or picture-in-picture effect and much more.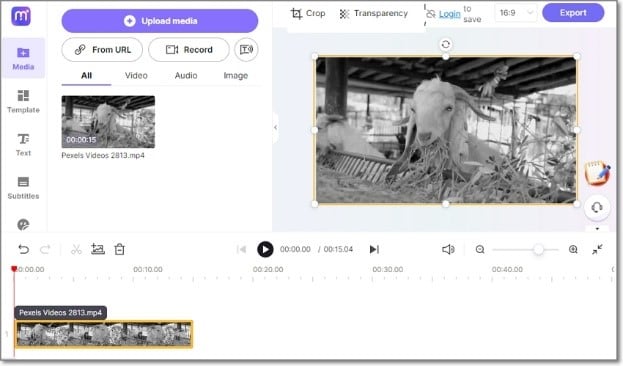 Kapwing is a simple yet powerful online video editor without a watermark for desktops. This video editor is perfect for creative professionals, digital marketers, and social media influencers seeking to add an extra touch to their videos. You'll get thousands of licensed videos, images, and audio on the drag-and-drop layout. Use these elements to customize your video with sound effects, image overlays, texts, filters, emojis, and more. Also, Kapwing allows you to trim, split, crop, merge, adjust speed, and replace the video background. Plus, you can preset the video aspect ratio for any social media platform.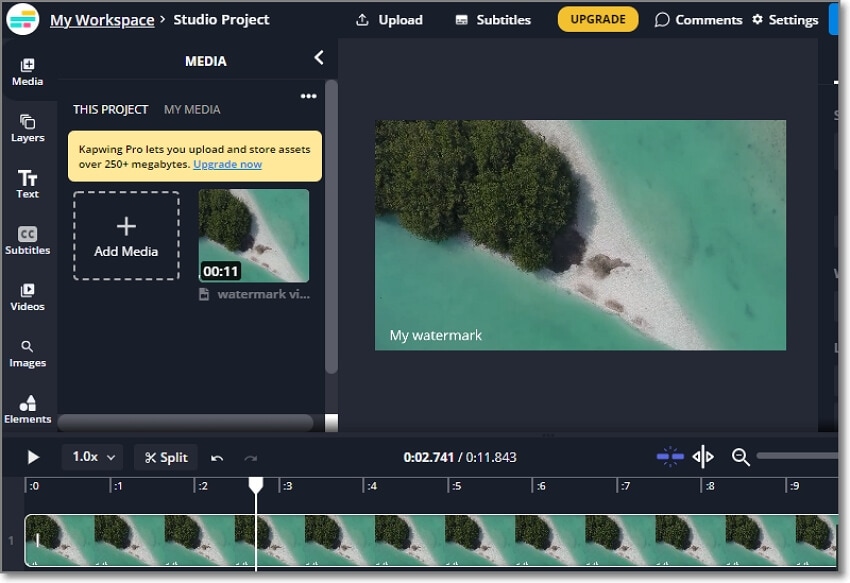 Invideo is a professional-grade online video editor that allows you to create award-winning videos for any use. On this free video editor without watermark, you'll get more than 8 million stock content, including video templates, images, audio, and sound effects. As expected, the video creation process is relatively easy. You can trim, cut, split, crop, apply transitions, and add texts/captions. Also, you can add an audio or voiceover to the multitrack timeline and edit it by trimming, looping, and applying fade effects. But sadly, free accounts have an "Invideo watermark".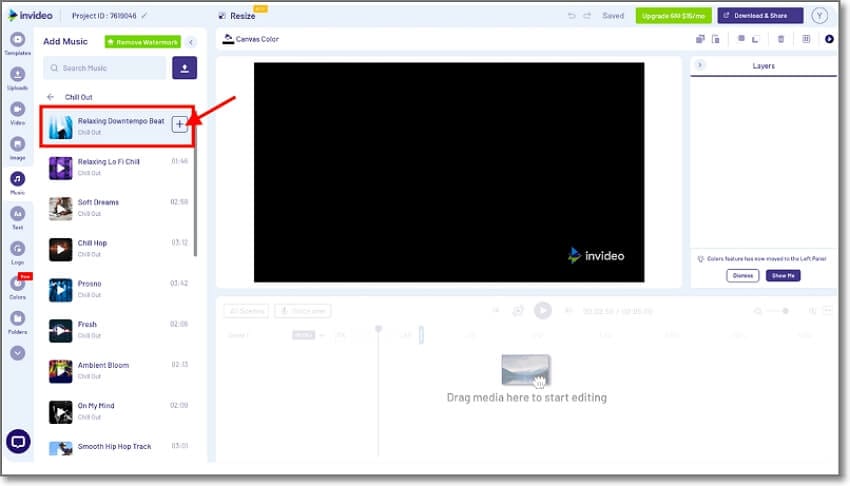 Canva is another free online video editor with everything you need to design and create social media and marketing videos. Although you may need a bit of a learning curve with this program, you'll enjoy a wealth of tools once you get the hang of it. First, free accounts will access more than 250K stock videos and 100+ design types for presentations, letters, social media posts, etc. It doesn't end there; Canva offers free users 5GB of cloud storage to allow them to continue editing anywhere, any time. But just like InVideo, your creations will have a "Canva" watermark if you're a free user.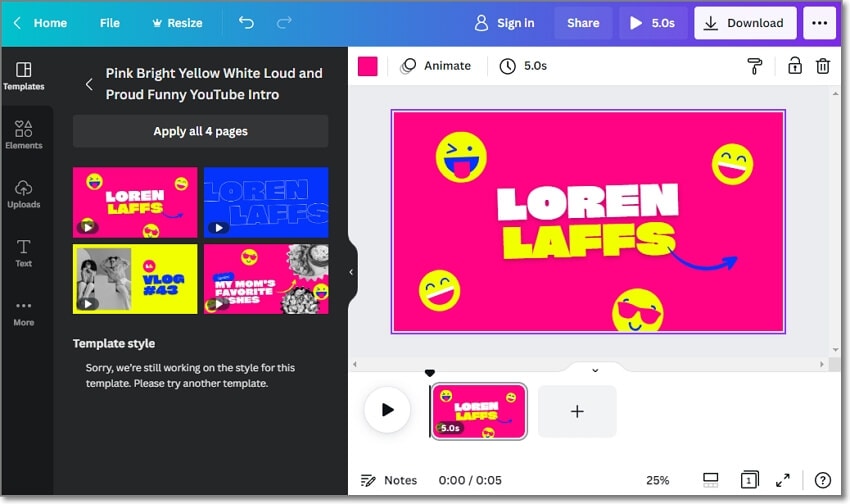 WeVideo is an easy, fast, and flexible free video editor no watermark. You don't need special video editing skills to retouch and customize your videos here. Instead, jump in and explore the extensive stock library with more than 1 million videos, images, and audio. Besides templates, free users enjoy privileges like screen recording, voice recording, GIF creation, and 1GB of cloud storage. However, the maximum video resolution you can export is 480P. Of course, you can upgrade to a higher package and enjoy HD and UHD exports.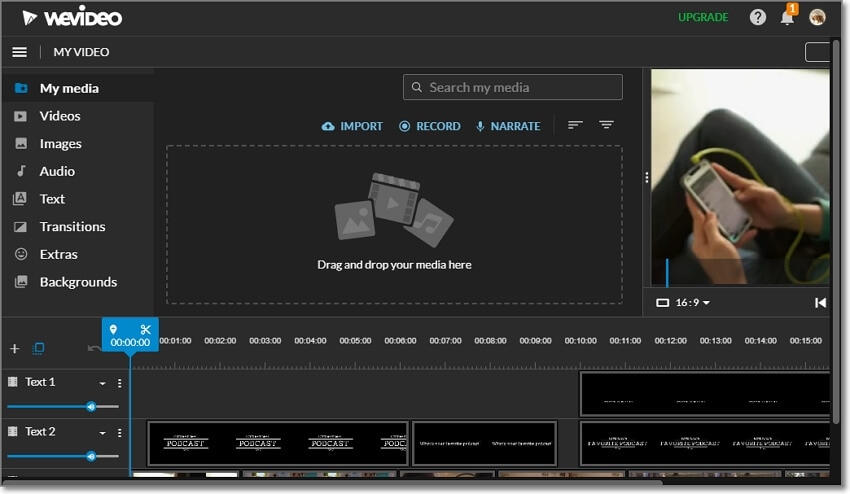 As the name hints, RecordCast is an online screen recorder to capture anything on your computer screen. It features three recording modes; screen & webcam, screen only, and webcam. In other words, this free screen recorder allows you to capture your computer screen with a picture-in-picture effect, making it perfect for YouTubers and vloggers. After recording the video, you'll use the simple inbuilt editor to retouch and customize it. You can trim, split, add texts, adjust background colors, and more. Unfortunately, MP4 is the only output format.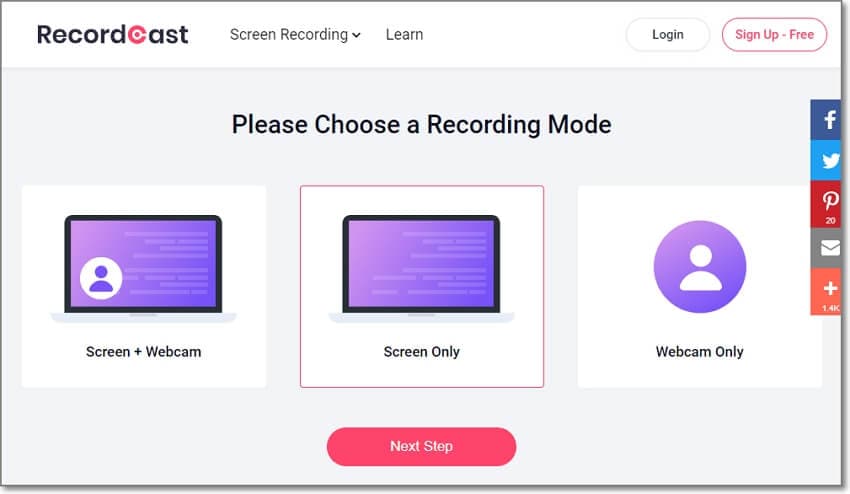 You can also use Fastreel Video Maker by Movavi to create captivating videos from photos and video clips. It supports typical video and image formats like MP4, MOV, AVI, JPEG, PNG, and more. You can upload videos from the cloud or local storage before customizing them with beautiful transitions and licensed music. But that's nothing. Movavi Fastreel allows you to cut, resize, flip, auto-add subtitles, create slideshows, apply motion effects, and more. You'll surely love it!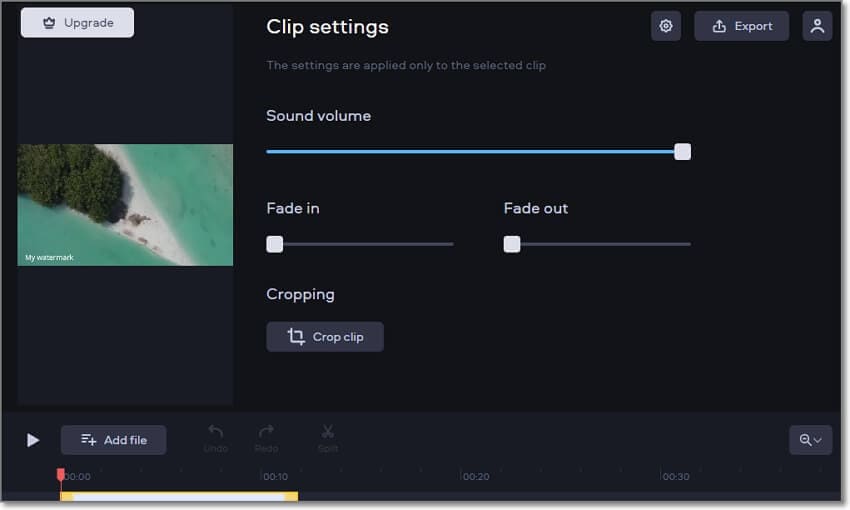 Using online video editors to create videos is fast and seamless as most are beginner-friendly. However, you'll realize that the free version of some tools offers poor output quality with watermarks. So, if you're skeptical about using online video editors, the next section will introduce you to the best video editors for desktops.
Part 3. 8 Best Free Video Editing Software for PC
Rating: 4.5/5
Launched in September 2003, Adobe Photoshop is one of the few video editors that have stood the test of time. No wonder it's arguably the most widely-used video editor among vloggers and movie editors. With that said, this non-linear video editing software has a multitrack timeline, giving you an easy and professional editing experience. Other notable features of Premiere Pro include 8K support, 3D/2D editing, color corrections, and hundreds of sound effects. You can even add effects directly to the timeline from Adobe After Effects. However, the $20.99/month subscription may be out of reach for many.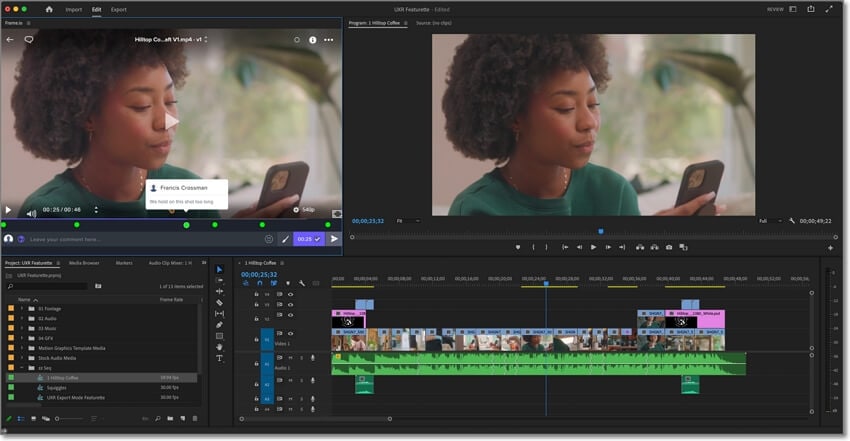 Rating: 4.4/5
Giving Adobe Premiere Pro a run for its money is Apple's Final Cut Pro. Released in 2011, this Mac video editing software is available to download on Mac App Store for $299.99. To put it simply, the software is yours for keeps with free updates after purchasing it. With Final Cut Pro, you'll enjoy many advanced features, including a magnetic track-based timeline that keeps connected video clips in sync. Also, you'll edit videos in multiple positions, giving you more control over the session. In addition, this video editor for PC with no watermark supports video noise reduction and stabilization. Should I continue?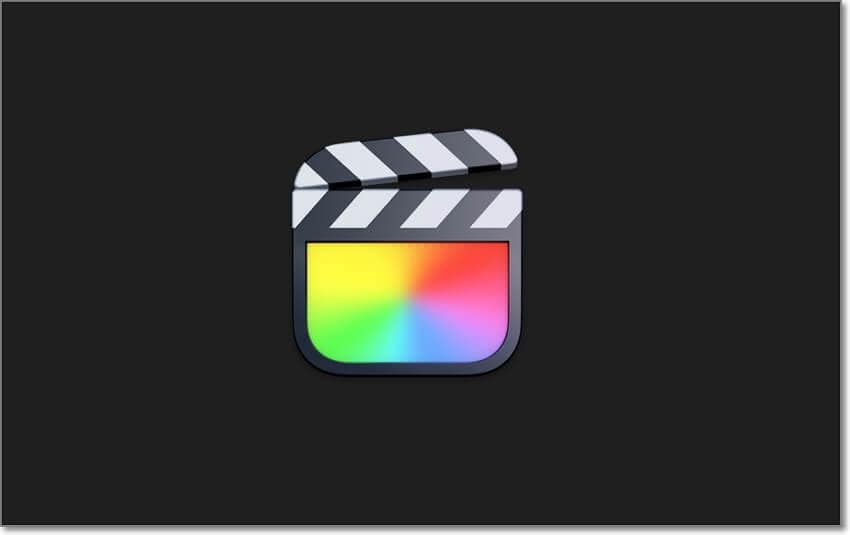 Rating: 4.4/5
If you're still a beginner, you might be scared of the intimidating UI of professional editors. But not on Filmora 11. This program doesn't sacrifice functionality with simplicity. Let's just say it's a simple and professional-grade video editor that houses everything you need to generate top-quality videos. For example, it supports 4K editing with an ever-growing range of effects and filters. Also, you can use the smooth motion tracking and image stabilization feature to get the best video scene in challenging circumstances. Plus, Filmora 11 can automatically convert speech to text and vice-versa.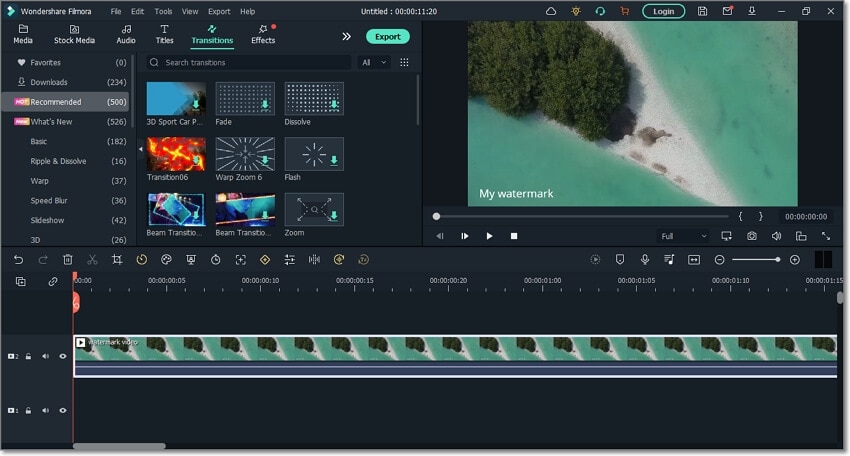 Rating: 4.2/5
Who doesn't like freebies? Certainly not me! With OpenShot Video Editor, you get a 100% free video editor with no hidden charges or additional downloads. Just download the program and start editing right away. This powerful video editor packs multiple features, including beautiful video effects and animation frameworks. OpenShot also allows you to edit the video title with blockbuster 3D animations like snow, fire, and flying texts. You can also perform basic functions like trimming, splicing, cropping, adjusting video speed, adding voiceovers, etc. Overall, it's one of the best editing software for free without watermark.
Rating: 4.1/5
You can't get enough of freeware, huh? Here's another one, Avidemux. Like OpenShot, Avidemux is a free, open-source video editing software for MacOS, Windows, and Linux operating systems. This software supports all standard file types, including MP4, AVI, MOV, MPG, DVD, and more. After uploading a video, Avidemux allows you to cut, copy, paste, mute, zoom, and more. Also, you can export your video to multiple target formats. However, the user interface is scanty and outdated.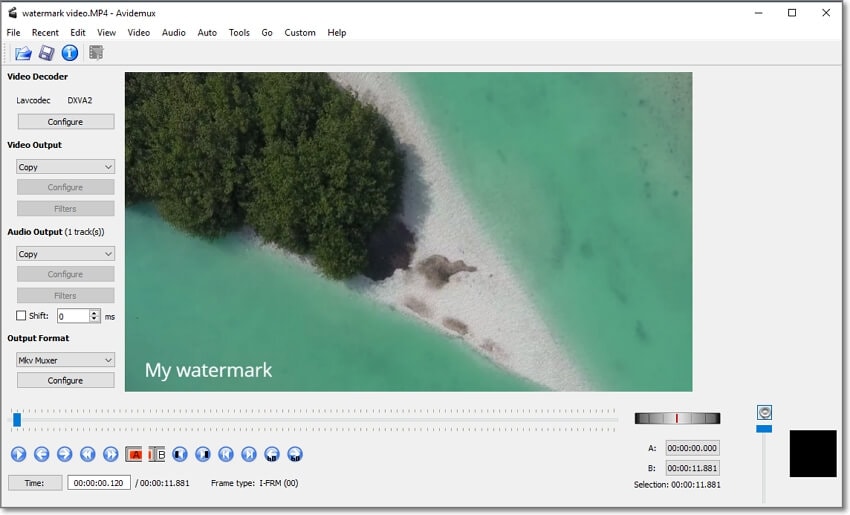 Rating: 4.7/5
Developed in May 2002 as an in-house 3D software for NatGeo, a Dutch animation studio, Blender has grown exponentially to rank among the best 3D editing programs today. It's a free, open-source program, meaning it's free to install and use. This powerful workstation will help you create award-winning 3D graphics, animations, and games. You can perform functions such as rendering, modeling, sculpting, and more. Also, you can make simulations like smoke, fire, outfits, hair, and more. Moreover, you can customize the Blender shortcut and layout.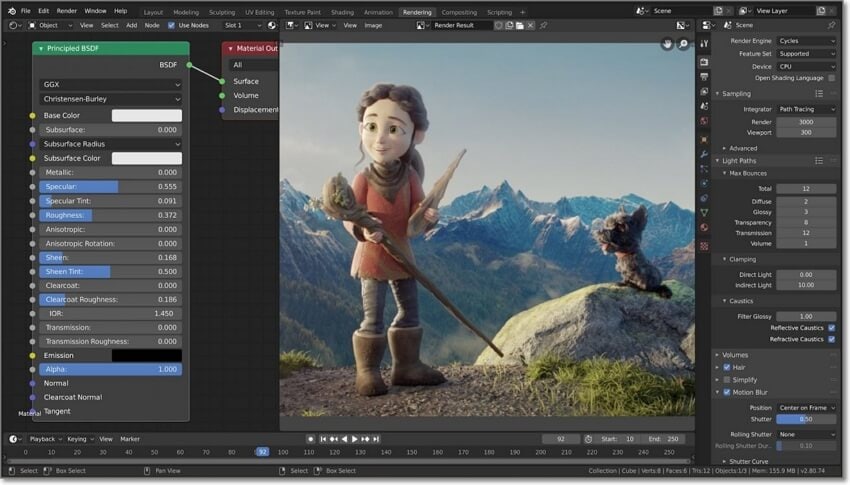 Rating: 4.2/5
VideoPad is a professional video editing solution by NCH Software. It's an intuitive, full-featured video editor for physical discs like DVD and VCD and digital media like MP4, MOV, AVI, MKV, and more. After loading a video on Blender, you can customize it with the 50+ well-thought-out visual effects like transitions, overlays, and filters. Also, you can add a Chroma Key (green screen) effect to your video for seamless post-processing. VideoPad also allows you to reduce camera shake, color, and adjust the playback speed. And after creating the video, you can export it in multiple resolutions.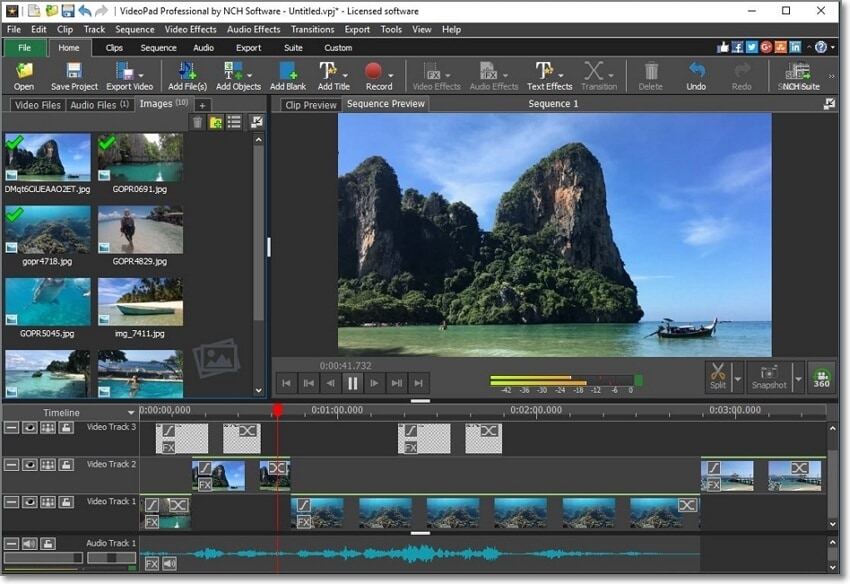 Rating: 4.3/5
Let's discuss one of the most underrated video editors for desktops, Lightworks! Movie-industry experts and top vloggers use this film-editing solution to fine-tune their videos for a pocket-friendly price of $49.99/month. Lightworks also has a free version, although it's pretty limited. This software boasts a host of features, including 4K/8K support, background processing, instant auto-save, and a multitrack timeline. Users can customize their videos with hundreds of transitions, filters, sound effects, color corrections, and more. And without forgetting the inbuilt audio EQ with multiple presets.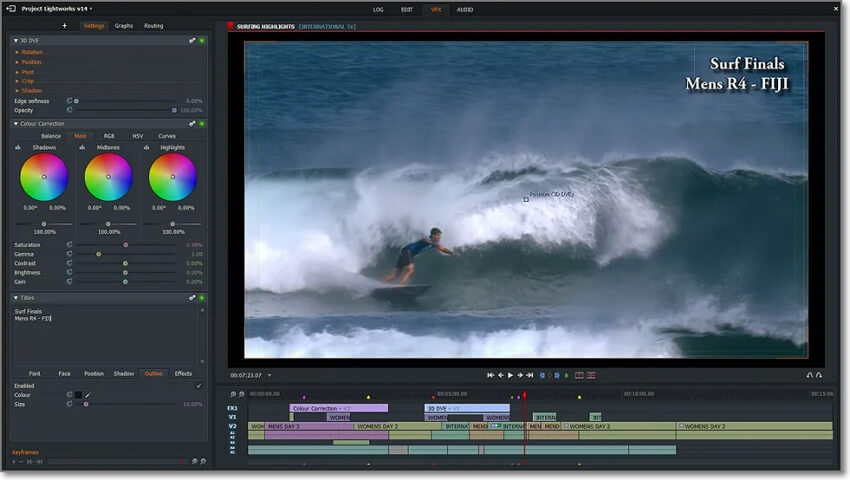 Part 4. 7 Best Free Video Editors for Android/iPhone
With desktop free watermarkless video editor programs done and dusted, let's not look at the best free video editor without watermark apps for Android and iPhone. We'll list them according to their ratings on Play Store or App Store.
Rating: 4.7/5
KineMaster is a highly-rated video editor for Android and iOS phones. It's incredibly fast and straightforward, with all the features you need to make your editing sessions fun and successful. You'll get thousands of downloadable assets on the layout, including video templates, sound effects, music, transitions, fonts, and filters. In addition, KineMaster has tools to cut, trim, crop, rotate, and perform other simple edits. And surprisingly, you can add a green screen effect using the Chroma Key feature.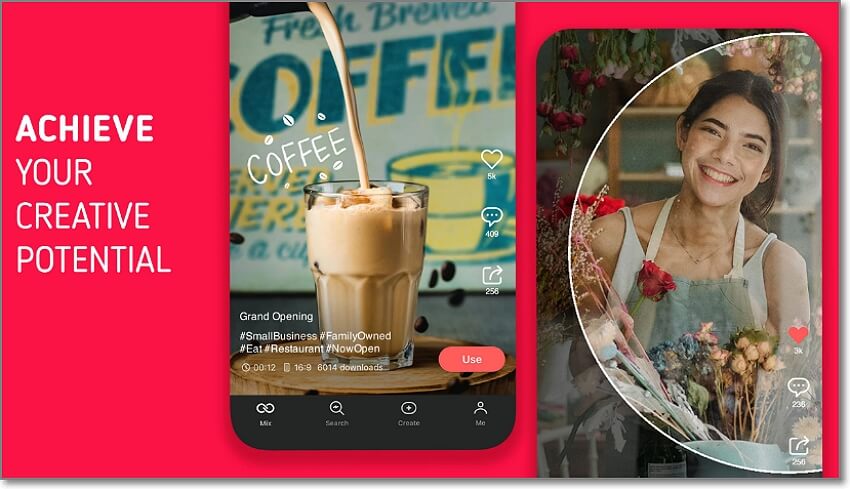 Rating: 4.7/5
Wondershare FilmoraGo is an excellent video editor for Android and iPhone users. So far, this app boasts more than 50 million downloads on Play Store, which tells a lot about its capabilities. This HD video editor allows you to create stunning videos for any social media app, including YouTube, Facebook, Instagram, WhatsApp, and more. You can trim, cut, crop, apply music, add texts, and more. In addition, you can blur the video background, enhance the voice, and change the playback speed. However, frequent ads can be tormenting.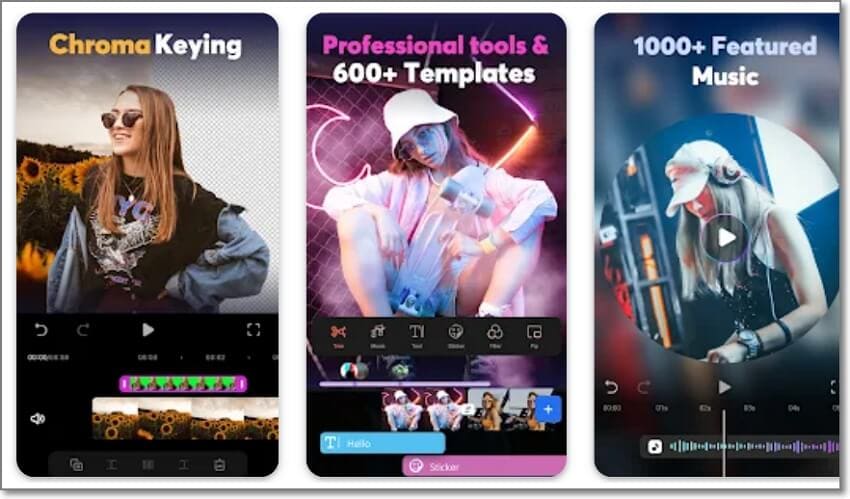 Rating: 4.6/5
Use this multiple-award-winning video editor if the KineMaster and FilmoraGo layouts intimidate you. Magisto is a simple video editor, movie maker, and slideshow maker. With just a mere screen tap, you can turn your videos and photos into an eye-catching video, thanks to the AI-driven smart editor. You can intelligently edit your video with graphics, filters, effects, sound effects, and music. Also, Magisto allows you to add transitions, fonts, colors, and more. There's more you can do with this app!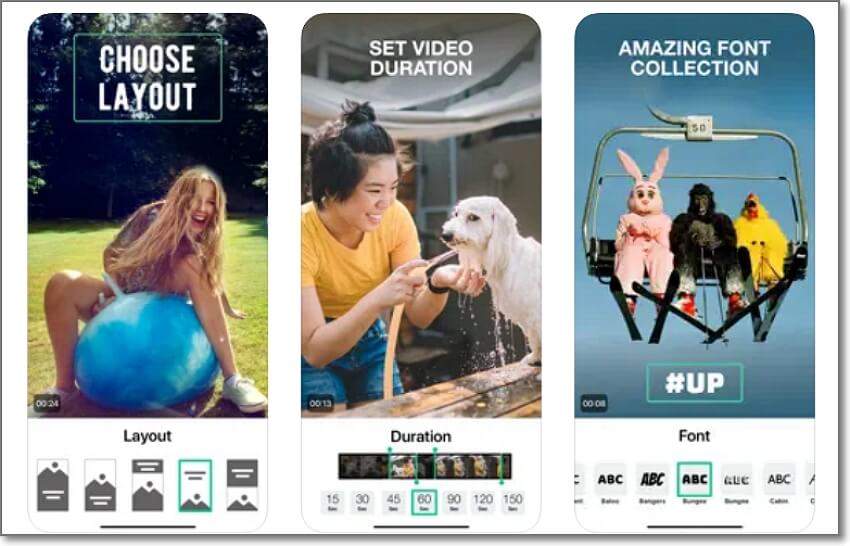 Rating: 4.6/5
Adobe Premiere Rush is a mobile video editing product from the legendary Adobe team. This all-in-one app features powerful tools to create and share videos with a few taps. Premiere Rush lets you upload a video from your local library or the built-in camera. After uploading the video, you can trim, crop, splice, rearrange, merge, etc. You can also customize the video with image overlays, voiceovers, sound effects, and texts. What's best, you can add multiple videos on the multitrack timeline. Perfect!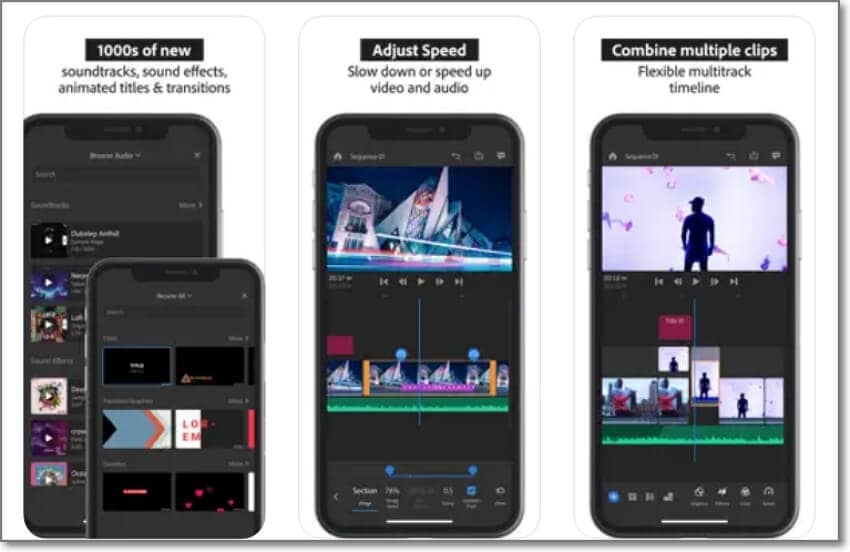 Rating: 4.6/5
With 100+ million downloads on Play Store, VideoShow is undoubtedly one of the most trusted smartphone video editors. This free app is incredibly simple, with advanced features. You can make videos with music, sound effects, image overlays, texts/captions, animated stickers, and cartoon filters. VideoShow also houses a comprehensive collection of free elements like music, videos, sound effects, transitions, etc. However, the bombarding ads might be a bother.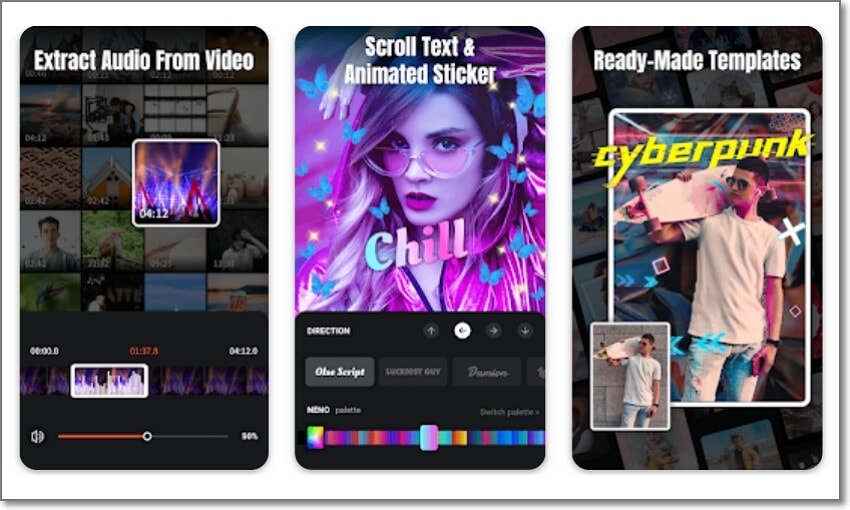 Rating: 4.4/5
GoPro Quick is a simple yet powerful video editor that will bring your video and photo memories to life. With a mere subscription, you'll enjoy a wealth of features, including exclusive filters for environments like water and snow. Excitingly, this app uses Artificial Intelligence to auto-select your best camera shots and retouch them with beautiful filters and transitions. You can also customize video segments with speed presets like freeze, slow, or fast. And yes, you can directly share videos on your favorite social media apps.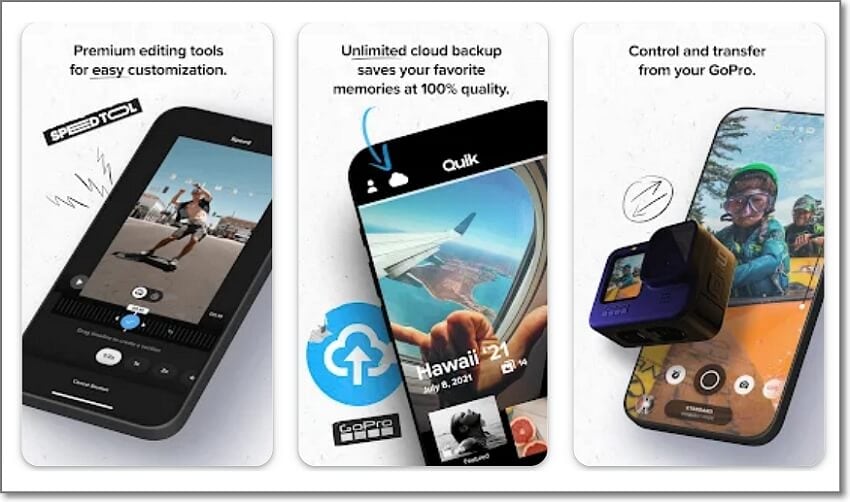 Rating: 4.3/5
If still unimpressed, use PowerDirector Video Editor to edit your videos in landscape or portrait mode. To create montage videos, you'll explore a large selection of customizable video templates, music, sound effects, photos, and intro/outro videos. You can produce fast-forward/slow-motion videos, stabilize shaky moments, add eye-popping transitions, and replace the video background with a green screen layout. Furthermore, you can create slideshows and videos with PiP overlays.