A podcast is a digital audio or video file available to download online. Generally, a podcast can be a TV show, movie series, radio talk show, camera recording, and more. But to reach a larger audience, you'll need to name your podcast. Well, that's where a podcast name generator comes in. These programs will help give your show the perfect name to entice listeners and compel them to click the "play" button. So, below are some excellent podcast name generators and tips for coming up with the perfect name. I'll also introduce you to the ideal podcast content creation tool.
Part 1. Top 8 AI-powered Podcast Name Generators - Free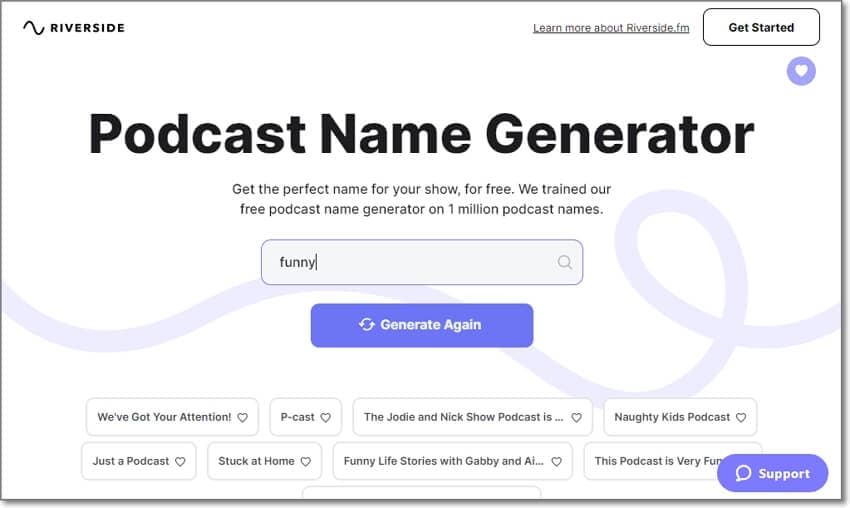 Riverside is a free online tool that gives you a range of podcast name ideas. It can generate up to 1 million podcast names by simply typing the description of your video. In addition to creating podcast names, this website features a smooth screen recorder with an intuitive video editor. With the free tier, you can capture 720p videos with top-quality audio. Other extras include screen sharing, live streaming, and 4K recordings, although you'll need to upgrade to a paid version.
Step 1. Visit Riverside Podcast Name Generator and type a short description for your video.
Step 2. Now click the Generate button, and this website will give you hundreds of original podcast names. That's all!
Pros:
Simple to use with hundreds of podcast name suggestions.
Excellent screen recorder for capturing HD videos for free.
Cons:
Watermarked video recording outputs on free accounts.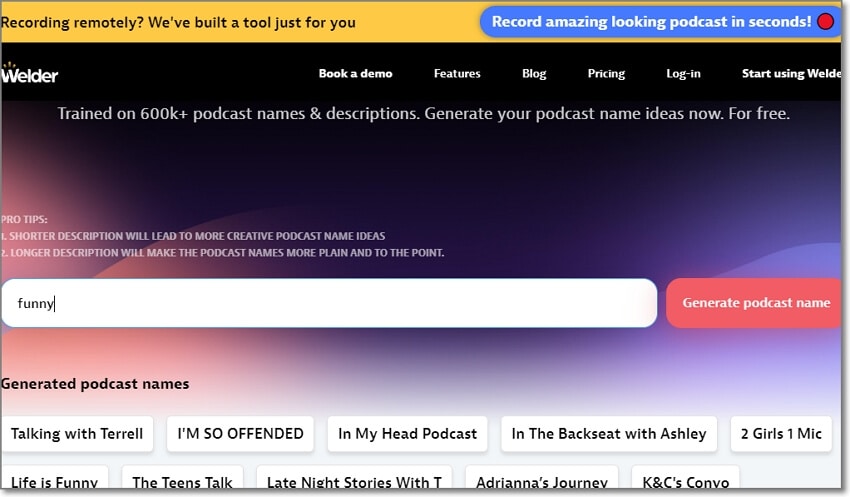 Getwelder is another AI-powered online program to generate cool podcast names with a single click. This program is trained to create 600,000+ podcast names from a mere video description. Additionally, Getwelder allows users to record Full HD 1080P videos with voice narrations. You can also share screen and live stream videos in 1080p resolutions. Below are the steps:
Step 1. Launch Getwelder Podcast Name Generator on your PC browser and then enter a short video description.
Step 2. Click the Generate podcast name button, and Getwelder will give you many name suggestions for free.
Pros:
Thousands of free-to-use podcast name suggestions.
Record 1080P podcast videos and live stream videos in Full HD.
Cons:
The free plan gives watermarked outputs.