Podcasts are excellent platforms to share unlimited content, ranging from relationships and religion to sports and entertainment. But to record a podcast worth listening to, you need the perfect podcast software. Fortunately, the internet is filled with podcast recording programs to help you capture high-quality podcast videos and audio. But all podcasting programs are not the same. So, here are some well-researched podcast recording programs to use for free. I'll also introduce you to some essential equipments you need to record quality podcasts.
Part 1. Essential Equipments for Podcast Recording
Starting a podcasting business can be challenging. Apart from figuring out the right niche, you must also shop for podcast tools, which may be costly. So, in this part, we'll discuss the necessary equipment for recording a podcast. Let's jump in!
Microphone
Why do you need a microphone when your computer or smartphone already has one? The reason is that inbuilt mics do not block ambient sounds. For obvious reasons, you'll need your podcast audio to be of the highest quality. So, purchase a noise-canceling microphone or USB mic.
Computer
Another essential device that you'll need is a computer. Remember that you'll need to retouch your podcast audio before uploading online. But luckily, an average computer will do just fine with podcast recording and editing. So, get one!
Headphones
A good cook should always taste their food before serving it. The same applies when recording a podcast show. You'll use the headphones to hear your voice and identify areas that need improvement or deleting before uploading. Now you know why musicians often wear headphones in the studio.
Podcast recording software
A podcast recording software is a program to record high-quality podcasts professionally. While scouting for recording software, check for features like pricing, audio quality, noise reduction, and more. Don't worry; the next section will furnish you with seven excellent options.
Sound editing software
As said before, you'll use your computer to record and edit audio. But you can't edit audio without a proper audio editor. Ensure that the program you choose offers essential tools like trimming, cutting, splitting, splicing, adjusting volume, sound effects, etc.
Recording studio/room
Do you have an empty room in the house? Great! Use the room as your podcast recording studio. To capture high-quality sounds, you'll need a quiet environment devoid of unwanted TV sounds, children screaming, and other unwanted noises. You can also invest in soundproof materials to give the room an acoustic feel.
Part 2. Top 7 Different Ways to Record Podcast [with Guide]
Without wasting time, let's learn how to record a podcast with seven effective methods. Note that some of these programs might need a subscription to use.
If you're still a greenhorn with podcast recording, Media.io is the perfect tool for you. It's a simple online podcast recording software that captures podcasts with a single mouse click. You only need to run the program, connect a mic, and grab your podcast. To make the recording session more engaging, Media.io Podcast Recorder features a beautiful waveform for detecting audio pitch and noises quickly. And after recording the podcast, you can trim, cut, compress, convert, and more.
Follow these quick and simple steps:
Step 1 Launch Media.io Online Podcast Recorder on your computer browser and click the Audio Only function. This should be selected by default anyway.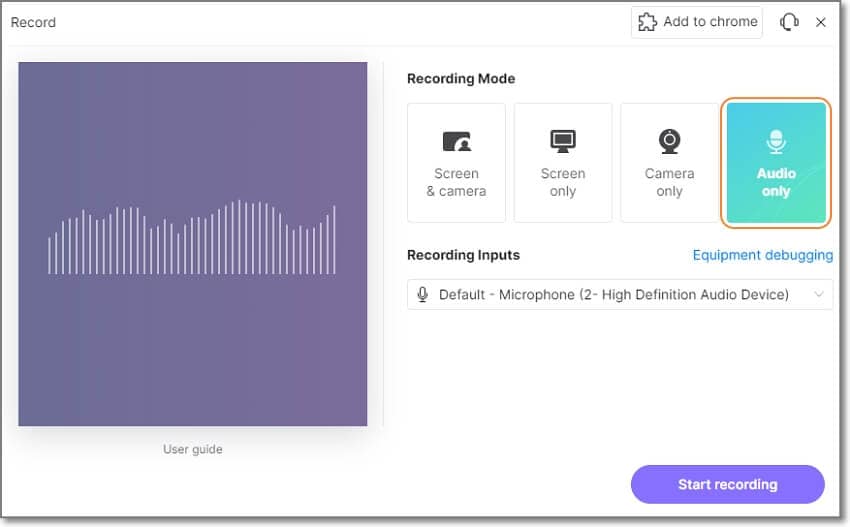 Step 2 Now plug your microphone into your PC and select it. If you don't have one, don't worry because you can use your computer's inbuilt mic.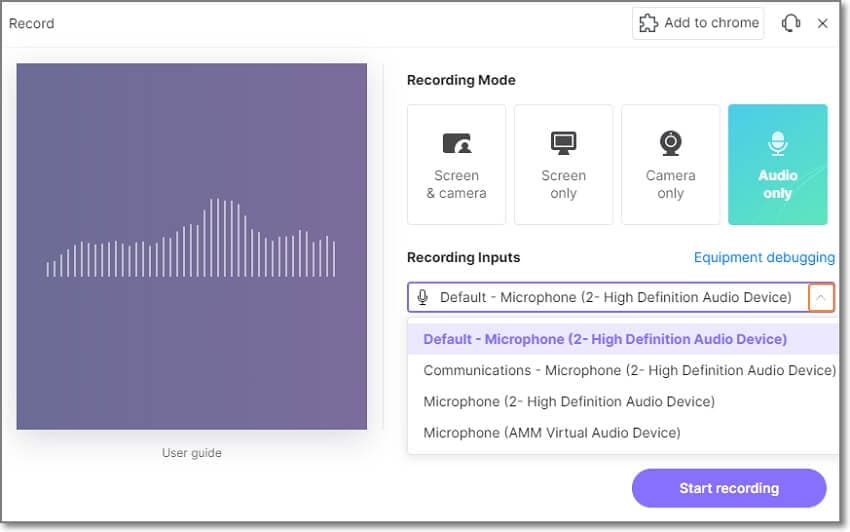 Step 3After the program has finished debugging your connected mic, click Start Recording to capture up to 30 minutes for free. Of course, you can unlock more minutes by upgrading your account.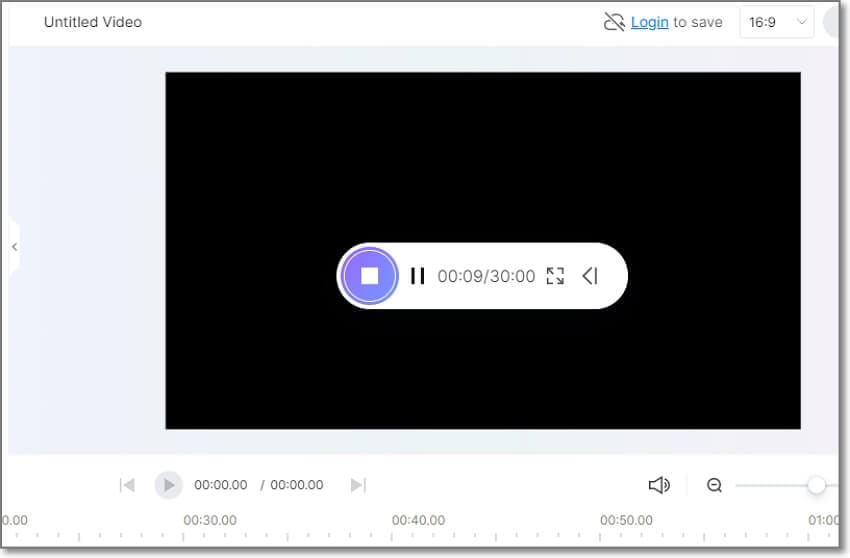 If you frequently edit and record audio, you need no introduction to Audacity. It's a free, open-source program that you won't even believe it's free. Audacity allows you to record high-quality audio using whatever mic you may have. After podcasting on Audacity, the program gives you a range of tools to trim, reduce noise, amplify, change tempo, compress, reverse, reverb, and more. It's simply one of the best podcast recording software for PCs.
Below are the steps:
Step 1. Launch Audacity and select your voice input device on the Microphone drop-down menu.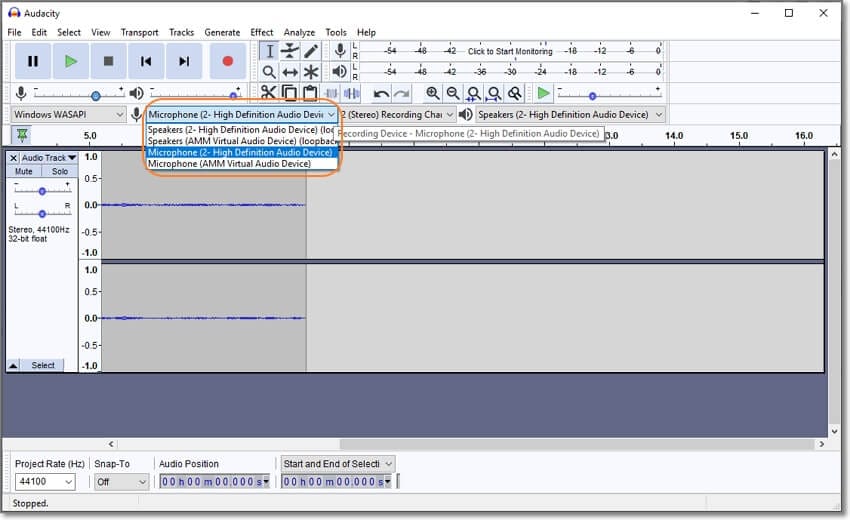 Step 2. Next, find the Microphone icon and adjust the recording volume accordingly. You can also change the playback volume.
Step 3. Now click the red REC button to begin recording audio. You can capture any audio length that you want. Once you've recorded enough podcast content, click Stop and tap Play to preview it. It's nothing complex!
Limitations: Although Audacity is a free and professional-grade audio recorder and editor, the UI can be a little intimidating.
Adobe Audition is a paid digital audio workstation that rivals Audacity in every way. You can create, record, mix, and design great-sounding audio in minutes with Adobe Audition. This program allows you to record a podcast from a connected microphone or your computer's mic. Interestingly, users can adjust the noise level before recording audio. And don't forget that all recorded clips are saved in WAV format.
A step-by-step guide for recording a podcast with Adobe Audition:
Step 1. Fire up Adobe Audition and then click Edit > Preferences. Now click Audio Hardware and choose the Default Input device.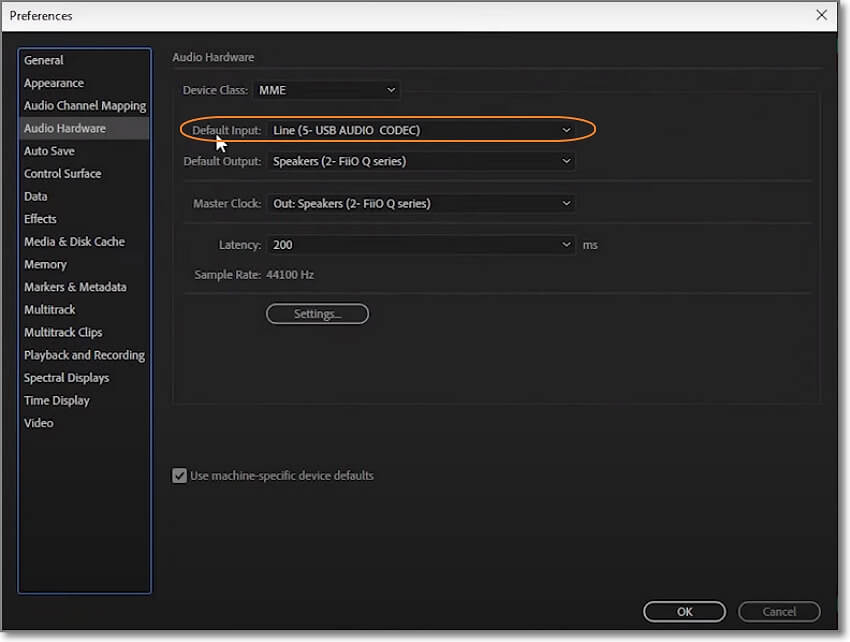 Step 2. After selecting your microphone, click Window > Editor. Once the editor opens, you'll see the audio controls at the bottom.
Step 3. Click Record to start recording a podcast on Adobe Audition. You'll see green waveforms as you narrate audio. Tap to stop to finish recording audio on Adobe Audition.
Limitations: Like Audacity, starting with Adobe Audition can be challenging for beginners. Even worse, the service costs $20.99/month after exhausting the 7-day free trial.
Garageband is a digital workstation developed by Apple for macOS, iOS, and iPad devices. It features a multitrack timeline where you can create nice-sounding music and podcasts quickly and easily. Users can record audio using an internal mic, a connected device, or headphones. After recording audio, users can trim, cut, amplify, add sound effects, reverse, and more. Interestingly, you can use third-party music apps like iTunes on Garageband.
Below are the steps to record a podcast with Garageband:
Step 1. Open Garageband on your macOS and click the Details button at the bottom-left corner of the home window. Here, choose your connected mic on the Device Input menu.
Step 2. Double-click Empty Project to ensure the mic is selected before clicking Create. On the net window, open the Display Mode menu and choose Time. This way, you can keep track of your audio recording duration.