An anime voice changer can change your voice to an anime boy, girl, or another character. Click to know the top anime voice changer. Are you a die-hard fan of anime and obsessed with the Japanese characters? You then need the best anime voice changer tool. There are many voice changer apps and tools. The demand for voice changers has increased a great deal in recent times. People can add effects to the recorded voice just for the sake of fun. But finding the right anime voice changer online tools or apps can be overwhelming given the options available. This is the reason we have compiled this of the best anime voice changers. So, let's dive in.
Part 1: Best Anime Voice Changer Online
Here are some of the anime voice changer online tools you can use to change your voice to a favorite character of yours. 

It is an online voice changer and modifier. With this online tool, you can change your voice to different genres, such as a child, robot, or anime. You can also use it to get Donald Duck voice. Media.io is the perfect tool to have some fun with your friends. It has many free voice changers. The range of speech recording capabilities and sound filters is excellent. It can help change your voice effortlessly. 
Pros
Easy voice changing process.
Abundant voice filters to choose from.
Advanced AI algorithm improves working efficiency.
Offers complete privacy and security of the files.
Cons
Some useful features are only available with the paid version.
2.  Voicechanger.io
Voicechanger.io also allows you to change your voice to an anime character or cartoon voice online. It can change voices even in a pre-recorded audio file and create a new voice. In fact, it is the only tool that will let you upload files, which are stored in the hard drive of the device that you use for browsing the internet. There are dozens of voice effects for you to choose from. 
Pros
Easy-to-use interface.
Dozens of voice effects to select from.
Comes with a dynamic sound player.
Cons
Only allows you to upload files stored in hard-drive.
Doesn't offer direct sharing on social media platforms.
3.  Online Tone Generator
Source: onlinetonegenerator.com/
Online Tone Generator is a tool that lets you modulate your voice. But you cannot record audio using this tool. So, you can edit only prerecorded audio files. It has a Pitch Shifter feature that lets you shift the pitch of the audio. 
Pros 
The platform is easy to use.
Pitch Shifter lets you change the pitch of an audio.
Files are saved in the MP3 format.
Cons
Doesn't offer voice recordings.
The download process is a little complicated.
Part 2: Popular Anime Voice Changer for PC/Mac
In case you want to know about the most creative and influential anime voice changers, here is a list for you. Check it out.
4.  Voxal Voice Changer
Source: www.nchsoftware.com
Voxal Voice Changer is the favorite of many people who like changing their anime voice effects. It has already made it to the headlines due to its exciting and unique features. The best thing about the software is it doesn't come with critical settings and has a simple interface for you to work on. 
Pros
The interface it has can be easy to work on.
You can add effects to the voice you have previously recorded or the live ones.
Cons
You might be bombarded with apps.
5.  Voicemod
Source: www.voicemod.net
A voice changer software that you can use to morph voice is Voicemod. It is preferred by content creators and gamers. The tool has primarily been designed for voice-changing purposes. It comes with some interesting features, such as background noise cancellation. The interface is user-friendly and has been designed as per modern trends. Hence, it appears more appealing. It can be used on both Mac and Windows devices. The software has over 42 different voices for shifting and editing. The software will let you create customized voice-changing effects and soundboards. 
Pros 
More than 40 different voice effects for shifting and editing.
Comes with a background noise cancellation feature.
The interface is easy to use.
Cons
The free version has limited features to use.
6. iMyFone MagicMic
Source: filme.imyfone.com
No doubt, iMyFone MagicMic is one of the best voice-changing tools for desktops. It can transform your voice into anime girl voice or boy voice in real-time. The anime voice changer free offers more than 100 voices for you to choose from. It ensures stable voice output when it changes voices in real-time. There are more than 300 sound effects in the tool. 
Pros
More than 100 voice-changing effects.
Over 200 sound effects that imitate people.
Customizes voice with voice studio function.
Sound effects with keybinds.
Cons
The real use of some features might not be clear.
Part 3: Funny Anime Voice Changer for Android/iOS
If you are looking for an effective voice changer that will work on Android or iOS, you will find them, too. It might be a little tricky to choose the best one. Google Play Store and Apple Store are flooded with apps that claim to be the best. However, not all of them will be worth your while. So, we are going to list the three best anime voice changer app for Android and iOS. 
7. Voice Changer Plus App
Source: https://apps.apple.com/us/app/voice-changer-plus/id339440515
Voice Changer Plus App is one of the best apps to use on your mobile device. The app has great sound and voice effects that you can use to create anime voices. With this app, users can choose their favorite sound effects. The anime voice changer free offers complete voiceOver support. If you want to cut down on some portion of the voice recording, you can do so with the trim feature. 
Pros
Provides many voice effects.
Lets you audit audio recordings after voice modulation.
Available for free to share and save the record.
Cons
No audio modulating option for video files.
8. VoiceMod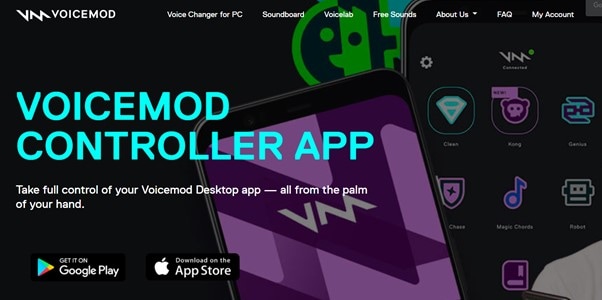 VoiceMod is the best anime voice changer Android and iOS smartphones. With this, you will be able to convert voices to male, robot, and female characters. It can change voice with a simple SDK in real-time. 
Pros
Compatible with much chat service.
Many voices to choose from.
Updated and easy-to-use interface.
Cons
A subscription-based tool.
FAQ About Anime Voice Changer
1. How Do You Sound Like an Anime Girl Voice?

You can use a desktop or mobile anime voice changer to sound like an anime girl.

2. How to Sound Like Donald Duck Voice?

To sound like a Donald Duck, you can use Media.io.

3. How to Sound Like an Anime Boy?

To sound like an anime boy, you can use a desktop tool or apps, such as Voicemod, Media.io, or Voice Changer.