Barbie Filter
Transform your ordinary photos into stunning Barbie masterpieces using our AI Barbie Filter with a single tap. Join the sweeping viral trend on social media today.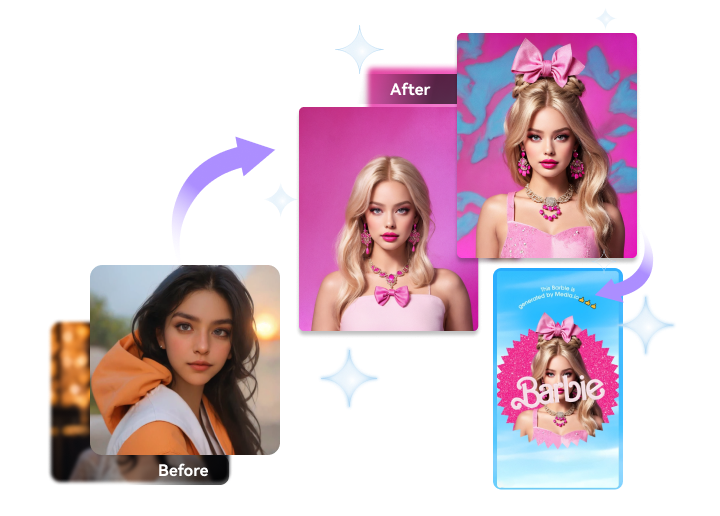 Instant to Use
You don't need to install this Barbie filter for Instagram and other social apps. That's because Media.io is a 100% online program with seamless compatibility on Android, iPhone, Windows, or Mac. You only need an updated browser to add Barbie filters to your photos anywhere, at any time.
Multiple Barbie Looks
This tool generates Barbie-themed photos with varying looks, styles, outfits, hairstyles, and more. After choosing a gender category, you can develop Barbie-themed photos for uses like education, casual, graduation, outdoor, ID photos, and more.
High-Quality Results
Media.io AI Barbie Filter generates high-quality Barbie filter online, making it perfect for any use. You can add a Barbie effect on images for Twitter, Instagram, Snapchat, LinkedIn, Facebook, etc. In addition, use Media.io Image Enlarger to upscale your Barbie photos for printing or display on a big screen.
Digital Privacy Protection
Media.io users can rest assured that their images are safe from unwanted eyes. Media.io will auto-delete your Barbie avatar within minutes of downloading it. The program also uses advanced SSL encryption to protect your images and other details from hackers.
How to Use AI Barbie Filter Online Easily?
The Barbie filter is one of the latest filters to gain popularity on these platforms. This feature employs Artificial Intelligence to transform natural photos into beautiful doll-like visages. With Media.io Barbie AI Filter, you can quickly transform your images and enhance your appearance on desktop or mobile.
Step 1. Choose a Barbie Filter.

Launch Media.io AI Barbie Filter Online on your browser and set your gender as Male, Female, or Others. Then, select your Barbie filter style as casual, ID photo, profile picture, etc.

Step 2. Upload your selfies.

Next, upload at least five selfie photos on the program. This tool supports standard image formats like BMP, JPG, PNG, and WebP. Note that you'll achieve better results with more photos.

Step 3. Preview and download the Barbie photos for sharing.

After submitting your image files, you'll wait a few minutes as the program analyzes the images to add a cool Barbie filter. Now open the download link on your email to preview the photos and download the one you like. That's it!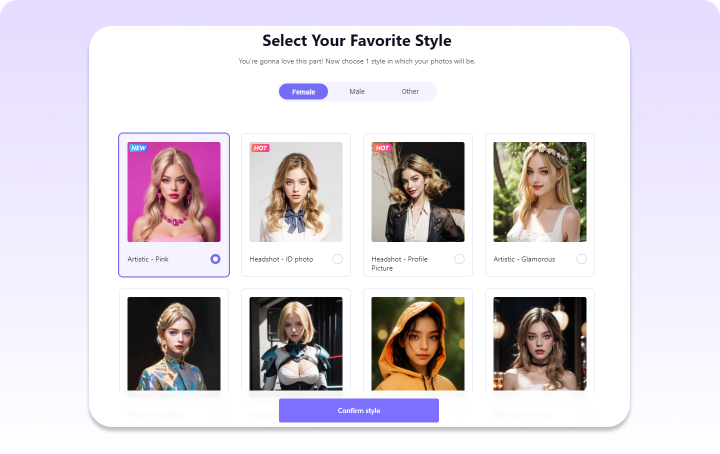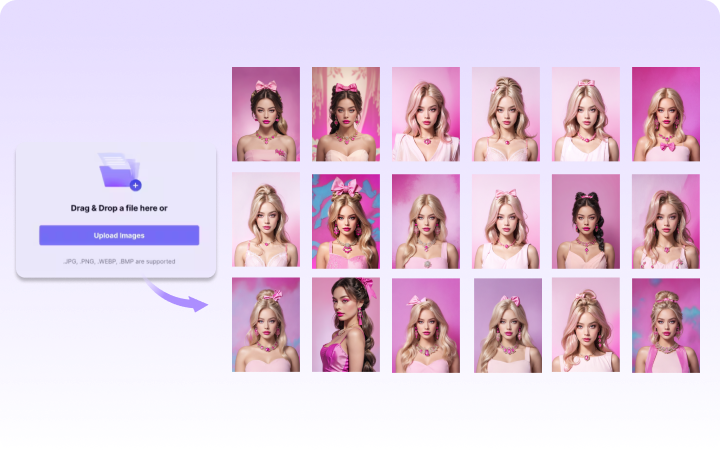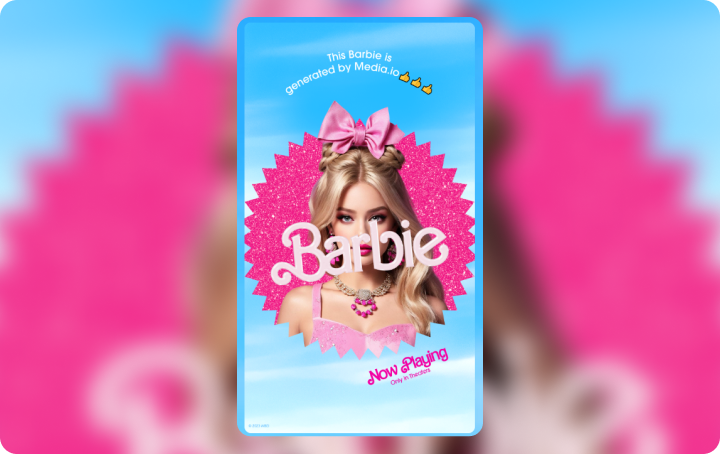 Barbie Me – Embrace Your Inner Barbie
Avid social media users wouldn't want to miss out on the Barbie trend. You can quickly transform yourself into a smashing Barbie princess or prince. This AI magic can significantly improve your social media following.
Showcase Your Personality with More AI Filters
With Media.io, you'll access an excellent range of AI Barbie filters to bring out your personality ideally. For example, you can add a Barbie face filter with formal or casual looks or choose categories like outdoor, graduation, empire, etc.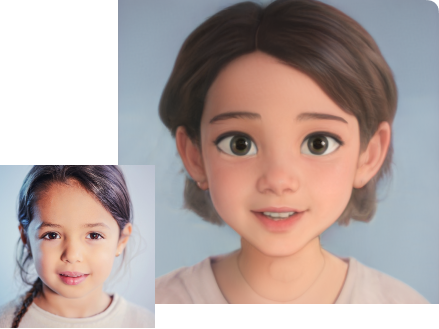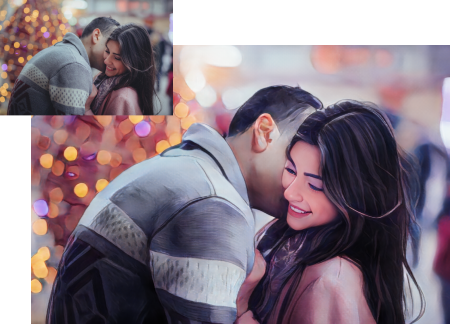 Create One-of-a-kind Barbie Post
Sometimes, you might need more than a Barbie filter to create the ideal photo. In that case, Media.io has various tools to help make your images stand out. For example, resort to the AI Background Remover to replace the background with a unique color or image. Or, you can transform your photos into fantastic avatars using the AI Avatar Generator.
More Than Just Barbie AI Effects
Powered by AI, besides converting your regular selfies to stunning barbie dolls, Media.io always provides the most popular online tools to suit your various needs. Explore more funny AI tools to make you look ultra cool!
FAQs Regarding AI Barbie Filter
1. How to turn your photo into a Barbie doll online?

Media.io is the best tool to add a Barbie effect to your photos online. To add a Barbie filter to your photo, open the program, choose a Barbie effect, and then upload five or more images. The program will take just a few minutes to create your Barbie-themed picture.

2. How do you get Barbie filter for TikTok, IG, or Snapchat?

Whether you want a Barbie Snapchat filter or a TikTok Barbie effect, Media.io is the ideal program for you. You'll get over 25 filters for males, females, and others. Use the effects to create diverse Barbie looks and showcase your personality differently.

3. What is the best alternative to Barbie.Me?

Barbieme is an excellent program to transform your pictures into any doll. However, the program might experience downtime or slow processing due to heavy use. For this reason, we recommend using Media.io AI Barbie Filter Online as an alternative. It's a 100% online tool with an extended selection of Barbie effects.
I really love everything about this AI Barbie filter tool. The art styles, colors, and outfits are top-notch. The selection of Barbie effects is also modern and creative. Please give it a go!
Brian M

The Barbie effects are lovely with magical fashion. I like how the Barbie makeups are done without compromising the original photos. Keep it up!
Joan Bria

A tremendous all-round app to find any Barbie filter of your choice. Although I have to wait a few minutes to get my Barbie effect, it's still faster than most apps I've used. No complaints!
Wendy Bulmer

I wanted something fun for my daughter to create Barbie social media posts before I stumbled on this tool. The unlimited selection of effects is a welcomed addition, and the outcomes are exceptional. I'm loving it!
Edgar David

I'm impressed with the designs of the clothes and dresses of the Barbie outcomes. It gave me an excellent blend of my uploaded photos. I'm renewing my subscription!

Georgina Wajda


-->