Caricature Maker [AI]
Turn your plain photos into hilarious caricatures online with just one tap! Elevate your expressions in a slightly crazy way. 100% free of charge.
Web-based Caricature Creator
Our online app is accessible on any device - whether it be Windows, Mac, Linux, Android, or iOS - and makes it a breeze to add amazing caricature effects to any image. With Media.io, you can bring out the best in your photos anytime, anywhere.
Various Comic Styles
Turn your photos into works of caricature art with different exaggerated effects. Whether you're a Disney fan, love American comics, or enjoy Kawaii and sketch styles, we've got you covered. Opt for your favorite style and bring the characters to life - it's fun, easy and oh-so-addictive!
Smart AI Technology
Based on the advanced face recognition tech, Media.io can quickly analyze the facial features and transform your portraits into various cartoon variations. No need to rely on any complicated software like Photoshop - simply upload your photo and let our AI do its magic!
100% Secure to Use
We know how important your privacy is, which is why we prioritize your data safety. With our secure SSL (HTTPS) certificate, all uploaded images are removed within 24 hours after use, giving you plenty of time to download them. Just make caricatures with peace of mind.😊
How to Make A Photo to Caricature Online?
Step 1. Upload Image to the Caricature Generator.

Simply upload your photo with just a click or drag-and-drop to start editing.

Step 2. Apply Caricature Effect.

Explore a variety of comic styles and pick whichever one you like best, then hit on Apply button and watch as AI works its magic in seconds.

Step 3. Download Your Caricature Photo.

Download and share your new comical photo with the world - laughter guaranteed.
FAQs about Caricature Creations Online
1. How to Make My Own Caricature?

It only takes one click on Media.io! Upload your image online and select from an array of cartoon filters, hit Apply and voila! You one-of-a-kind caricature is ready.

2. How to Caricature a Photo on iPhone/Andriod?

Media.io photo to caricature creator works smoothly with iPhone, Andriod and all mobile devices. You can turn portraits or faces to distorted caricatures straight from your browser. All you need to do is go to Media.io free app, add your photo, apply a style at your will and let AI handle the rest.

3. What is the Best Caricature Maker?

There are a bunch of caricature converter apps online, while Media.io is the easiest app to use. It empowers you to instantly create stunning caricatures in great quality. Plus, it gives you access to tons of additional photo editing features, object remover, photo background remover & changer, photo enhancer, etc. All powered by AI. Better yet, it's completely free!

4. Is It Possible to Caricature Yourself in a Video?

Absolutely! To make a caricature video, you can enter our online video editor, upload the AI-generated caricature photo and replace the face shown on the original video. Or you can try our new video cartoonizer to turn the whole video into a virtual cartoon version.
Jannelle White
What wowed me about this tool is that I was able to make a caricature of myself in black and white or color without having to pay for any subscription. Perhaps it worked within a blink of an eye and I do love it.
Selma Nilsson
I like the cartoon blending in the Media.io. Funny, it was able to rhyme with my face and I was looking so pretty… thanks to the creator of this awesome platform!
Joao Ronaldo
I use Media.io to cartoon my pet - a super cute dog! Wow, I can't wait to send the photo to my girlfriend. She loves it too! Thanks team.
Oscar K.
This was my first time using the platform and I was able to work like a pro with it. The developers did a great job and I will rate a 5 star.
Wes Stinger
I honestly love the ease of use in this all-in-one program. There are no annoying adverts or hidden charges. Just an honest service. Recommended!
Make Your Hilariously Exaggerated
Caricatures On the Go
Make people around You laugh out loud. Just one tap away to redefine your social media experience.
Upload Image Now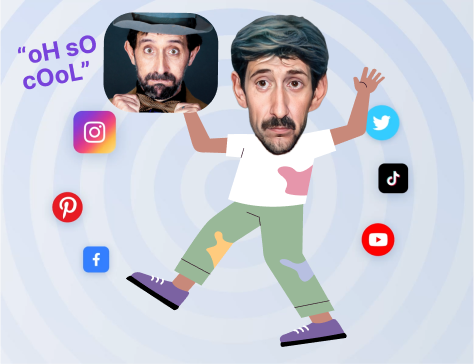 Media.io Online Tools

Quality Rating:
You need to edit, convert or compress and download at least 1 file to rate!
We've already perfectly processed
xxx ,xxx ,xxx
files with a total size of
10,124
TB