Anime Filter: Cartoonize Your Face
Transform photos into captivating anime images using free AI anime filters provided by Media.io. Select from a diverse range of cartoon filters to create unique anime pictures.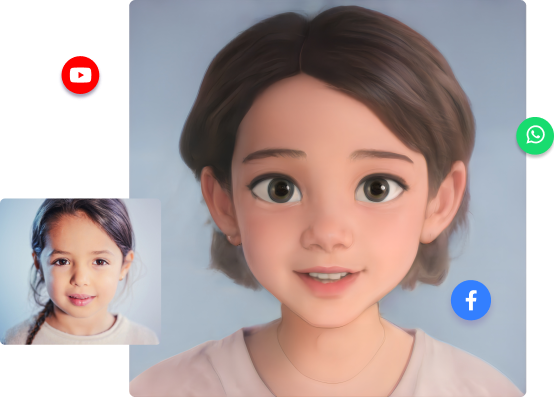 Cartoonize Your Photo Free Online
Use our free anime filter to converting photos to anime effortlessly on any device, no downloads needed.
Choose From Multiple Cartoon Filters
Create diverse anime images, from Disney to 3D, Barbie to retro comics, sketches, and more. Unleash your creativity with adorable cartoon faces.
Diverse Anime Filter Selection
Produce stunning anime-style images effortlessly with the help of our advanced algorithm, ensuring captivating and visually appealing results.
A Safe Cartoonize Photo Editor
Media.io is a trusted, secure converter for anime-style image creation. Data privacy ensured, deletes personal data within 24 hours.
How To Apply Anime AI Filter In 3 Step?
Are you curious about trying out cartoon filters on Instagram, Snapchat, and TikTok to see yourself transformed into a cartoon character? Discover the magic of AI anime filter with Media.io! Our online anime filter lets you effortlessly apply captivating cartoon effects to both photos and videos. From beloved portraits to adorable pets and captivating cityscapes, unleash your creativity and add astonishing cartoon filters that will leave a lasting impression. Step into a vibrant world of animated enchantment Now!
Step 1. Upload Your Photo

Pick the photo you wish to transform into anime. Select an image from your device or effortlessly drag and drop it into the designated area.

Step 2. Customize And Preview

Choose from a range of anime filters to achieve your desired style. Experience the instant transformation with our real-time preview feature, allowing you to see the impact of the changes on your photo immediately.

Step 3. Download And Share

Download the high-quality anime rendition of your photo and begin sharing or utilizing it across multiple platforms!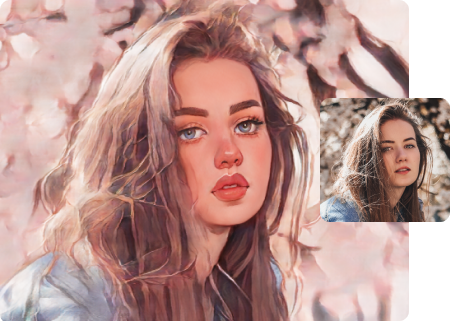 Customize Your Cartoon Avatar with Popular Anime Filters
Unlock your creativity on TikTok, Snapchat, and Instagram with media.io Cartoonizer. With our AI anime filter, you can explore a wide range of trending cartoon filters and effortlessly apply them to your own photos. Discover the perfect style that resonates with your personality and create a unique cartoon avatar that stands out from the crowd. Express yourself in a fun and engaging way with personalized cartoon avatars that reflect your individuality. Get ready to make a statement and leave a lasting impression on your favorite social media platforms.
Transform Your Photos into Cartoons Effortlessly Online Free
Say goodbye to the dilemma of finding the best cartoonize photo app. Experience the convenience of media.io Cartoonizer, where you can cartoonize your photos online for free without the need to download any apps or software. Simply open your browser and let our advanced AI technology work its magic in just a few seconds. Choose from a variety of popular cartoon filters including artistic, cute, and 3D styles to give your photos a stunning and unique look. With media.io Cartoonizer, transforming your photos into cartoons has never been easier or more accessible.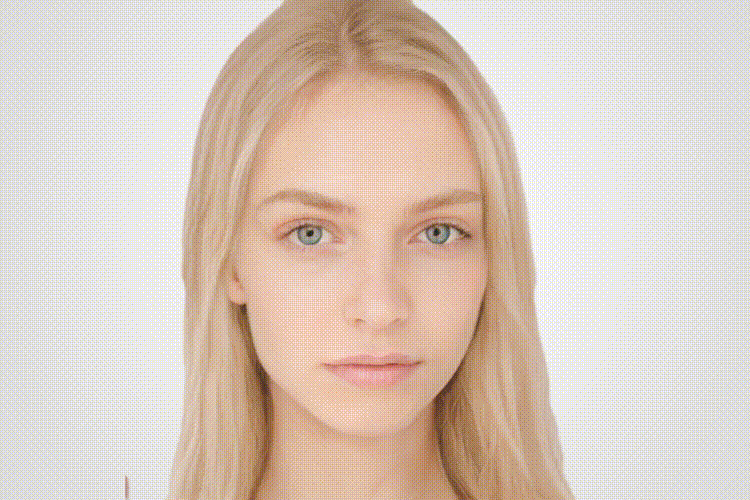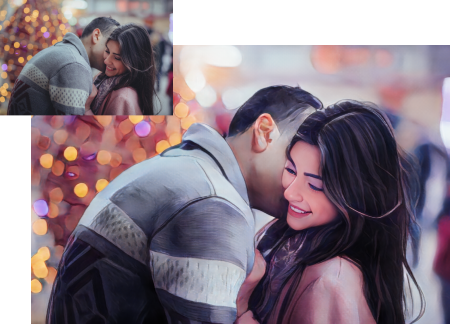 Descover Our All-in-One Cartoonize Photo Editor
With our innovative cartoon filters, you can easily add a touch of creativity to your images. But that's not all! We also offer a range of AI-powered image tools to enhance your photos further. Remove and change photo backgrounds to obtain clean cutout avatars or use our image upscaler and Enhancer to bring out intricate details in your images, such as hair strands and skin textures. Unlock the potential of high-definition portraits that will leave everyone amazed. Experience the convenience of a comprehensive cartoonize photo editor and image enhancer in one platform with media.io.
More Than Just Anime AI Filter
In addition to AI anime filters for converting photos into anime, Media.io offers a wide range of popular online tools to cater to your diverse requirements. Discover an array of entertaining AI tools to enhance your appearance and bring out your ultimate coolness!
FAQs About Anime Filter Online
1. How do you get anime filters?

Getting anime filters is easy with Media.io anime filter. Simply visit our website on any device, and you'll have access to a wide range of anime filters. Apply these filters to your photos or videos to instantly give them an anime-inspired look and feel.

2. How do I turn a normal picture into an anime?

Converting a normal picture into an anime-style image is a breeze with Media.io anime filter. Just upload your photo, choose from our selection of anime filters, and apply them to your picture. Watch as your ordinary photo transforms into a captivating anime masterpiece.

3. What is the app that turns you into an anime?

Media.io online anime filter is what you need to turn yourself into an anime character without the need to download any app. With our powerful filters and effects, you can effortlessly transform your face and appearance into an anime-inspired version. Simply upload your photo, and explore various options to achieve your desired anime look.

4. How to turn yourself into an anime character?

Transforming yourself into an anime character is simple with Media.io anime filter. Start by uploading your photo in our website. Then, choose from a range of anime filters specifically designed for character transformation. Apply the filter that best matches your desired anime style, and witness the magic as you become an anime character in no time.

5. How do you get cartoon filters on pictures?

Getting cartoon filters on your pictures is effortless with Media.io anime filter. Visit our website, upload your photo, and explore our collection of cartoon filters. Choose the filter that suits your preferences, and apply it to your picture to instantly give it a charming and artistic cartoon-like effect.
Media.io anime filter is incredible! It brings out the essence of anime in my photos effortlessly. Highly recommended for all anime enthusiasts!
Emily J.

Transforming my pictures into stunning anime art has never been easier. Media.io delivers impressive and eye-catching results.
Smith

I'm amazed by how Media.io turns me into an anime character. The filters are flawless, capturing the anime style perfectly.
Sophia

Media.io online anime filter is my go-to app for creating cool anime pictures. It's user-friendly, fun, and the results are simply fantastic!
Alex B.

More Tips And Tricks For Converting Photo To Cartoon
Discover More
Free To Create PNG And
Transparent Background Online
Convert JPG to PNG and make full HD PNG background with ease.
Upload Image Now