AI Background Remover
Instantly remove background from any photo with AI-powered BG cleaner, no hands required!
All online, free and simple to use.
How to Remove Image Background Using AI?
1. Upload Image.
Upload any pic with a pesky background to your mobile or PC device with just a click or drag & drop. (We support JPG, PNG, WEBP, and BMP file types.)
2. Automatic Removal.
Our advanced AI eliminates the photo background in a snap, giving you with a clean and crisp image with transparent background.
3. Download Result Image.
Optionally, superimpose your subject onto a fresh new background, or crop and resize the photo to perfection. Once you're satisfied, simply download and share it with the world.
Magic AI BG Remover
Boosts Efficiency & Creativity
Looking for a hassle-free way to remove image backgrounds? Look no further than Media.io AI BG Remover! Whether you're a graphic designer, photographers, marketer, business owner or developer, you know the importance of having mind-blowing images. But let's face it - removing backgrounds can be a pain. That's where our smart, AI-based tool comes in. With just a few clicks, it will automatically interpret images and erase the background with precision, leaving you with transparent PNGs that're ready for whatever project you have in mind. So why waste time and effort with manual editing? Let Media.io AI BG Remover take care of it for you!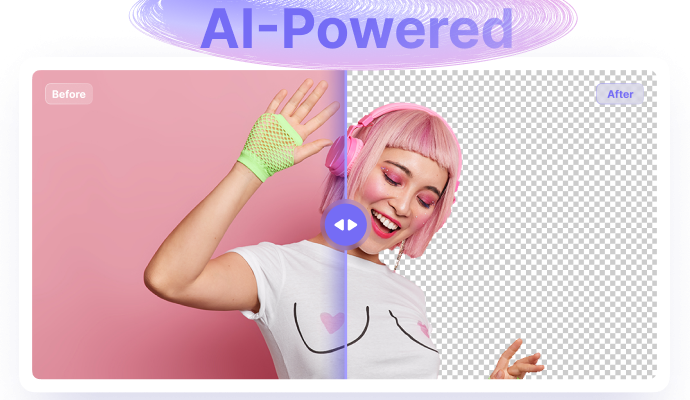 One-Click Background Removal Online
With millions of images in its dataset constantly growing, our AI algorithm has been trained to tackle even the toughest of edges, like hair and animal fur, making flawless cutouts possible. Now, no more need for tedious work of separating background and foreground layers. Simply add your photo in just one tap and let our advanced AI handle the rest. Better yet, with AI batch processing, you can even remove backgrounds from multiple photos at once. Amazing visuals made easy.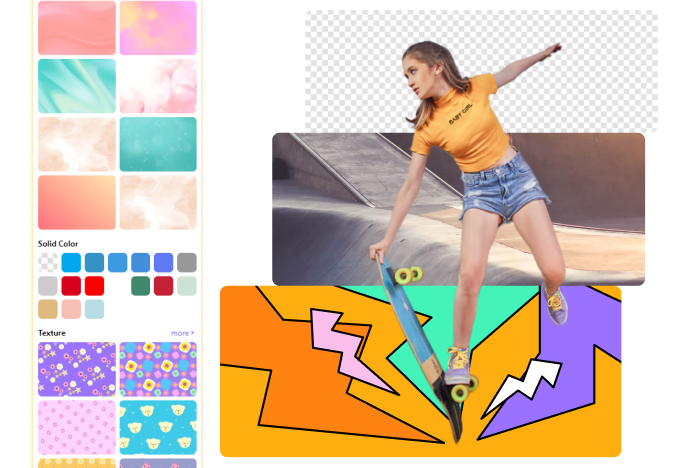 Customize Transparent BG with Dreamy Colors/Images
Ready to take your photos to the next level? Besides easily removing the existing background of your picture, With Media.io AI BG Remover, you can also replace it with any color or graphic you can imagine. From solid colors to pretty gradients and even scene graphics, you have a ton of options to pick from. You can also upload a favorite image to create a unique backdrop - the possibilities are endless! Transform your pictures into stunning works of art in no time. Try it today and see the magic unfold!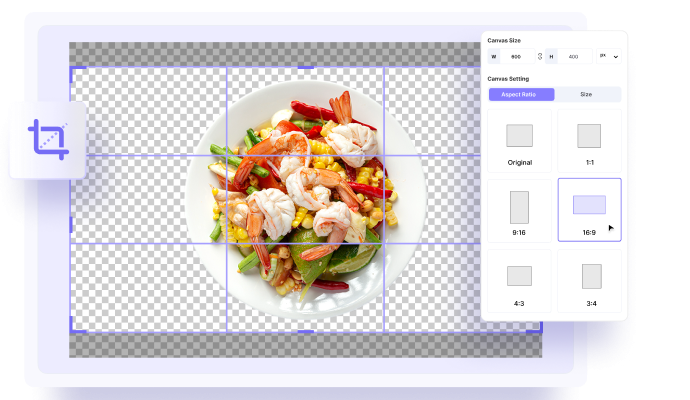 Simple Editing Made Possible
With the help of AI BG Remover, you can remove any background hassle-free and crop the images to fit your eCommerce or social media platform of choice, like Instagram, Facebook, eBay, and more! From square to portrait, no matter the size, we've have got you covered. Another thing, it works seamlessly on your Windows, Mac, Linux, Android or iOS, making editing a breeze for everyone!
Why is Media.io AI Background Remover?
Easy and Fast
Instantly remove background from your photo with only one click. Save time to create stunning designs without Photoshop.
Stunning Image Quality
The result image has the same quality as the original one. Media.io helps you remove edges and every details of the background.
100% Automatically with AI
Media.io uses advanced AI technology to help you get rid of the unwanted work. As an Artificial Intelligent program, it always responds quickly to your needs and provides a solution to your problems quickly.
Resize Photos to Fit Social Media
Media.io provides you with tools to resize your images to fit Facebook, Instagram, Pinterest, and so on. Easily turn horizontal pictures into square ones.
Make Stylish Designs as You Like
After removing the image background and get the transparent one, you can choose to add your own background or customize it to make eye-catching designs according to your needs.
No Ads, No Spam
Media.io is a browser-based background removal tool. We guarantee all users are free from spam and annoying pop-up advertisements.
More Abilities like AI BG Removal
Pamela Smith
This is now one of my favorite online software for picture background remover that is free and easy to use and I'm so loving it.
Ian Dawson
I'm so happy! As a graphic designer, Media.io has saved me a lot of stress, time, and extra cost required in carrying out client image editing work more quickly. I would say it is the best tool I have used so far.
Evelyn Hamilton
Media.io is an amazing online video editor. I love the fact that it packs almost any video editing features I look for. Keep it up!
Tae-ho Kim
Great program for background eraser online, and the best part is that I can use it for free on all devices. I strongly recommend Media.io to carry out all picture editing jobs effectively.
Lilith Marin
I'm a social media freak, and I can't skip a chance to share posts of my funny moments. I use Media.io to change the background of my profile to make it COOL. One of the best!
Sit Back. Relax.
Let AI Work!
Simplify the background removal process.
Unlock your full visual creativity.
Get Started Now