Remove Background Noise from Audio
Automatically complete background noise removal from music, song, soundtrack, recording, environmental sound, or other audio files. Free to achieve noise reduction online.
*Tips: Click to learn how to remove background noise from video >>
3 Simple Steps to Remove Noise from Audio Online
Listening to a piece of music with unnecessary background noise or disturbances may shift the listener's interest from the audio track. That will impact your business or journey of music creation. There, the need arises to find a solution that will assist in removing background noise from audio.
Here, Media.io can remove background interference from an audio file with just one mouse click. See how simple it is to make a clear audio sound.
1. Upload Audio File

Upload your audio files that need background noise removal to Media.io in your browser.

2. Select the Type of Noise to Remove

Choose the type of noise you want to remove from your audio file. Start cleaning noise in no time!

3. Download and Save Audio File After Noise Reduction

Check and preview file first , then save the files online.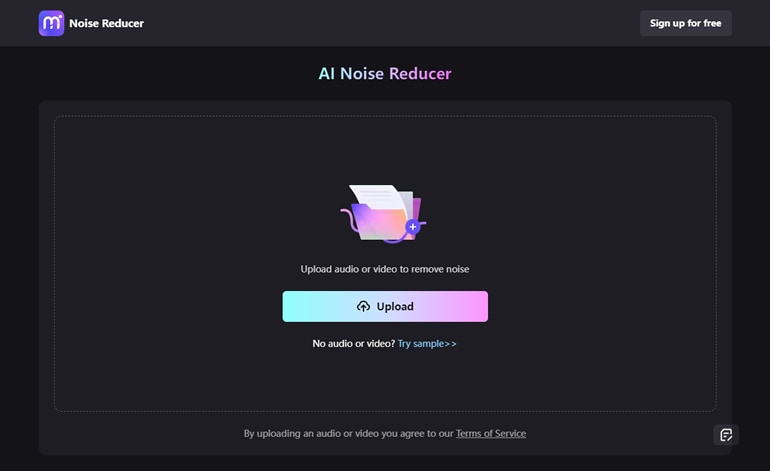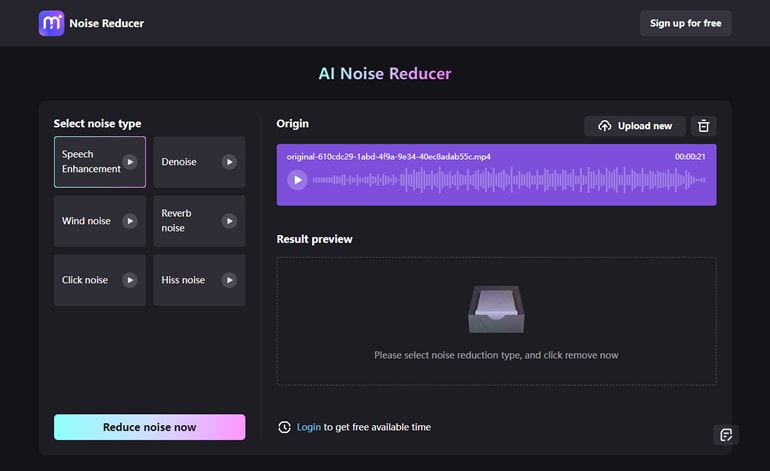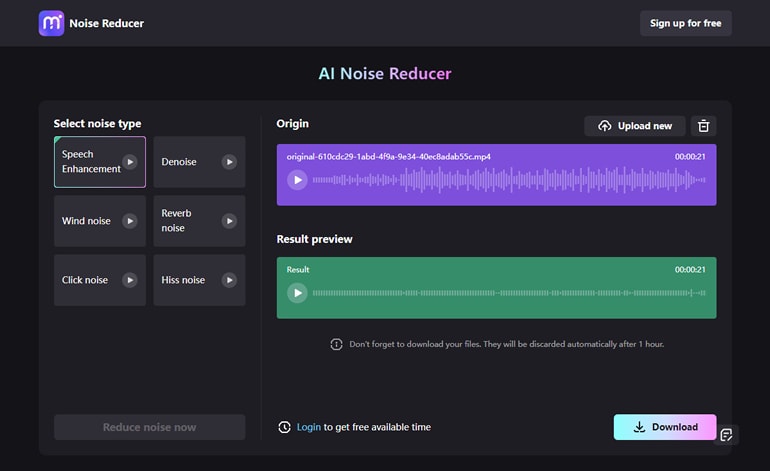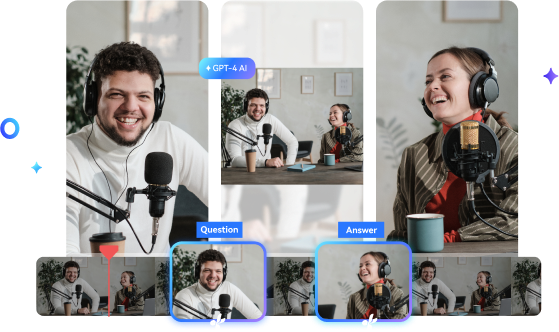 Transform Long Videos into Short Ones Instantly
√ Turn long videos into viral clips. Effortlessly transform lengthy videos into engaging, shareable clips.

√ Edit Video Seamlessly Like As Editing Text

√ AI Voice Cloner Ends Reshoots
Why Choose Media.io to Background Noise Removal Online?
Background noise makes your audio recording sound untidy and unprofessional. Loud or tiny noises can both break the atmosphere and the experience while watching films or listening to songs. To eliminate all undesirable background noise from your audio files, utilize the Media.io background noise removal online.
Media.io can reduce and clean your audio noise in seconds, no matter what audio file you have; MP3, WMA, or others. And no matter what background noise you have - weather, traffic, static, fan noise. Media.io promise to give you a good result in noise reduction.
Reduce Different Types of Noise
Easily remove different types of noise, such as hum, hiss, wind, click, fan, and more. Make your audio file more clear and automatically fix the tiny sound.
Powered by AI Audio Enhancer
Media.io uses advanced AI technology to help you get rid of the noise in background music, songs, recordings, or other audio files. Shorten noise removal time by intelligence work.
Support Popular Audio File Types
Media.io online noise remover supports nearly every audio file format. You can upload MP3, M4A, OGG, AU, MP4, MOV, VOB, MTS, etc files at anytime, on any devices.
Easy, Fast & High Quality
Effortlessly remove noise from audio online for free with a couple of clicks. There are no learning curves. Media.io helps get clean audio with high quality.
Flexible and Customizable Removal
Media.io noise reducer fits all your needs, you can further adjust the decibel of the noise and optimize audio noise reduction to the ideal result.
Safe and Secure
Media.io also concerns your privacy. All your uploaded audio files will be automatically erased after 24 hours, so there is no need to fret about privacy issues.
How Does An Audio Cleaner Improve Sound Quality?
If there are some background disturbances, there's no need to re-record the audio or any pricey noise-canceling microphones as Media.io background sound remover can improve sound quality with AI tech.
Make Clean Vocals, Podcasts, and Audiobooks
Media.io background noise audio cleaner is the most incredible tool for cleaning up your unexpected audio, sound, and voice in your song, recording, music mix, audiobooks, podcasts, or voiceover. Background noise lends an amateurish air to your audio tracks and can rapidly disengage listeners.
Remove background noises with Media.io background noise audio cleaner to avoid this happening. Upload your audio file in any format (MP3, WAV, M4A, etc.) and begin editing right away. Media.io background noise reducer will keep your audio tracks clean and clear for all of your listeners.
Take Your Audio to the Next Level with High-Quality Backgroung Sound
The online background noise reducer from media.io is a fantastic tool for improving your audio and engaging more listeners. Media.io is always ready to help, whether with music tracks, voice commentary, narration, podcasts, or educational material.
Then you can creat AI high-quality background music for video with Media.io. Such as sound effects, voiceovers, narration, dubs, and background music are all options. For this purpose, drag the music you want to add onto your timeline after uploading it. Make sure the file you've chosen is either copyrighted or royalty-free.
FAQ about Noise Reduction Online
1. Can you remove background noise from audio?

Yes, you can. Here are three steps to remove noise from audio online successfully using Media.io.
Step 1: select a sound file of your choice and upload.
Step 2: select the type of noise such as (hum/hiss/wind/click/fan and more) you wish to remove from your audio file. Then, choose to clean audio.
Step 3: download the edited audio file and save it.

2. How do I remove the audience noise from audio?

Removing the audience noise from audio is quite easy with Media.io.
Follow me:
Step 1. Launch Media.io noise reducer and then tap Choose Files to load your sound file.
Step 2. Choose the type of noise you need to reduce. Click on the Remove button to clean audience noise.
Step 3. You can adjust the db of the noise according to your needs.
Step 4. Tap Export, choose a video resolution and save the music waveform. That's all!

3. Can I edit out wind noise?

Yes, you can easily edit out the wind noise with media.io. Here is a step guide:
1. Upload the file you want to edit.
2. Select "wind" as a noise type from the list. Please remove it.
3. After removing the noise, download the audio file and save it.

4. How can I clean up my audio recording?

Here is a simple step guide to follow:
Step 1: upload your audio files to Media.io, and everything will be online and on your browser.
Step 2: then click 'Remove' on the audio track. The background noise will vanish in a matter of seconds.
Step 3: that's all there is to it; you're done. When you click 'Export,' your new file will render in a matter of seconds.

5. How can I eliminate the hum and hiss noise of my voiceovers?

If there appear some unavoidable noise such as hum or hiss, eliminate this in simple steps:
1. Upload your audio file in any format (MP3, WAV, M4A YouTube URL, etc.).
2. Choose hum and hiss noise.
3. Begin editing right away.
The background noise remover in Media.io will keep your audio tracks clean and clear for all of your listeners. Then export it to save the file.

6. How do I remove background noise from videos or Audios on my iPhone(Android)?

Follow these simple steps to remove background noise from Media.io:
Step 1: use your mobile browser on iPhone or Android to access the Media.io noise remover.
Step 2: select the video or audio you want to edit. Select the noise type to remove it.
Step 3: edit and download the video or audio to save.

7. Can I separate my voice from a noisy audio file?

Not only can you remove the audio noise, but you can also use Media.io to separate the vocals from the audio. Of course, you will need our additional tool, Media.io Vocal Remover. With just three simple steps, you can isolate the vocals or the sound of other instruments individually.
More Tips and Tricks for Background Noise Removal
I recently discovered Media.io's noise remover, and I must say, it's a fantastic tool. It has saved me hours of manual editing by effortlessly removing background noise from my recordings. The interface is intuitive, and the processing time is impressively quick. It's definitely become an essential part of my audio editing workflow.
Anita Miller

Media.io's noise remover exceeded my expectations! As a podcaster, I often deal with noisy recordings, but this tool has been a lifesaver. It's simple to use, and the results are outstanding. The noise reduction is precise, and it even allows me to adjust the settings for a personalized touch. Thanks to Media.io, my podcast episodes sound professional and polished.
Sasha Cox

Media.io's noise remover is an absolute game-changer! I've used it to clean up audio recordings with background noise, and the results have been phenomenal. The tool is incredibly user-friendly, and it effectively eliminates unwanted noise while preserving the clarity of the main audio. Highly recommended!.
Jaden Smith

Not just background noise removal...
Convert, compress and edit files online
in minutes.
Make audio editing simple like never before!