PNG Maker
Automatically Create Transparent PNGs Online. Easy-to-Use and Free to Make PNG Transparent!
No photo? Try these photos:
How to Convert JPG to Transparent PNG Online?
1. Upload Image
Click the Upload Image button
or drag and drop your JPG image to the area.
2. Remove Image Background
Media.io AI technology will erase the
background from your image automatically.
3. Download Result Image
You will get an HD transparent PNG background
instantly in a single click.
What Can a Transparent PNG Maker Do for You?
Transparent images are perfect for signatures, profile pictures, logos, watermarks, overlays, and emotes for Discord, Twitch, or Slack. PNG files help support transparent areas to be according to users' choices, that's why you need a free online PNG maker.
There are lots of JPG to PNG converters on the market, however, you have to erase the background manual to get the transparent PNG files, and it could be difficult for deleting the background if have lots of details in the photo by yourself. Media.io is one of the best online transparent background makers for PNG based on research which helps convert your picture from JPG to PNG and make PNG transparent at the same time quickly.
Design Unique Signature with PNG Text Maker
A signature maker helps you create an online signature. However, after completing your signature, it usually comes with a background, so you need to make the background transparent to remove all edges so that it can fit in any document. Media.io is a free transparent background maker that you can use to make the background of your signature unique.
Create an HD Transparent Logo with PNG Creator in a Minute
Make your project unique by quickly editing it to a transparent background image file. Be it logos, pictures, printing on merchandise, stationery, t-shirts, or mugs for your organization. Media.io, the logo transparent background maker, is the best PNG maker to get this done at the speed of light. Erase the PNG background and get the full HD PNG background with detail remaining.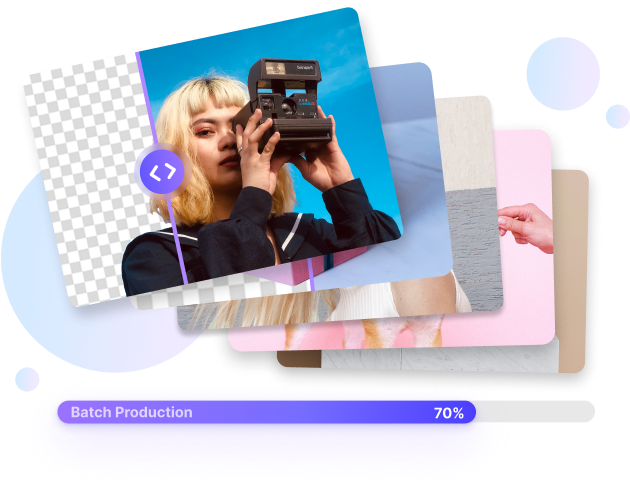 Powerful Bulk Background Remover
Speed up your workflows effortlessly with powerful bulk background remover online. You can easily upload up to 20 images at one time and convert images to PNG at once. Create hundreds of product photos for your e-commerce in bulk in just a couple of minutes. Transparent background in batches to save you time.
Edit Image Background for E-commerce, Advertising, and More
A quality photo is one of the great ways to get more leads from your advertisement, build trust, and show your business's well-established. In addition, there are also times your pictures may have a bad background, which can discourage customers.
However, we recommend Media.io's transparent image maker to help you take advantage of their background editor for services like e-commerce, delete the background and show the original product appearance in PNG format.
What Makes Media.io Transparent Background Maker Different?
Free to Create PNG Online
Easy to convert JPG/JPEG or other pictures to PNG format. It's the fastest way to create a PNG with your current image, you can make PNG transparent online in a few seconds.
Stunning Image Quality - HD
Media.io helps you create high-quality pictures with HD transparent background in PNG mode. Besides, there are photo editing tools for you to erase the extra parts or change background.
Automatically with AI PNG Maker
Based on advanced AI technology, Media.io helps you get rid of the unwanted background without hassle. You can perfectly remove image background with this online free PNG maker.
Intuitive and Fast
Instantly remove background from your photo with a single click of PNG maker. Save time to create stunning designs with a super intuitive interface. No need to download Photoshop anymore!
Resize Photos & Make Stylish Designs
After transparent photos, you can resize images and add your own background or customize it to match all your needs, including Facebook, Instagram, Pinterest, passport, ID card, etc.
No Ads, No Spam, Protect Privacy
Media.io is a browser-based background removal tool that is free from spam and annoying pop-up advertisements. No need to worry about privacy issues, all files will be removed automatically after 24 hours.
FAQs about PNG Creator
1. Is JPG a transparent background?

No, the JPG format does not support transparency. If you want to remove image background from JPG, you can use Media.io PNG maker to freely convert JPG to PNG and transparent background at the same time.

2. How can you tell if a PNG is transparent?

To know if a PNG image is transparent, you will notice that the image has a white-and-grey checked pattern around them which indicates that the background got stripped out. However, those white-and-grey checks will not show up when you use the design.

3. How do I save an image with a transparent background without Photoshop?

Step 1. Login Media.io png maker.
Step 2. Upload your original photo from local drive.
Step 3. Wait for Media.io AI technology to remove image background. It only takes 10 seconds.
Step 4. Download your photo with transparent background. No need to install Photoshop.

4. How do I make a PNG transparent on Mac?

Step 1. Go to Media.io from your browser and upload your image.
Step 2. Wait for Media.io AI technology to make PNG transparent. It only takes several seconds.
Step 3. Save the PNG image on your Mac device.

5. How can I make a logo transparent for free?

You can make a logo transparent with ease in the following ways:
Step 1. Drag and drop your original logo on the Media.io background remover.
Step 2. Just wait for Media.io AI technology to create a clean transparent logo for you. It only takes several seconds.
Step 3. You can choose to erase the unwanted parts of edges manually.
Step 4. Make sure you save your logo in PNG format on your device.
More Tips and Tricks for Image Editing
Pamela Smith
Thank you for the superb work you've got accomplished for me to convert my JPEG logo into a transparent logo very rapidly. 10/10
Ian Dawson
I needed a free PNG maker and Media.io gave me an Outstanding job, in record time, and it was so easy! I will recommend it to anyone for sure!
Evelyn Hamilton
I am so amazed that Media.io was able to do such quality work so quickly. The image came out perfect, and I was able to handle my company's problem before the deadline! Thanks so much!
Tae-ho Kim
We are very satisfied with the excellent work of this PNG creator and editing program. The tool was able to handle tasks for the organization very fast and was reliable.
Lilith Marin
Thanks for the fast work in making my business logo very transparent. I will say this is the best PNG maker online. Great work done, thank you! I highly recommend this tool.
Free to Create PNG and
Transparent Background Online
Convert JPG to PNG and make full HD PNG background with ease.
Upload Image Now