Photo Background Remover Online
100% Powered by AI and Free
No photo? Try these photos:
How to Remove Background from Images Online?
1. Upload Images
Click the Upload Images button
or drag and drop your photos.
2. Automatically Remove
Media.io AI tech will automatically remove
the background from your images.
3. Download Result Images
You will get transparent backgrounds
instantly in a single click.
More Than Just A Transparent Background Maker
Create a transparent background in just a single click and turn your images into astonishing art, catchy banners, visual presentations, product catalogs and graphics. Fully customizable according to your needs.
People
Products
Brands
Animals
Cars
What Makes Media.io Background Remover Different?
Easy and Fast
Instantly remove background from your photo with only one click. Save time to create stunning designs without Photoshop.
Stunning Image Quality
The result image has the same quality as the original one. Media.io helps you remove edges and every details of the background.
100% Automatically with AI
Media.io uses advanced AI technology to help you get rid of the unwanted work. As an Artificial Intelligent program, it always responds quickly to your needs and provides a solution to your problems quickly.
Resize Photos to Fit Social Media
Media.io provides you with tools to resize your images to fit Facebook, Instagram, Pinterest, and so on. Easily turn horizontal pictures into square ones.
Make Stylish Designs as You Like
After removing the image background and get the transparent one, you can choose to add your own background or customize it to make eye-catching designs according to your needs.
No Ads, No Spam
Media.io is a browser-based background removal tool. We guarantee all users are free from spam and annoying pop-up advertisements.
What Can Media.io Background Eraser Do for You?
Media.io background eraser helps you quickly get rid of the unwanted background from your pictures and make the background transparent.
Make Catchy Background for Profile Picture and More
A media.io background eraser is a simple tool that provides users with catchy and attractive background pictures for their social media channels. This tool also allows you to crop and edit a picture and make them attractive without it losing quality. Change photo background and get more followers on social media now!
Speed Up Workflow for Graphic Design and More
For graphic design artists, this tool helps to speed up your workflow, especially when there are lots of clients and bulk work needs to be done. However, if you are looking for a more easy and simple way to carry out a large workflow, then we recommend this tool to meet you at the point of your need.
Edit Image Background for E-commerce, Advertising, and More
Are you looking for an image editor for any eCommerce brand or advertisement then Media.io is your best choice? This tool helps you to remove white background from any image to be used for any banner or uploaded on any eCommerce website to increase sales and users' engagements. In addition, you do not need to worry about losing picture quality as this tool will help you carry out the task effectively and efficiently. Try Media.io transparent PNG maker now!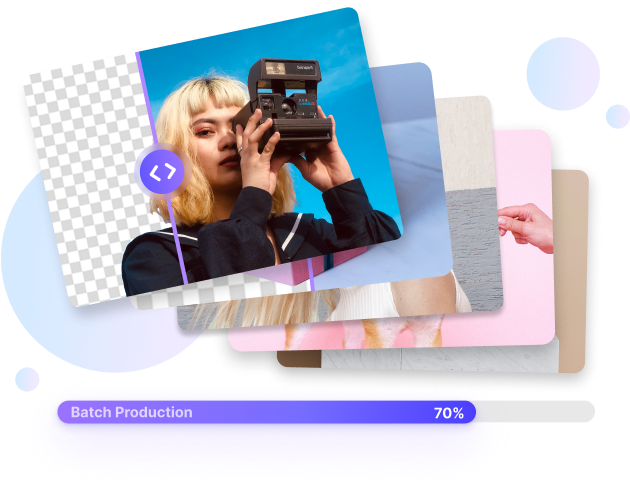 Powerful Bulk Background Remover
Speed up your workflows effortlessly with powerful bulk background remover online. You can easily upload up to 20 images at one time. Create hundreds of product photos for your ecommerce in bulk in just a couple of minutes.
FAQs about Free Background Remover
1. How to remove background from image online and free?

Step 1. Visit the Media.io website for free.
Step 2. Upload the image background you want to remove.
Step 3. Use the background removal tool to remove the background
Step 4. Download and export to your device.

2. How do I remove white background from a logo free?

If you want to remove background from the logo, follow the steps below:
Step 1. Go to the Media.io website on any of your device browsers and upload the logo.
Step 2. Use the background removal tool to delete the background.
Step 3. Export in PNG format.

3. How to change the background of a photo to white?

Step 1. Open Media.io online software and upload the image.
Step 2. Crop the photo and use the background eraser tool to remove the background.
Step 3. Crop, smooth and sharpen the background according to your need.
Step 4. Download on your device.

4. Which is the best app for erasing background?

Media.io is the best tool as it not only supports batch processing but does not lose the image quality and since it is an online tool, it is compatible with all devices.

5. How do you make a PNG background transparent?

You can remove background PNG and make it transparent in the following ways:
Step 1. Upload the image on the Media.io editor .
Step 2. Apply the required tool to make the image transparent by clicking 'Quick Selection Tool'.
Step 3. Finalize the image and preview to make sure the background is transparent then you can download or export.

6. How do I get rid of the white background in JPEG?

Step 1. Open Media.io image editor on your browser and upload the JPEG.
Step 2. Select the background removal tool from the tool bar.
Step 3. Apply the tool on the background and erase the background.
Step 4. Review and Export to your device.
Explore More AI Abilities
Pamela Smith
This is now one of my favorite online software for picture background remover that is free and easy to use and I'm so loving it.
Ian Dawson
I'm so happy! As a graphic designer, Media.io has saved me a lot of stress, time, and extra cost required in carrying out client image editing work more quickly. I would say it is the best tool I have used so far.
Evelyn Hamilton
Media.io is an amazing online video editor. I love the fact that it packs almost any video editing features I look for. Keep it up!
Tae-ho Kim
Great program for background eraser online, and the best part is that I can use it for free on all devices. I strongly recommend Media.io to carry out all picture editing jobs effectively.
Lilith Marin
I'm a social media freak, and I can't skip a chance to share posts of my funny moments. I use Media.io to change the background of my profile to make it COOL. One of the best!
Convert, Compress and Edit Files Online
in Minutes.
Make image editing easy like never before!
Upload Image Now