Ringtone Maker
Quickly make your own ringtone for iPhone, Samsung or other Android phones with online ringtone cutter. It's convenient to use! And it's FREE!
*Exciting News: We've just launched an AI Ringtone Generator ↗
Ringtone Maker Online
"I'm looking for a ringtone maker, intuitive, free, and without ads. Do you have recommendation?" – Question from Reddit user.
Are you asking the same question? Then look no further than Media.io Ringtone Maker. This ringtone cutter can create ringtones from various audio formats, including MP3, M4R, AAC, FLAC, WAV, and more. Interestingly, this ad-free online ringtone cutter also lets you generate quality ringtones from video formats like MOV, MTS, VOB, DAT, MP4. That's not all; you can precisely Keep or Remove the melody duration by entering the start and stop times. Plus, you can add fade effects and convert audio to various audio formats. So, upload a file and try!
How to Make Your Ringtone from Any Audio Online?
Want to customize your name ringtone with a song mix? Media.io gives you a way to cut and mix songs for ringtone making. For creating different ringtone themes, you just need to upload different types of melodies to match different moods and times. Now use this online ringtone maker to make morning ringtones, alarm ringtones, or different format ringtones capable with Apple devices, Samsung, or other Android handsets.
Step 1. Upload Any Audio or Video File.

Open Media.io online ringtone editor from any web browser, tap Choose Files and then browse for a local song file or recorded audio that you want to edit. You can also load sound files from Google Drive or Dropbox.

Step 2. Personalize the Ringtone Duration.

Now drag the trimming bars on each end to chop off unwanted parts. Enter the Start and Stop durations for a more precise length. Tap Keep and apply Fade in/out effects to make your ringtone sound more professional and natural.

Tips: Perfectly for iPhone users, who can only create 40-second ringtones.

Step 3. Export Your New Ringtone.

Check your ringtone in advance then simply click the Export button to save your personalized ringtone.

Tips: To create a ringtone with song mixes, try Song Mixer.
*Tips You Should Know:
Pro Tip 1: If are creating a ringtone for iPhone or iPad, then choose M4R as audio format; if for generating an Android ringtone, then set MP3 as the target format. If needed, you can quickly convert an audio format to another for free with Media.io Audio Converter.
Pro Tip 2: To access multi-track audio editing feature, you could enter our decent Audio Editor.
Pro Tip 3: Before making a ringtone, you could use BMP Finder to set the tempo first.
Pro Tip 4: To create AI vocals based on your beloved voice, you could give our AI Cover Song Generator a shot.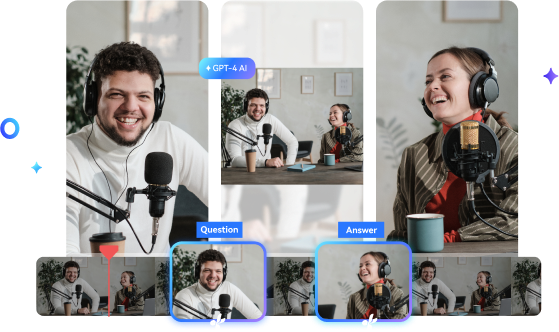 Transform Long Videos into Short Ones Instantly
√ Turn long videos into viral clips. Effortlessly transform lengthy videos into engaging, shareable clips.

√ Edit Video Seamlessly Like As Editing Text

√ AI Voice Cloner Ends Reshoots
Why Choose Media.io Ringtone Maker Online?
Media.io is the best ringtone maker app for Android, iOS, and computers. It works on all HTML5 web browsers and doesn't feature those annoying adverts. It's also worth noting that this ringtone cutter lets you create ringtones from video files. This reason alone should make it your go-to ringtone maker. It's free, by the way!
Online Ringtone Cutter App
Media.io Audio Editor is a relatively straightforward MP3 cutter and ringtone maker for iPhone and Android. You don't need prior audio editing knowledge to use this online ringtone maker.
Cut Ringtone for iPhone/Android
It lets you trim ringtones precisely and add a fade-in fade-out effect. You can customize Apple ringtones or create ringtones for Android based on the audio waveform and the melody you want to keep.
Add Fade Effects for Ringtones
With this MP3 ringtone maker, you can apply a fade-in effect at the beginning of your ringtone and a fade-out effect at the end. This will make your ringtone sound more natural and smooth.
Support Various Media Formats
Media.io Ringtone Maker allows you to create ringtones from any audio or video format like MP3, FLAC, OGG, AU, FLV, MP4, VOB, MOD, etc... And you can export ringtones in multiple audio formats!
Cut & Merge MP3 Ringtone
Not only does Media.io cut ringtones, but it can also merge them. This ringtone cutter online free allows you to trim and merge multiple audio files. Save the mixed audio files with Hi-Fi music quality.
Safe & Secure to Use
To ensure data security, Media.io uses advanced SSL encryption. In addition, this Samsung ringtone maker as well as the iPhone ringtone maker auto-deletes all uploaded files after 24 hours.
More "Ringtone Maker" Tools
FAQs About Making Your Name Ringtone
Explore More Tips & Tricks on Extracting Audio Files
Belinda Adams
This ringtone maker and cutter is all I've been looking for. It works smoothly on my iPhone and allows me to trim, merge, and mix ringtones on the go. And guess what? It's free for freebie lovers like me!
Jimmy Jones
This is the best ringtone making app for Android by a country mile. It allows me to generate MP3 ringtones from any audio or video file. I love it!
General Hatake
I'm honestly in love with this online ringtone maker. It allows my Samsung Galaxy to ring precisely how I need it, and I can merge multiple audios to create a unique ringtone.
Liz Lyn
This online ringtone cutter and maker is very easy to use. It cuts audio with unreal precision, thanks to the waveform audio track. Don't forget that it's also an MP4 ringtone cutter? That means you can cut videos and convert them to audio.
Funaudios
This website is cool and fun to play around with. I use it to create ringtones for my phone for free. It simply saves me lots of stress and time. Perfect!
Personalize Your Ringtone Online
Right Now!
A feature-packed online program to edit any file without difficulties. Unleash your creativity today.