MP3 Cutter
Trim, cut, or split MP3 online within seconds. It's free!
Instantly remove or keep the selected parts of your audio track
without quality loss.
MP3 Cutter Online
Is there an MP3 cutter online similar or better than MP3cut.net? Yes! Use Media.io MP3 Cutter. On this simple-to-use audio cutter, you can easily trim MP3 to remove unwanted segments of the audio. First, it allows you to cut MP3 by merely dragging the handles at the start and stop points. Alternatively, you can enter the precise duration in hours, minutes, or seconds. Then, apply the smooth fade effects before exporting MP3.
You can also upload a video format and trim it before exporting to MP3. Aside from simply cutting MP3 audio, Media.io robust audio editor has all the advanced features you'd need, including MP3 joiner, background noise remover, vocal and instrumental isolator, and others (Keep Growing!). Upload a file and try!
How to Trim MP3 Files Online Quickly?
Step 1. Upload Your MP3 Audio.

Load Media.io MP3 Cutter and then upload your MP3 file by dragging and dropping. Or, tap Upload Media to open an MP3 file on the program. You'll also see the From URL option for loading YouTube links directly.

Step 2. Trim MP3 with Precision.

After loading audio or video successfully, move the sliders one the audio track inwards to reduce the playback length. But to trim more professionally, enter the start and stop times before checking the Keep box. If you click the Remove checkbox, the program will cut and erase the playback duration you've entered. This makes it perfect for splitting audio.

Step 3. Download the Cut MP3 Audio Tracks.

Are you happy with the trimmed audio? If yes, hit on Export button to export and download the audio in quality MP3.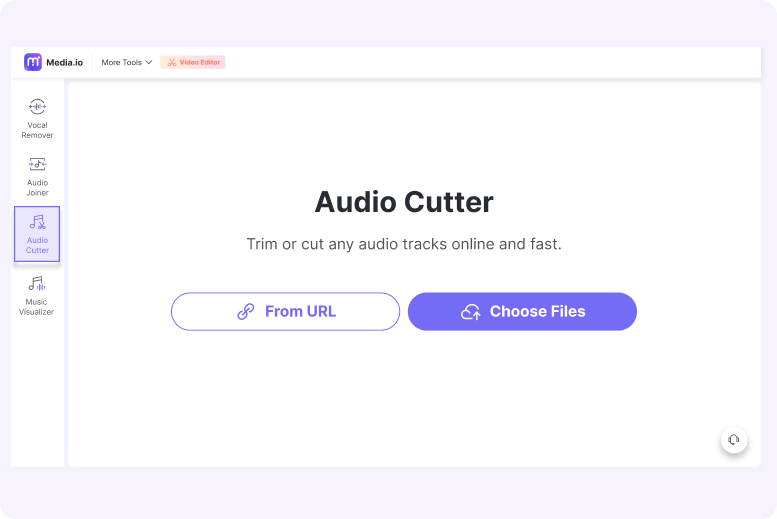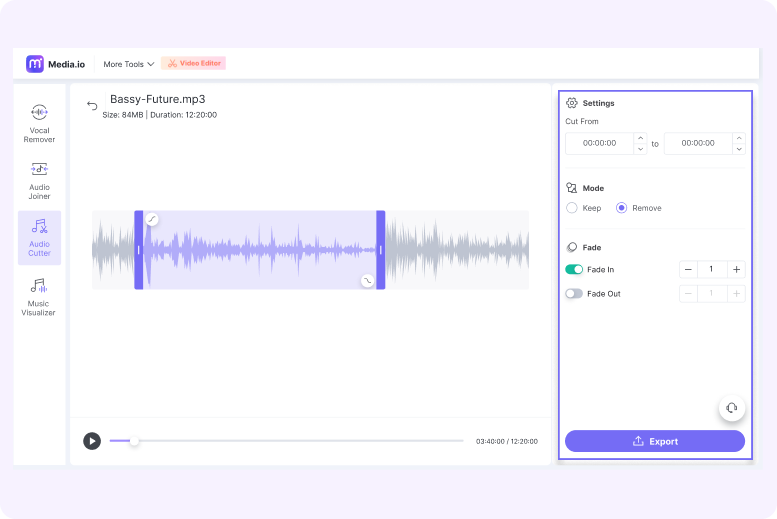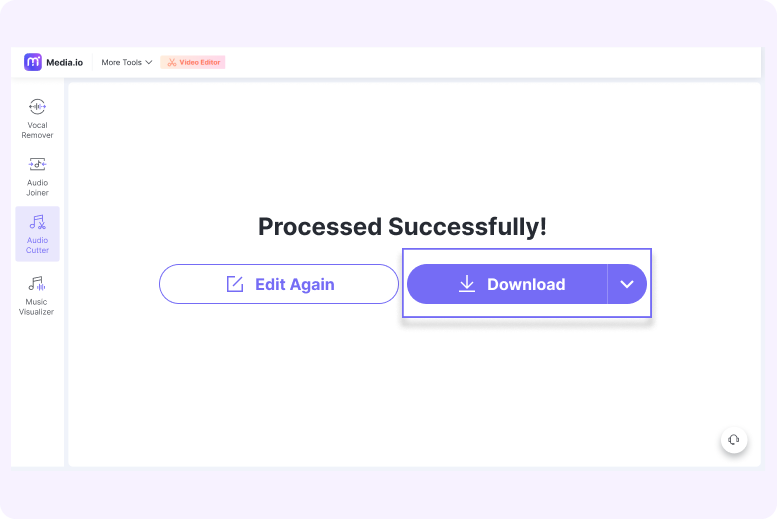 Why Choose Media.io MP3 Audio Cutter?
Totally Online
This free audio editor is a 100% online tool. In other words, users don't need to install any software or browser plugin. It runs smoothly on Chrome, Edge, Safari, Dolphin, Firefox, etc.
Cut Ringtone for Mobile
Media.io allows you to cut an audio with precision, making it the perfect ringtone maker for Android and iPhone. After cutting, users can convert to M4R for iPhone or MP3 for Android.
Fade In & Fade Out
Before exporting the trimmed audio, this audio trimmer lets you apply fade in and fade out effects. This makes the audio sound more professional.
Audio Waveform
Media.io Audio Cutter shows precise audio waveform to help users trim and cut an audio with more certainty. This can also help you know where to apply the fade effects.
YouTube to MP3
Media.io also doubles up as a YouTube to MP3 cutter. Just copy-paste the YouTube video link on this online audio trimmer and cut it accordingly.
All Formats Supported
Media.io Audio Converter supports all standard audio/video inputs, including MOV, MP4, MTS, MP3, M4R, OGG, etc. Then after trimming, users can export to FLAC, AU, MP3, OGG, OPUS, etc.
See, you don't need to sweat to trim MP3 online on iPhone, Android, Windows, Mac or Linux like you would with Audacity. Instead, simply upload MP3 on the straightforward UI and trim by entering the playback duration or moving the cutting sliders. Note also that you don't have to download or install anything to use Media.io Audio Cutter. So, why not give it a try?
FAQs About Cutting MP3 Audio File
How to Cut a Large MP3 File Online?

1. Tap Upload Media to load MP3 online.
2. Drag the trimming handles to reduce the playback time or enter the start and stop trimming points.
3. Select MP3 as the output format and then tap Export. That's it!

Why Apply Fade In and Fade Out Effects?

You'll often come across these two terms in audio mixing and editing. Basically, it means gradually increasing the audio volume at the start point and decreasing it at the endpoint. The general idea is to give your audio a smoother transition when it starts and stops or when you want to join multiple clips. Applying these audio effects also eliminates clicking sounds when editing audio.

How to Cut and Join MP3 Audio Clips?

Sometimes you may want to trim and join multiple audio files. This is important when creating a music mix or audible audiobook. Luckily, Media.io online audio editor has cover you. With its MP3 joiner, you can add video and audio files for free after trimming and applying fade effects.

How to Enhance My MP3 Audio Editing Skills?

Audio editing might sound easy on paper until you try it. That's because there are many factors at play to create the best audio. First, learn something about audio settings and editing techniques. For example, you can learn how to apply fade effects and crossfades separately. You can also learn about bitrate, channel, frequency, reverb, etc. Fortunately, you can learn more about audio editing online on blogs and YouTube.
After familiarizing yourself with editing terms and skills, choose the perfect audio editor for the task at hand. In this case, settle for Media.io audio editor if you want to perform basic or advanced editing like trimming, joining, adding fade effects, compressing, converting or apply AI to split music into vocal track and instrumental track, eliminate background noise from MP3 audio, etc.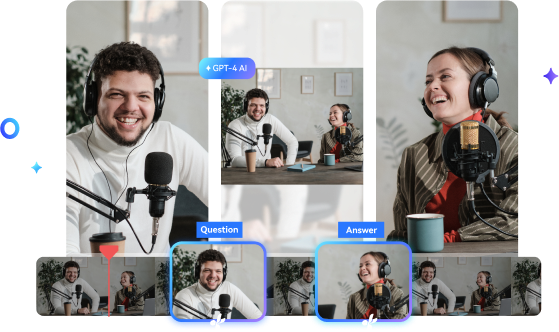 Transform Long Videos into Short Ones Instantly
√ Turn long videos into viral clips. Effortlessly transform lengthy videos into engaging, shareable clips.

√ Edit Video Seamlessly Like As Editing Text

√ AI Voice Cloner Ends Reshoots
More Resources for MP3 Cutter
Belinda Adams
This free MP3 cutter works terrific. I don't have to sweat it out when creating ringtones for my iPhone. I love it!
Jimmy Jones
This website is an excellent free ringtone maker. You don't need any prior audio editing knowledge to trim audio here. It's by far the best online audio editor, I think.
General Hatake
This is my favorite music editor these days. It's bundled with lots of audio editing tools to help me create an irresistible audio. Its Vocal Remover feature impress me a lot!
Liz Lyn
First, this site is absolutely free to use. Second, I can fix a destoryed MP3 audio via cutting operation. And above all, it's so simple to use.
Funaudios
I'm not a techie, so I was out looking for a simple song cutter. Guess I got more than what I expected here.
Trim, Cut and Edit MP3 Online
in Minutes.
A feature-packed online program to edit any file without difficulties.