LinkedIn Profile
Picture Maker
Get professional profile photos for LinkedIn in a snap. Upload your selfies, and our AI will generate realistic LinkedIn headshots for better visibility and more connections.
By uploading an image you agree to our Terms of Services.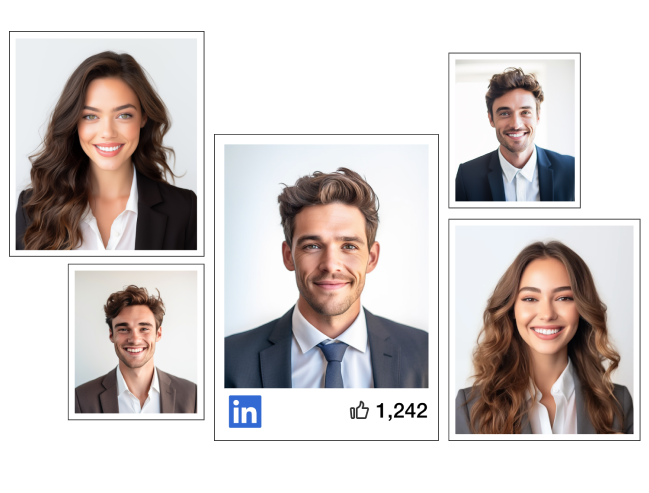 Elevate Your LinkedIn Profile with AI Headshot Generator
Looking to enhance your LinkedIn profile with a professional image? Look no further than Media.io's AI Headshot Generator! It offer an array of templates that allows you to create stunning headshots. simply upload a few casual selfies, and let our AI technology work its magic. It accurately captures your essence - from your hair color to the life in your eyes and generate hundreds of realistic portraits complete with different outfits, backgrounds, and expressions tailored for the business world. No more lengthy photo sessions or editing hassles. Just try it today, let your profile shine for more opportunities in job hunting, networking, prospecting, and beyond.
How to Make an AI LinkedIn Photo?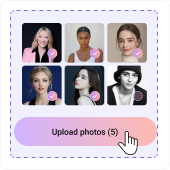 Select A Template.
Click on the Make LinkedIn PFP Now button. Choose the gender and headshot style that aligns with your business needs.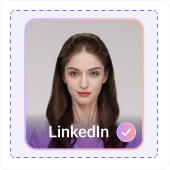 Upload Your Photos.
Add 5+ selfies or lifestyle photos from your mobile or PC, ensuring good lighting and angles.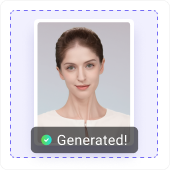 Review & Download.
Media.io will auto detect facial details and generate LinkedIn profile pictures that closely resemble real-life in just minutes. Preview, download, or customize further at your convenience.
Create Your LinkedIn Photo Magically
Creating a strong professional impression on LinkedIn is pretty easy with Media.io's AI headshot generator. No need to spend a lot of money and time on a fancy portrait studio – just upload your selfies, and Media.io will quickly transform them into polished, business-ready portraits. This easy-to-use PFP creator makes sure your LinkedIn profile reflects professionalism, credibility, and approachability.
Make LinkedIn PFP Now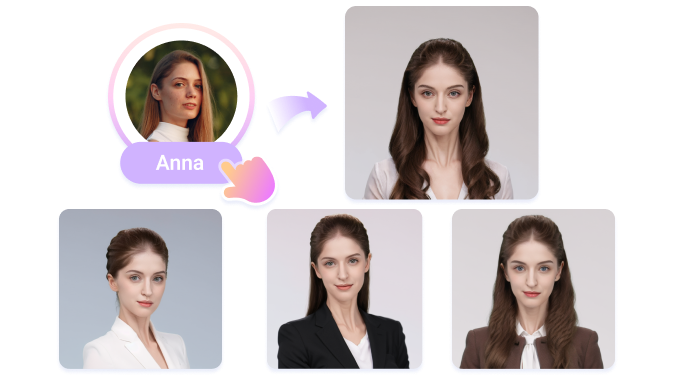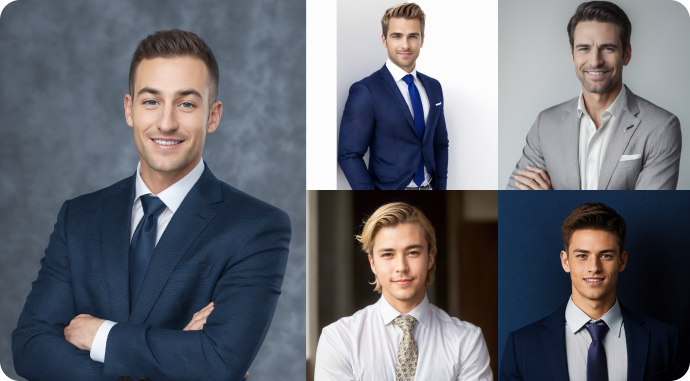 Diverse Headshot Styles for Your Brand
Whether you're going for a formal or creative look, we've got options for both! Choose from various LinkedIn headshot templates that convey different messages. The generated profile images vary in clothing, body language, posing, facial expressions, and personal styles. Capture authentic shots that align with your personal brand. Stay true to yourself, and let AI bring out your unique personality.
Make LinkedIn PFP Now
Personalize LinkedIn Profile Image
Easily tweak every aspect of your AI-generated LinkedIn profile picture using a variety of photo editing tools. With just one click, change the background to a solid color, neutral patterns, or a professional office setting; Enhance your portrait by removing blemishes, brightening features, and improving photo resolution. All powered by smart AI technology that's simple to access. Just discover your perfect look to boost views and engagement on LinkedIn!
Make LinkedIn PFP Now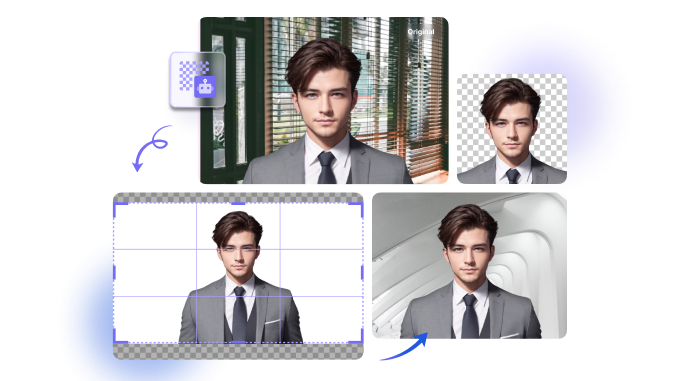 Why is Media.io Professional PFP Maker
User-friendly Interface
Media.io LinkedIn Profile Picture Maker is a beginner-friendly tool that doesn't require much knowledge to use. It's a convenient online program that runs on any mobile device or desktop.
Top-notch AI Algorithm
Media.io uses an advanced AI system to generate smashing portraits. Just upload your camera selfies, and the AI will analyze them before producing the best selfies for any use.
Numerous AI Selfie Looks
Looking to create AI selfies of any gender and looks? Media.io AI Selfie Generator allows you to create headshots for LinkedIn, ID photos, business, minimalist, graduation, social, casual, aesthetic, and other scenarios.
High-quality Output
Don't worry about the result, even if you upload selfie photos from entirely different scenes. Media.io AI Headshot Generator will analyze the images and create awesome profile photos with your originality preserved.
Face Data Protected
Media.io ensures that all your uploaded photos are safe from unwanted hands. The program uses advanced SSL encryption to protect users, and all generated photos are deleted a few hours after download. FAQs About
AI LinkedIn Photo Generator
How to create professional headshots for LinkedIn?

Use the top AI headshot generator like Media.io to make a stunning headshot for LinkedIn profile with ease! Just upload your regular self-portrait, choose your desired styles and watch as your AI-generated headshots come to life with just a few mins.

What are the best free LinkedIn profile picture makers online?

Media.io is one of the best profile picture makers for LinkedIn networks. It employs AI to generate a vast selection of professional avatars based on your appearance and chosen style. Plus, you've given extra free editing options to perfect your AI headshots.

What makes a great LinkedIn profile picture?

A successful LinkedIn photo shows professionalism, confidence, and friendliness. Make sure it's high-quality, well-lit, and focused on your face. Wear suitable industry attire and give a genuine smile for a positive impression!
More AI Products from Media.io