Loop Video
Repeat a video online with free video looper. Edit your loop videos in just a few quick clicks! Making a GIF-like video with your imagination is awesome!
Online Video Looper
Media.io Online Video Editor allows you to loop a video online multiple times. With it, you can loop video online for free and without any watermark. It supports all standard video formats, including MP4, MOV, 3GP, AVI, WebM, and many others. Depending on your preference, you can set the video to play 2x up to 8x. In addition, Media.io can trim the looped video before converting it to any video format of your choice. What's more, it has tools for reversing videos, muting videos, and adjusting the video speed. Creating an awesome boomerang video is a matter of seconds. Upload a video and try!
How to Loop a Video Online Free?
Step 1. Upload a Video.

Add your video file(s) to loop by clicking the Choose Files button or drag and drop them direclty.

Step 2. Loop the Clip.

Select the number of times to loop. You can also cut the desired segments.

Step 3. Download the Looped Video.

Preview the extended video by looping and download it to your computer to save to Dropbox.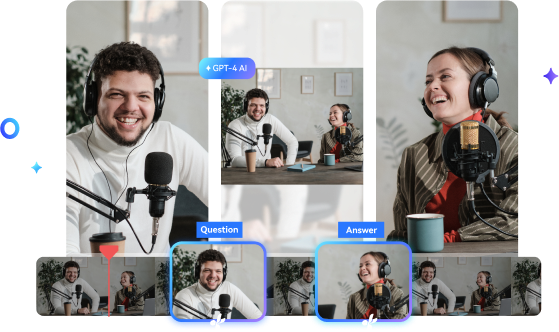 Transform Long Videos into Short Ones Instantly
√ Turn long videos into viral clips. Effortlessly transform lengthy videos into engaging, shareable clips.

√ Edit Video Seamlessly Like As Editing Text

√ AI Voice Cloner Ends Reshoots
Why Choose Media.io Video Looper?
Easy User Interface
It is the easiest online tool you can find. You don't need any prior skills or experience to use.
Multiple Looping Effects
Media.io Online Video Editor allows users to loop videos 2x, 3x, 4x, 5x, 6x, or 8x.
Free Online Video Looper
Loop MP4 or other video files totally online without any other desktop tool installed. You can freely process videos on your Windows/Mac/Linux/Andriod/iPhone at any time. Just upload a video and get going.
Any Format Supported
The video looper online can loop all standard video formats, including MP4, MOV, AVI, FLV, MKV, VOB, MTS, 3GP, etc.
No Watermark
This free video repeater won't leave an annoying watermark to your final project. This makes the edited video look original.
Additional Editing Features
Media.io Loop Video allows you to trim the clip to extract the desired segment. It can also convert a looped video to all common video formats.
Why You Loop a Video?
Make a Video Longer
Sometimes you can have a short but exciting video clip that you want to share on TikTok, Instagram, Snapchat , and so on. However, these platforms have restrictions regarding the minimum playback duration. For example, 15 seconds is the magic number on TikTok. So, use Media.io video looping Tool to extend the playback duration of the exciting video.
Make Your Video Humorous via Repetition
A looped video can even bring out the humorous side of a dull video. To get the best comedic effect, you can apply a fast-motion effect on the looped section. Just don't overdo it, as this technique might backfire if you don't select the video moment carefully.
Repeat Essentials of a Video
Another solid reason to loop video online for free is if you can't get enough of a particular section. For example, some online marketers can loop a video depicting their product several times to grab your attention. Additionally, trainers like football coaches can loop and apply slow motion to video sections where they want to emphasize a highlight.
Create an Endless Loop GIF or Meme
Did you know that a GIF maker isn't necessary to create an infinite GIF or meme? Well, you can trim the video to make it shorter and then apply looping effects to create an infinite loop GIF . Even better, you can trim and apply looping effects on a video before converting it into a GIF file. Media.io GIF Maker should come in handy here.
FAQs about Creating Video Loops
1. How to make a video go on loop?

Creating a seamless loop is straightforward with a program like Media.io Loop Video . Follow these steps:
Step 1. Launch Media.io Loop Video on your computer or mobile browser and then tap Choose Files to load a video.
Step 2. After loading the video successfully, set the loop effect as 2x, 3x, 4x, 5x, 6x, or 8x. You can also cut the video to reduce the playback duration.
Step 3. Select an output video format and click LOOP. That's it!

2. How to loop an MP4 video?

Media.io Loop Video is the perfect program to make an MP4 loop. It's simple to use and allows users to loop videos up to 8x. What's best, you can loop other formats like MOV, 3GP, AVI, FLV, etc.

3. Can I trim my video before looping it?

Yes, Media.io Loop Video allows you to retouch your video before adding a loop effect. It lets users trim a video before looping it up to 8x, which is helpful if you want to generate a meme or GIF file. And, of course, it features tools for cropping, rotating, reversing, muting, and more.

4. How to repeat YouTube Video instantly?

Use Media.io to loop a YouTube video online. It's actually relatively easy to do that! Here are the steps:
Step 1. Launch Media.io Loop Video and then upload your saved YouTube video.
Step 2. After adding the YouTube video successfully, you can loop it 2x to 8x.
Step 3. Choose an output format before clicking LOOP.

5. What is the best alternative to Kapwing video looper?

Kapwing loop video is one of the best online programs to apply a looping effect to any video. Unfortunately, using the Kapwing loop function can be a challenge for beginners. Also, the rendering speed is painfully slow. So, use Media.io Loop Video to repeat a video online quickly and easily.

6. How to make a GIF loop?

Making a GIF loop is so easy with Media.io Loop Video. You just need to upload a video and then trim it to just a few seconds. Then, you can apply the available looping effects. Now download the looped video before converting it into a GIF file using Media.io GIF Maker.

7. What is the maximum video size I can upload?

For premium user: Unlimited upload size & unlimited files.
For free registered user: 2GB with 25 video files.
For non-registered user: 2GB with 10 video files.
Florence M
This website is simple to use and allows me to repeat videos online multiple times. No watermarks or any hidden fees.
Ian Dawson
It's an excellent online video editor. I've been doing several boomerangs, and it's hilarious seeing myself repeating actions. Having so much fun with it!
Chad Han
Media.io is an amazing online video editor. I love the fact that it packs almost any video editing features I look for. Keep it up!
Tara Naidu
This online video maker is fascinating. It's simple to use, free, and hides a ton of editing features right below it.
Lilly M
I'm a social media freak, and I can't skip a chance to share posts of my funny moments. I use Media.io not only to edit my videos but also to add a looping effect. One of the best!
Convert, Compress and Edit Files Online
in Minutes.
Make video editing easy like never before!