Boomerang
Video Maker
Easily create a boomerang video from existing videos or from scratch with Media.io boomerang app. All online and free!
Turn Video into Boomerang
Boomerangs have been around for a long time. They are not videos nor are they GIFs. So, what exactly is a boomerang video? A boomerang is a short and fun video loop that you can fast-forward or reverse. This can be a video of your dog jumping, blowing birthday candles, and so on. Actually, you can convert any video to boomerang. But learning how to make a boomerang video for the first time can be challenging. While you can easily do that on Instagram's Boomerang App, you can only use live videos.
So, if you want to convert your locally saved videos into an amazing boomerang, consider using Media.io Online Boomerang Maker. You will know how easy could be to boomerang a video. Now boomerage video with your idea!
How to Easily Make a Boomerang Video Online?
Media.io is an online boomerang maker that lets you loop videos on iPhone, Android, Windows, Mac or any other systems. You just need to upload your video and set the loop duration and number of loops. You can loop your video 2x up to 8x, which should be more than enough to create a catchy boomerang video. Now, produce your own boomerang video and share it as many times as you like, from anywhere in the world!
Step 1. Upload Your Video for Boomerang.

Launch Media.io Boomerang Maker then tap Choose Files to browse and upload a video. You can load almost all standard video formats or add a YouTube video link by tapping the YouTube icon.

Step 2. Customize the Number of Loops and Effects.

Drag the trimming sliders to cut the video part that needs to add a boomerang, enter the boomerang duration of this video clip, then add a boomerang effect and insert the number of loops you want. You can loop the video up to 8x to generate the desired result.

Step 3. Preview and Download the Boomerang Video.

Now check your looped boomerang video and add more loops if needed. After previewing it, tap Export to convert the video to boomerang with lossless quality.
Pro Tips: Do you want to mute, speed up, slow down or reverse your boomerang video as well? If so, take a step further to access Media.io other advanced features - video speed changer (that slows down the boomerang video by 0.25X and fast-forward by 4X), muter, reverser to get the job done well. Additionally, you also have capablity of recording and editing a whole-new boomerang video for Instagram with one-stop video creation workspace.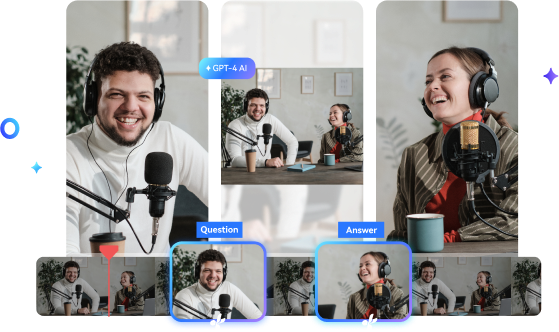 Transform Long Videos into Short Ones Instantly
√ Turn long videos into viral clips. Effortlessly transform lengthy videos into engaging, shareable clips.

√ Edit Video Seamlessly Like As Editing Text

√ AI Voice Cloner Ends Reshoots
Boomerang Video Makes Everyday Moments Fun!
Boomerang videos can upgrade your video effect and load with more fun. An easy-to-use video editor can turn your videos into boomerangs with cool effects.
FAQs of Making a Boomerang Video
Can you turn a video into a boomerang?

Yes, you can convert a video to boomerang using Instagram's Boomerang app or with Media.io Boomerang Maker. However, you can only boomerang live videos using the former, while the latter lets you boomerang a video from camera roll or other existing videos. Nonetheless, both ways will easily give you an engaging boomerang video.

How to boomerang a video easily and quickly?

To easily make a video into a boomerang on your mobile phone or computer. Follow these steps:
Step 1. Fire up Media.io Boomerang Maker to upload media.
Step 2. Trim and loop video to create boomerang effect for your video. If needed, change the video speed and do more after video downloading.
Step 3. Download the boomerang video. (Optionally, do more edits.)

How to boomerang an existing video on Instagram?

Unfortunately, you can't boomerang a locally saved video on Instagram. Therefore, apply Media.io to create boomerangs online easily. This boomerang editor allows you to create looped videos from any video, including YouTube URLs.

How to create a boomerang video online from scratch?

Creating an Instagram boomerang video online from scratch is a straightforward process.
First, open online cam recorder to record a HD-quality video that can stand out from the crowded Instagram. If you want to create boomerang videos from photos, get a online slideshow maker.

After recording your video, proceed to loop and edit it accordingly. Again, Media.io should sort you out here. Use it to loop your video several times. You can also trim the video and loop a specific scene. Remember, the maximum video length for Instagram stories is 15 seconds. So, play within that limit.

If satisfied with the video, download and upload it to Instagram Story. Before sharing the video, you can customize it with Instagram Story texts, stickers and so on. It's always good to use Instagram's inbuilt elements as they'll make your video trendy. Cheers!
I use this video looping software to create boomerang videos without breaking a sweat. The videos play perfectly and without any quality loss whatsoever. I like it!
Lauren Erick

I love this boomerang maker. It perfectly loops any video I have. I couldn't easily get this from other boomerang apps.
Sam Travis

After enduring a torrid time with those overrated App Store apps, I finally found what I wanted in Media.io. It generates a boomerang video uninterrupted with no ads. Easy to work with!
Tracy

Works perfectly for me. No glitches, no ads, or hidden charges. Just honest video looping service. I can even select a video scene to loop.
Bradley Luis

Best video looper ever! I like that it also works with .webm videos. Highly recommended to all Instagram boomerangs out there.
Sylvia Tune

More Tips and Tricks for Video Boomerang
Boomerang Any Video Online with
Just One Tap!
Your One-stop Social Video Editor - Media.io