Do you have foreign-language audio to translate into another language? For instance, you desire to download an exciting podcast or audiobook in a foreign language that you want to convert into a blog post. You might also want to extract song lyrics from your favorite music and use it to practice karaoke. Whichever reasons you might have to translate audio to text, get a realiable audio translator like Media.io. It's a simple online voice translation tool that helps you accurately translate voice to text in over 120 native languages, like English, Spanish, French, German, Hindi, Japanese, or other languages. Go ahead and transcribe audio!
How to Translate Audio Online?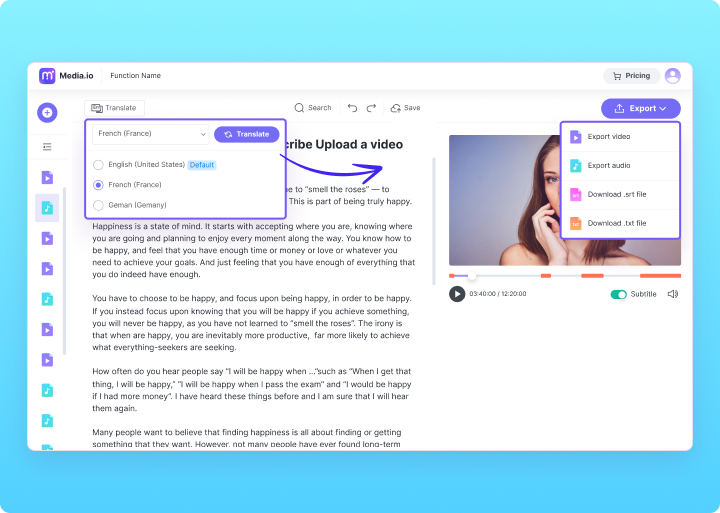 2
Choose the Transcription Language
Simply select the language you want to transcribe and translate on the drop-down menu.
3
Copy or Download the Translated Text.
Once the texts are generated, copy them into your clipboard and paste them into a text editor. Or, tap Download to save the text in a .txt file. It's that easy!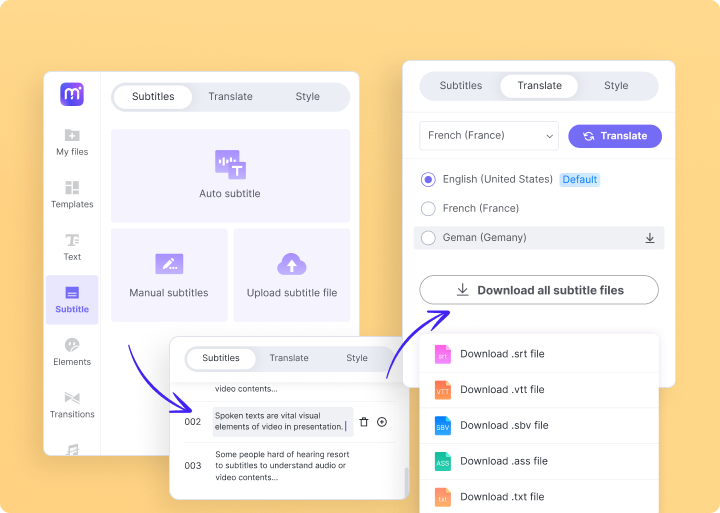 Open
Media.io Editor
and click
Upload Media
to import the audio file. You can also record video and audio directly in the editing studio. Once the audio is loaded successfully, move it to the storyboard.
2
Trim Audio and Select the Language.
Do you want to transcribe a specific section of the audio? In that case, you can cut, trim, split, and delete audio before selecting the remaining audio clip. Then, tap Subtitle on the left taskbar and choose the languages to start transcription.
3
Create/Download the Subtitle File.
After extracting subtitle tracks, you can edit and translate them to another language. When you're okay with the subtitle tracks, click Download to save them as a .srt or .txt file. Alternatively, add the translated subtitles to a new video.
Frequently asked questions
What's the best free audio translator?
Media.io is the best free audio translator for mobile or desktop use. It's compatible with all browsers and allows you to translate sound without paying a dime. So, visit the website and use the translation function without any restrictions.
How to easily translate voice to text?
You can easily translate voice to text using Media.io Transcription tool or Auto-Subtitle Generator. Both functions use advanced Artificial Intelligence to scan and translate audio to text quickly and accurately, that said, you only need to upload audio, choose a language, and the voice translator online will do the rest.
Can I upload a video to translate the audio?
Yes, the Media.io subtitle translator supports a range of video formats. You can extract accurate texts from WebM, MP4, MOV, VOB, AVI, WMV, and other video files. And best of all, there is no restriction on the video size you can upload and translate.
Reach New Audiences Like We Met You


Anna Noela

As a student, I occasionally get helpful learning content in audio or video. But the problem is that I always struggle to keep up with the tutor. Media.io sound to text converter helps me generate notes without typing a word. I owe you one!

Leo Mark

I've been using Media.io for a while, and I can attest that the program keeps getting better. I often use the auto-subtitle feature to extract subtitle tracks from videos without necessarily downloading the video. And the newly launched audio translator service is icing on the cake.

Bella

A superb audio translator, to say the least. It's free and straightforward to use. You won't need any tutorials to use it.