Online WAV Converter
Free convert audio/video files to WAV without losing quality.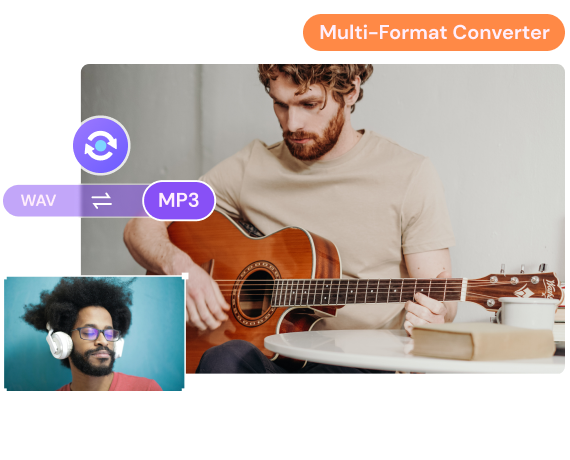 How to Convert File to WAV
Online Free
Step 1. Drag and drop or hit + icon to add files you want to convert to WAV.
Step 2. Choose WAV as the output format from the Convert all files to > Video/Audio tab.
Step 3. Hit the CONVERT button to convet video/audio files to WAV online.
Step 4. Click the DOWNLOAD or Save to Dropbox button to get the converted WAV files.
Popular WAV Converters - Convert from/to WAV Files
Convert from WAV
Convert WAV files to any other video formats easily.
Convert to WAV
Convert any files to WAV free online.
FAQ About WAV Conversion
WAV is an audio file format created by Microsoft, which is widely used on many platforms. A WAV file is uncompressed audio and always in high quality. It stores information including number of tracks, bit depth, sample rate, and more others.

· Is WAV better than MP3?

Both WAV and MP3 are widely used audio formats on many devices. As the WAV file is uncompressed, so it is always larger than an MP3 file. So, use WAV files for TV, radio, DVD, or any other media requiring top uncompromised quality. And use MP3 files for web pages, web videos, or somewhere asked for small size. Choose the one you need according to your situation.

· Can iTunes convert WAV to MP3?

Yes, you can convert WAV to MP3 using iTunes. Firstly, open iTunes and select Preferences option from the menu bar to import WAV audio you want to convert. Then, select MP3 Encoder and choose the quality you need. Finally, hit on the Create MP3 Version button to save WAV as MP3 in iTunes.

· How do I compress WAV files without losing quality?

Online UniConverter supports compress WAV audio files without losing quality. You can customize bitrate settings to change the file size. Just move to the

WAV Compressor

page to compress WAV free online.
Why Choose
Online UniConverter
to Convert WAV
Watermark and Ads Free
You can convert WAV audio files to any formats and vice versa without ads or watermarks.
Support Multiple Formats
Online UniConverter supports convert WAV to multiple formats including MP4, WAV, M4A, OGG, FLAC, etc.
Browser Compatible
Online UniConverter also works with Google Chrome, Safari, Firefox, and your smartphones without limitation.
High Quality Output
The converted videos will keep the quality as higher as original, and you can download or save to Dropbox easily.
Privacy and Safety
We keep your information secure all the time. All uploaded files will be deleted from the server after 24 hours.
Easy to Use
Clear guides and steps are provided for online WAV conversions. It's easy to even anyone new.