WAV Compressor
Free batch reduce WAV file size online without losing quality.
Shrink WAV files with simple clicks.
*Tips: For more audio format compression, try Online Audio Compressor >>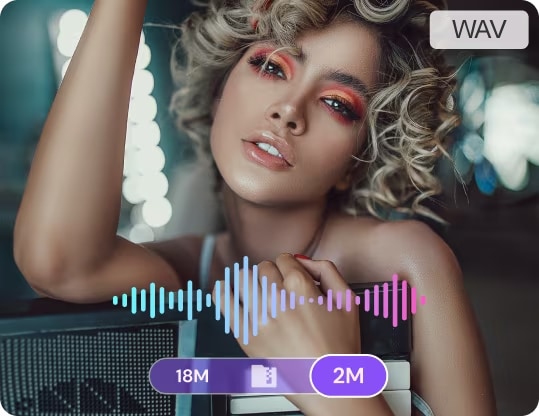 How to compress WAV file?
Step 1: Upload WAV Audio Files

Click Choose Files button to add WAV files you want to make smaller.
Step 2: Compress WAV Online

Customize WAV Quality [128 kps is near CD quality], then choose a proper Output Format, when confirmed, click the Compress button.
Step 3: Save the Compressed File

Download the compressed WAV audio files locally or save to Dropbox or Google Drive.
More information about WAV audio file
File Extensions
.wav
Description
WAV is an audio container format developed by IBM and Microsoft and comes with a .wav filename extension. Unlike popular formats like MP3 and MP4, WAV is a lossless format, so it's bigger and less popular. WAV files can be opened on various OS platforms via software like Windows Media Player, MPlayer, VLC Media Player, and more.
Associated Programs
VLC Media Player
Windows Media Player
5KPlayer
Developed By
Microsoft and IBM
MIME Type
audio/x-wav
Useful Link
What is a WAV file

Why choose Online Media.io to shrink WAV files?
Privacy Security
Media.io is a secure HTTPS (SSL) connection website, so you can securely upload your WAV files. All the uploaded and compressed WAV files will be automatically removed from our servers less than 24 hours.
Easy to Use & Convenient to Share
Media.io enables you to reduce WAV file size via a web browser on Windows, Mac or Linux system, without any software downloading. You can download WAV file directly or save it to Dropbox for sharing on Facebook, YouTube, and other social media platforms.
Numerous Input Formats
This online audio compressor provides a wide range of file input formats. Almost all your required format are covered!
Smart Output Settings
Select WAV audio compression parameters from 320Kbps, 256Kbps, 128Kbps, 64Kbps, to 32Kbps, which will result in your output size and quality.
No Ads Added & No File Limits
Compress WAV audio files without disturbing ads added, you can resize WAV files one by one without quantity limit after sign up.
Any Output Format & Quality
You can compress WAV to MP3 to shrink the WAV file, or convert to M4A, AAC, FLAC, M4B, OGG, and APE for certain devices.
FAQs about WAV compressor
1. Why is my WAV file so big?

WAV audio file is larger 10 times than our familar MP3 file, approximately. That's mainly due to its high quality. WAV file uses the same audio specifications as CDs' and isn't automatically compressed, so generally, WAV file is bigger than other popular audio formats, like MP3. Personally, MP3 won't lower your audio quality that lets you down, unless you are some pro experts, like strict historians.


Pro Tip: If you are confused about this issue, then I guess you may wonder how to make WAV file smaller, right? If so, no worries, pick our well-designed Online Media.io. Using it, you can convert your WAV to MP3 with high fidelity and get a smaller WAV file.

2. How do I compress WAV to MP3?

To decrease WAV file size, you could choose online solution. Here we recommend adopting the trusted Online Media.io, to which many users keep going back. A simple guide is shown below:

Step 1: Choose and add your WAV file by browsing your available resources.


Step 2: Set your desired WAV audio quality and MP3 output format, then simply hit on the Compress button.


Step 3: Take a few seconds for compressing process and click Download option to save the compressed file. OK, done!

3. How to reduce WAV file size in Audacity?

Audacity is a helpful WAV audio editing tool, and you can surely apply it to condense WAV file. In an easy manner, you need to follow these steps: firstly, click Edit > Open to choose WAV file; secondly, select Mono track, adjust Bitrate and remove the silences; thirdly, click Effects to increase Tempo; finally, preview and export your wanted compressed WAV file.