Online Beard Filter
Put a realistic beard or moustache on your face photo for a perfect look with our AI-powered Beard Generator. Try a cool beard style online with just a few clicks for free.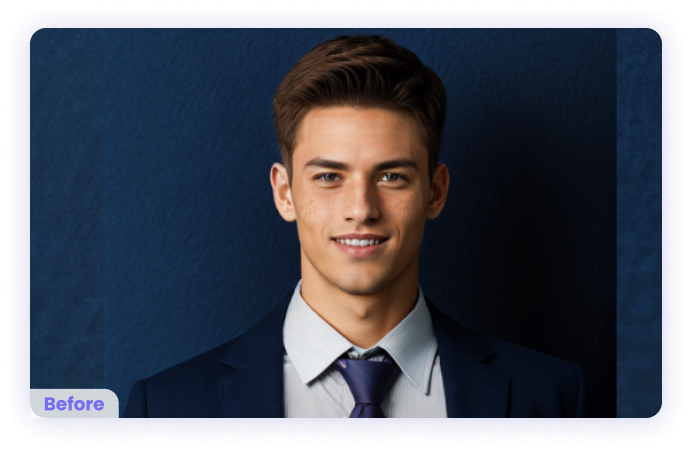 Online Beard Generator
Media.io AI Beard Generator is a 100% online tool that generates beards of iPhone, iPad, Android, Windows, and Mac. You don't need to install anything to create attractive beards online with Media.io.
Realistic Beard Styles
Our Beard Generator is extensively trained to generate lifelike beards for any face. After analyzing your uploaded photo, Media.io will accurately add goatte, moustaches or cheek beards to make you look masculine and handsome.
Auto Position the Face
The AI system will deeply scan and analyze the face to choose the ideal position or spot for adding the beards. You don't need to adjust the beard position by rotating, flipping, or cropping. Media.io AI Beard Generator will do all the work for you.
Funny AI Face Editor
It does more than just generate beards for your face. With Media.io Face Editor, you can make your face look cool and funny thanks to the multiple effect options. For example, you can add an age filter, swap gender, generate sunglasses, add a smile to your face, and more.
How to Add Beard to Photo in Seconds?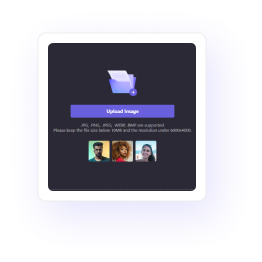 Upload a photo on the Beard Generator
Visit Media.io AI Face Editor, then launch the Beard Generator tool. After that, upload your photo, keeping in mind the maximum file size of 10MB.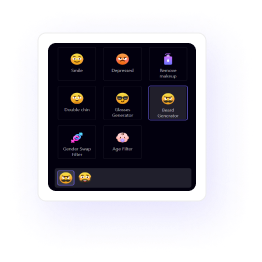 Choose a beard style and apply.
Next, select your preferred beard style, such as cheeks beards or moustaches. Then, click Start to process to apply the AI beard to your photo.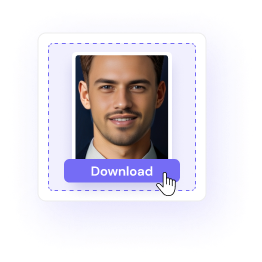 Preview & download the photo.
Change the beard style if you don't like the outcome. But if you're impressed, click the Download button to save the bearded photo on your computer. That's it!


AI Bearding for Photo Perfection
Step into the exciting world of digital transformations with Media.io's AI Face Editor! Whether you're aiming for a cute and handsome look, planning a lighthearted prank on friends, or simply exploring a new online identity, our online beard generator is your go-to solution.
More AI Tools for Image Editing
FAQs regarding Free Beard Adder Online
How to create a moustache or beard face online for free?

You can transform your looks into a moustache or beard face online without paying anything using Media.io. Here is how to use it:
• Visit Media.io Face Editor on your browser.
• Upload your facial picture in any of the supported formats.
• Click Beard Generator and choose your preferred beard style.
• Process the new photo and download it.

What are the best Beard AI Apps worth trying?

Besides Media.io AI Beard Generator, there are numerous apps you can use to add beards to your photos on mobile. Here are some options:
• Beard Photo Editor Beard Cam: An Android tool for adding beards to photos and live cameras.
• Beard Man: Another Android app for applying cool-looking beards and hairstyles to your photo.
• Hair & Beard Styles: An iPhone/iPad app will multiple hair, goatee, and beard styles to explore.
• Beard Booth Studio: Another iPhone app with an assortment of fun moustaches and beards.

Is it possible to remove beard from face?

If you want to know how you would look without beards, you can get a no-beard filter to make the hair disappear in seconds. This is an excellent way of shaving your beard without setting foot in a barber shop.
This beard photo editor online meets my expectations in almost every way. The joy I get by looking at my photos with beards is truly unmatched. I would recommend it to anyone!
Bonny Jones
For me, this program does more than add beards to my face. It's a funny tool with several fun filters to transform your looks into someone else. You should add more free beard options, though.
Bobby Lee
Naturally, I'm not blessed with lots of beards and facial hair. But after stumbling on this program, I play around with multiple filters to find what works best for my photo and the occasion. The hair samples are fun, and the quality is excellent.
Ian Smith
It's actually a pretty good tool for enhancing your face, especially for those concerned about their looks. There is no need to go to the salon to try out new expensive wigs.
Wade300
Most AI beard generator apps I have tried have been a letdown until I found this online tool. Although it could definitely do with more beard options, the output quality is recommendable.
John Lewis