Restore Images with AI Photo Restorer
Media.io Photo Restorer turns old photos into stunning new ones 100% automatically by using AI picture restoration technology.
✧ To add vibrant colors: try our AI Photo Colorizer!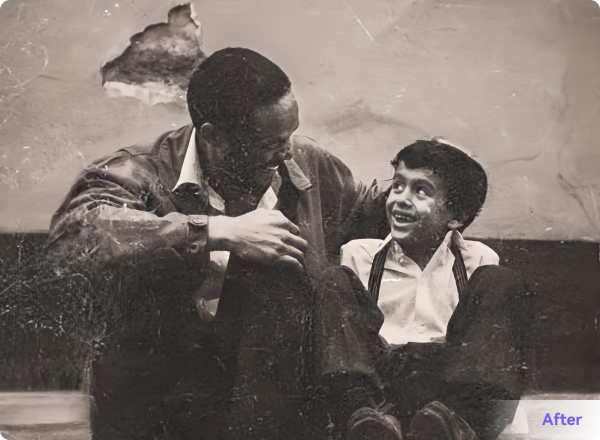 How to Restore Images Online with Ease
1. Add Old Photos

Click "Add Photos" button to upload images from your local drive. (Note: you can compress images if the size is too large to upload.)

2. Start to Process

Our AI algorithm will automatically restore your old damaged photos in a few seconds.

3. Download the Restored Photo

Preview and save the restored pictures. You can also share them on social media platforms.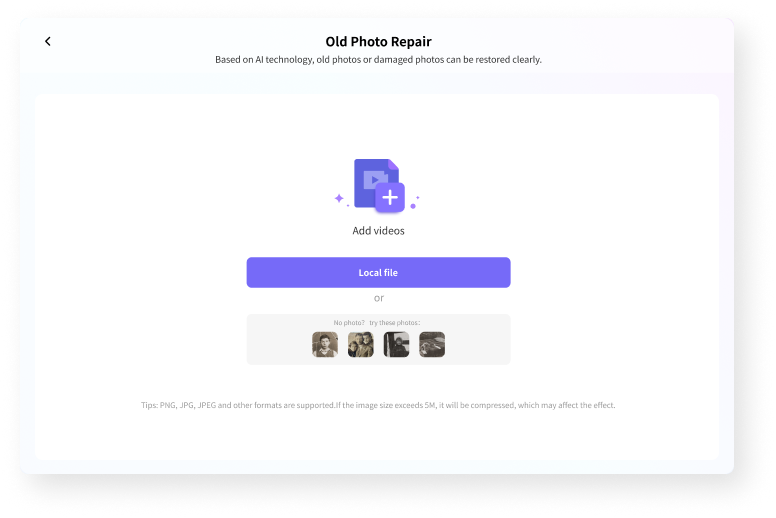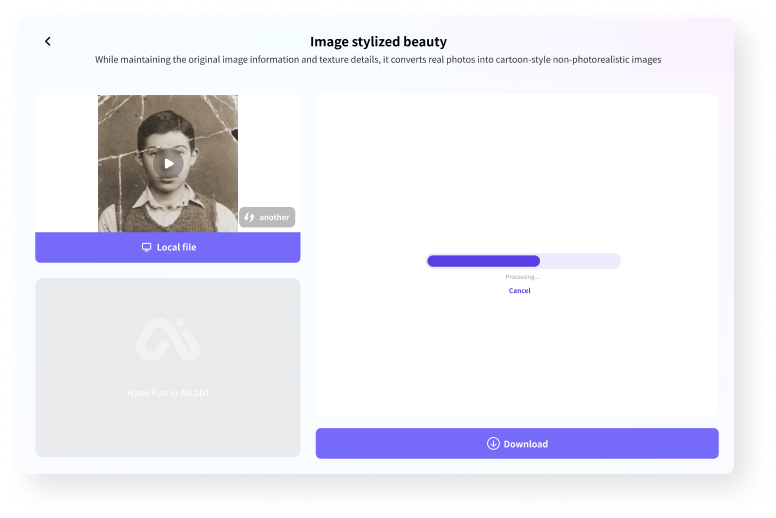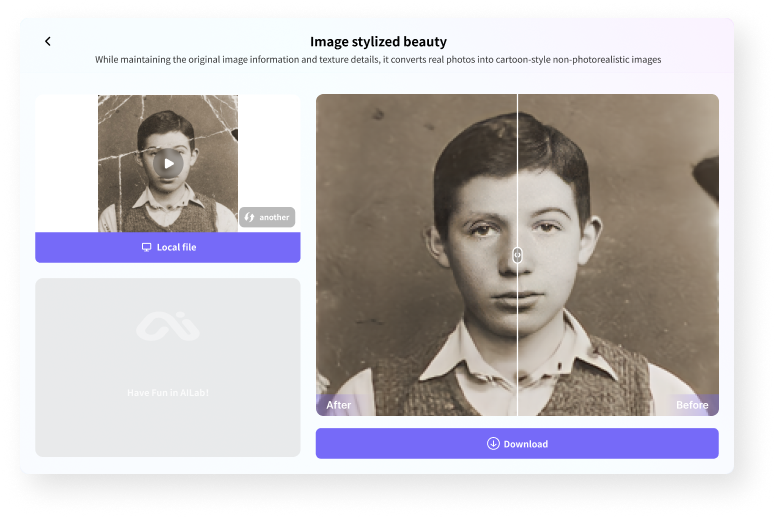 What Makes Media.io Picture Restorer Different?
Browser-Based
As a versatile online tool, Media.io helps you fix old photos without downloading software.
Stunning Results
Quickly turn your old damaged photos into an amazing new ones with just a couple clicks.
100% AI-Powered
Powered by AI picture restoration technology, you don't have to do the tedious tasks manually.
No Ads & No Spam
Trusted by over 10 million users from over 100 countries, Media.io is a 100% trustworthy website.
Take Your Old Photos to the Next Level
With Media.io photo restorer, you can repair old photos and enhance them for crystal clear effects.
Bring old damaged pictures back to life and turn them into vintage fashion.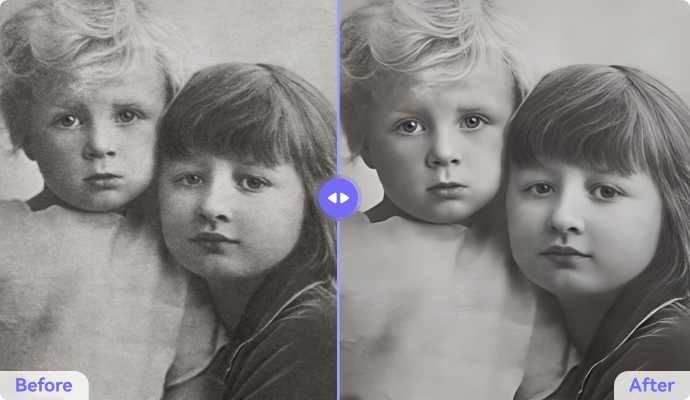 Best Alternative When You Can't Find Photo Restoration Service Near You
Media.io is the best photo restoration online service. This AI picture restores software will help restore images by removing scratches and stains and giving them a fresh look. Use it with any device to capture the picture easily and restore a photograph without software download. Thus, make prints, enlargements, or frames for the photos to use them in all their splendor.
Turn Old Damaged Photos into Retro Fashion
Enhancing old photos is the most crucial advantage of Media.io. However, time is of the essence since the earliest photographs not printed on archival paper or given a protective coating to shield will fade. Thus, stop further degradation by using an expert photo restorer or editor. Do note that pictures stashed in the attic or basement, away from direct sunlight or humidity, may also lead to deterioration and fading.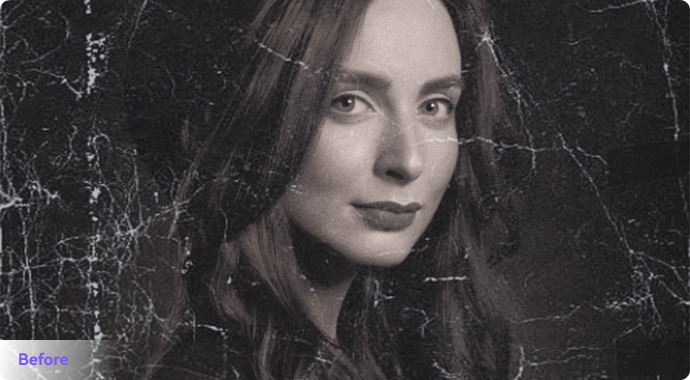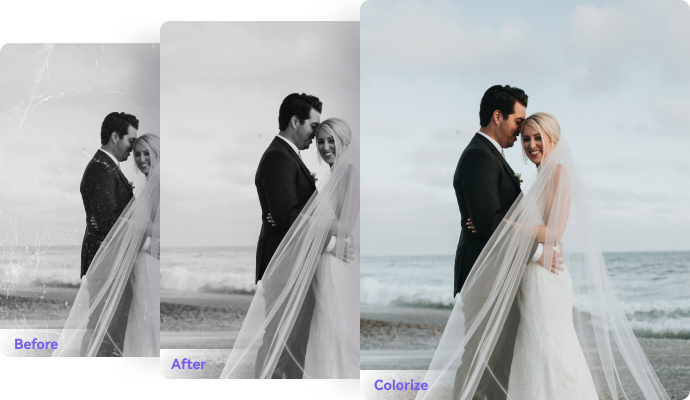 Colorize Black and White Photos Effortlessly
Professional photo restorers have developed AI digital techniques for restoring your old photographs because old photographs tend to degrade over time. These techniques allow professional photo restorers to eliminate scratches, cracks, tears, and fading and repair other damage to the picture. Apps such as Media.io will soon make it possible to restore black-and-white photographs effortlessly using the Photo Colorizer.
More Than Just a Photo Restorer
FAQs of Photo Restorer
Can damaged photos be restored?

Yes, you can restore old, damaged photos using Media.io with its best functions:
Quick, easy, and evident in its operation.
A clever and cutting-edge algorithm.
Software that is free of malware, viruses, and advertisements
Capability to fix damaged, corrupted, blurred, or grayed-out photographs.
Help with various file formats, including RAW image files, JPG, and PNG.

What is the best alternative to restorePhotos.io?

Similar to restorePhotos.io, Media.io AI photo restoration tool allows you to restore any old and blurry face photos in seconds. Just upload your old photos from your phone or computer, and let AI work its magic to bring the photos back to life!

How do I revive a faded photo?

Step 1: Go to Media.io, and click on add photos to add a photo from your device or the image URL.
Step 2: Click on "start process" and the process of recovering the photo will start automatically.
Step 3: Once done, click on download.

How much it costs to restore a photo?

The cost might be as little as $50 or as much as $500, depending on the nature of the job. Additionally, many expensive online tools can recover photos. However, Media.io is a free-to-use photo restoration tool that works effortlessly.

Is there a free app that restores old photos?

1. Media.io: is a browser-based, free picture restorer with an AI photo enhancer. Its newest AI technologies can enhance and expand photo quality on the move for free and upscale JPEG pictures to 4K (more than 200 formats supported). Make smaller, more explicit photos online for free without losing quality.
2. Snapseed: is a powerful and complex program for restoring photos on mobile devices. Auto-filters, extensive editing capabilities, a simple UI and slider controls make the program perfect for novices and professionals. Plus, all professional features are without in-app purchases.
3. Adobe Photoshop's: minimal learning curve makes it perfect for novices seeking picture embellishments, crookedness, grain, and color correction capabilities. The assortment of professional editing tools will modify shots and revive old memories. Add text, stickers, borders, frames, or collages to images to share on social media.
4. Adobe Lightroom: Users seeking a fast and efficient editing solution that does not demand an extreme picture-refining makeover will succeed most with Adobe Lightroom. Lightroom is often good for tweaking a picture and performing minor healing modifications over regular Photoshop because Lightroom's editing tools are more accessible. It is an excellent choice for retouching the appearance and feel of a picture.
5. Darktable: aims to repair and polish photographs with less effort than other programs. The interface and feature set of darkrooms are comparable to those of Adobe Lightroom, which benefits those already familiar with editing in other Adobe apps. Widely acknowledged throughout the photography community, Darktable is one of the most capable and user-friendly free editing solutions.

Where can I restore my photos?

Here are the free online and offline old photo restoration programs.
Online Restoration tool
1. Media.io: Media.io is a free picture restoration tool that, with AI, improves photo quality and upscales JPEG images to 4K resolution. This AI-driven image enhancer creates photographs online that are smaller but more detailed without degrading their quality and for free.
2. Photo Retoucher: Restore old photos online with this software developed by SoftOrbits that improves scanned photographs by removing flaws, repairing damaged areas, and conducting fundamental retouching. Use this program to accomplish these goals.
3. FixThePhoto Editor & Retouch: Get a professionally edited version of an old image in only a few hours from the retouching experts and promptly restore images. Just upload, provide specific instructions about the elements into focus, and let the restoration service do its work. The free trial is an extra perk.
Offline Restoration tool
1. RAKVIS Retoucher is a viable option for AI-powered solutions to remove unnecessary features such as date stamps and cups, among other things. It claims to be able to reconstruct lost portions of an old photograph by using the information from the sections that are next to such regions.
2. Picture Glory is an artificial intelligence (AI) photo restoration program to recover faulty vintage photographs, whether old family photographs, historical images, or ancient architecture. Readily repair scanned pictures, with scratches, wrinkles, stains, or rips. It also colorizes old black-and-white images instantly, applies tone effects, edits, and crops aged and fading photographs.
3. Luminar is well-known for various picture editing tasks, including restoring antique photographs. Although it is software, unlike Photoshop, it performs much of the work automatically apart from managing settings and uploading pictures. Users that need professional software for day-to-day usage are most likely to benefit from using Luminar.
I like the fact that I don't need to register to use the tool for old photo recovery and it can be used on several devices
Paris McCarthy
I was able to recover my photo for free. Thank you Media.io
Leslie Yip Tien Man
The old picture restoration process was so fast. I love it!
Han So Hee
Yay!! The photo quality is better than I thought. Nice website. Thank you guys!
Derek K.
What!! This is simply what I was looking for. Aside from the option of being a patreon, this program is superb
Sandeep
Enhance Any Old Photos with
the latest AI.
A Versatile Image Improver Beyond your Imagination.