WhatsApp Video Compressor Online
Compress videos online for WhatsApp to reduce the video size automatically or manually.
Compress Video for WhatsApp
Being one of the most used communication platforms today, WhatsApp is also exploited extensively for sharing media files and other documents. However, when it comes to movie clips, you must compress video for WhatsApp as the messaging tool only supports films that are 16 MB or less in size. If footage exceeds the said threshold, you must compress it so that WhatsApp can accommodate it according to the norms. That is where our WhatsApp Video Compressor tool comes into play. Media.io is an all-in-one online toolkit that has several integrated tools, and Video Compressor is one of them. You can use the online WhatsApp Video Compressor by Media.io for free. It provides several methods to compress while maintaining the quality easily.
How to Compress Video Online for WhatsApp?
Media.io Online WhatsApp Video Compressor made the process extremely easy, and you can compress video online for WhatsApp using the tool with merely a few mouse clicks.
Step 1: Upload the Source Clip

Visit our WhatsApp Video Compressor and click the Choose Files button to upload the video from your Windows, Mac, Linux, Chromebook, or iPhone and Android devices.

Step 2: Compress the Video

By default, this Video Compressor will compress video automatically to a smaller file size, without significantly reducing visual quality. But you can also reduce the video size to a specific size or bitrate by clicking the Settings icon to set it up. Choose a new resolution from the Resolution menu. Stick to SOURCE to leave the picture quality intact.

Step 3: Download the Compressed Video

Click the COMPRESS button to reduce the video size for WhatsApp. Once the process completes, you can click the Add More Files button to upload another file or click DOWNLOAD or DOWNLOAD ALL (in case of bulk compression) to save the compressed clip to share via WhatsApp.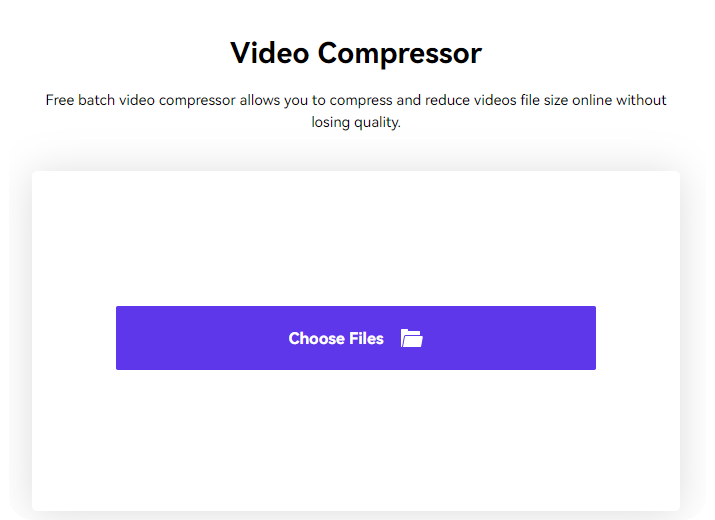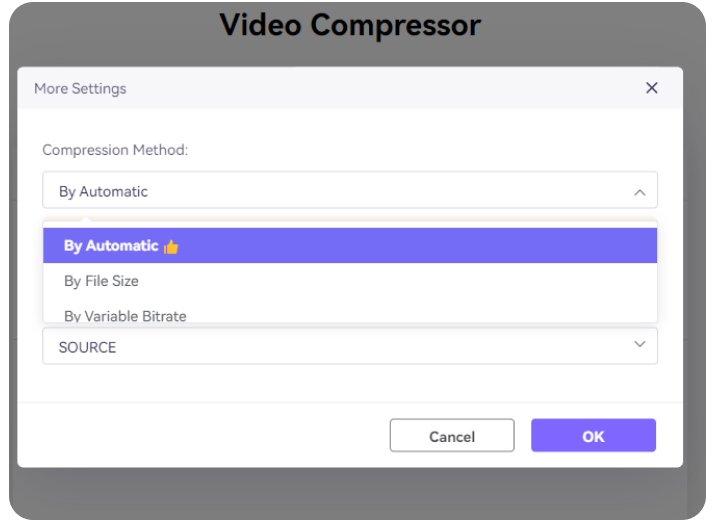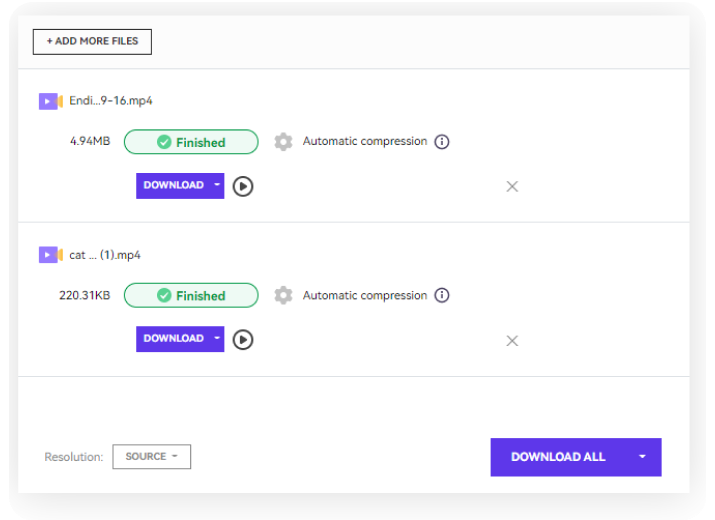 Why Choose Media.io Online WhatsApp Video Compressor?
Automatic WhatsApp Video Compressing
The Automatic Method in Media.io WhatsApp Video Compressor will compress the video automatically to smaller file sizes, without significantly reducing visual quality.
Compress WA Video in Almost All Video Formats
This online WhatsApp Video Reducer supports almost all popular video formats. You can compress a WhatsApp video in MP4, M4A, MKV, AVI, MOV, or 3GP format.
Reduce WhatsApp Video to a Specific Size and Bitrate
Media.io WhatsApp Video Compressor also allows you to specify the desired video size and bitrate by File Size and Vibrate Bitrate methods. You can also set up the output resolution to maintain the quality.
Shrink WhatsApp Video Size on the Go
To compress video online for WhatsApp, you don't have to depend on a computer as Media.io WhatsApp Video Compressor works equally well and efficiently even on mobile devices.
No Watermark on Compressed Video
WhatsApp Video Compressor by Media.io doesn't add any watermark on the output videos even if you are using a free account, so you can share the compressed video without any concerns.
Compress WhatsApp Video in Batch
If you want to share multiple videos on WhatsApp but find all the sizes are out of the limitation? No worry! Media.io allows you to upload several videos at one time to compress.
This video resizer for WhatsApp is an online tool, and the page is responsive. This means that the portal shares identical options with a slightly varied layout to offer an intuitive interface on mobile screens. Because of this, you can reduce video size for WhatsApp even if you don't have access to a computer. While using the tool on a smart device, all you want is a stable Internet connection and the source video clip that can be obtained from any of your preferred local or Cloud storage.
FAQs Regarding Compressing Video for WhatsApp
1. What's the size limit when uploading and sending files on WhatsApp in 2023?

At the time of this writing, WhatsApp still allows video files of up to 16 MB in size to upload and share. However, you can send a large clip as a document if you don't want to reduce video size for WhatsApp.

2. How to send large video files on WhatsApp?

You can either use a video resizer for WhatsApp such as Media.io Video Compressor to reduce the file size to 16 MB or less, or send the clip as a document via WhatsApp.

3. Can I compress video for WhatsApp with Media.io on a mobile device?

Yes, you can. Because Media.io is a responsive web portal, when you open the site on your mobile device, all the pages that you surf through are automatically resized according to your smartphone's screen. Even though some options and buttons may get repositioned to make the layout more intuitive, they are easy to locate and access.

4. How to reduce video file size without losing quality for WhatsApp?

This can be done pretty easily by selecting SOURCE from the Resolution menu while choosing your preferred compression percentage in Media.io Video Compressor. You can also use the Automatic compressing method to maintain the best quality and size.

5. What's the size limit when uploading videos to compress for free on Media.io?

To compress video for WhatsApp using a free Wondershare account, you can upload a media clip of up to 500 MB or less. If you want to upload a file that exceeds the set limit, you must go for a paid subscription that can be canceled anytime.
• At first, I was a bit doubtful. However, when I started using Media.io Video Compressor, I was astonished to see how efficiently the web app reduced the video size without compromising the quality. Now, I use the tool professionally to send and receive draft copies of the video advertisements that our company makes.
Redberry

I am a school teacher and after COVID, I was told by the management to prepare video tutorials and share them with the scholars. Because we have only WhatsApp for communication, Video Compressor helps me reduce video size for WhatsApp without losing picture quality.
John

I used to compress video on a desktop with Wondershare UniConverter and AniSmall, but sometimes I need to compress the video on my Chromebook at school. And I find the Media.io online WhatsApp video compressor from Wondershare works fine for my needs.
Nicholas

I find some interesting video clips on the Internet and want to share my friends on WhatsApp. But some of them are out of the WhatsApp size limitation so I have to compress these videos. Thanks to Media.io WhatsApp Video Compressor, I can now reduce the video size and share instantly.
Wendy

I mostly compress video for WhatsApp when I create a troubleshooting clip and have to send it to my company so it can be forwarded to the employees who are facing an issue. Because both Media.io Video Compressor and WhatsApp are free, our purpose is served pretty well.
Wills