Discord Video Compressor
Instantly compress your large videos for Discord under 8MB, 50MB or 100MB (or you define it). No noticeable quality loss. Online, free and simple to use!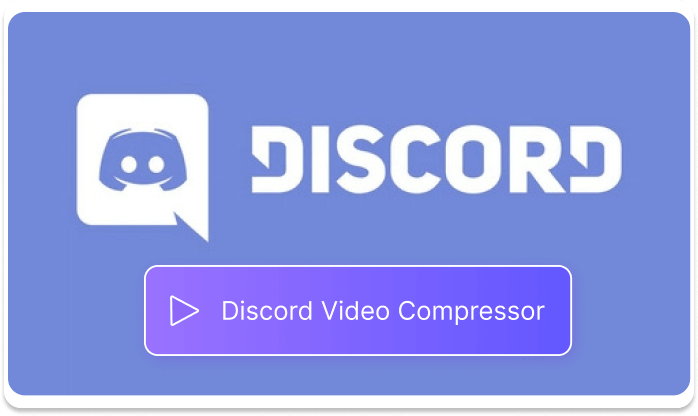 8MB Video Compressor
Discord is an instant messaging app where users can communicate via voice calls, video calls, texts, and media like videos and audio. But as you may already know, you can't upload more than 8MB files on Discord. The reason for this limitation is the rapid population growth on the Discord database. So, to upload your videos quickly and smoothly, you'll need a portable video compressor for Discord.
With Media.io Online Video Compressor, you can compress Discord videos to less than 8MB. This Discord video compressor allows you to upload any video format and resolution before compressing and converting to Discord-supported formats like MOV, WebM, and MP4. And the best part is that free users can compress videos in bulk without any watermarks.
How to Compress a Video for Discord Online?
Step 1. Upload the Discord Video.

Launch Media.io Video Compressor on your mobile or PC browser, and then tap Choose Files to browse and upload your video. Or, click the YouTube icon to paste a YouTube video URL link and upload it. Remember, this 8MB video compressor supports any video format and batch compression.

Step 2. Set the Compression Method and Rate.

After successfully uploading your video, tap the Settings icon and set the compression method. Now drag the slider to compress and decompress the video. You can also choose the output format and resolution before clicking OK.

Step 3. Compress and Download Your Discord Video.

Tap the Compress button to begin compressing the video to less than 8MB. After the compression process, hit Download to save the video. You can also save the compressed video on Dropbox or Google Drive.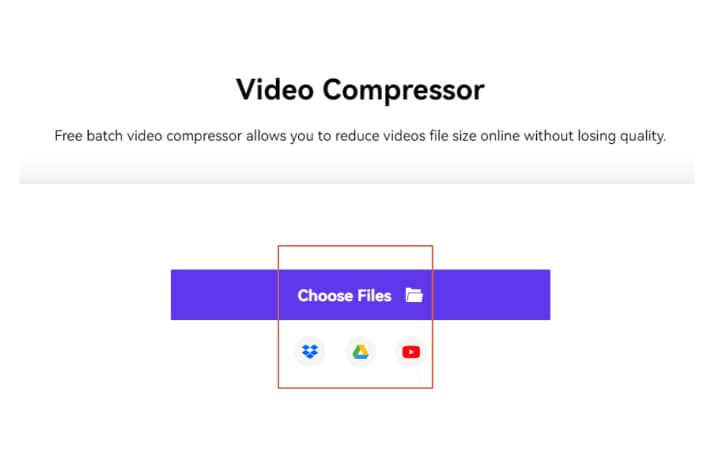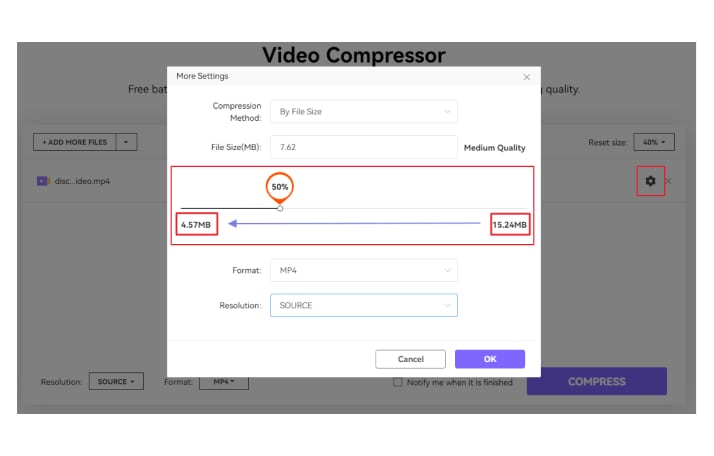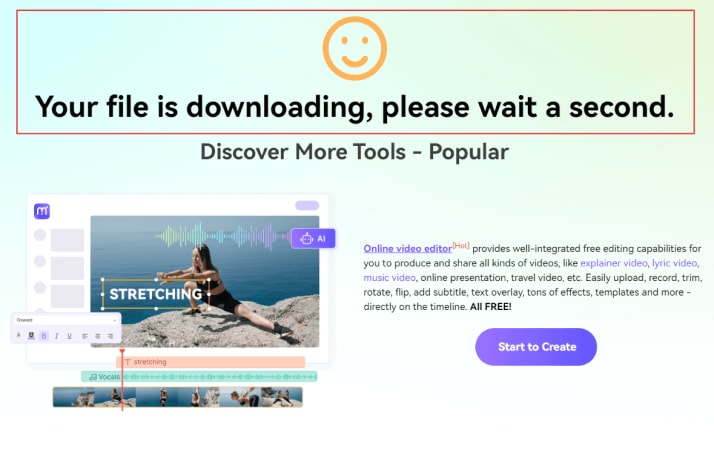 Why Choose Media.io Video Compressor for Discord?
Online & Ease of Use
Media.io Video Compressor can compress videos on iPhone, Android, Windows, macOS, and Linux browsers. The straightforward user interface doesn't need any prior experience to use.
Almost All Video Formats Accepted
This online video shrinker for Discord supports any video format. You can compress MP4, MOV, VOB, AVI, FLV, MKV, and more.
Excellent Video Quality
Media.io retains the original video quality and resolution after compressing. It supports 8K, 4K, 2K, HD, and SD videos.
Batch Video Compression
Do you have multiple video formats that you want to compress? No problem! Media.io Video Compressor supports batch compression on your mobile phones or desktops.
All-Round Video Editor
Media.io also houses other video editing tools besides compressing and converting videos. You can cut, trim, merge, crop, add background music, add motion texts, mute, extract audio, etc.
Absolutely Safe to Use
Media.io is the safest online video editor and compressor. It doesn't feature risky adverts, and the website is secured using SSL encryption.
Why Reduce a Video Size for Discord?

1. For quick & seamless uploads/downloads.
Have you tried downloading a video, but the process seems too slow? Frustrating, right? Apart from using a slow internet, another reason for slow downloads and uploads is large file sizes. For this reason, Discord decided to cap the limit at 8MB. It's common knowledge that smaller files require less bandwidth to send and download. So, ensure your videos download or share as fast as possible by compressing them.

2. For saving storage on your local drives.
Sometimes you may need to compress your Discord videos and save them on your local drives like Google Drive, OneDrive, Dropbox, and iCloud. To save your precious storage space, you'll need a video compressor for Discord. This software will compress your video without losing the original quality. For example, you can resize a 10MB video to 6MB or 5MB.

3. For fast stream videos online.
Although this point is slightly unrelated to Discord, it's still vital to note that smaller files are easier to stream. As said before, a smaller video takes less bandwidth to upload. Now this means it will take viewers a second or two to open your video and start streaming on social media platforms. Also, the end-user will use less bandwidth to stream the video, making the whole experience economical for both the uploader and the downloader.
FAQs Regarding Discord Video Compression
Is Media.io a free video compressor for Discord?

Yes, using Media.io Online Video Compressor is absolutely free. In fact, you don't need to register an account to compress your Discord videos. Another thing, you can upload a file size over 500MB at low cost.

How to compress a large video for Discord easily and quickly?

Media.io is the quickest and most straightforward method to compress Discord videos online. Here, you only need to Upload the video, Set the compression rate, choose the output format, and Compress the video. Then, you can Download the video to your local folders or cloud storage.

How to upload videos over 8MB to Discord?

Unfortunately, Discord has an 8MB limit on all media uploads on the platform. So, to share large videos on Discord, pick Media.io to compress the video to 30% (or lower) of the original size. So, let's say you have a 25MB video file. In that case, you can compress it to 7.5MB without losing the initial quality.

How can I share videos larger than 8MB on Discord?

Interestingly, you can share videos larger than 8MB on Discord. First, you can upgrade to Discord Nitro for $9.99/month or $99.99/year and share files up to 100MB.
Alternatively, apply a reliable video compressor like Media.io to easily make your large video under 8MB, or save the video on your cloud storage and share the video link with the Discord contact. This way, you can share any video size without any Discord limitations.
More "Discord File Compressor" Tools
Media.io is genuinely the best video compressor for Discord I've ever come across. I've used it for years, and it helps me compress my videos without limitations or quality loss. Highly recommended!
@Redberry

This is one of the indispensable apps on my phone these days. I occasionally use it to compress my social media videos before sharing them. I highly recommend Media.io if you like editing small video clips as well.
John Mac

I like that this online program lets me make a video smaller for Discord effortlessly. It compresses videos with excellent quality. I'm currently considering an upgrade to the paid version to get more compression limits.
Nicholas

This Discord video compressor does exactly what I need it to do with fantastic quality. It gives me the freedom to compress by file size or variable bitrate, which is impressive. It's all I need!
Winnie

I started using Media.io to edit and compress my videos and audio, and the free program keeps improving daily. The multiple preset and customization options make my work easier. Also, the compression quality is excellent. Keep it up!
Byron White

"Media.io is too powerful."
Designed for compressing a large video to 8MB or less. High quality preserved.