Face Emoji Remover
Remove any emoji or sticker from your photos or videos online with just one click online. Let AI unveil the original beauty hidden behind the human faces. Perfect for light-hearted pranks and enjoyable moments!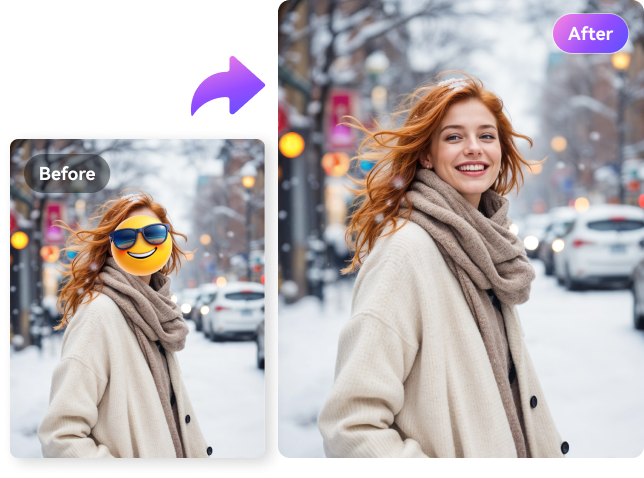 How to Remove Emoji from Face Online?
1. Upload Photo
Click the Remove Emoji Now button
to add your saved photo with unwanted emojis.
2. Highlight Emoji for Removal
Apply the brush pen to smear the targeted emoji on the photo face, then tap Remove for fast AI detection and elimination.
3. Download Result Image
Preview your emoji-free photo and click Download for easy saving and sharing with those around you. Simple as that!
Create Emoji-free Face from Photos
Ever stumbled upon social media photos where emojis hide faces? It can be quite frustrating. Our AI remover effortlessly sweeps away those pesky stickers from anyone's face with minimal effort. To enhance your social media experience for entertainment, explore the following pranking photo apps available online. Infuse playfulness into your photos for more creative expressions!
Bring Real Selves to Life with AI Styles.
No longer confined to adding amusing emojis to self-portraits for a touch of personality. With Media.io's AI face generator, you can now explore diverse styles ranging from festive fun to professional looks. Just upload a few photos, and our advanced AI technology will meticulously analyze the facial features, creating countless authentic versions of you in various scenes, attires, facial expressions, etc. Redefine your style for enhanced engagement!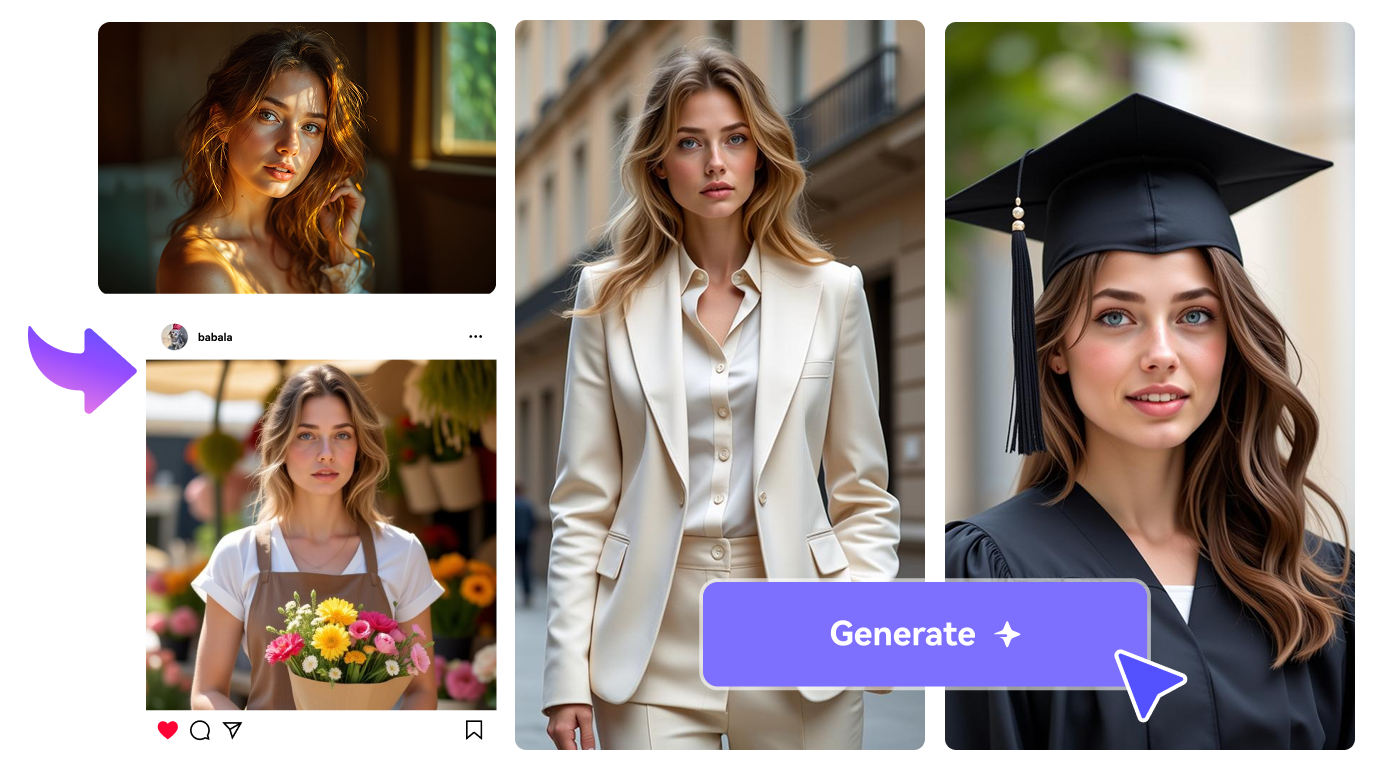 FAQs about Free Emoji Remover for Face
1. How to remove emoji from face online?

The fastest way to delete photo emojis is using Media.io AI Emoji Remover. No need for manual cropping, thanks to our advanced AI scanning algorithm. Just upload your photo, use the brush to go over the emoji, and click Remove. Our AI will take care of the rest!

2. What is the best emoji remover for girl's face?

Media.io empowers you to effortlessly remove emojis from the faces of lovely girls in pictures or videos using an AI brush pen. Plus, it offers a variety of charming and amusing face styles and filters for joyous moments. Access it directly from your web browser, no need to download and install any apps from Google Play Store or Apple Store.

3. Can I create random face photos for entertainment?

Absolutely! Transforming your selfies into similar-looking photos is a great way to maintain privacy and control over your online presence. Achieve this easily with the Media.io AI portrait generator. Simply take a few shots, choose your preferred style, and witness the magic of AI at work!
Pamela Smith
This is now one of my favorite online software for picture emoji remover that is free and easy to use and I'm so loving it.
Tae-ho Kim
Great program for emoji eraser online, and the best part is that I can use it for free on all devices. I strongly recommend Media.io to carry out all picture editing jobs effectively.
Lilith Marin
I'm a social media freak, and I can't skip a chance to share posts of my funny moments. I use Media.io to change the appearance of my profile to make it COOL. One of the best!
Edit Your Photo to Perfection Online
in Minutes.
Make image editing easy like never before!
Explore More