Best Video Converter for Android
Online UniConverter enables you to convert any video to Android format online and free.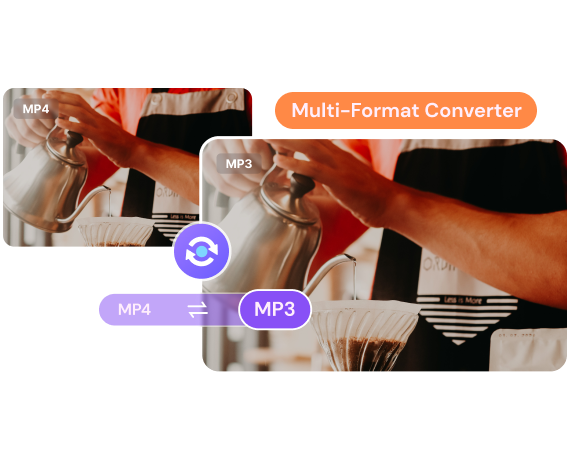 How to convert to Android video free online?
Step 1
Upload Video Files
Add video file(s) that you want to convert to.
Step 2
Convert to Android Video Free
Select MP4 or other output formats you want to convert video file(s) for Android.
Step 3
Download the Converted File
When the conversion process is complete, click the Download button to save the finished video file.
Information about common MP4 and MOV file formats
File Extension
.mp4 MP4 Converter
Description
MP4 (MPEG-4 Part 14) is a video container format based on QuickTime MOV. But unlike MOV, it adds support for other MPEG features. MP4 supports video (MPEG-4 Part 2 and MPEG-4 Part 10/), audio (MP3, AAC, SLS, TTSI, and ALAC), and subtitles (MPEG-4 timed text). It's this codec combination that gives MP4 its flexibility.
Associated Programs
Apple QuickTime Player
VLC Media Player
5KPLayer
Windows Media Player
Developed By
International Organization for Standardization
MIME Type
video/mp4
Useful Links
What is a MP4 file
File Extension
.mov MOV Converter
Description
MOV is a MPEG-4 digital video container format used on Apple's QuickTime Player. It was developed in 1998 by Apple as the proprietary video format for Macintosh. On top of video data, MOV format can also store audio and text data, such as subtitles. It can open easily on both Macs and PCs, although Windows require 3vix codec.
Associated Programs
Apple QuickTime Player
Power DVD
VLC Media Player
Adobe Flash
Developed By
Apple Inc.
MIME Type
video/quicktime
Useful Links
What is a MOV file
People Also Ask About Video Converter for Androids
1. How to compress a video on Android?

Android can be quite choosy when it comes to video formats. For instance, you can't directly compress a video file on your phone's video player. Luckily, you can use Online UniConverter (Originally Media.io) to transcode between all popular video formats. For a smoother playback on Android, I suggest that you convert videos to MP4 format.

2. How do I convert a video to mp4 on Android?

If you try to open or play a video on your Android phone and you get an "unsupported video codec" error message, you'll need a working video converter to change your video clip to an acceptable format like MP4. To do that, open Online UniConverter (Originally Media.io) on your browser and click the Choose Files button to upload your video file. Next, choose the MP4 format and then tap the "Convert" button to start converting your video to Android MP4 video quickly and losslessly.

3. How do I convert videos to mp4 for free?

Not all video formats are supported on all multimedia players. Luckily, MP4 can open on any website or media player. So to convert any video format to MP4 for free, use Online UniConverter (Originally Media.io), which is available on any OS platform with an updated web browser and data connection. To make MP4 videos, simply launch the free online tool, drop your videos there, and choose MP4 format. Now click Convert to begin converting any video format to MP4.

4. What video formats does Android use?

Android is known to be a format-choosy OS. That's because it doesn't support all format codecs. Supported video formats on Android include MP4, WebM, MKV, and 3GP. Also, you need to be running on Android 2.3.3 or later.
How to convert video to Android devices
With sharp-display, high-end features, and the latest technology Android devices are becoming popular among the people. So if you want to watch your favorite YouTube video, movies or TV shows on your Android device, conversion to a compatible format is needed. No need to struggle to find out compatible formats and codecs because Wondershare UniConverter (originally Wondershare Video Converter Ultimate) is out there to take of all your conversion needs. This professional software is the best video converter for android as it supports preset format for a number of Android OS versions. To get the conversion done, you simply need to add the desired videos to the interface and select the Android version. The files get converted to a compatible format without compromising on the original file quality. An array of other high-end features are also supported by the tool like batch conversion, built-in editor for customization, fast conversion speed, video compression, and others. The Windows and Mac version of the software is available for download on the software site.
Wondershare UniConverter (originally Wondershare Video Converter Ultimate) works as a total video converter for android as it allows converting all video formats to Android compatible files.
Video Converter for Android

quality rating:
You have to convert and download at least 1 file to rate!
We've already converted
xxx ,xxx ,xxx
files with a total size of
10,124
TB