Pitch Changer
Change the key of music without affecting the tempo. A pitch shifter is not just a corrective tool, which is what it started as.
Leave your email below and we'll let you know as soon as it's released.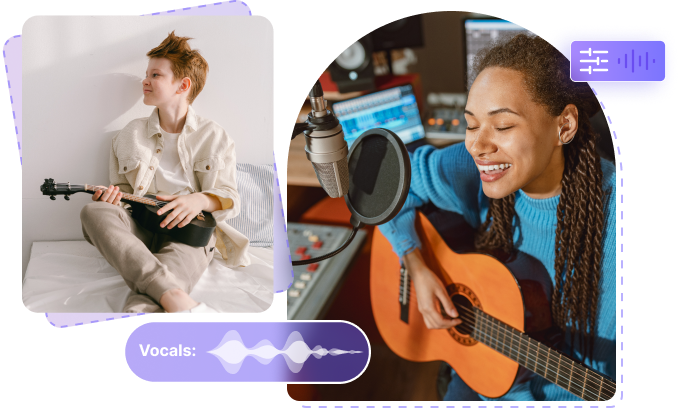 How to Change Pitch of a Song
1. Upload audio file
Click the Upload button
to add your audio file.
2. Select the Pitch You Want
Meadia.io Al tech will automatically change
the pitch of a song without changing its speed.
3. Download file
You will get a new music piece
with different pitch.
Every Music Lover Needs a Pitch Shifter
Every music producer needs an excellent pitch shifter tool in their arsenal.
Both for corrective measures and creative expression.



For Singer
"I pitched down Taylor Swift's song one octave, then pitched it up four semitones so that I can sing along with it."
For Guitarist
My bassist couldn't be on the show, so I recorded the part where I played the guitar and pitched it down an octave as the bass guitar."
For music producer
"This pitch shifter is a wonderful harmonizer."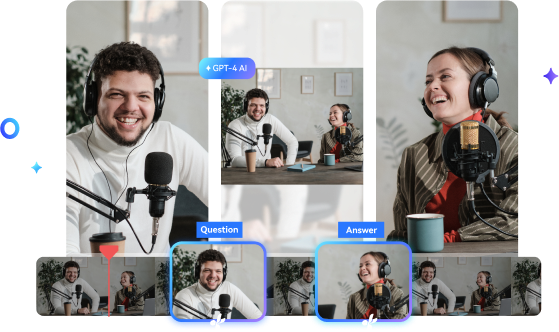 Transform Long Videos into Short Ones Instantly
√ Turn long videos into viral clips. Effortlessly transform lengthy videos into engaging, shareable clips.

√ Edit Video Seamlessly Like As Editing Text

√ AI Voice Cloner Ends Reshoots
Why Choose Media.io Audio Pitch Changer?
Browser Based
A web-based online tool helps you easily change the pitch of a song fast. No need to download Adobe Audition or Logic Pro.
100% Accuracy
Media.io pitch shifter can change the music pitch accurately without hassle.
Powerful AI Tech
Powered by AI technology, there is no need to adjust the pitch of a track manually. Only several clicks can change the pitch of a whole song.
Data Safe and Privacy Guarantee
No ads, no spam. Media.io always guarantees users' data is safe and private.
Pitch Changer at Everywhere with Endless Possibilities
Have you wondered how the cellist smoothly transposes from a major to a minor key? Technically, whether you just started composing, practicing the bassoon, or singing karaoke for fun, you need a pitch changer to help you improve your music skills.
Music Producer's Must-Have Tool for Creative Expression
Have you ever tried to produce music or compose songs? If the answer is yes, you must know how important the hook of a song is. Some artists get the creative song hooks accidently by using the pitch shifter for fun, which turns out to be a killer hook. Besides, some famous music producers use the pitch changer to make the demos for singers and this type of pitch shifter is also called harmonizer.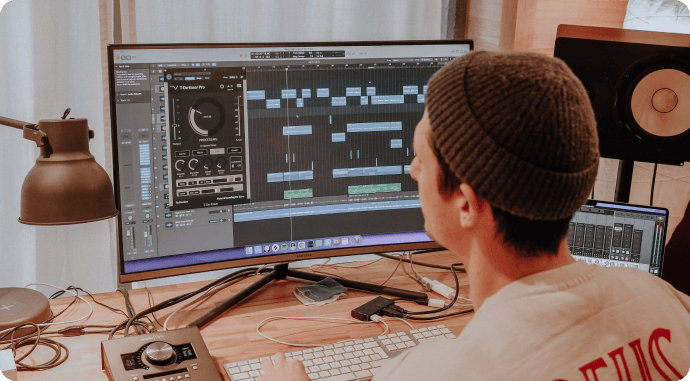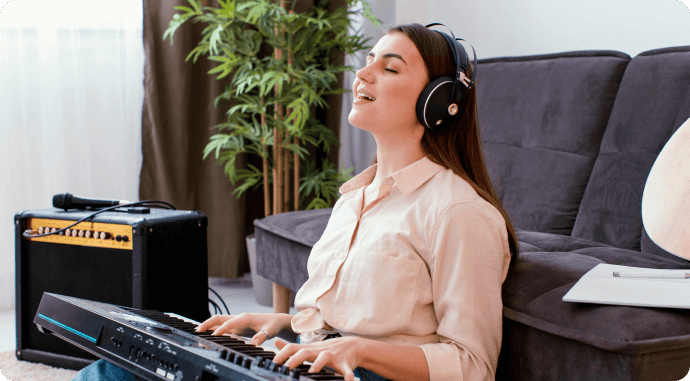 Corrective Tool to Practice Instruments and Singing
Are you crazy about Ariana Grande's songs? Are you struggling with the mixed voice between the head voice and the chest voice so that you're shy away from singing "Dangerous Woman" in front of your friends? Use Media.io pitch changer to pitch down Ari's song in five semitones. A pitch changer is a corrective tool helping you improve your note accuracy and play the violin in tune even if the tempo is super fast.
Enjoy Music and Have Fun
Whether your preference is serious music or you play music for fun, a pitch changer will satisfy your need to recreate the piece. For example, change the key of a song to fit your voice and add your lyrics to prank the audience. Or, use a pitch changer and other music production tools to make a retro techno-pop remix from the classical symphony. Every music lover will get inspiration.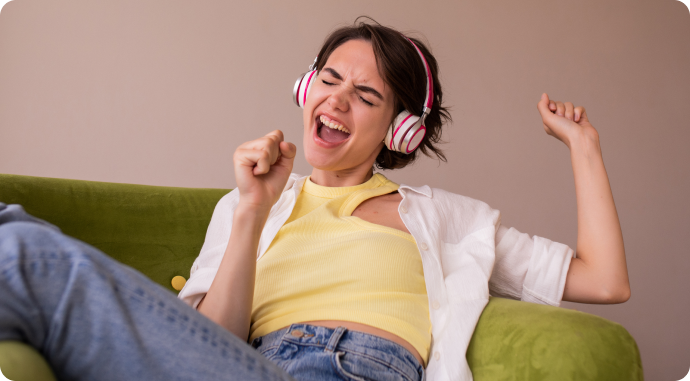 Not Just an Online Pitch Changer
With Media.io, you can not only change the pitch of a song, but also remove vocals from your favorite song, find
the bpm of a song, visualize your music, etc. Your music journey just started here...
FAQs of Pitch Changer Online
What does change pitch mean?

Changing a pitch means altering an audio signal's rise and fall by a predetermined interval. A pitch changer, for instance, will boost each note three diatonic intervals above the tones that are actually played. Simple pitch change is by one or two octaves, while more advanced instruments enable various interval changes.

Does changing pitch change the key?

The simple answer is YES. Pitch is a reference point to how high or low a sound is, which is the key. The key increases when you raise the pitch. The speed of sampling also gets altered by this (tempo). Time stretch is needed if you want to slow down or speed up a song while maintaining the key.

How do you convert low pitch to high pitch?

You may now change the voice in your recording to a high-pitched voice with the vocalrecorder.org pitch changer website.

Here is a three-step guide.

Step 1: Uploading your audio file on vocalrecorder.org

Step 2: Remove the extra Audio, then configure the high-pitch voice converter. You can now listen to the output and make the changes as needed.

Step 3: Download and save the finished audio product.

How do you change the pitch without changing speed?

If you want to change the pitch without altering the tempo, follow these simple steps:

Step 1: Select "Pitcher" from the menu.

Step 2: You can upload audio files to vocalrecorder.org online by clicking the "Browse my file." Everything is browser-based and online.

Step 3: After selecting the tempo, you want to modify, you must now wait for our AI technology to finish the remaining job.

Step 4: Save the modified audio file and download it to your local drive or Dropbox.

Why is pitch shifting a particularly valuable tool for sound designers?

Given its relatively straightforward settings, pitch shifting could be used for a wide range of sounds, from tuned, textural delays that could turn any sound into little or big clouds of diffuse ambiance to chorus-like thickening effects on vocals and drums.

How do you make a song higher?

Follow these simple steps guide to make a song higher.

Step 1: First, visit the menu on the interface and select "Pitcher."

Step 2: Upload audio files to vocalrecorder.org online by clicking the "Browse my file" or using the drag and drop option.

Step 3: Now, choose any of the voice effects you want in the edited song. Now, wait patiently as our AI technology finishes the remaining job.

Step 4: Finally, save and download the edited pitch to your local drive or Dropbox.

Can I change the pitch on YouTube?

Yes, you can. However, the YouTube playback speed feature that can change the pitch of a song also impacts the speed.

Can you change the pitch on Spotify?

Spotify has no features that support changing the pitch of the music you listen to on Spotify, but you can find the tempo (BPM) of any song on Spotify.

Does changing the pitch of a song avoid copyright?

No. Although it might be a derivative work, you need the copyright owner's consent. If, however, by "alter the pitch," you merely mean to sing it in a new key that better matches your voice, it means simply creating a cover song version.

What app can I use to change the pitch of a video?

Here are some apps you can use to change the pitch of a video;

SpeedPitch

SpeedPitch is a simple app with many features and fantastic, expert audio editing tools. Start by selecting a song from your music collection.

TimePitch

TimePitch is an app that makes editing the speed and pitch of audio files simple, allowing you to create and share music easily.

Audio Speed Changer Lite

An easy-to-use tool called Audio Speed Changer Lite lets you mark the musical passage you want to perform and quickly change the pitch and tempo with ease.

Audipo

If you want to modify the sound of your audio files, try Audipo. Thanks to the real-time tempo and pitch changer, you can alter the pace and key of the audio playback while listening to it.

Anytune

With Anytune, changing the pitch is a simple process. It is a seamless transition that makes it simple for you to practice, write down, play, and perform. Musicians, dancers, and singers can modify the audio pitch and choose the ideal one with the help of the Anytune app.
I love this app so much! It's a truly amazing app. I use the vocal remover to take vocals out of songs with acapella, and on my first trial, it was so successful.
Emily Whitehead
With this app I can easily remove vocals from any songs on my playlist because I love karaoke a lot.
CrazyCindy
I really like how media.io organizes and keeps track of each song's pitch. I use it to practice my violin because I can follow along at various pitches.
Lydia G.
Yay!! My love for slow songs has been satisfied with the help of Media.io. I've changed the tempo of most of my favorite songs with the help of this amazing program.
Naomi Forbes
What!! This is simply what I was looking for. Aside from the option of being a patreon, this program is superb
Sandeep
Not just a pitch changer...
Edit Audio Online
in minutes.
A versatile audio editor helping you cut and merge audios smoothly, change your voice online free, reduce noise from audio without hassle.