How to Find BPM of a Song

1. Upload Audio File
Click the "Upload" button to add your audio files easily.

2. Wait for Analysis
Meadia.io Al tech will automatically analyze the bpm of your audio track in only a couple of seconds.

3. Receive Results
After completion, you'll see the precise bpm of your song.
Every Music Lover Needs BPM Counter
Whether you are a versatile DJ, energetic drummer, sentimental guitarist, composition freshman, or passionate dancer, a BPM finder is one of the essential tools you must have.





For DJs
"I am a DJ, I need to check BPM to build sets..."
For Drummers
"I play the drums in an indie rock band and practice to a metronome."
For Composition Students
"I just started composing pop songs...need to set the tempo for my song.."
For dancers
"I'm a dance instructor using this site to organize music by BPM"
For Gaming YouTubers
"I use it to make my own video game music"
Why Choose Media.io BPM Calculator?

Browser Based
A web-based online tool helps you find the bpm of a song quickly. No need to download Cubase or Logic Pro.

100% Accuracy
Media.io bpm detector can find the bpm of any audio track accurately.

Powerful AI Tech
Powered by AI technology, it's much easier and faster to detect the tempo of a song.

Data Safe and Privacy Guarantee
No ads, no spam. Media.io always guarantees users' data is safe and private.
BPM Detector at Everywhere with Endless Possibilities
Have you wondered how come the drummers play so well whatever music piece you give them? Technically, whether you are a keyboardist, a dancer, or an aspiring songwriter, you need a bpm finder to help you improve your music skills.
Tempo Finder: Musician's Must-Have Tool
Tempo is as important as the melody and key in a music sheet, and BPM is the best way to describe how this song is fast (allegro) or slow (adagio). Actually, a tempo finder is one of the must-have tools for musicians when they have just started learning music. Whether playing the piano for a more stunning performance or improvising a cadenza movement, a bpm finder will always help them.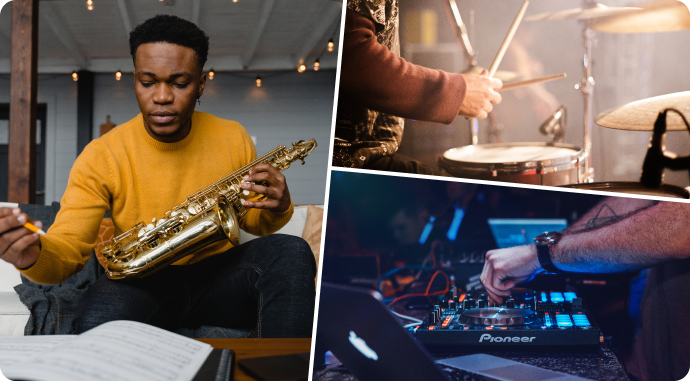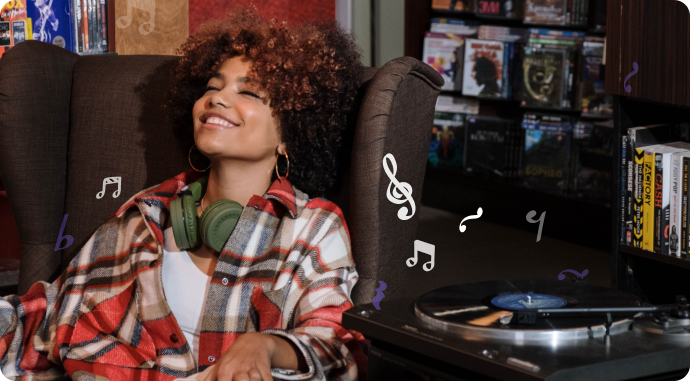 Test Your Internal Hearing and Have Fun
Forget the drum for a moment - the human mind is an unbelievably powerful instrument. You can imagine melody, tempo, and other music elements before seeing the sheet. That's why the "Inner Ear" is an essential skill for a musician, which plays a vital role in improvisation and songwriting. Whether your inner ear can anticipate the tempo of a song accurately or not, use the bpm finder to get the result.
Find BPM of Song on YouTube, Spotify and More
Want to find the tempo of a song on YouTube, Spotify, TikTok, Apple music, or other music platforms? Don't hesitate to use Media.io bpm detector. All you have to do is download the song and wait for the AI technology to analyze the result for you. It's super easy to use and precise.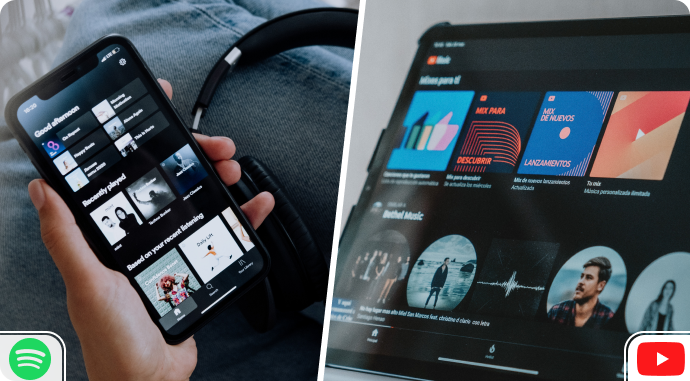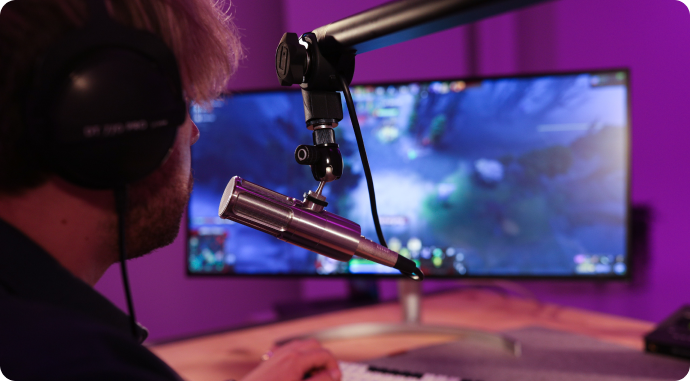 Make Stunning Videos by Cutting to the Beat of the Background Music
Adding background music to a video is not as easy as you thought. You can't ignore the beat of your background music, which is very important to match every move of your video. Hence, use a bpm finder to help you choose the right beat, then cut the beat to the background music and impress your audience without hassle.
Not Just a BPM Checker
With Media.io, you can not only find the BPM of a song, but also remove vocals from your favorite song, change the pitch of a song, visualize your music, etc. Your music journey just started here...
FAQs of BPM Finder
Is BPM the same as tempo?
The tempo of a part of music refers to its playing speed. Tempo is the term used to describe the number of beats that make up a minute of music. Yes, so beats per minute or BPM measures the tempo of the music.
What are the five types of tempos?
Though there are more tempo types, these are the five common types.
Largo (40–60 bpm)
Larghetto (60–66 bpm)
Adagio (66–76 bpm)
Andante (76–108 bpm)
Moderato (108–120 bpm)
Why is BPM important in music?
Every aspect of music, including the lyrics, composition, tune, melody, and tempo, is significant. The entire piece of music loses its soul if anything is changed. Thus, the success of music depends on how effectively each element is balanced.
The tempo dramatically influences the overall mood of the music. Depending on the rhythm that the music is set in, we play music to suit our mood.
The atmosphere a song will set in a video or any project that uses music to elicit a particular emotion in the audience is typically correlated with the song's tempo.
Pieces with higher BPMs tend to be faster, which is ideal for scenes that need to move rapidly or intensely or are happy or thrilling.
On the other hand, a slower BPM indicates that the music is slower, which is appropriate for sorrowful, tragic, or romantic moments.
Different tempos that fall into particular ranges help figure out the BPM and the type of music that will work best for your project.
How do I find my BPM Online?
You can easily find BPM online via Media.io. Here are the simple steps to find BPM online:
Step 1: Launch the app and go to "Key BPM Finger"
Step 2: Add audio files. To upload your song, click the "Browse my files" option.
Step 3: Once the audio successfully uploads, our AI program will automatically find the BPM of the music within a short period.
Additional advice: There are more valuable tools in the new Media.io, including audio cutters, joiners, recorders, and karaoke.
Is there an app that detects BPM?
There are simple-to-use apps that can help detect BPM and here are a few:
A vital voice removal tool is the Media.io Online Vocal Remover. Its AI technology rapidly removes vocals from any audio of your choosing. Most music enthusiasts will find it a significant bonus because it enables you to remove songs from up to 10 audio recordings with a maximum file size of 100MB.
You can convert audio files to MP3 using the online converter and other well-liked formats like MP2, FLAC, WAV, M4A, OGG, M4R (for iPhone ringtones), and AMR. It functions flawlessly on all mobile devices, but iPhones in particular. You can paste the copied URL of the file's website into this one to upload files from your device storage, Dropbox, Google Drive, or URL.
The online version of Vocal Remover Pro is perfect for you if you're seeking a quick method of removing vocals from a YouTube video without having to download software to your device. This free tool lets you quickly and easily extract the voice from YouTube videos. You can submit audio files up to 100 MB or 9 minutes in length.
Another online vocal remover is MazMazika, which allows you to insert the link to the music whose vocals you wish to remove and submit MP3 audio files. On MazMazika, file processing, and vocal reduction take one to three minutes. After that, a zip file containing the edited audio file is stored.
Vocal Remover and Isolation
You can also use the free online application Vocal Remover and Isolation to remove the voice from the music you want to download to your music gallery. It accomplishes this by employing proper AI techniques. Because it uses powerful AI algorithms to eliminate the voices from the song you publish on the website, it qualifies as a karaoke creator.
How can I find the BPM of a song?
Step 1: Launch the app and go to "Key BPM Finger"
Step 2: Add audio files. To upload your song, tap the "Browse my files" option.
Step 3: Click on "Tap tempo" By pressing the space key to the rhythm or beat, you can use the tap tempo tool to compute the tempo in beats per minute.
Step 4: After the software upload the audio file successfully, it will take a few more minutes for our AI program to find the BPM of the music automatically.
Can you mix songs with different BPM?
Absolutely yes!! Even if changing the tempo is unusual, there is nothing improper or incorrect about doing so. If done well, it will give your song a unique feel.
Can you check BPM on Spotify?
Yes, you can check BPM on Spotify. To find any song's tempo (BPM) on Spotify, follow the methods listed below.
Launch Soundplate's Song Analyzer tool.
Enter the track's URL and select "Analyze."
Limited Time Offer From KwiCut - Register For Exclusive Perks
√ Unlimited AI Transcribe, Clone, Overdub, and Voice Enhancement

√ Unlimited GPT-4.0 Accessibility to Create Talking Head Videos

√ Unlimited Cloud Storage and Export Without Watermark


Best Vocal Remover. UI is fantastic. Excellent instrumental quality and quick processing.
Loretta Clarkson
Start-up Influencer

This is the best vocal remover I've ever used. Helped me easily get the karaoke.
Timothy K.
Amateur Singer

This is my first time with this app and I don't regret ever trying it out. Would definitely become a patreon to enjoy full features.

Best choice ever!. The song selection and musical instruments on this site are both incredible. I love to sing karaoke here and nowhere else in my spare time. The sound quality is excellent, which is crucial for those who enjoy music and want to hone their singing and vocal abilities.

Not just a BPM finder...
Edit Audio Online
in minutes.
A versatile audio editor helping you cut and merge audios smoothly, change your voice online free, reduce noise from audio without hassle.