Online Color Matching
Match colors in different images online automatically for free. Use the sample photo filters or upload your target filter to get started.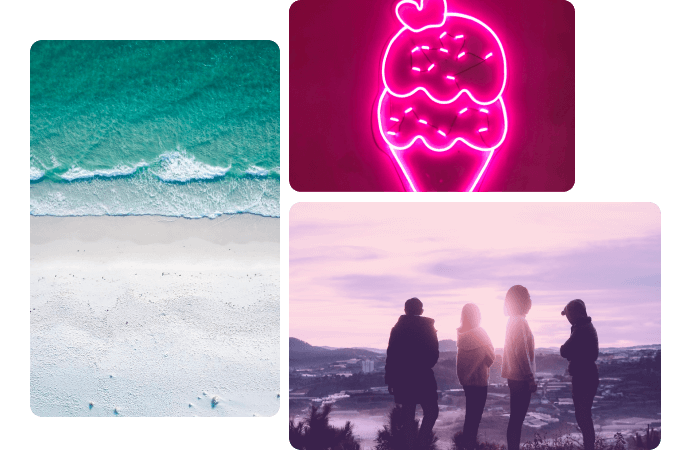 Image Color Matching Online
Do you want to color-match images without worrying about paying over the top for an image editor? Then, you're in the right place! For those who don't know, color matching is about transferring colors from one image to another. This technology will come in handy if you want multiple photos to have a matching style. Color matching can also be important in compositing images into the background.
But if you don't do it correctly, color matching can produce the wrong results, especially with RGB color systems that mix blue, green, and red. In short, the process can be labor-intensive and overwhelming for a beginner. But thankfully, you can match color online for images quickly and easily using the free Photo Filter from Wondershare AI Lab. It's a simple yet powerful online auto color tool empowered with AI technology purpose-built for this task.
How to Match Colors for Photos Online?
Step 1: Upload the Target Photo

Launch the

free Photo Filter tool

on your browser (take Chrome as an example). Then, click the Local file button to import the photo on which you want to perform color matching from your local device.

Step 2: Choose the Reference Photo

After uploading the target photo successfully, choose to match the color with the inbuilt image templates under the Style panel or click the Plus icon to add a reference photo.

Step 3: Preview and Download the Image

Now click Start to Process to transfer and mix the color filters. If the photo effect looks satisfactory, click the Download button to save the new photo. Or you can choose another reference image and match the colors. That's it!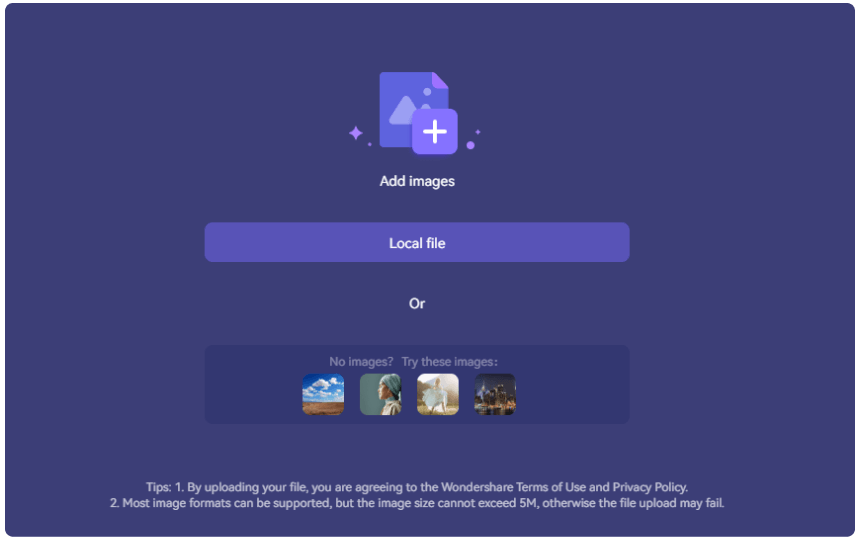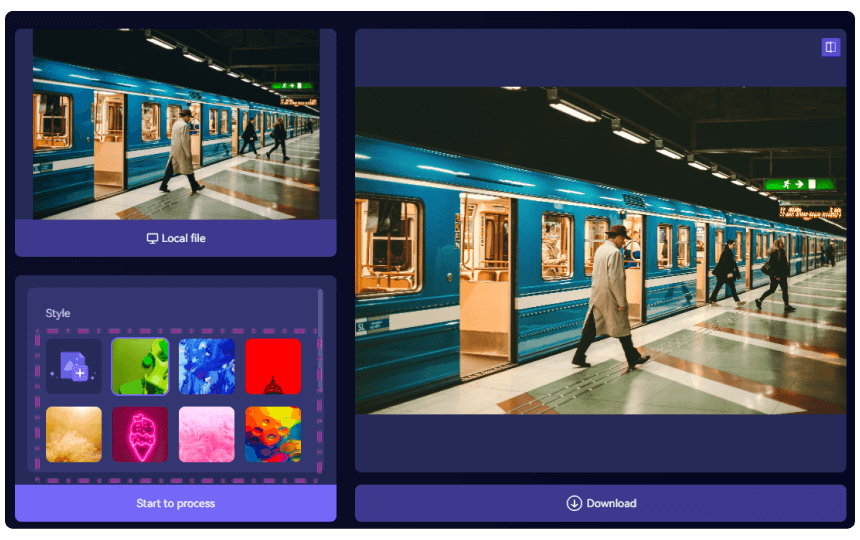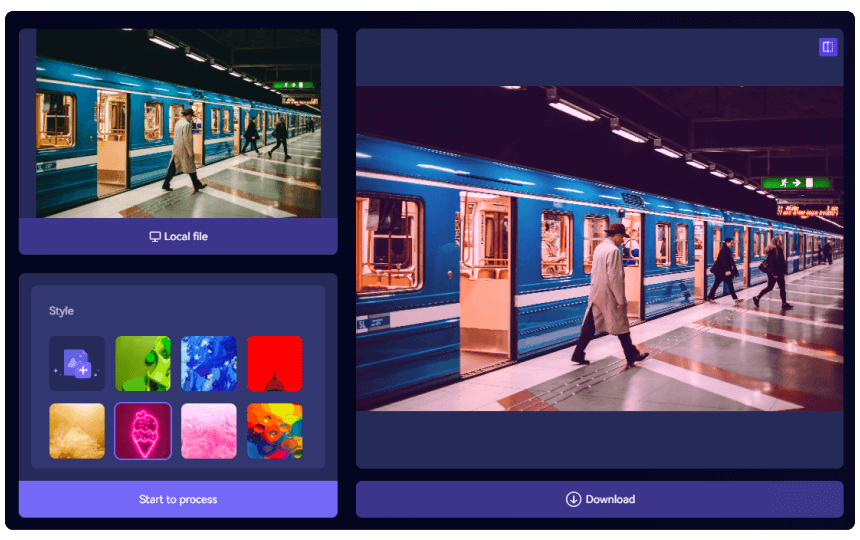 Why Choose Photo Filter Online Color Matching Tool
Powered by AI technology
It uses advanced AI technology to match image colors quickly and easily. In addition, the AI system will recognize the colors to match with zero errors.
Match Color Easily
Just upload the target photo, pick a reference photo, then Photo Filter will do the heavy lifting. The color-matching process has been made easy and quick.
Free & No Ads
No need to pay a dime to use this online color-matching tool. It doesn't feature any hidden charges, subscriptions, or pesky adverts. Just an honest free color-matching service!
Why Match Color for Images?
Make images with a similar style: Sometimes, you might want to add different photos with similar styles on your blog or social media page. In that case, use color matching to give your images a similar style and feel. This can also help your customers identify easily with your brand. Composite photos natural: Another relatively apparent reason to color match is to make a photo from a different scene look like part of another photo. This technique is helpful if you want to blend an object in a new photo background, which usually happens after removing the background from an image.
Matching Color Tips for Better Composition
Tip #1: Use collision colors

Using colliding colors can help you emphasize the main body of the photos. For instance, light colors like smoke and clouds can blend nicely with dark colors like rocks, mountains, and forests. Note, however, that the contrast is most visible with high saturation.

Tip #2: Use colors to emphasize patterns

It can be challenging to avoid monotony when geometric objects are repeated. That's why it's advisable to use heavily colored shapes to attract attention. But, unfortunately, these shapes dominate the picture, leaving the matching colors to do their thing.

Tip #3: Use colors to emphasize emotions

Some colors, such as black or dark grey, can make the picture look depressing and mysterious. On the other hand, colors like blue and white can make the image look calm and serene. You can use more red in joyful and passionate photos.
FAQs About Color Matching
In this situation, color matching means transferring color filters from one image to another, making numerous photos of different scenes look similar. For example, you might want to blend a tiger in a thick, dark forest background. You can make the segmented tiger have the same color system as the background, so the image compositing will be more natural.

What are the three matching colors?

There are three color combinations that excellently blend together. You can combine blue, yellow, and red, or orange, purple, and green. Gold, teal, and magenta also work great together.

Can I match the color of an image online without PhotoShop?

The simple answer is yes. Adobe PhotoShop is usually the standard image editor for professional photographers. But if you can't pay the $20/month or don't have the requisite knowledge to use the program, we recommend using the free Photo Filter tool from Wondershare AI Lab. It's a simple photo filter online that will match your image colors with a single click. Just load the target and reference images to transfer the pigments.

Can I match the color of the videos with the Photo Filter?

Unfortunately, you cannot color-match videos with this free online Photo Filter tool at the time of writing. Therefore, consider using professional desktop programs like Filmora 12 video editor, which provides the Color Match feature for videos.

How to match the color from the photo with the Photo Filter tool?

Matching colors from photos is super simple with this free online color matcher. Step 1: Launch the online Photo Filter tool on your browser. Step 2: Then, upload the target image and choose the reference photo. Step 3: Click the Start to Process to transfer the color from the reference photo to the target image. It's that easy!

Is it free to match the color from the photo with AI Lab Photo Filter tool?

Yes, it's free to match the color between images online with the Photo Filter. You don't need to register anywhere to match colors and download pictures. Just upload your photos on the Photo Filter tool and get going. And the best part is there will be no watermark on the color-matched photos.





I rarely leave a comment for programs I use, but this Photo Filter tool is an exception. This online photo filter app is straightforward, and the results are excellent. It's perfect if you want to get started with matching photo colors.
Derick





This program saves me lots of time when I want to transfer colors between photos. I no longer have to tinker with filters all day and play with backgrounds to refine my photography work. It's cool!
Marry





If you're looking for something more advanced, this may not be perfect. But for beginners looking to start with color matching and mixing, I 100% recommend the Photo Filter tool from AI Lab. The output is simply excellent!
Rajesh
Free Online Color Matching
Matches colors between multiple images, easily and online.