Photo Collage
Video Maker
Create an animated collage video from photos and images.
Fast, flexible, free, and fun.
Create Photo Collage Video to Amplify Your Power
Video collage is the talk of the internet as it looks impressive and helps capture the beholder's attention. Everyone wants to amaze people by putting up some content on their social media platforms that are out of the box. So, a perfect video collage of images would do magic. If you wonder how to turn photos to collage videos, Media.io is one of the best options online.
The free online video editor from Media.io allows you to place images side by side on the same canvas within a few drag-n-drops. In addition, a royalty-free music library provides music tracks and sound effects in different genres, making adding background music to the photo collage video without any concerns.
How to Create a Collage Video from Photos Online?
Step 1. Upload Images and Photos

Visit the Media.io video editor and click on the Upload Media button to import images and audio files.
By default, the video aspect ratio will be 16:9.

Step 2: Personalize the Photo Collage Video

Crop and adjust the position of the images to display them side by side, drag the edge of the image to adjust the length, add background music, and animated texts and transitions to make everything looks great on the canvas.

Step 3: Download and Share

Once you are done editing, click the Export button to process the photo collage video. Finally, download the video in MP4 format or save it to Dropbox or Google Drive for free.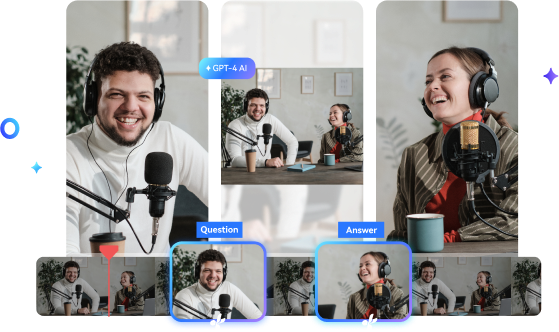 Transform Long Videos into Short Ones Instantly
√ Turn long videos into viral clips. Effortlessly transform lengthy videos into engaging, shareable clips.

√ Edit Video Seamlessly Like As Editing Text

√ AI Voice Cloner Ends Reshoots
Why Use Media.io Video Editor to Turn Photos into a Collage Video?
Intuitive Interface
The simple and easy-to-understand interface makes it simple to make a collage video from photos with background music of your choice.
Free & No Watermark
You can save the photo collage video up to 1080p in MP4 format for free without a watermark left, which means you don't need to pay a penny.
All-Purpose Video Editor
You can place the photos and videos in any position on the canvas, adjust its size, crop, rotate, and flip it to fit the requirements easily.
Royalty-Free Music Library
You can add background music tracks or sound effects for different scenarios to the photo collage video without copyright issues.
Animated Texts and Element Templates
Take advantage of the Texts and Element templates and the auto-subtitle tool to stylish your photo collage video.
Runs on Any OS Platforms
This collage video maker is powered online and functional on OS platforms, including Windows, macOS, Linux and Chromebook.
Perks of Creating Photo Collage Videos
Deliver More Visual Messages in a Single Frame
If you have ever given a shot to photo editing, then you might have also tried creating a photo collage to bring different pictures into the same frame. That works the same in the photo collage video, which will help you to deliver more visual information to the audience and engage them better. Photo collage video is the right pick because sometimes all you need is more than a picture to deliver your message rightly.
Grab Audience's Attention
The audience now wants something new and exceptional to engage. So, give them a new way of engagement with this exceptional photo video collage idea. Add a combination of both images and videos to your social media to engage a wider audience range since a photo collage is getting old. With photo video collages, you can deliver all the information without taking much time.
Add a Personalized Touch
Photo video collages are custom-made with a personal touch. You can pick from the ample choice of images, videos, stickers and elements to make sure your video is as per your brand and speak its voice. Having a personalized video will give you a competitive edge, and you will have better customer retention.
Showcase More Products at Once
The basic fundamental of photo video collage is that it helps you show more than one clip at once. So, why not take the leverage of this feature and showcase more than one product at once. Use the Media.io photo collage video maker tool to create a collage video that has all the necessary information.
FAQs Related to Making Photo Collage Videose
1. How can you make a video collage with pictures?

Making a collage video from photos with music is easy in the Media.io video editor.
Step 1: Import all the image files from your local file or from the Google Drive or Dropbox sites, and place them in different tracks in the timeline.
Step 2: Adjust the photo in the collage video, and add texts or elements to make it more attractive.
Step 3: Download the collage video and share it wherever you want.

2. How many photos can I upload to the Media.io video editor to make a photo collage video?

There is no specific limit to the photos that you can upload to Media.io for making a photo collage video, and you can upload as many as photos to create a collage video.

3. Will there be a watermark on the photo collage video in Media.io?

No, the photo collage video made with Media.io does not come with a watermark, and you can save the video up to 1080p HD quality.

4. Can I add music to my photo video collage?

Yes, you can add music to your photo collage video with the Media.io video editor. It comes with a Music library that provides royalty-free music tracks and sound effects, so you can add music of your choice to video. You can also upload your own music tracks to the Media.io video editor.

5. Can you create a photo collage video on iMovie?

Yes, you can. After placing the photos in different video tracks in the timeline panel, go to the Overlay settings and then select the Side by Side option to display the photo collage on one video screen.
I wanted to make my boring videos engaging and add something out of the box. This was when I came over with the idea of adding photos to make a collage video and displaying a better brand voice. This tool has helped me to create such videos at ease without any extra charge.
Haley

One of my close friends suggested I use this tool by Media.io as he had a great personal experience. At first, I did not trust that one tool could be so good. But after using it for some time, I realized it was the best ever photo video collage creating tool on any OS.
Mikael

This photo video collage maker by Media.io has been a great help in creating videos of different pictures to engage the audience. Another good thing is that it is absolutely free and allows you to add stickers or text to videos. It is a must to use tool for everyone.
Dahlia

Edit, Convert and Compress Videos
in Minutes.
Make video editing easy like never before!