Interview Transcription
Transcribe audio and video interview recordings to texts automatically. Accurate, efficient, and confidential.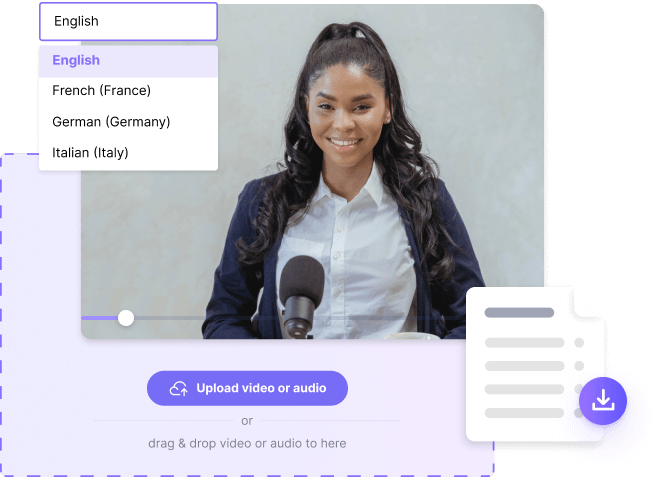 Transcribe Interview to Text Online Automatically
Any researcher understands that the only way to get new or difficult-to-find information is to interview the people who can provide it. But organizing long recordings of interviews can be very time-consuming, especially when locating a particular segment of an interview. The good news is that some transcription software allows you to convert audio and video interviews to texts automatically. The newly launched online Transcription app from the Media.io team is one of the best auto transcription tools. With clear sound quality, the transcription accuracy rate can reach 90%+. Moreover, new users can enjoy 30 minutes of free transcription service experience.
How to Transcribe Your Interview Audio and Video Files to Texts?
Transcribing interview recordings is essential to get the critical information in text instead of listening to long audio recordings. Here is how you can do that in the Media.io Transcription app.
Step 1: Upload Interview File

Launch Meidia.io Transcription app on your favorite browser, such as Chrome, and then click on Upload video or audio file to navigate to the audio or video interview you want to transcribe.

Step 2: Specify Language and Transcribe

Choose the language spoken in the interview after the file is loaded, and then click on the Transcribe Now button to begin the transcription process automatically.

Step 3: Download Transcribed Text

Click on the Download text button after the transcription is finished, and the transcripts file will be downloaded in TXT format to your local drive. Note: You can also edit the text file if you see any mistakes or translate it to the language that you desire to transcribe into.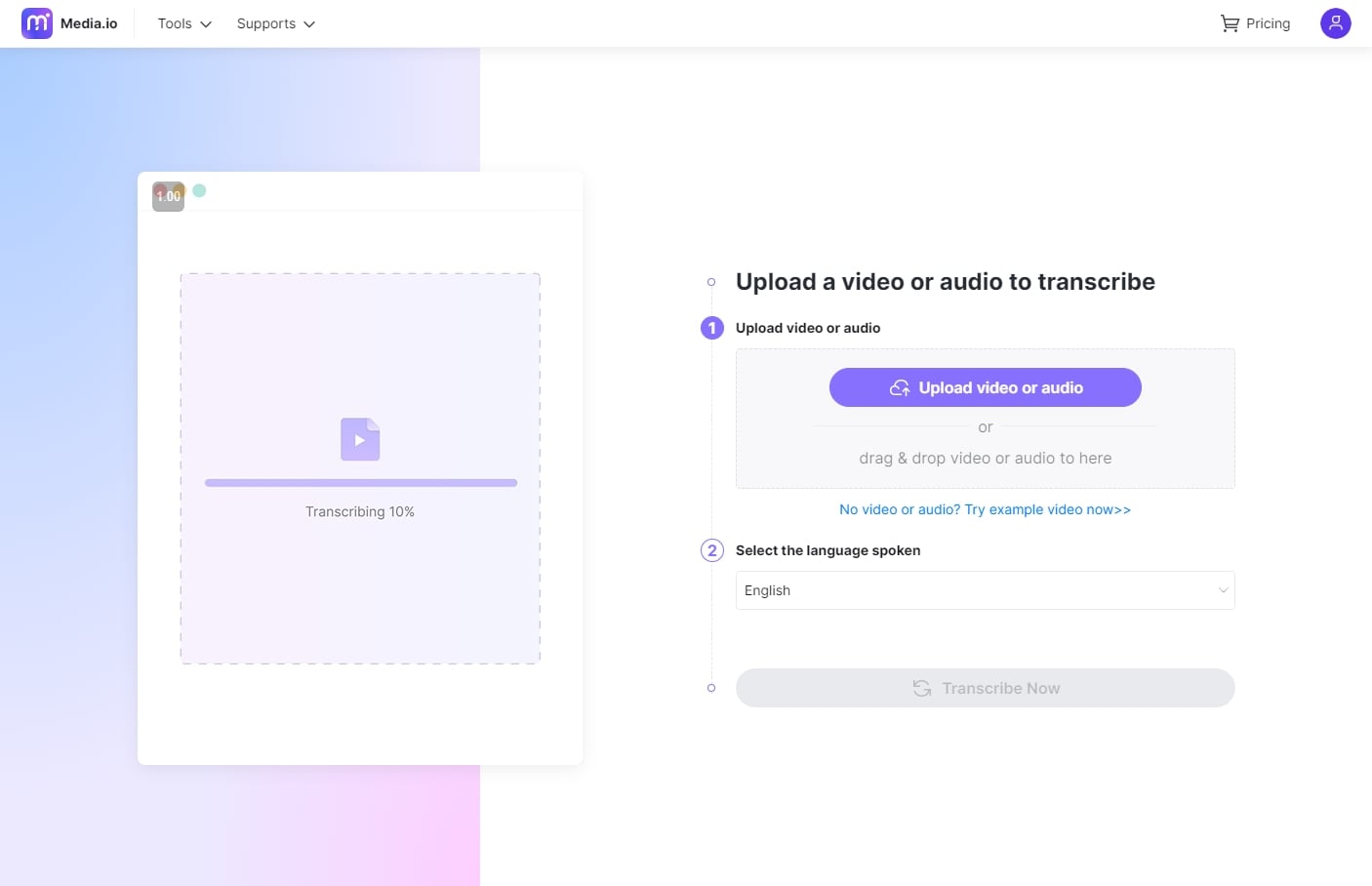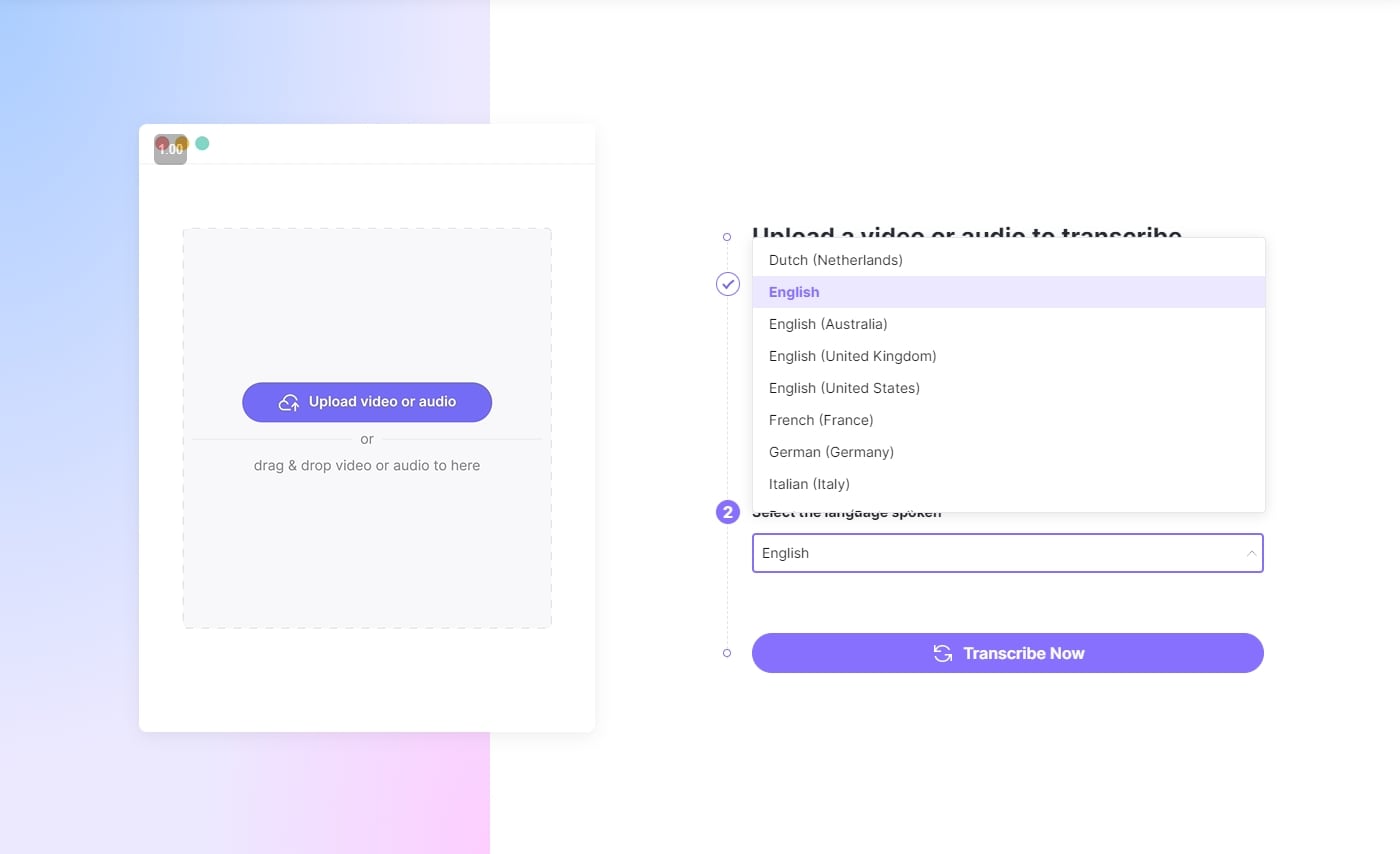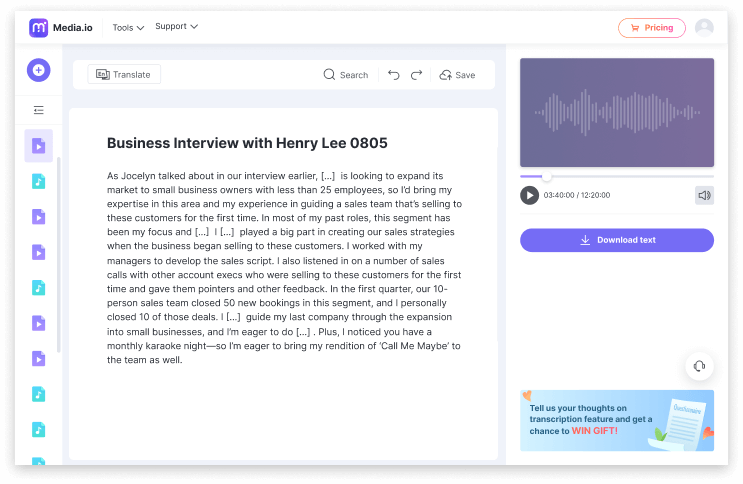 Limited Time Offer From KwiCut - Register For Exclusive Perks
√ Unlimited AI Transcribe, Clone, Overdub, and Voice Enhancement

√ Unlimited GPT-4.0 Accessibility to Create Talking Head Videos

√ Unlimited Cloud Storage and Export Without Watermark
Why Use Media.io Transcription to Transcribe Interview to Texts?
Transcribe in No Time
Media.io can automatically analyze the sound using voice recognition and rapidly create a transcription for the interview file.
Accurate and Precise
Media.io's AI technology maintains 90%+ accuracy in interview transcriptions and generates text files that are universally acknowledged.
Secure and Confidential
Media.io will never violate your privacy or reveal your important material. We use many levels of security to keep your transcriptions safe.
Affordable Transcription
You can transcribe the video or audio interview recordings for free for up to 30 minutes. Also, Media.io has affordable pricing, as lower as $2.00/hour, pay as you go.
Types to Interview You Can Transcribe with Media.io
Verbatim Transcription
When you transcribe anything verbatim, you must type down everything, including the filler words (uhms and aahs). This practice is also known as "literal transcription." It is often employed when doing qualitative research that requires the monitoring of human responses. Consider the case of psychological evaluations or market research, for instance— Media.io is an invaluable tool when transcribing a video or an audio recording generated in a particular legal situation.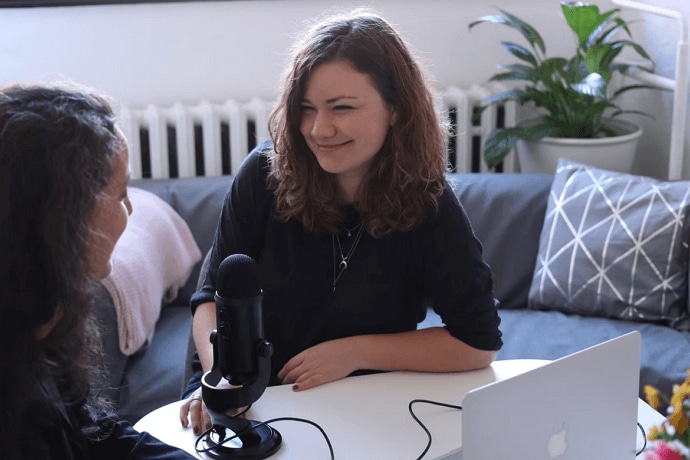 Clean Transcription
The spoken words are included in clean transcription, but unnecessary words, stutters, and repeats are removed. If a respondent's feelings and tone of voice do not play a significant role, you may benefit from using this strategy. The transcription that has been cleaned up (or modified) might be used for either an article in a newspaper or for your thesis. The majority of transcriptions are done using this method. The elimination of grammatical errors, slang, and unfinished phrases is part of the clean transcribing process. You can remove unnecessary words in the generated transcripts in Media.io Transcription easily, and the texts, audio, and video will be synced automatically.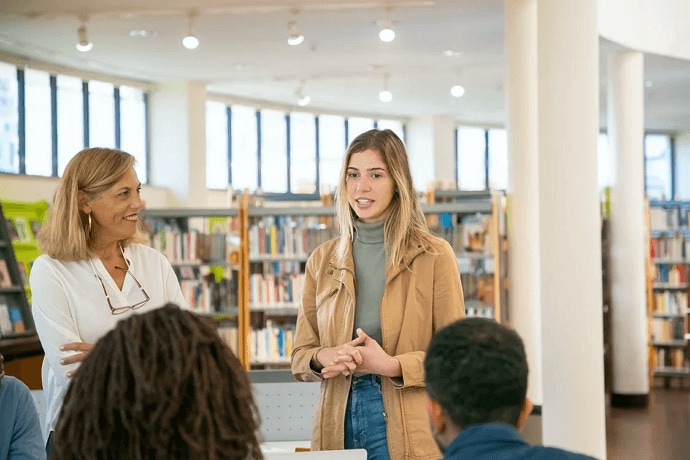 Summary Transcription
There is also something called summary transcription, a sort of transcription. A summary is the most significant reminder that the user is ultimately responsible for determining the transcription quality. This method of creating transcriptions of interviews is used rather seldom. A summary of the interview included in the transcription is often created during the editing process. This form is used for a variety of purposes, including the presentation of meetings.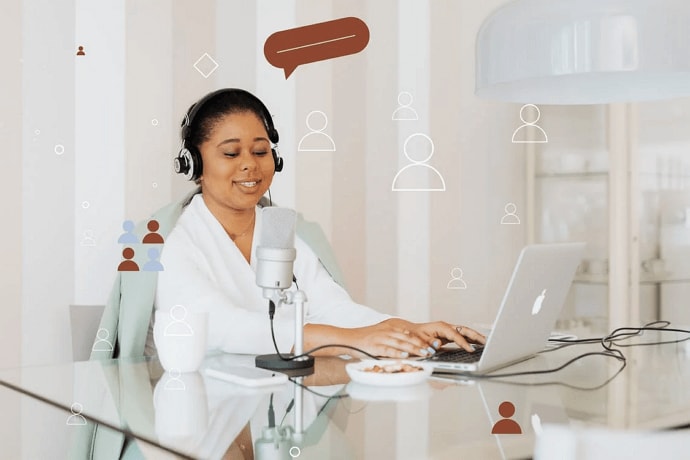 FAQs about Interview Transcription
What is the meaning of transcribing the interview?

Transcribing the interview means extracting the essential information from an audio or video recording by converting it into text.

Do I have to transcribe an interview?

To evaluate your interviews and include them in your study, you must transcribe them. Transcribing is a time-consuming manual task, so use Media.io's transcription tool to transcribe the interview automatically.

Can I transcribe the interview audio and video in Media.io Transcription app?

Yes, you can easily transcribe the audio and video interviews using the Media.io transcription tool. It is an easy-to-use transcription tool that provides 90%+ accurate results.

Can I edit the transcribed interview texts in Media.io?

Yes, you can edit the transcribed interview texts on Media.io. After editing the transcribed interview texts, you can download them to your computer. What's more, you can translate the edited texts into other languages, such as Spanish, Japanese, Portuguese and French.
The fact that you are not required to make any edits or write anything by hand makes Media.io's audio-to-text feature one of my absolute favorites. You must upload the file, and the tool will take care of the rest.
Kate

In our user research project, I have to interview 3 users each week. The Media.io Transcription app helps me a lot since I can use it to transcribe my interview recordings to text fast and accurately. It's my secret weapon to get some insights quickly.
Chelsea

I'm majoring in journalism, and this summer, I started doing street interviews for a business part-time. After the interviews are completed, I use the Transcription app on Media.io on my phone to convert all the recordings into text and then summarize them as a report.
Stella

Sometimes I need to share some interview summaries with my trainees. Some of them speak Chinese, some of them speak Japanese, and some of them speak Spanish. Media.io Transcription app fits my need perfectly since I can translate the interview into different languages for free.
Jordan

The Media.io Transcription is available on my iPhone, so I can transcribe every conversation with my clients on Whatsapp, which helps me a lot since I have to share the clues with my team in time.
Henry