Transcribe Podcast
to Text for Free
Transcribe podcast audio or video to texts for free online. Add subtitles and closed captions automatically.
👇🏻New Registers Enjoy a 7-Day Free Trial with Full Access!(Sept. 25th - Oct. 7th)
Automatic Podcast Transcription
Podcasts have become a terrific method for artists and businesses to dialogue with their audiences. Even though podcasts are mostly audio, more and more people prefer visuals to enhance their listening experience. Despite this, 80 percent of social networking videos are viewed with the audio turned down. And many of those social media videos did not have subtitles and captions! To boost the number of people who listen to your podcast, consider making subtitles available.
You can boost engagement when more people comprehend the information delivered in the podcast. Unfortunately, making transcripts of your podcast shows can be time-consuming and expensive. Luckily, Media.io is a dependable platform for video and audio transcribing. Closed captions and subtitles can be added to your podcast audio or video files using this tool, and your podcast's listeners and viewers will see them directly.
How to Generate Podcast Transcripts Automatically?
Transcribing a podcast is straightforward when using the free automated subtitle generator in the Media.io video editor. You will save time and simplify your job due to the AI speech recognition technology. To transcribe a podcast using the Auto-subtitle generator of Media.io, follow these steps:
Step 1: Upload the source podcast

Launch the Media.io Video Editor in your browser and click on "Upload Media" to import the source podcast.
You can also choose to use voice recordings, microphone input, or audio files to add as the source podcast.

Step 2: Automatically transcribe the podcast into text

Once the podcast upload is complete, our tool will initiate a quick automatic conversion process.
Once it's done, you will find the transcribed text displayed on the left side of the screen.

Step 3: Make adjustments

Preview the generated text and make desired modifications, such as correcting punctuation and brand names, by double-clicking on the text in the preview window.
You can also utilize the AI assistant to quickly transform the text into engaging posts for platforms like YouTube, Twitter, and Facebook!

Step 4: Download the text

Click on the export icon to download the automatically generated transcript in a text format to your device.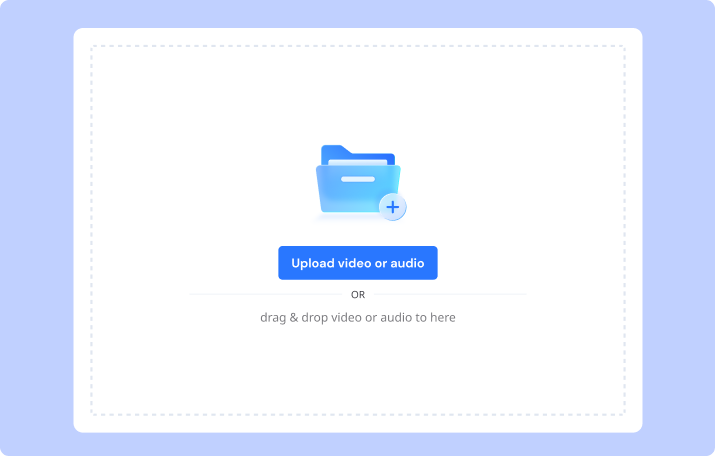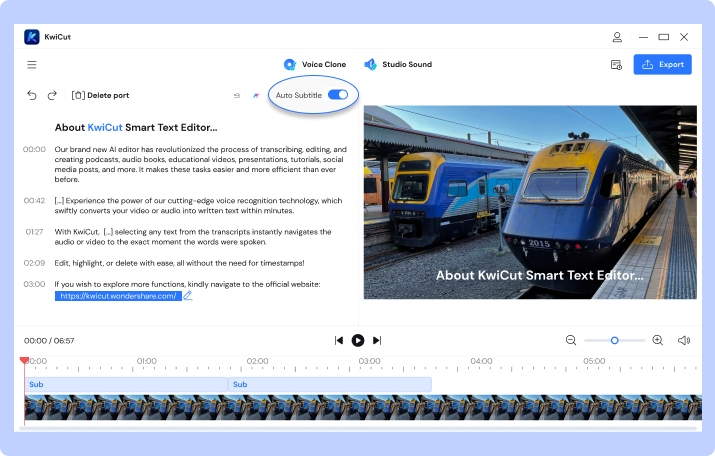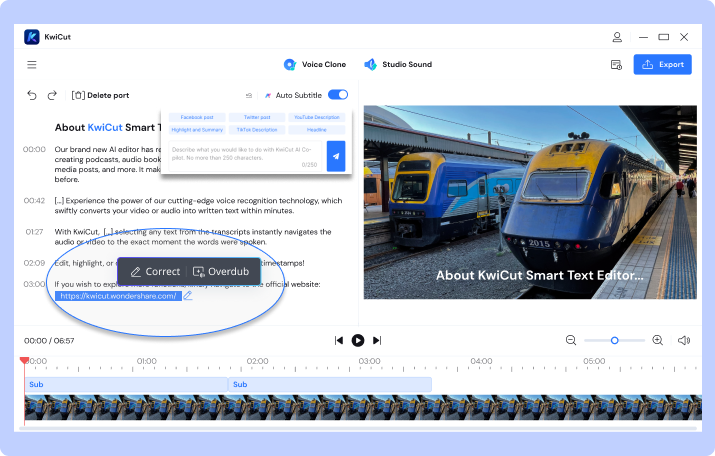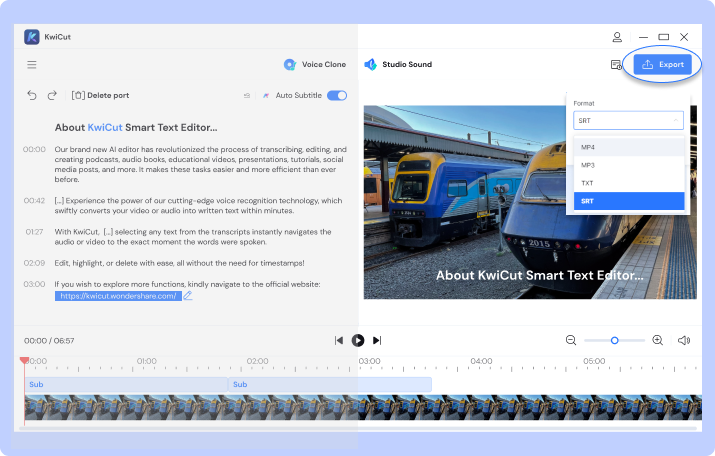 Why Use Media.io to Transcribe Podcasts?
Highly Accurate
This free auto subtitle generator uses powerful machine learning to identify audio and automatically insert subtitles. You won't even have to manually correct the subtitle tracks (for a clear voiceover).
Supports 89 Languages
Media.io Subtitle Generator online supports podcasting in 89 languages. You can choose from various languages such as English, German, Chinese, Indian, Spanish, etc.
Edit and Format Subtitles
After the automated video captioning is completed, you may alter the captions to make the words seem more appealing. For example, you may customize the fonts, color, size, border, opacity, layout, ect.
Easy Sharing
Provides aspect ratio presets such as 9:16, 16:9, 5:4, 4:5, 2:3 and 1:1 to create podcast videos for different social media platforms to share without any concerns.
Free & No Watermark
The transcribed subtitles will automatically be added to the podcast video, and the video can be exported for free up to 1080p resolution without a watermark.
Supports Multiple Formats
When using Media.io, you may quickly burn subtitles onto podcast video files. It supports various video file formats, including MP4, MOV, MTS, AVI, MKV and WebM.
Benefits of Transcribing a Podcast Episode
Expand Your Audiences
Transcripts make podcasts accessible to people who may not be able to hear, people who don't have direct access to reliable internet, or those who simply prefer reading. You share your podcasts with a diversity of languages and nationalities around the world.
Social Media Friendly
Any excellent podcast relies heavily on social media. You may instantly publish your podcast on all social media sites by creating transcripts or test samples of your material. Quotes, highlights, and interviews are simpler to distribute in text form, increasing the viral potential of your material.  
Keeps the Audience Engaged
Podcasts are perfect for working, exercising, driving, cleaning, and other on-the-go activities. However, if the user wants to sit and watch anything visual with their favorite topic, the presenter must keep the listener interested, which is challenging. Of course, numerous unique approaches haven't been utilized before, or if they have, they can be employed in a tailored manner.
FAQs Regarding Podcast Transcription
Transcription is the process of converting the podcast audio speech into a text word-for-word for your episodes. You can use automated software like Media.io Auto-Subtitle to transcribe the episode and write down every word.

Should you transcribe your podcast?

Yes, you should because subtitles attract people and omit the chance of language being the barrier in engaging the audience of different regions. Moreover, it allows the viewer to understand better what you're saying.

How do you get subtitles on a podcast?

To get subtitles on your podcast video, follow these steps:
Step 1: Open Media.io's video editor in your preferred browser and upload your podcast.
Step 2: Click on Subtitles and then Start with the auto subtitle option.
Step 3: Once the subtitles are generated, click on Export to save the video.
Media.io subtitle generator has made our life easier. With Media.io, I can easily add subtitles to my podcasts without any hustle.
William Carlos

Since I've started using the Media.io Subtitle Generator, my video reach has expanded. It has the best and the easiest user interface one can get.
Alvar Aalto

Media.io subtitle generator has really cut my work shot. I can add subtitles to my podcasts without wasting much time.
Naomi Mack

It is the easiest and THE BEST online tool to generate subtitles. I have saved a lot of time using its auto-subtitles in the past few weeks. Moreover, the aspect ratio it provides makes it easy for me to upload the podcasts directly to the social media platforms.
Tyne Howe

Adding subtitles to the podcasts was so hectic until I found this tool, and since then, it's a matter of seconds. Also, what makes me like this tool is that it does not leave any watermark.
Cyril Dean

Transcribe Podcast with Subtitles
Automatically & Accurately.
Besides generating and adding subtitles to podcasts, Media.io also provides many tools that allow you to record, edit, convert and compress without the hassle.