Music Visualizer
Create a reactive audio waveform visualizer online for free.
Display your music/sound with engaging visuals.
Don't worry you are a newbie!
Audio Visualizer Online
Do you want to edit and retouch your music files and podcasts with unreal precision? Get a music visualizer. An audio visualizer is basically a program that displays your soundtrack's tempo, loudness, rhythm, and frequency in an animated design. But what's the best sound visualizer? If you want something that works smoothly on desktops or mobile phones, use Media.io Music Visualizer. With this online software, you can easily create an audio waveform for YouTube, Facebook, Instagram, WhatsApp, Twitter, etc. It works with any audio formats, including WAV, MP3, FLAC, OGG, AU, M4A, M4R, and more. While adding an audio waveform, you can also apply a cover photo or wallpaper to make your audio more appealing and engaging. Also, you can perform basic edits like cutting, merging, compressing, removing vocals, etc. Plus, Media.io Music Visualizer is 100% free, and the output is watermark-free. Upload a sound file and try!
How to Make a Music Visualizer Online?
Step 1. Upload Your Music File.

Run Media.io Music Visualizer on a web browser and then tap Choose Files to load audio.

Step 2. Add Audio Spectrum and Select Desired Aspect Ratio

Do you want to create the video for YouTube, TikTok, Instagram, or any other social media channel? In that case, simply choose an aspect ratio for your destination platform. Next, tick "Add Sound Wave" for a beauty effect during playback.

Step 3. Edit, Export the Audio Visualizer File.

Tap Edit to generate your audio waveform. Before exporting, you can customize the audio spectrum further like the sound wave's position, size, opacity or adding text or elements. It's that easy!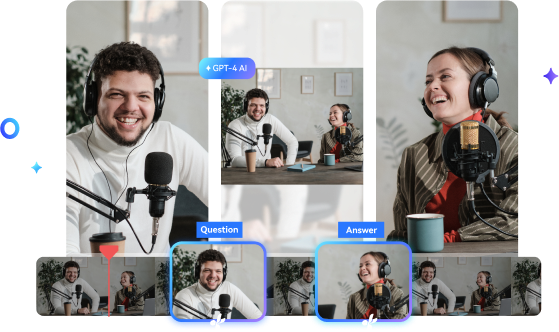 Transform Long Videos into Short Ones Instantly
√ Turn long videos into viral clips. Effortlessly transform lengthy videos into engaging, shareable clips.

√ Edit Video Seamlessly Like As Editing Text

√ AI Voice Cloner Ends Reshoots
Why Choose Media.io Free Online Music Visualizer?
Custom Background Image
With this online visual maker, you can add a music cover or wallpaper to make the audiovisual look more professional. You can add a local photo or choose one from the inbuilt stock photos.
Beautiful Audio Spectrum
When adding a vivid soundwave, this audio visual maker allows you to personalize the waveform's size, direction, and positioning.
Diverse Text Properities
With this audio visualizer, you can easily change an audio waveform into music lyrics. To do that, you can add texts with customized options like fade effects, unique colors, size, font type, etc.
Tons of Formats Accepted
Media.io Music Visualizer can transform any audio into video. It supports FLAC, MP3, OGG, AU, M4A, M4R, etc. You can also convert videos to audio using the Audio Converter tool and create a music visualizer.
Audio Waveform for Any Platform
With Media.io, you can create vertical, horizontal, or square music visualizer for TikTok, Pinterest, Instagram, Facebook, Twitter, and so on. Just choose an aspect ratio and edit.
Beyond Audio Visualizer
Media.io isn't your ordinary music visualizer online for free. That's because it lets you edit the created animated waveform by trimming, splitting, adjusting volume, applying texts, adding subtitles, elements and more.
Why You Create Music/Sound Visualization?
Increase Listener Engagement
with Quality Visuals
According to research, 83% of social media users prefer watching their videos in mute. Therefore, you need to be creative to grab their attention. With an audio waveform visualization, the video becomes more appealing to watch. In fact, audio waveform is a great alternative for flat audio and video file. Another thing, you can add an exciting background photo to your music waveform to make it more engaging.
Make a Podcast Video
with Audio Visualizer
A podcast is an audio episode that focuses on a specific theme like cycling, fitness, health, etc. They have become commonplace that you can download over 850K podcasts online. Although podcasts can be naturally engaging, some listeners need more than that to join in. And that's where an audio waveform visualizer comes in handy. With a visualizer, your audience will feel more engaged. This also makes them understand the content easier.
Make Music Playback
More Interesting
It's an open secret that most music buffs like blasting out their favorite tunes on MP3 players. That's also the reason why music streaming platforms like Spotify and Apple Music are so popular. With Media.io Audio Visualizer, you can generate a unique audio waveform for your local playlist. Just imagine playing your favorite tune with your best photo in the background.
Build Your Personal Brand
After putting in a shift to create an engaging podcast or audio, the last thing you need is copyright issues. In this internet era, you can find your content trending on someone's channel. So, to be safe, use Media.io Music Visualizer to create a podcast or music with unique logos and watermarks. You can also add an audio cover photo or wallpaper like a personal photo.
FAQ about Music Visualizer
1. How to create a music visualizer in seconds?

You don't need to install those overpriced video editing programs to quickly create a music waveform. Instead, launch Media.io Online Audio Visualizer, upload audio, and make your visualizer. The program doesn't leave unwanted watermarks on your audio waveform.

2. How to make & edit audio waveform online?

Making and editing an audio waveform online is relatively straightforward with Media.io.
Follow me:
Step 1. Launch Media.io Music Visualizer and then tap Choose Files to load your music file.
Step 2. Next, set the aspect ratio for your video and choose whether to add an animated sound wave.
Step 3. Click Edit. You can edit the music waveform by cropping, trimming, adding texts, applying a new background image, and so on.
Step 4. After making enough adjustments, tap Export, choose a video resolution and save the music waveform. There is that!

3. How to add an audio visualizer to Podcast video?

Sometimes you might have a podcast video that you want to make more attractive with a visualizer. If so, use Media.io Audio Converter to transcode the video to MP3, FLAC, OGG, and other audio formats before loading the podcast audio on the Music Visualizer tool. Then, edit and create your new podcast video with a visualizer.

4. How to make a nice cover for a song?

You have probably come across an excellent music cover on Spotify, YouTube, Vevo, and so on. So, how do they do it? It's simple! Upload your music file on Media.io Music Visualizer and choose a photo to use as the wallpaper or cover photo. Remember, a nice cover photo can also protect your music against piracy.
Carlos Perez
I have an outstanding experience with this app. I'm a practicing DJ, and I wanted something that could help me add cover photos to my playlists. This sound visualizer does that quickly.
Michael Tayler
Now this is exactly what I've been praying for. The visualizer graphics look good, and everything else works just as I expected. Highly recommended!
David Ashley
It's a fantastic website, actually. The fact that I can add local cover photos to my music visualizer is a significant plus. I listen to more music these days. Thanks, guys!
David Ameobi
An easiest sound visualization app. The user interface is self-explanatory and has essential tools to perform quick edits. And it's free with no watermarks on the output.
Bruno Harper
I love it! This app adds beautiful visual effect to my music. But note that you must convert video to audio to create a visualizer here. Anyway, it's the simplest music visualizion tool I've used so far.
Visualize Your Music or Sound Online
In a Few Clicks.
Get your audio seen, gain more followers!