Elevate Your Photos with Powerful Photo Noise Reduction
Experience the power of AI with Media.io's
image noise removal
tool. Automatically denoise photos with ease, whether it's portrait, wildlife, or low-light photography, the image noise reduction functionality caters to your need for high-quality images, assisting them in achieving better visual impact and expression. Achieve flawless results as our advanced AI technology eliminates grain, revealing stunning clarity and
enhancing your images
. Say goodbye to noise in photography and hello to perfect photos!
Photography Fans
Photography enthusiasts often face the challenge of noise in high ISO images, night photography, or low-light conditions. The image noise reduction functionality helps them remove noise and enhance the details and clarity of their photos.
Pro Photographers
Professional photographers need to ensure the quality and details of their photos for commercial works, portrait photography, or artistic projects. The ai denoiser assists them in handling noise in high-resolution photos, providing more accurate and precise images.
Designers and Artists
Designers and artists may work with illustrations, artwork, graphic designs, and more. The image denoiser helps them eliminate noise, improve image clarity and quality, making their work more professional and visually appealing.
Social Media Users
Social media users often utilize photo noise reduction when sharing personal photos or expressing creativity. It helps them enhance the appearance of their photos, making them clearer and more captivating, thus increasing exposure and receiving praise on social media.
How to Remove Noise from Image Online?
1. Launch Media.io AI Image Denoiser

Go to Media.io Image Denoiser in your browser, then drag and drop your noisy photo on the program.

2. Denoise photo automatically

Sit back and relax as Media.io photo denoiser's powerful AI algorithm automatically detects and removes noise from your image. It intelligently analyzes the image and applies the optimal denoising process for the best results.

3. Download clean denoised photo

Once the denoising process is complete, you can download the clean, noise-free image by clicking on the "Download" button. The image will be transformed into a visually pleasing result, free from unwanted noise and artifacts.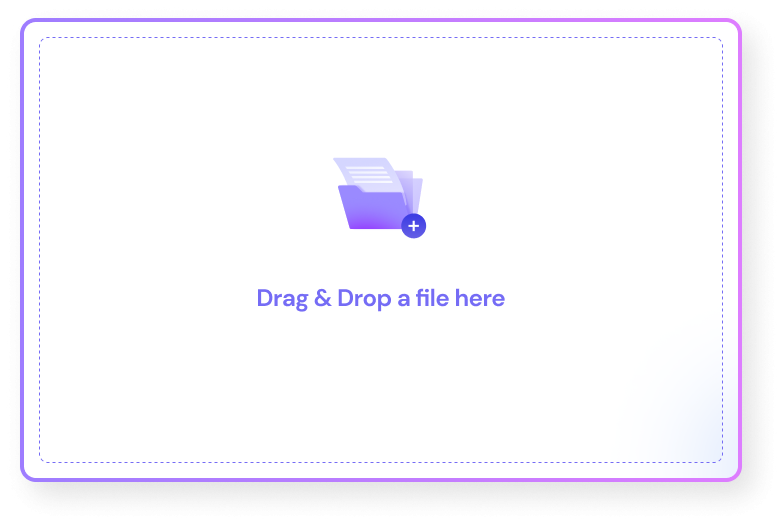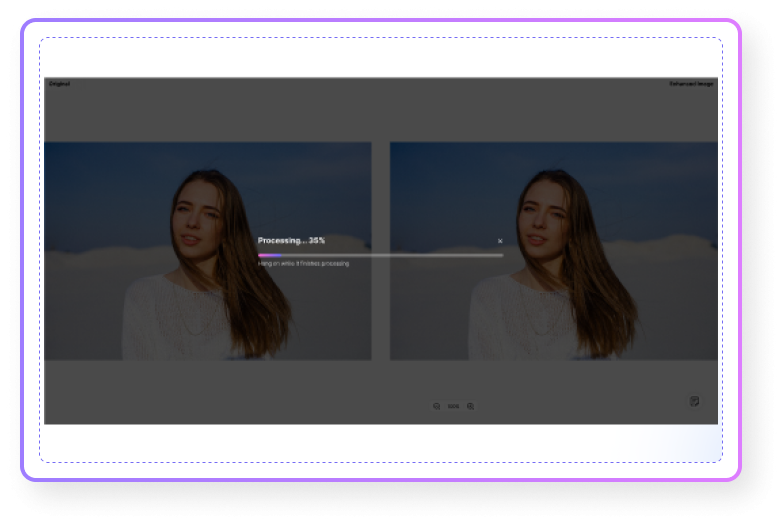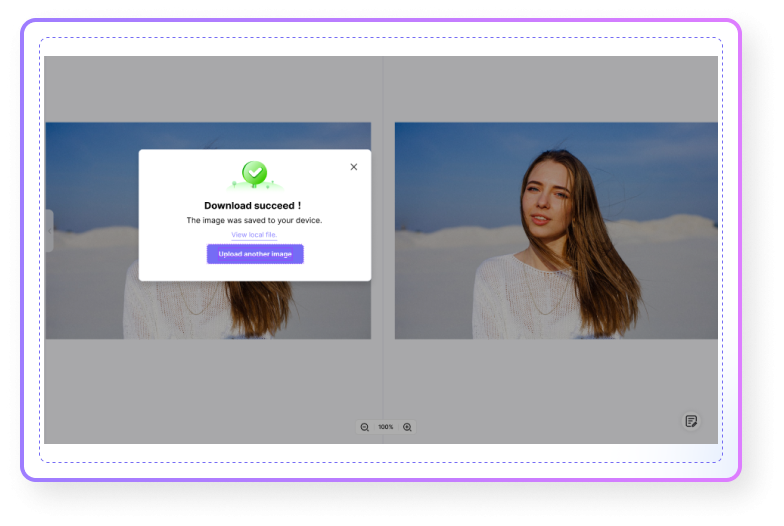 Unlock the Beauty of Noise-Free Photography for Any Situation
Whether you're capturing delicate details in wildlife photography, preserving clear images in low-light photography, showcasing intricate details in macro photography, or presenting true-to-life skin tones in portrait photography, our Image Denoiser effortlessly removes photo noise with just one click. Rediscover the high-quality essence of your photography, regardless of the noise photography scenario you encounter, and experience crisp, refined image quality.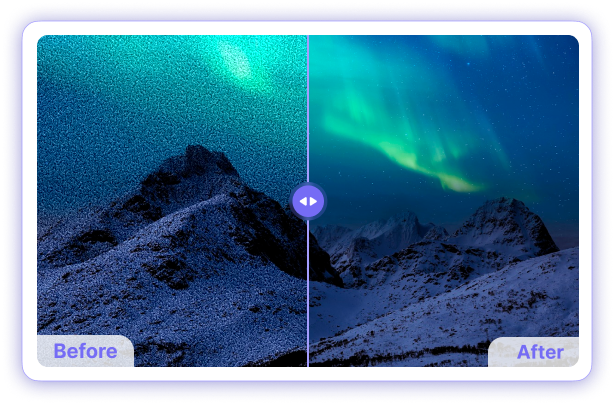 Remove Grain from Night Photography with AI
Capture stunning nightscapes without worrying about noise interference. With our cutting-edge AI Denoiser, we've developed the most advanced noise reduction AI algorithm that intelligently detects and distinguishes between genuine image details and noise. It effectively reduces noise in low-light images, preserving fine details and delivering crisp, noise-free results.
Remove Noise from Wildlife Photography Automatically
Bring your wildlife photos to life with clarity and precision. Our AI-powered denoising technology intelligently detects and removes noise from animal shots, enhancing the overall quality and allowing you to showcase the beauty of wildlife in every detail.Say goodbye to noisy images in a matter of seconds, without compromising on quality.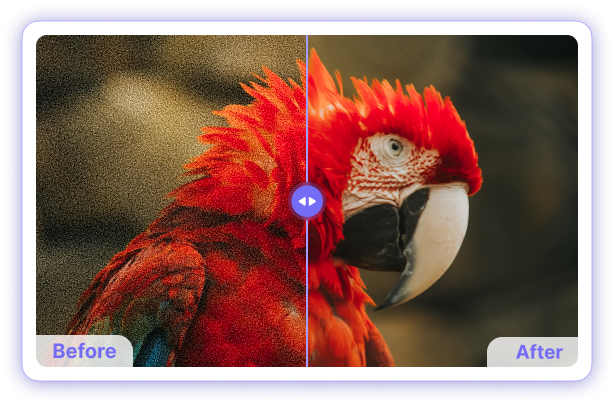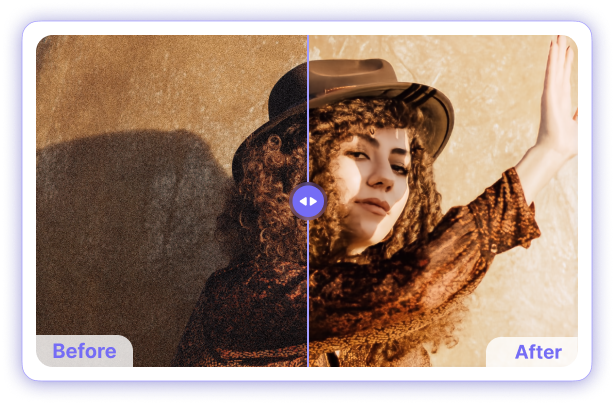 Noise Removal for Flawless Portrait Photo
Create flawless portraits with our advanced AI Denoiser. Eliminate unwanted noise from your portrait images, resulting in smooth skin tones, sharp features, and professional-grade results. Our AI Denoiser ensures precise image noise removal, delivering pristine and refined results. Perfect for enhancing the quality of your portraits and capturing the essence of your subjects.
What Makes Media.io's Image Noise Reduction Stand Out?
Effortless Image Noise Removal
Experience the ease of image noise removal with Media.io's user-friendly web-based app. No special knowledge is required, thanks to the clean and automated UI.
AI-Powered Denoising
Our AI denoiser harnesses the power of advanced algorithms to deliver exceptional results. Simply upload your photo, and our AI system will instantly scan and remove noise, resulting in a clean and enhanced image.
Secure and Data Privacy
Your data's safety is our top priority. With SSL encryption, we ensure the security of your uploaded photos. Additionally, our image denoiser automatically deletes processed photos within hours, ensuring your privacy. Frequently Asked Questions of
Image Noise Removal
1. How do I remove noise from a picture?

Media.io Image Denoiser offers an easy solution to remove noise from your pictures. Simply upload your image to the tool and let our advanced AI algorithm automatically detect and reduce the noise, resulting in a clean and visually appealing photo.

2. What does it mean to Denoise an image?

Denoising an image refers to the process of reducing or eliminating the unwanted grain or noise that may be present in the image. By applying advanced algorithms, Media.io Image Denoiser intelligently analyzes and processes the image to enhance its quality by removing the noise.

3. What is Denoise image using AI?

Denoise image using AI means utilizing artificial intelligence technology to automatically remove noise from an image. Media.io Image Denoiser employs powerful AI algorithms that can intelligently identify and reduce noise, resulting in a high-quality and noise-free image.

4. What is the best app to remove grain from photos?

Media.io Image Denoiser is a top choice for removing grain from photos. Its AI-powered technology ensures effective noise reduction while maintaining the essential details and overall image quality. With just a few simple steps, you can achieve remarkable results without the need for additional apps or software.

5. How do I remove grain from iPhone photos?

Media.io Image Denoiser is an ideal solution for removing grain from iPhone photos. Simply visit our website and upload your iPhone photo to the tool. The advanced AI algorithm will automatically denoise the image, resulting in a clean and visually pleasing photo that enhances the overall image quality.

6. How can I reduce the grain of a photo online?

You can easily reduce the grain of a photo online using Media.io Image Denoiser. By uploading your photo to the tool, the AI algorithm will automatically detect and reduce the noise, providing you with a clean and professional-looking image. It's a convenient and hassle-free way to improve the quality of your photos directly from your browser.

Media.io Image Denoiser worked like magic! It effortlessly removed the noise from my photos, enhancing the overall quality. Highly recommended for anyone seeking crisp and clear images.
- Magnus Flynn
I was amazed by the results of Media.io photo noise remover. It transformed my grainy photos into stunning, noise-free masterpieces. The AI technology is truly impressive.
- Aurora Hayes
Media.io is the best image dnoiser! It helped me salvage some low-light photos by effectively reducing the noise without sacrificing the details. It's now my go-to tool for image denoising.
- Leona Vega
What Our Users
Saying about
Media.io
AI Denoiser