Online Subtitle Translator in 127 Languages
Translating your subtitles now becomes easier and faster with Media.io auto translation tool. Simply upload your subtitle, video or audio files online, choose a preferred language from the given 127 options, including English, Japanese, Spanish, French, Italian, Hindi, Arabic etc. and then Media.io will do the rest. The automatic sub translation process takes only a few seconds or minutes (depending on the length of your files). You can also edit and stylize the translated subtitles as you like, or go straight to download them as SRT or TXT files.
Talk to your customers in their native language and start a quality subtitle translation today.
How to Translate Subtitles Online?

1. Upload Subtitle/Video File
Add your source video or audio files from your local devices or record your video with Media.io from scratch.

2. Auto Translate Subtitles
Go to Subtitle tab, choose an origin language to get the contents auto transcribed. After that, translate the auto-generated subtitles into any desired language.

3. Check, Edit & Download
Edit to perfect the translated subtitles and download them in SRT or TXT formats. Or auto sync the subtitles with your video and export the entire video.
Why Pick Media.io Subtitles Translator?
Translate Subtitles That Match Video or Audio Automatically
Using Media.io subtitle translator, you can easily transcribe and translate a video or the embedded audio into other languages, thanks to its deep-learning-based AI technology. And keep it in mind that, you don't have to find and upload separated SubRip (.srt) files and perform translation, because Media.io will automatically generate subtitles in synced with your video, and at that point, you just need to select a target language to translate.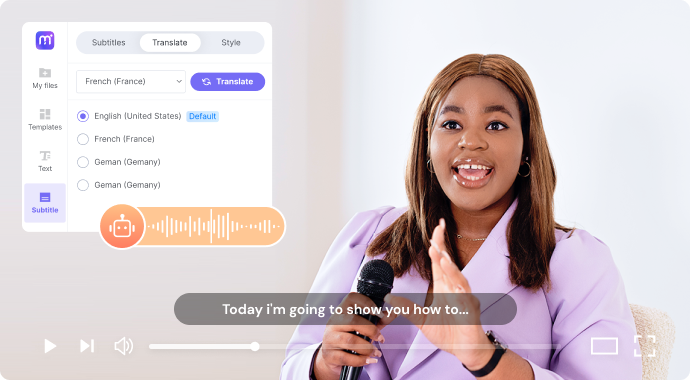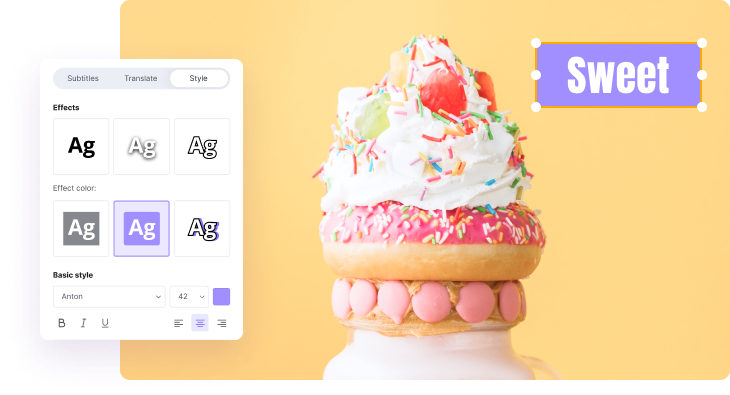 Edit & Customize Native Subtitles in Your Way
Media.io auto translation service offers you high accuracy and keeps on improving. When completing subtitles translation, you have capability to make any changes. Do some manual correction, cuts, style subtitles font, size, color, position, background and so much more! All the changes you made will be live updated and saved.
Far Beyond a Subtitle Translator
We admit it, that translating subtitles to target the global market is an ideal way to promote your audiovisual content or show your big ideas, but that may not be sufficient. Media.io's one-stop video editor provides plentiful handy and robust functions, through which you can automatically convert the translated texts to realistic voices, record video voiceovers, add music, elements, brand or channel logos, or other editing options.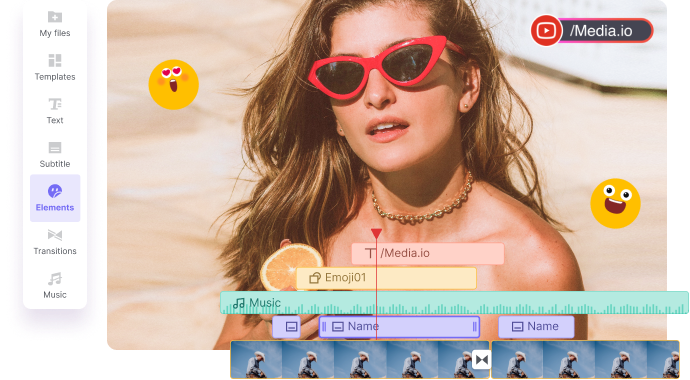 Reach New Audiences Like We Met You


Anne

I occasionally use Media.io subtitles translator to extract captions from movies. It's quick and accurate. I also love that Media.io can download my extracted subs in .srt format. Definitely work using.

Jeremy

This app is much quicker than listening to audio and manually typing on a subtitle editor. In my view, it looks 99% accurate, as I'm yet to experience inaccurate translations. Also, it works perfectly with background noises.

Alisa

A superb video translator, to say the least. It's free and straightforward to use. You won't need any tutorials to use it. Also, the punctuations are well placed, although sometimes you may need to apply a human touch to make the text look better. But still, it's one of the best!