Android Video Compressor
Easily compress videos into smaller with high quality for your Android phone or tablet. All your favorite video formats are supported.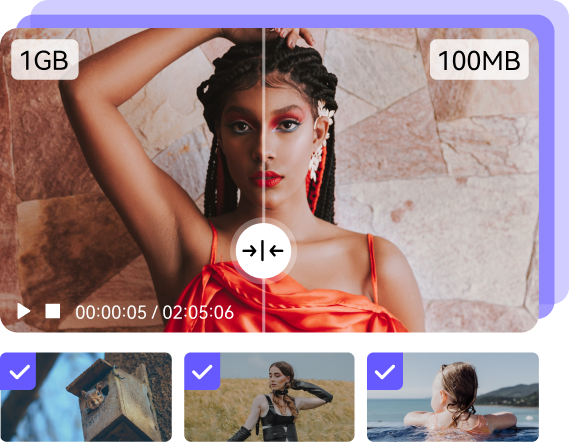 Free Video Compression for Android
We understand the frustration of limited storage capacity on your Android device that can quickly be depleted by a few video recordings, leaving you unable to capture more precious moments. Additionally, sharing videos on popular social media platforms like WhatsApp, Discord, TikTok, Instagram, YouTube or sending them via email can be a time-consuming process due to file size restrictions. This is where Media.io Android Video Compressor steps in as the ultimate game-changer.

With the advanced compression algorithms, you can quickly reduce the file size of any large videos while retaining excellent video quality. This ensures that your videos meet the size limitations imposed by all platforms and can be loaded swiftly with optimal quality by your viewers. Furthermore, the app supports batch video compression, effectively expediting your workflow. Give the Video Compressor online App for Android a try today!
How to Fast Reduce Video Size Online?
Step 1. Upload Your Video Files.

Go to our Android Video Compressor and tap on the Choose Files to upload the videos from your mobile media gallery.

Step 2. Custom Compression Settings.

Choose the default compression method or adjust the video resolution, size and quality at your will. You'll see the percentage or specific value of file size reduction in real time. Once you're satisfied, just click the COMPRESS button, and the process will begin instantly.

Step 3. Download the Compressed Video.

Press click DOWNLOAD or DOWNLOAD ALL to save the compressed videos directly to your Android mobile or tablet device. It's that simple!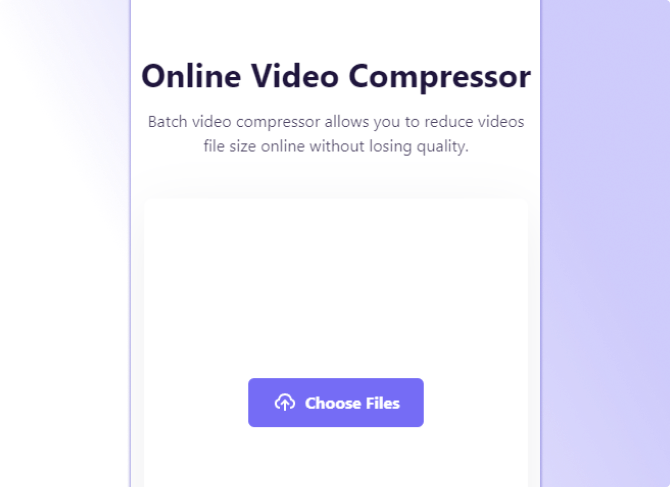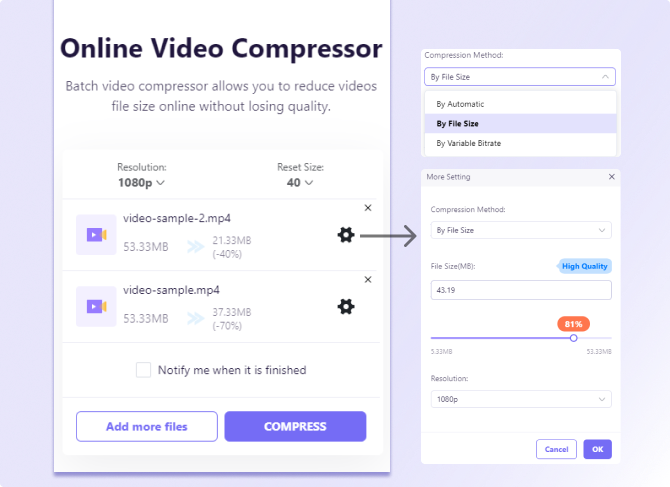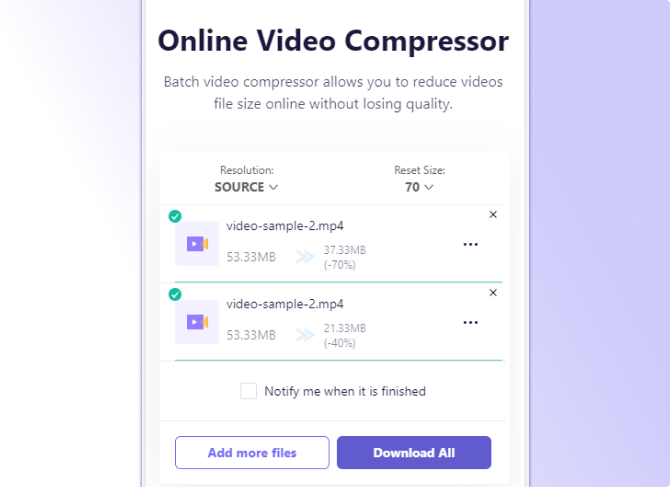 Why Select Media.io Android Video Compressor?
User-friendly Interface
Media.io features an intuitive interface, allowing even novice users to compress videos effortlessly. With clear instructions and a streamlined process, you'll be able to compress videos with ease, regardless of your technical expertise.
Compress Video Losslessly
Capture videos in stunning 4K UHD 60fps or even 8K 120fps on your Android phone, but don't let large file sizes hinder you. Media.io strikes the perfect balance between size and quality, providing compressed videos with no noticeable loss in quality. Reclaim storage space and easily upload and share your videos without compromising their stunning resolutions.
Multiple Video Formats
With Media.io, you can upload video files in various formats, including popular ones like MP4, MOV, AVI, and more (such as 3GP, WEBM, MKV, M4A, etc.) . If needed, it provides the option to convert the source video to another available format before starting the compression process.
Batch Compression Allowed
Whether you have a collection of videos that need compression or you want to compress multiple videos for a specific project, Media.io streamlines the process by allowing you to resize them all at once. With batch video compression, you can efficiently manage and optimize the video library with ease.
Bonus Video Editor
Aside from video compression, this online app offers a wide range of features to enhance your video editing experience. With capabilities such as video trimming, video speed adjustment, audio and subtitle extraction or removal, and more, all available within its free online editor. Media.io caters to all your modern video editing requirements.
No Annoying Ads
In speaking of the best video compressor apps on Google Play, many are unfortunately burdened with instrusive ads that disrupt the compressing experience. However, Media.io stands apart by offering an ad-free online video compressor. You can make video smaller without any distractions.
FAQs About Compressing Video for Android
1. How to compress a video online on Android?

To reduce a video size easily and quickly on your Android mobile, you need to opt for a top-rated app like Media.io. All you need to do is upload a video directly from your browser, choose a preferred compression method, video size, quality level or other settings and apply start compression. That's it!

2. Does compressing videos ruin quality?

Compressing videos can have an impact on video quality, depending on the compression method employed. Lossless compression maintains the original video quality but comes with a trade-off of larger file sizes. It achieves compression by preserving all the data, ensuring no quality degradation; lossy compression, which prioritizes smaller file sizes, may lead to a decrease in video quality. Therefore, when choosing a compression method, it's essential to consider the desired balance between file size and video quality.

3. Why to compress videos on Android?

By compressing videos on Android, you can efficiently manage storage space, easily share videos, reduce upload times, conserve bandwidth, and enhance overall device performance.

4. What is the best video compressor for Android?

Media.io is the best free video compression app that promises good results without losing quality. Users can customize the compression method, file size, video resolution, and bitrate to suit their needs. They can also edit a video before starting the compression. Designed with beginners in mind, Media.io offers a seamless and intuitive user experience.
More Tools like "Android Video Compressor"
Finally found a video compressor app that actually works! It's easy to use, and the compressed videos look fantastic. Saved me a ton of storage space on my Android phone. Love it!
Redberry

Five stars for this Android video compressor! It offers a range of compression options, allowing me to choose the perfect balance between size and quality. Works like a charm every time.
John

Unlike traditional methods that require downloading and installing a video compressor app on my Android device, this app allows me to reduce video size directly from the browser. It not only saves precious storage space on my device but also eliminates the hassle of managing app updates.
Nicholas

It intelligently analyzes the video and applies the optimal compression settings to reduce the file size while maintaining excellent quality. It saves me time and effort, as I don't have to manually adjust various parameters.
Wendy

Impressed with this video compressor app's performance! It quickly compressed my videos without any glitches. Now I can easily share my videos on social media. Kudos to the developers!
Wills

Decrease Video Size, Preserve Quality
Edit, compress and convert files on the go in minutes.