Video Speed Controller
Quickly speed up or slow down any streaming videos online for free with Media.io. It runs smoothly on Google Chrome, Firefox, Safari, and more.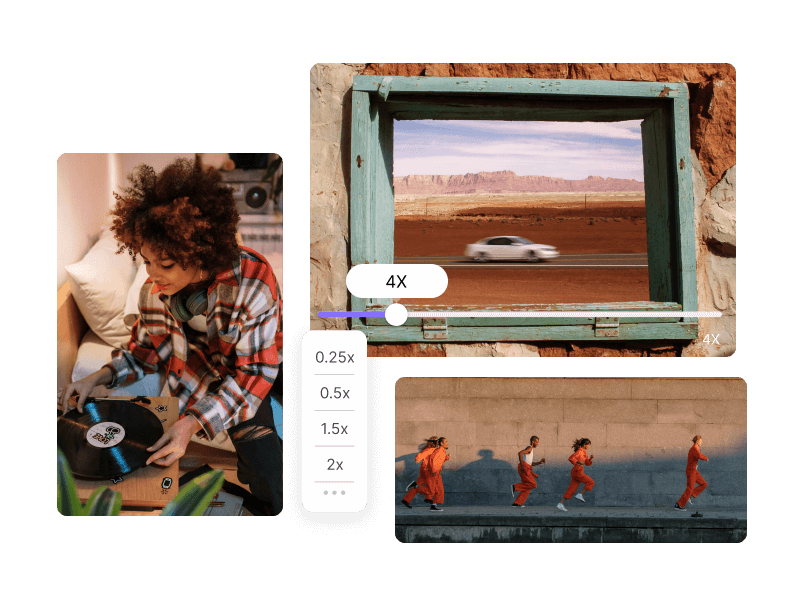 Make Video Faster or Slower Online
Are you still searching for a video speed controller to speed up or slow down the playback speed of a video from Twitter, Facebook, YouTube, or other video sites?
Media.io online video speed controller has got you covered! It's a free program with several video speed options.
Simply drag the speed slider to adjust the video playback speed by 0.25X to 4.0X.

Besides speeding up your video, this video speed changer is equipped with a bunch of editing capabilities to level up your videos.
You can rewind, loop, trim, merge, add background audio, apply texts, and so on. And best of all, Media.io doesn't watermark your videos,
whether using a free or paid account. Give it a try today!
How to Change Video Speed Online?
Step 1. Add a Video File.

Click on Choose Files button to upload a video you want to control the speed. Or, directly paste a YouTube, Google Drive, or Dropbox video link.

Step 2. Choose a Value of Speed.

Next, select a specific speed value or drag the slider to set the right video playback speed. You can set 0.25X up to 4X, depending on your needs. Also, you can mute the video if you don't like the changed audio track.

Step 3. Download and Enjoy the Video.

Before downloading the video, click Play to preview the new speed rate. If satisfied with what you see, click Export to save the new video. Enjoy!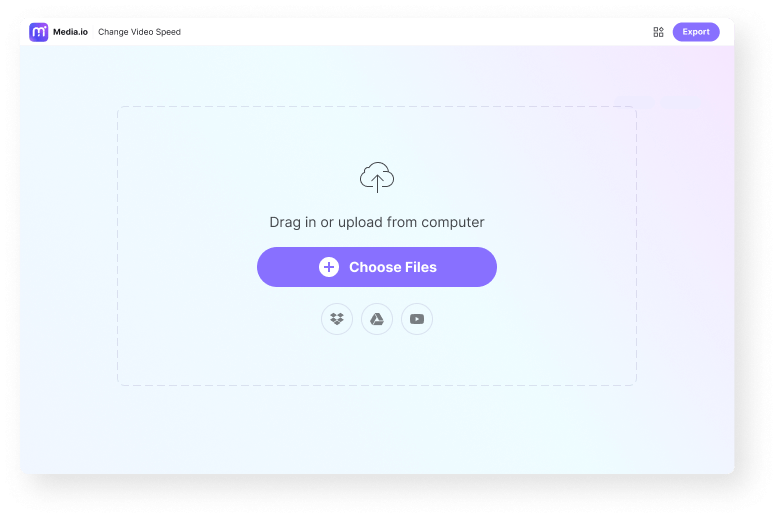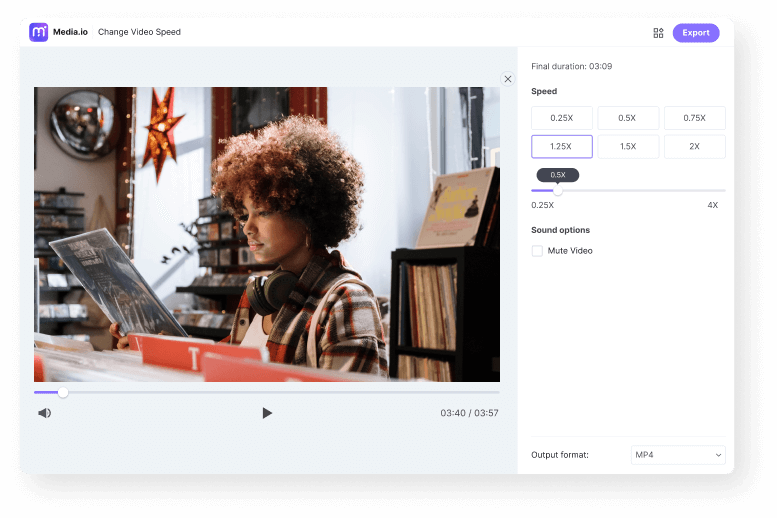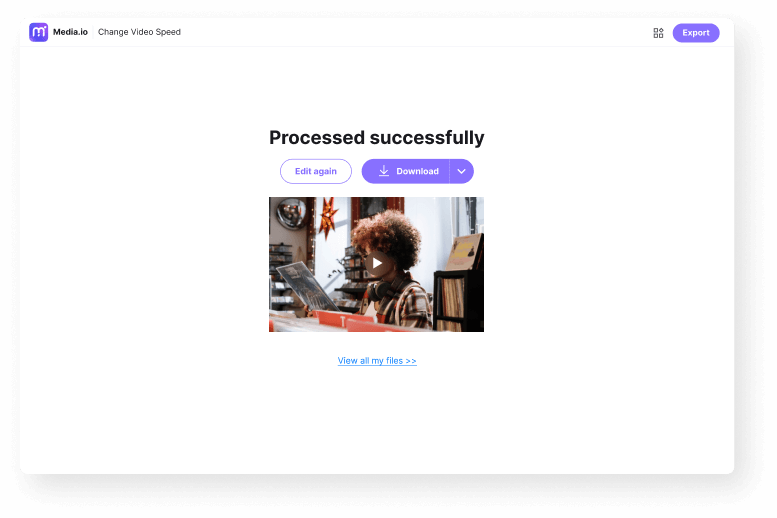 Why Choose Media.io Online Video Speed Controller?
Ease of Use
The video speed changer lets you easily increase or decrease video speed online with a few quick taps. No need to install any browser plugins.
Granular Playback Speed
Aside from 6 ready-to-use speed rates: 0.25X, 0.5X, 0.75X, 1.25X, 1.5X and 2.0X, Media.io also provides more granular speed controls, so you can custom a video speed like at 0.3X or 3.8X by simply moving the speed slider to the left or right.
Mute Sound Option
Media.io Video Speed Controller lets you mute the video sound before downloading. This will come in handy while making a funny video or adding background music to the edited video.
Rewind the Video
Use the slow motion rates to create a rewind-like effect at the beginning or end of your video. Then, apply video loops to generate a boomerang clip for social posting using the Video to Boomerang feature.
Multiple Video Formats Supported
Media.io can speed up or slow down MP4, AVI, MOV, 3GP, and other standard video formats. It also supports direct video uploads from YouTube, Google Drive, and Dropbox.
Free with No Watermarks
This online program is absolutely free to use. You don't need to pay anything to change the video speed. Also, free users can export videos without any watermarks whatsoever.
How Can You Benefit from Altering Video Speed Rate?
1. Create a Slow Motion Video.
Slow motion or slo-mo videos are slower than the typical video playback speed. This impactful video effect is popular in the film, sport, and music industries, where it's used to emphasize a scene. Digital marketers like Apple and Samsung also use slow-motion effects when marketing their new releases on their websites.
Consider this; you're watching a football match, and then Neymar embarrasses an opponent with unique nutmeg. That memorable scene will be replayed repeatedly to demonstrate the skill. In short, you can use slo-mo videos to analyze movements, techniques, and positions if you're a sportsperson. You can also use a slow-motion effect to observe temporary natural phenomena like a tornado or earthquake.

2. Create a Fast Motion Video.
A fast-motion video is the exact opposite of a slo-mo video effect. Simply put, it's a video that plays quicker than usual. If you use the Media.io video speed effects, this is a video speed rate of more than 1X. Fast motion videos can be compelling to watch if correctly done.
Fast motion effect is trendy in the comedy filming industry. If you've seen Charlie Chaplin's videos, you'll know what I'm talking about. However, applying quick motions to your video can distort the audio. The same applies to slo-mo videos. So, mute the video after using the effect. But nothing stops you from adding commentary or background audio to your edited video.
FAQs - Media.io Online Video Speed Editor
What is the easiest video speed controller for Chrome?

Media.io is the most straightforward video speed adjuster for Chrome. With it, you don't need any special video editing skills to adjust the video speed. Just upload your video and move the speed slider to adjust the playback rate. Again, you don't need to install any Chrome plugin to adjust the video playback speed.

How can I speed up or slow down a video on iPhone/Android?

It's easy. Media.io Video Speed Controller allows adjusting the video playback speed on your mobile phone. It's compatible with all mobile phone browsers, including Chrome, Opera, Edge, Safari, Dolphin, and more.

Can I speed up an MP4, MOV, MKV, AVI or WMV file online?

Yes, you can speed up any video format online with Media.io Video Speed Controller for Chrome. It works with all video formats, including VOB, MTS, 3GP, WebM, MP4, MOV, FLV, and more. What's best, you can upload a video URL link from cloud services or YouTube.

How to change the playback speed of a specific video scene?

Sometimes you may want to adjust the video playback speed of a specific video scene. In that case, opt for Media.io Online Editor to split out the video scene you want to edit and then upload it on the video speed controller to apply a motion effect. It's that easy!
I've been searching for an app to change the playback speed of my videos until I stumbled on this website. I often use this speed changer when I want to watch my videos in fast motion or slow motion. I'm impressed!
Aril Dove

If you're looking for an app to selectively change the playback speed of your video, here's one for you. Better yet; it saves your videos without any quality loss.
Betty Bio

You don't need any tutorial to use this exciting video speed controller. I find it perfect for beginners who don't really know much about video editing. And it doesn't sacrifice the audio quality.
Sean Rodriguez

This online video speed changer has never stopped working ever since I discovered it in 2020. I use it occasionally to customize my social media videos with the right speed effect. Overall, I'm impressed!
Samantha

This free video speed editor is simply AMAZING! The user interface is relatively self-explanatory, with everything clearly marked. I've never experienced a frame drop while creating my slow-motion videos. I love it!
Dan Chan

Limited Time Offer From KwiCut - Register For Exclusive Perks
√ Unlimited AI Transcribe, Clone, Overdub, and Voice Enhancement

√ Unlimited GPT-4.0 Accessibility to Create Talking Head Videos

√ Unlimited Cloud Storage and Export Without Watermark
Control Video Playback Speed Online
At Your Will

.

Easy, free, no quality loss.