Convert MP3 to Text
Increase the accessibility and engagement of your content by transcribing MP3 files to text! Convert .mp3 files to more than 89 languages with a single click online!
Transcribe MP3 to Text Online for Free
Relying on audio files is not enough as search engine crawlers can only index text. Therefore, generating transcripts for your audio files in captions and subtitles can get you a higher ranking. In addition, you can convert podcasts and recordings of meetings to text to share the record with your colleagues. No matter the reason, Media.io MP3 to text converter has covered you with its AI-driven text generator, which can analyze the audio, speech, and voiceovers to transcribe into text within a few clicks. Furthermore, you can edit and alter the transcribed texts and download the text scripts separately in the .srt or .txt file.
How to Convert MP3 to Text with Media.io?
Converting MP3 files into text has never been more accessible with the Media.io MP3 to text transcriber. Besides mp3, you can transcribe a video to texts without downloading any 3rd party software since this online tool works on most browsers.
Step 1: Upload Your MP3 File

Launch the Media.io video editor on your browser and click the Upload button to import your MP3 files. You can upload from local storage, Google Drive, Dropbox, or even record your live voice.

Step 2: Transcribe MP3 Audio to Text Automatically

Once you've uploaded your audio, our MP3-to-text converter will initiate the automatic transcription process. You'll have your transcription ready in just a few seconds!

Step 3: Edit your Captions/Subtitles

Once the speech-to-text process is done, you can edit the transcribed texts by clicking on the text area. Moreover, you can use the advanced AI technology to summarize the text or transform it into a lifelike voice.

Step 4: Save the Text File

Click on the Export button located in the top-right corner to export the transcript separately in .srt or .txt format. You can also create a video from audio with visual backgrounds and subtitles burned.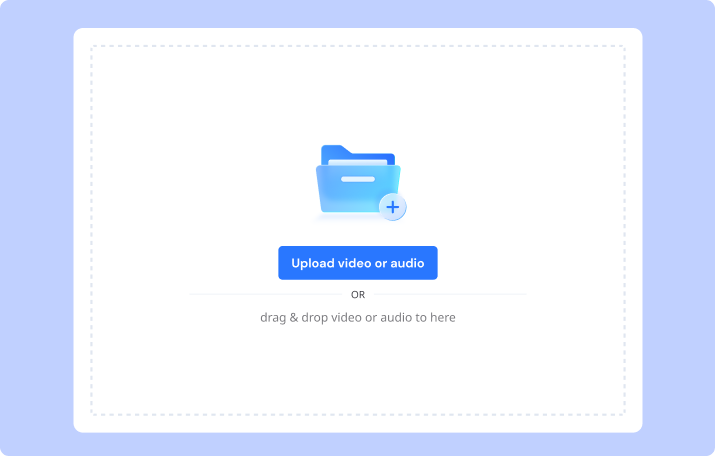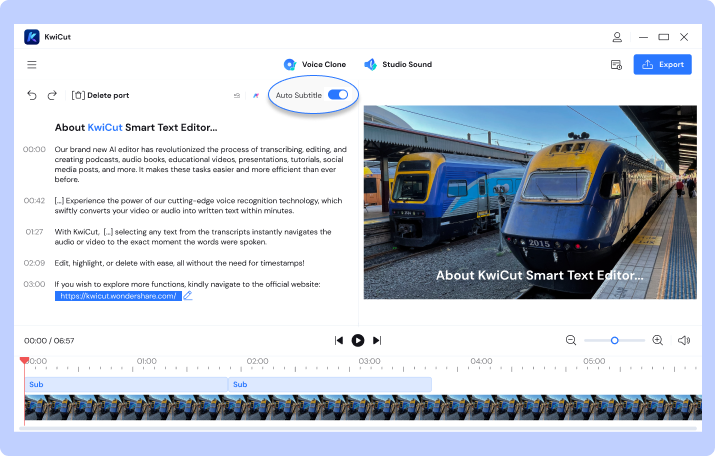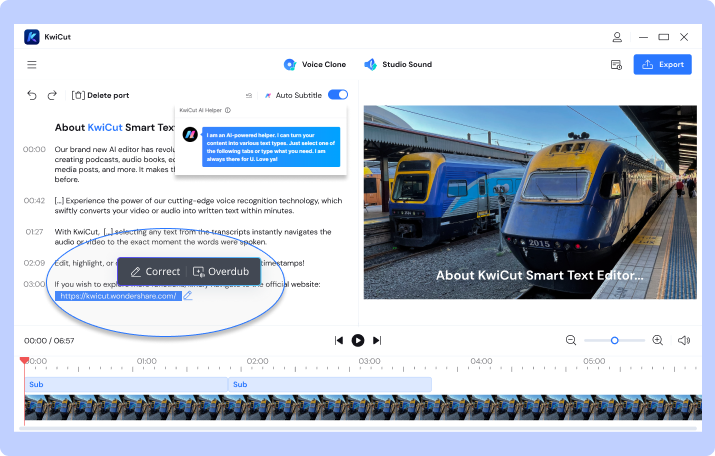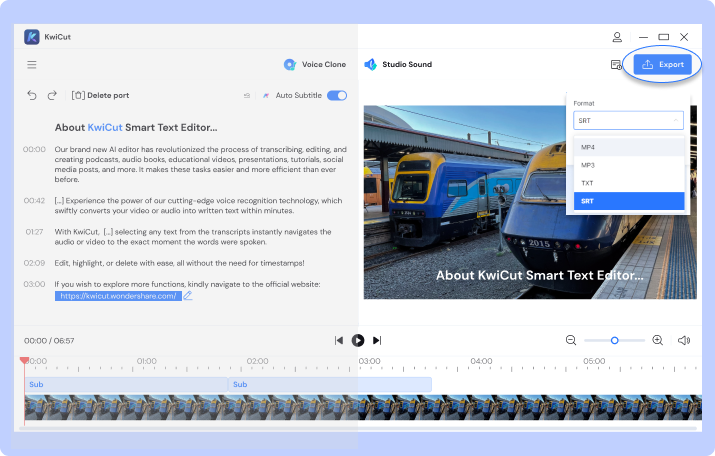 Why Choose Media.io to Use Media.io to Turn MP3 to Text
Multilingual Supported
Media.io stands out from the crowd due to its multilingual support! It can transcribe the MP3 files to more than 89 languages, including English, French, Spanish, Russian, Turkish, Sweden, and more. So there's no chance you'll miss targeting any country with your content.
Edit Transcript Easily
Media.io is not only a voice-to-text tool that generates YouTube subtitles, captions, and transcripts, but you can customize them as per your choice. You can edit, type, and even search the caption keywords in one click.
Share Audio As Video
Besides transcribing mp3 audio to text, you can convert the MP3 file to a video in different aspect ratios presets and share your voice on varius social media platforms.
Multiple Formats Supported
One noteworthy attribute of Media.io is that it supports multiple formats for speech-to-text conversion. It is compatible with MP3, WAV, M4R, OGG, FLAC, MP4, MOV, 3GP, and more.
Safe to Use
Many of you don't want to preserve your content before publishing, and Media.io understands the privacy! Media.io Speech to Text converter uses SSL encryption to secure or protect all the conversions.
No Installation Needed
There is no need to download any software on your device and go through a painful installation process. Media.io is an online toolkit that works with any browser on your tablet or PC to convert audio to text seamlessly.
Why Convert MP3 to Text?
Make Content More Accessible
Transcribing the audio to text will help you make your content reach more audience! For example, people suffering from hearing impairments or those unable to turn up the volume can always read the text— and there's a 35% increase in engagement for the subtitled content. Additionally, the crawlers of search engines can index the subtitles and captions in text form to increase the engagement of your content.
Speech Highlights
Highlighting any important detail in any podcast or speech will require transcribing the audio files first! Media.io brings the AI-driven speech recognition technology, which analyzes and transcribes the audio to text and extract the text highlights with ChatGPT.  
Reading Over Listening
Many students and even professionals would love reading over listening! For example, suppose you have a voice recording for a lecture and didn't understand any phrase due to a different accent; you can always transcribe the audio file. Media.io's Speech to Text converter is also a blessing for people who prefer reading over listening and can comprehend details better during reading.
FAQs Regarding Converting MP3 Audio to Text
Can I convert an MP3 file to text?

Yes. Many audio to text converters allow you to easily convert an MP3 file to texts. And Media.io brings the MP3 to text converter backed by AI-driven technology to recognize the audio and speech and convert it into text. So you can quickly transcribe MP3, WAV, or other audio to text.

How long does it take to convert MP3 to Text?

The time needed to transcribe and convert MP3 to text varies depending on the playback length and internet connectivity.

What languages can I transcribe my MP3 file to?

Depending on the tool or software, you can transcribe MP3 files into any language you want. For example, Media.io covers you with its multilingual support and can transcribe the MP3 file into 89 different languages.

Can you convert MP3 to subtitles?

Yes, an MP3 file can easily be transcribed to texts and subtitles with Media.io. The AI technology recognizes the speech and audio and converts them into text, and adds them as subtitles and captions to the video automatically. You can also download the text file in.srt or .txt format.

How accurate is converting MP3 to Text?

The accuracy in converting MP3 to text depends on the software or the tool you're using! Mostly, all the tools provide an 80 to 95% accuracy. Media.io is backed by AI technology to identify speech and analyze audio files to precisely generate the transcripts with fewer mistakes.
I am a teacher by profession and love providing text notes with recorded lectures to my students. It has helped them comprehend the details. With Media.io, it takes only 2-3 minutes to generate the text from an MP3 file.
Amelia Reeves

Many times, we used to write the captions manually with the audio files to highlight some phrases, and Media.io has solved the problem.
Victor Porter

I have tried many tools to transcribe MP3 files to text, and Media.io is definitely on the top. The interface is easy to use and takes less time to generate text.
Oliver Waters

As a content creator, I know the actual need to create subtitles and captions for SEO ranking. However, Media.io has solved the problem, and now I can transcribe video and audio spoken in different languages quickly and accurately.
Emma Patrick

What I loved the most about Media.io speech to text converter is that it supports almost all popular formats such as MP3, MP4, FLAC, and more.
Elijah Baldwin