Convert Video to Text
Transcribe and convert video to text automatically with our AI-enabled speech-to-text tool. Add subtitles to your videos or repurpose the transcripts.
Convert Video to Text Online
Adding subtitles to the video is necessary so that audience can understand the message the video is intended to convey. So does transcribe the video content to text. Using the transcript when uploading a video to YouTube will help the search engine understand the video content.The AI-enabled auto subtitle generator from Media.io allows you to convert video to text accurately and quickly. Furthermore, our video to text converter tool even generates timestamps to the auto-generated transcription, thus using them as subtitles with utmost precision.
How to Transcribe Video to Text for Free with Media.io?
Video to text transcription is the process of converting a video into a text file. The Auto-Subtitle tool in Media.io can convert the voice and speech in the video to texts automatically. You can then download the text and repurpose it.
Step 1: Upload the Source Video

Launch the Media.io video editor on your browser and click Upload media to import the source video. Optionally you can record a video with voice, webcam, and screen to add the source video.

Step 2: Transcribe Video to Text Automatically

Once your video upload is complete, our tool will kickstart the rapid automatic conversion process. When finished, you'll find the transcribed text displayed on the left side of the screen.

Step 3: Make Adjustments

Preview the generated texts and double-click the texts in the preview window to make the required modifications, such as correcting punctuations and brand names. You can also apply the AI helper to fast transform the text into captivating posts for platforms like YouTube, Twitter, and Facebook!

Step 4: Download Texts and Export the Video

Click the Export icon to download the auto-generated subtitles in .srt format to your device. You can also export the video in MP4 with hard-coded subtitles (a.k.a. Open Captions).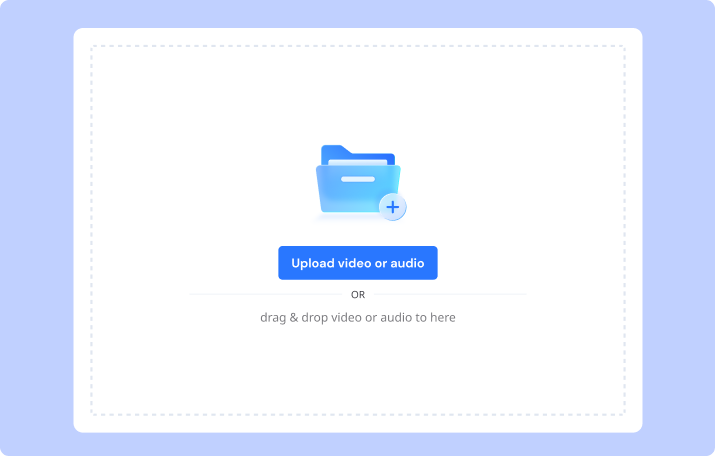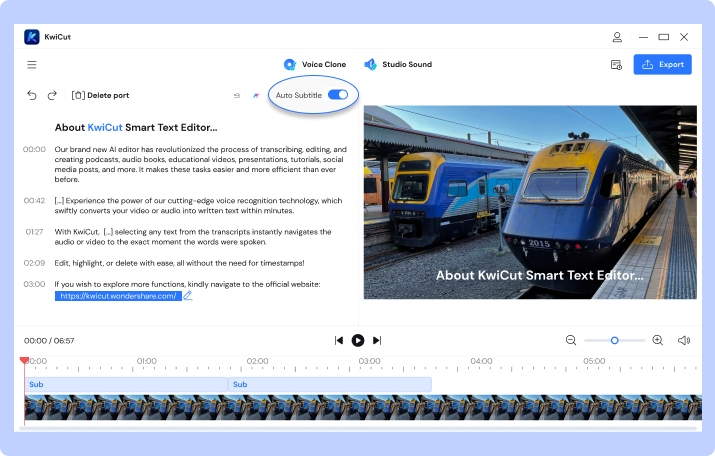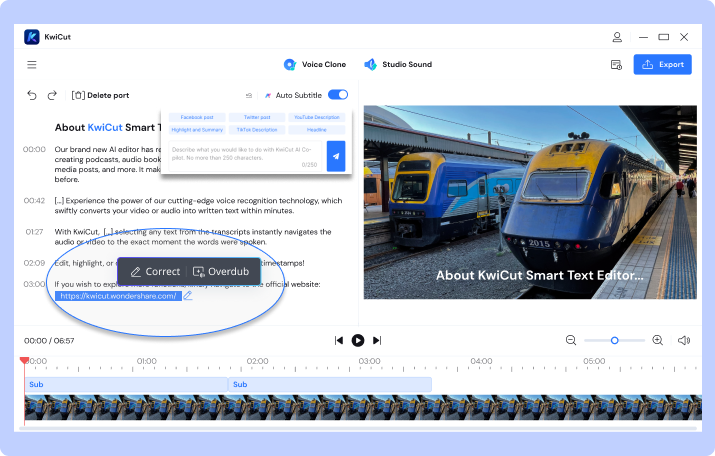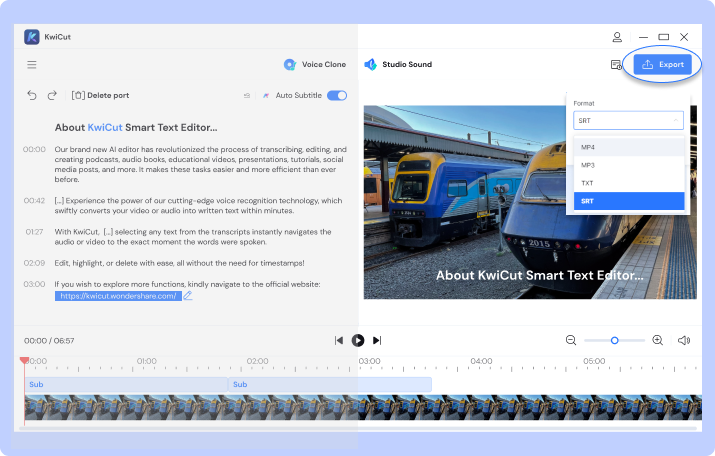 Why Choose Media.io to Convert Video to Text?
Transcribe video in 89 languages
Media.io video to text converter tool can recognize up to 89 different languages. This enables you to upload your clips in any language and generate subtitles in the globally acceptable one to expand the scope of your audience across countries.
Transcribe within a few clicks
Media.io's intuitive interface enables you to convert video to text with merely a click. Being the default language set to US English, all you need to do is, upload your video file and our video to text converter will instantly extract the text from your media.
Transcribe with 95% accuracy
Unlike other online auto video to text converters, Media.io can transcribe video to text with up to 95% accuracy. This not only saves you a lot of time but also significantly reduces the manual workload that you would otherwise have to take if you use any other, random transcription tool.
Convert video to text in minutes
Media.io processes the given tasks extremely fast. This enables you to complete your projects within and sometimes even before the given turnaround time, thus remarkably improving your overall production in the long run.
Supports Almost all file formats
You can transcribe a video in any format to text with Media.io. You can upload MP4, MOV, AVI, MKV, or a YouTube video, and Media.io will convert and transcribe it to text. What's more, you can also upload the audio file in MP3, WAV, and ACC to transcribe it to text.
Edit video with powerful tools
Media.io is equipped with robust and powerful editing options that enable you to edit and beautify the video and text to match your brand theme for consistency. This puts a deeper impact on your audience's mind, thus helping to grow your business and expand it globally.
Why You Should Transcribe Video to Text
Make Your Video More Accessible
Transcribing video to text is useful since you cannot always turn the audio on, especially when you are in a quiet place where making noise is prohibited. For example, if you are in a library and wish to watch a video for reference, you cannot play a video with sound. In such situations, subtitles prove to be a boon where you can easily get the idea about what's going on in the movie without disturbing others.
Get More Out of Your Content
When you download a transcribed text that you have extracted from a video, you can slightly modify the content and use it to produce posts, articles, and other such publishable material. This is helpful for those who do not prefer to watch the videos and choose to go through the written content for better understandability.  
Improve the Discoverability
With the subtitles turned on in a video, it becomes easy to navigate and reach a particular section of the clip that interests you the most. This saves you time and eliminates the need to go through the entire video.
FAQs Regarding Converting Video to Text
Is there an app that converts video to text for free?

Yes, you may find several programs that can help in converting video to text. However, it would be a good idea to use an online program such as Media.io, which can convert the video and audio to texts quickly and accurately.

Can I transcribe a YouTube video to text for free?

How long can a video be before converting to text?

At the time of this writing, no maximum duration of the video on both Media.io and YouTube has been defined. However, it is imperative to keep in mind that while converting video to text, the longer the clip is, the more time it will take to get the job done. The same principle applies when automatically generating subtitles on YouTube as well.
I work as a professional video editor in a reputed firm. My job role includes adding subtitles to the videos and sometimes even producing the clips with hard-coded captions. Thanks to Media.io, I can now easily convert video to text and download the transcription separately, after which I export the footage in full HD with open captions. The best part of this entire process is that the produced videos have no watermarks whatsoever.
Erica Reeves

I create videos to teach people computer networks and server configurations. I publish my recordings on YouTube and various other streaming portals. Although YouTube is quite good at automatically generating subtitles, when it comes to ease of use and flexibility, it stands nowhere in front of Media.io. Furthermore, with Media.io, I can produce videos with hard-coded subtitles that I can publish on my professional website and other sharing platforms for monetization. Converting video to text was never this easy.
Liana Porter

I am working as a technical writer in a big company that also produces videos for its audience. My job requires me to produce articles and blogs based on the videos that my company uploads on its website. Earlier, I had to go through whole clips, listen to the audio carefully, and then had to transcribe the dialogs line by line manually. With the help of Media.io, I can now upload those films, generate subtitles automatically, and use them to produce articles after making minor adjustments. All in all, my task has become way simpler.
Kourtney Waters

I am a school teacher. After COVID-19 hit the world, I had to produce videos and share them with my students online. Because many scholars have access to a slower Internet connection, most of the time my audio wasn't clear to them. Due to this, I was desperately looking for a tool that could change my video to text easily. Thanks to Media.io, I can now help my trainees get tutorials with clearer audio that I get within a few minutes of the inception of the process.
Jolie Patrick

I'm a student who just started learning a foreign language, and sometimes I find the course it's hard to understand. Even though several transcription apps and online portals are available, none of them supports as many languages as Media.io does. Ever since I started using this web app, I have never looked back, and I'm quite happy with its performance and the level of accuracy that it provides.
Philippa Baldwin

Transcribe Video to Text
Quickly & Accurately
Your One-stop Video Editor - Media.io